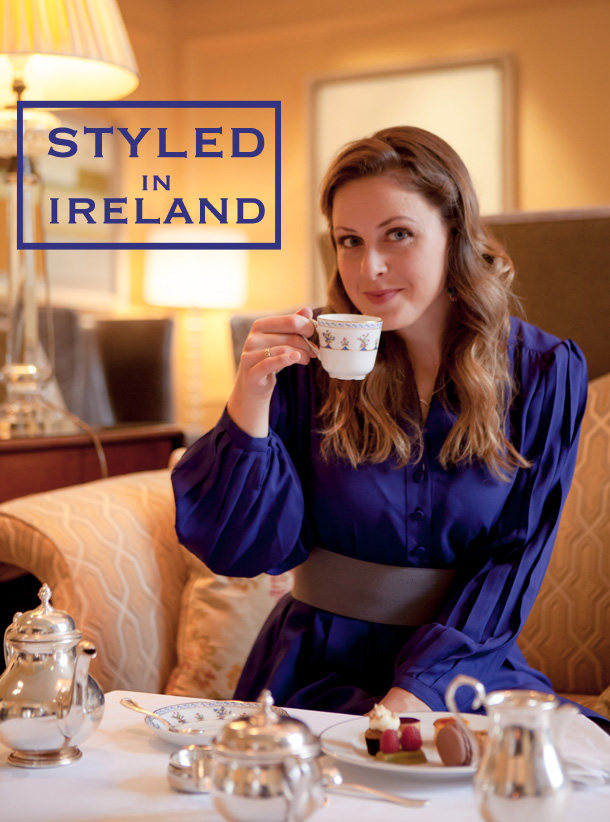 We're back with another Styled in Ireland post today – highlighting Irish designers and giving you tips for visiting Dublin or getting out and about as a local.
Tips for Travellers
In honor of our week celebrating tea, this Styled in Ireland post is all about afternoon tea. I was so excited to be able to snap a few photos at the Four Seasons' new tea lounge earlier in the week. I had the opportunity to try their afternoon tea a few weeks ago, so I jumped at the chance to go back and try a few more of their treats!
(Ed: The Four Seasons has been bought by the Intercontinental Hotel chain, their tea options remain fancy and they bring out new concepts often!)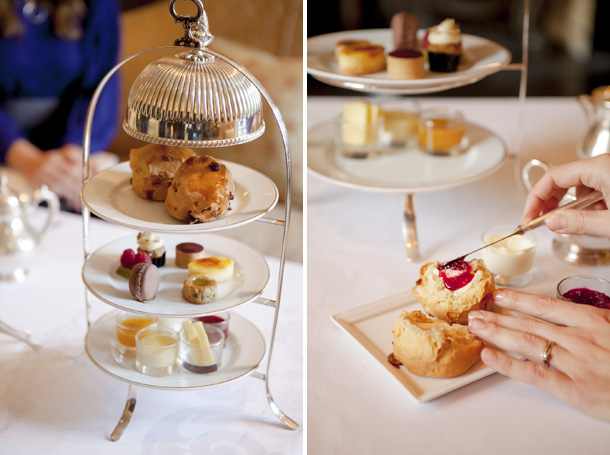 Fancy afternoon tea isn't something the Irish partake in every day, but it's perfect for an occasion. I'd recommend dressing up just a little; I chose a deep purple Banana Republic dress from my closet and paired it with a wide belt, black tights and black booties, which you can't see in the photos. Comfortable, but not too casual. After all, why not embrace a little fanciness?
Before my visit to the Four Seasons, I had never tried afternoon tea and I was a little nervous that it would be quite formal. But while the staff at the Four Seasons is very attentive, the whole scene doesn't feel overly formal at all. The tea lounge has a cozy fireplace and a view of the courtyard. You can order a tea or coffee on its own or the full afternoon tea. And the sweet staff will walk you through the whole thing if you're a little new like me! Now I've turned into a huge proponent of afternoon tea – it's moved high on my list of recommendations for visitors. And certainly, if they need a guide, I'll be happy to help!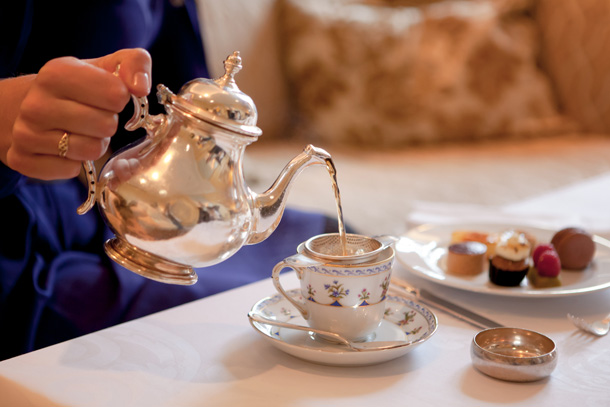 Here's how it works: You'll need to choose a kind of tea from the long list. I loved their vanilla tea but their regular black tea is delicious too. They'll serve loose tea in a pot and you wait for it to steep for at least a few minutes. Place the little tea strainer over your cup and pour through it. Then, if you like, add a cube of sugar (typically, white is for tea, brown is for coffee) and a drop of milk.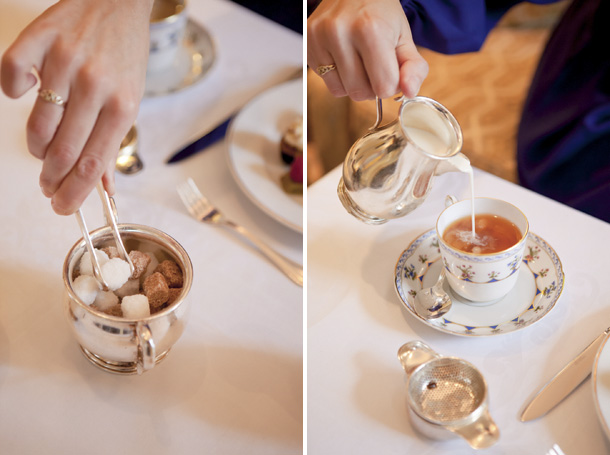 Then sit back, relax, and try all of the delicate nibbles from the silver tiered tray. My favorite selection is a scone with clotted cream and raspberry jam, and then their miniature carrot cupcake. Oh, and the teeny tiny creme brulee. And maybe the pistachio biscuit with fresh raspberries. They're all very, very tempting.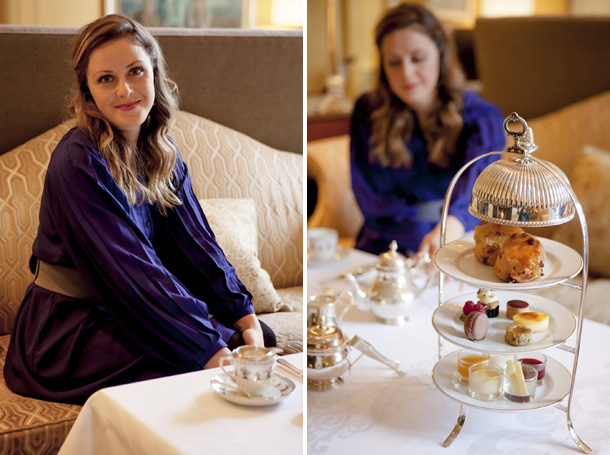 Sponsored by the Four Seasons Hotel Dublin
Thank you to the Four Seasons Hotel in Dublin for their generous hospitality this week. I'd highly recommend their afternoon tea. It's perfect for a relaxing afternoon, cozied up in front of a fire with a pot of tea!
Four Seasons Hotel Dublin, Merrion Road, Ballsbridge, Dublin 4
Did you miss the first Styled in Ireland posts? Check out what to wear in the summer in Ireland, what to wear as a guest to a wedding, what to wear to a pub, what to wear for a sweet picnic, and what to wear to watch a match!
Dress: Banana Republic / Belt: Penneys / Hair and makeup: Kristin Labanauskas / Photography: Julie Matkin, Half a Dream Away / Styling: Emily Westbrooks