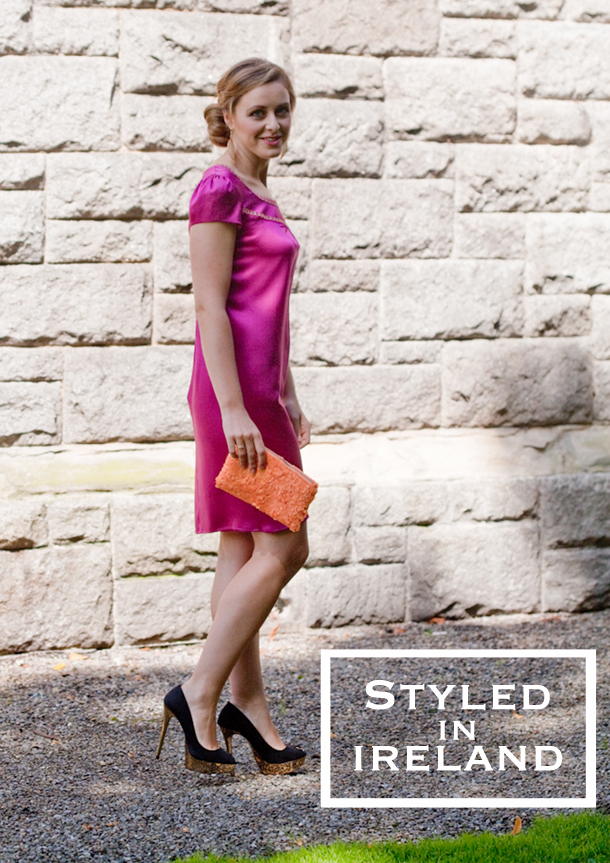 I'm back with another Styled in Ireland post today. I'm giving tips for travellers visiting Ireland as well as highlighting Irish designers we should all be loving! Perfect combo for visitors and locals alike!
Tips for Travellers
You'd be surprised how many people get in touch with me because they're coming to Ireland to attend a wedding. Doesn't that sound fun? What an excuse to come to Ireland!
Whenever I'm asked questions about what to wear to a wedding in Ireland, I usually suggest erring on the dressy side. In America, weddings can range from dressy casual to black tie. Here in Ireland, standard wedding attire is dressy and fancy. At summer weddings in America, men might be appropriately dressed in khakis and a navy blazer, but here that would be a little too casual.
Overall, my tips for women are these: Keep it fancy. Wear a bold color – jewel tones are always pretty! Pair with very high heels (do you feel like heels are just getting higher and higher?!), but bring flats for dancing. Weddings in Ireland are long.
And for men? Wear a suit. Mike's favorite look is a slim three piece suit with a skinny tie. We'll get him to model it one of these days!
Highlight // Irish Designer
When I walked into Project 51, this fuchsia dress just screamed at me. It's designed by Jennifer Rothwell, a designer who was born in New York but raised in Ireland. She has worked with big name designers like Calvin Klein and her pieces are just stunning.
If you're getting married any time soon, you must stop in to Project 51 and try Jennifer's wedding gowns. The silk, the draping, the lace trimming. Eesh. And they're not a bad price for a wedding gown at all.
Sponsor // Project 51
Again, I am hugely grateful to Project 51 for sponsoring this instalment of Styled in Ireland. Project 51 is a great Dublin boutique that features the work of over 30 Irish designers, with both clothing and accessories. They also have studio space used by several of their designers, and a space they use as a gallery and for occasional classes.
Missed the last Styled in Ireland post? Check it out here!
Dress: JRothwell / Shoes: Zara / Clutch: Zara / Earrings: Next / Hair and makeup: Kristin Labanauskas / Photography: Julie Matkin, Half a Dream Away / Styling: Emily Westbrooks