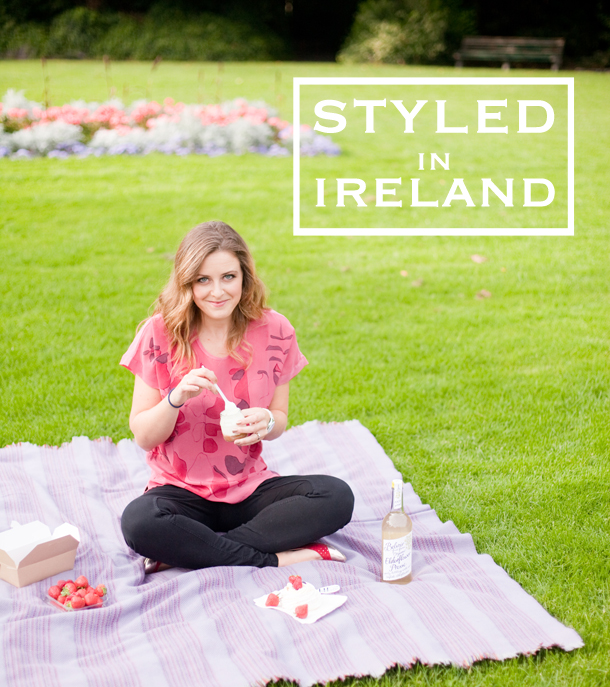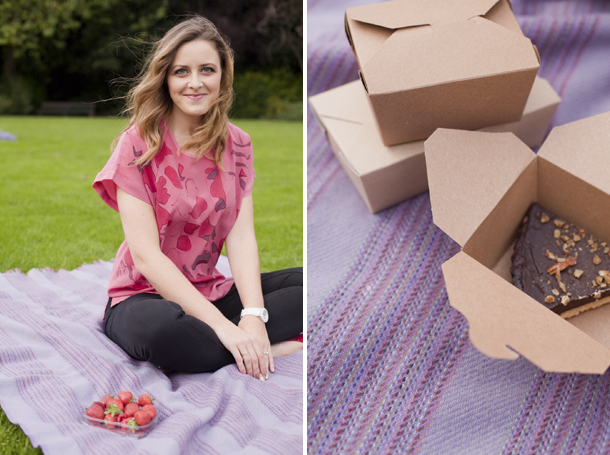 We're back with another Styled in Ireland post today – highlighting Irish designers and giving you tips for visiting Dublin or getting out and about as a local.
Tips for Travellers
Next time you're visiting Dublin and find yourself with a dry afternoon, here's what I would recommend. Pick up a beautiful, Irish made blanket (it'll double as a cherished souvenir later!), grab a few treats from a local bakery, and find yourself a park for some people watching. I can't think of a better way to spend a few hours.
For this sweet picnic, I picked up treats from KC Peaches on Nassau Street. They have a huge range of tea cakes, brownies, biscuits and other sweet treats that pack up perfectly in little brown boxes for a picnic. In addition to sweets, they have a great range of fresh salads and sandwiches, coffees and teas. (If you catch them in the evening, they have a Wine Cave with live jazz in the basement!)
There are so many beautiful parks in Dublin, almost always filled with blossoming flower beds and lots of people bustling about. Try Stephen's Green at lunchtime, Merrion Square on a weekend when artists hang their work on the park gates, the Iveagh Gardens for a quieter option, or Herbert Park if you find yourself on the south side of the city centre. I think they're all equally lovely!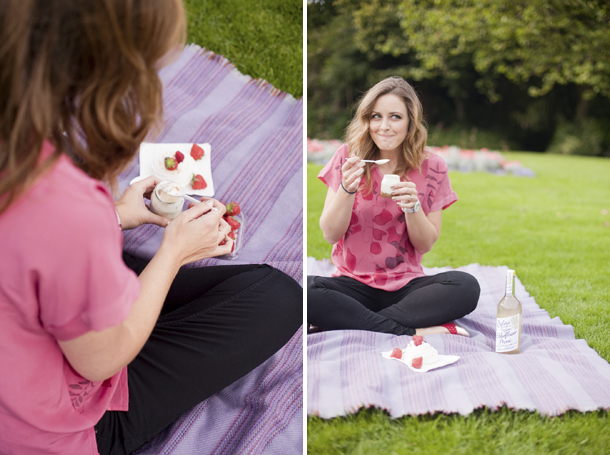 Highlight // Irish Designer
Now for that beautiful purple blanket. It's a lambswool throw made by an Irish company in Kilkenny that has been making beautiful textiles from Irish wool for 800 years. Cushendale Woolen Mills produces 100% Irish products, which is no small feat! From the sheep, to the river water used to wash the wool, to the Irish family that's been weaving beautiful materials in Kilkenny for generations. I just love everything about their story!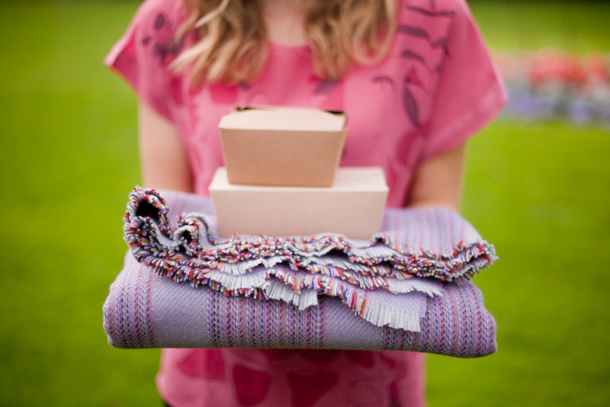 Sponsored by the Irish Design Shop
The Irish Design Shop is one of my absolute favorite spots to visit in Dublin. Their main shop is tucked behind the Stephen's Green Shopping Centre at the top of Grafton Street – in an old building that used to store hay! Now the building houses their beautifully curated shop, filled with jewellery, prints, and various housewares, as well as studio space for fifteen artists and designers. You can even see the studio space from the shop, and owners Clare and Laura are always happy to let people have a peek!
The Irish Design Shop also offers jewellery classes, including one where you can make your own wedding rings! But book quickly – they fill up fast!
You can pick up that beautiful Cushendale blanket in the Irish Design Shop on Cow's Lane or at their second location at the Royal Hibernian Academy on Ely Place. If you're shopping from afar, you can order online here.
***
Did you miss the first Styled in Ireland posts? Check out what to wear in the summer in Ireland, what to wear as a guest to a wedding, and what to wear to a pub!
Top: Janey Clothing (more on her beautiful work in the coming weeks!) / Skinny pants: H&M / Flats: Zara / Blanket : Cushendale / Hair and makeup: Kristin Labanauskas / Photography: Julie Matkin, Half a Dream Away / Styling: Emily Westbrooks