We're back with another Styled in Ireland post today – highlighting Irish designers and giving you tips for visiting Dublin or getting out and about as a local.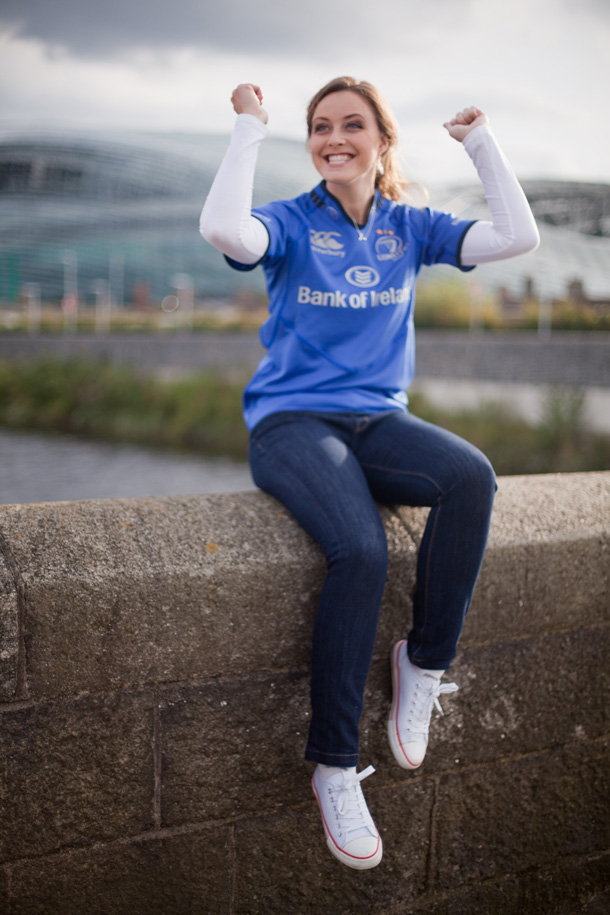 Tips for Travellers
When I moved to Ireland (nearly four years ago!), I had no idea what a big role sport plays in life over here. My first tip – Irish people call it sport, not sports. It's subtle but you'll sound like a local if you take off that s! My second tip is that you'll also sound like a local if you call it a match instead of a game.
Now for my third tip for visitors: get your buns to a match! There's nearly always some kind of sport going on over here. In this set of photos, I'm wearing a Leinster rugby jersey, and in the background is the shiny Aviva Stadium, where rugby matches are typically played. But if it's not rugby season, you could try a gaelic football, regular football (our soccer), hurling (kind of like lacrosse but with no nets on the sticks) or camogie (field hockey!). If you're planning to watch a Dublin team, pack a blue sweatshirt so you can cheer on those boys in blue!
The next best thing to watching a match is watching it in a pub near the stadium. Order a pint, squeeze yourself into a corner, and find a friendly local to explain the rules!
Highlight // Irish Designer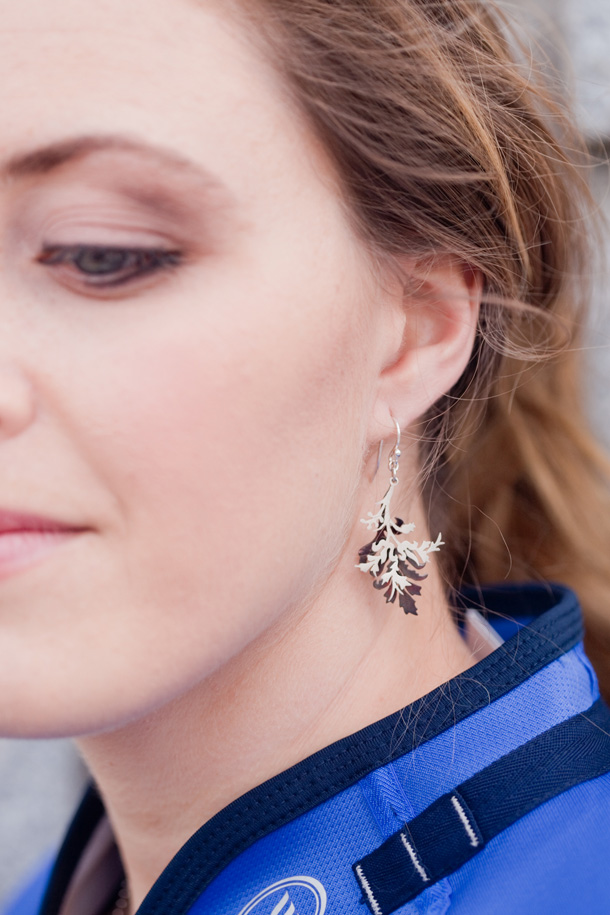 Just because you're heading to a match doesn't mean you have to leave the jewellery at home! I loved adding these pieces from jewellery designer Laura Caffrey. They're light and won't catch on anything but still add a little feminine touch! Laura is one half of the wonderful Irish Design Shop duo. She works out of their Bow Lane shop and teaches some of their classes.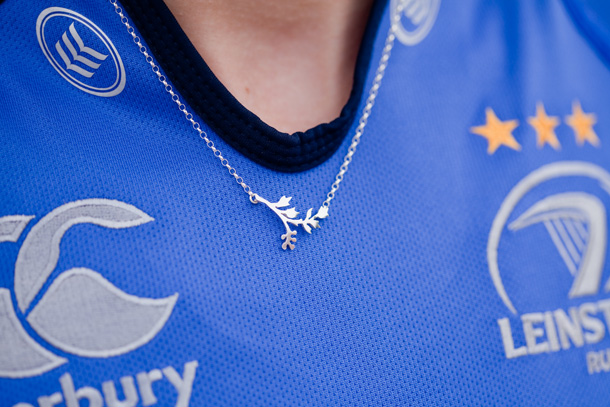 Sponsored by the Irish Design Shop
The Irish Design Shop is one of my absolute favorite spots to visit in Dublin. Their main shop is tucked behind the Stephen's Green Shopping Centre at the top of Grafton Street – in an old building that used to store hay! Now the building houses their beautifully curated shop, filled with jewellery, prints, and various housewares, as well as studio space for fifteen artists and designers. You can even see the studio space from the shop, and owners Clare and Laura are always happy to let people have a peek!
You can pick up Laura's pieces and even see where she works in the Irish Design Shop on Bow Lane East or at their second location at the Royal Hibernian Academy on Ely Place. If you're shopping from afar, you can order online here.
***
Did you miss the first Styled in Ireland posts? Check out what to wear in the summer in Ireland, what to wear as a guest to a wedding, what to wear to a pub, and how to have the sweetest Irish picnic!
Top: Champion Sports/ Skinny jeans: Zara / Sneakers: Penney's / Hair and makeup: Kristin Labanauskas / Photography: Julie Matkin, Half a Dream Away / Styling: Emily Westbrooks