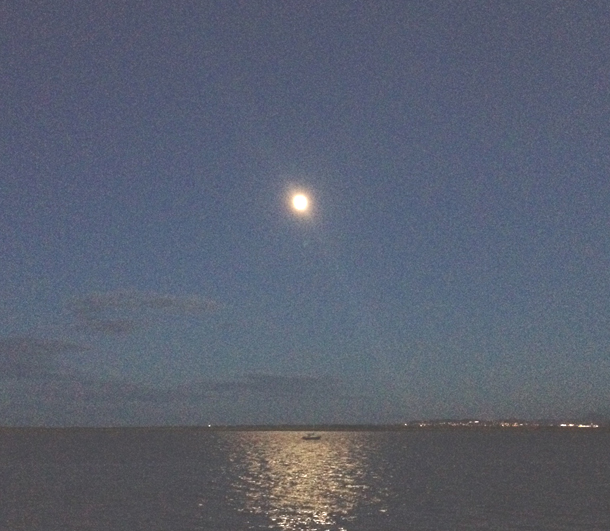 The moon was gorgeous earlier this week, although it's starting to get dark so much earlier now that we're nearly in September. I'm ready for fall, but I'm not sure I'm ready for dark, dark mornings and evenings.
But since there's not a single thing I can do about the days getting shorter, I'm going to focus on the weekend. If it's not too cloudy, I'll take a peek at that blue moon tonight (it won't happen again until 2015!) and then a little shopping and hopefully some crafting.
What are you up to? Are you in Dublin for the Navy vs. Notre Dame game? 40,000 Americans are here! It's so fun to hear American accents all over!
Now a few neat-o things for you to check out.
Sweet city hall wedding shots.
Easy DIY acrylic tray.
Did you know there's such a thing as chalkboard cloth? Genius!
Cool exhibit using old prosthetic limbs. Sounds weird, I know, but very paralympic!
A new cookery school opening in my hood!
Turning 5,000 damaged CDs into art at a music festival.
How about renting bridesmaid dresses that are made in NYC! Such a clever idea.
And I just heard that the beautiful pink dress I wore in yesterday's post is on sale for €75! Such a steal! Email me if you'd like it reserved or sent to you. (It's a size 10 UK.)
Happy weekend!