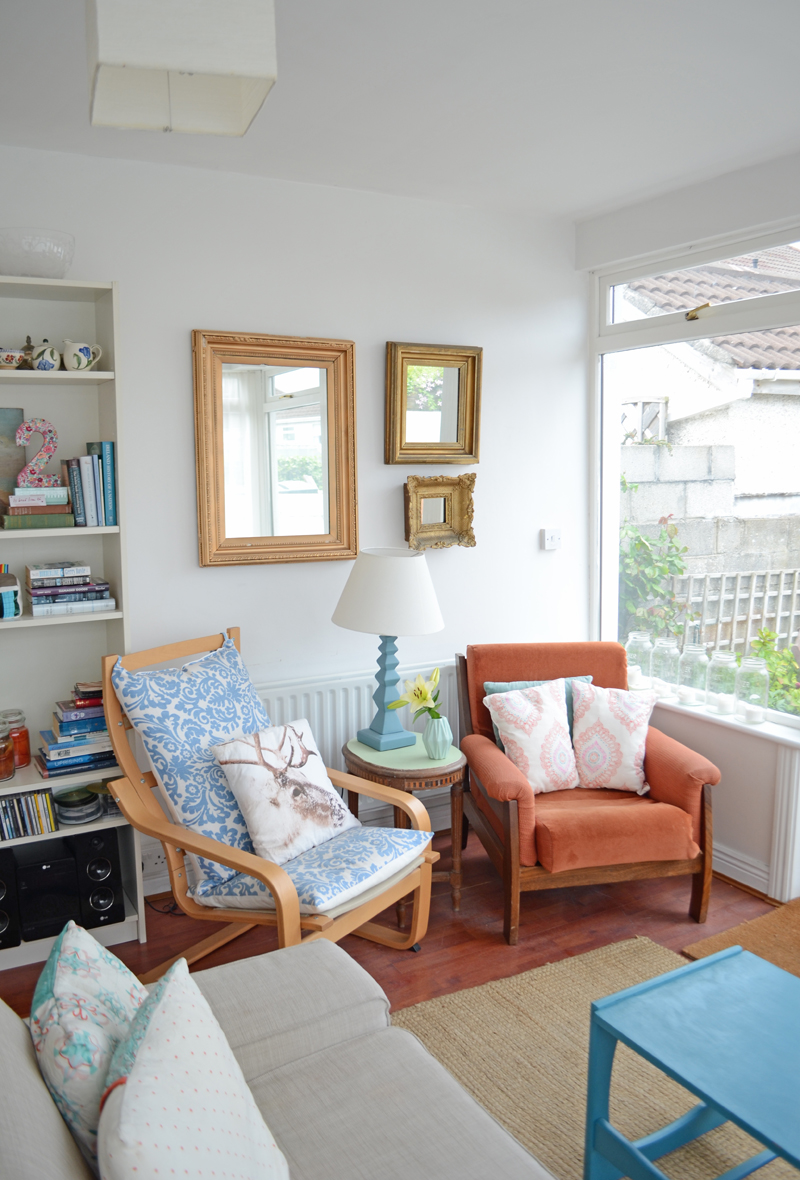 Happy Monday, everyone! Did you have a nice weekend? I caught a cold Friday and wore my voice out chatting with friends all day and night. I've been squawking and squeaking all weekend, and not helping my cause by talking (and singing Old MacDonald to my niece – or as she calls it E-I-O? – at least 782 times) all day long. Tomorrow I will hopefully stay quiet and finally stop squawking!
Now, let's jump into the week with the final room in our apartment makeover. I've shared all the other rooms in our house, which we slowly made over and turned white and bright over the last year or so. (You can see our hallway, bedroom, bathroom and landing strip in case you missed those, and you can see the before photos right here.). We rent our apartment, but we have a flexible landlord. We've lived here for five years, so everything needed a coat of paint and if I never see another inch of off-white paint, it will be too soon. We painted everything a chalk white, and the living room definitely benefited the most.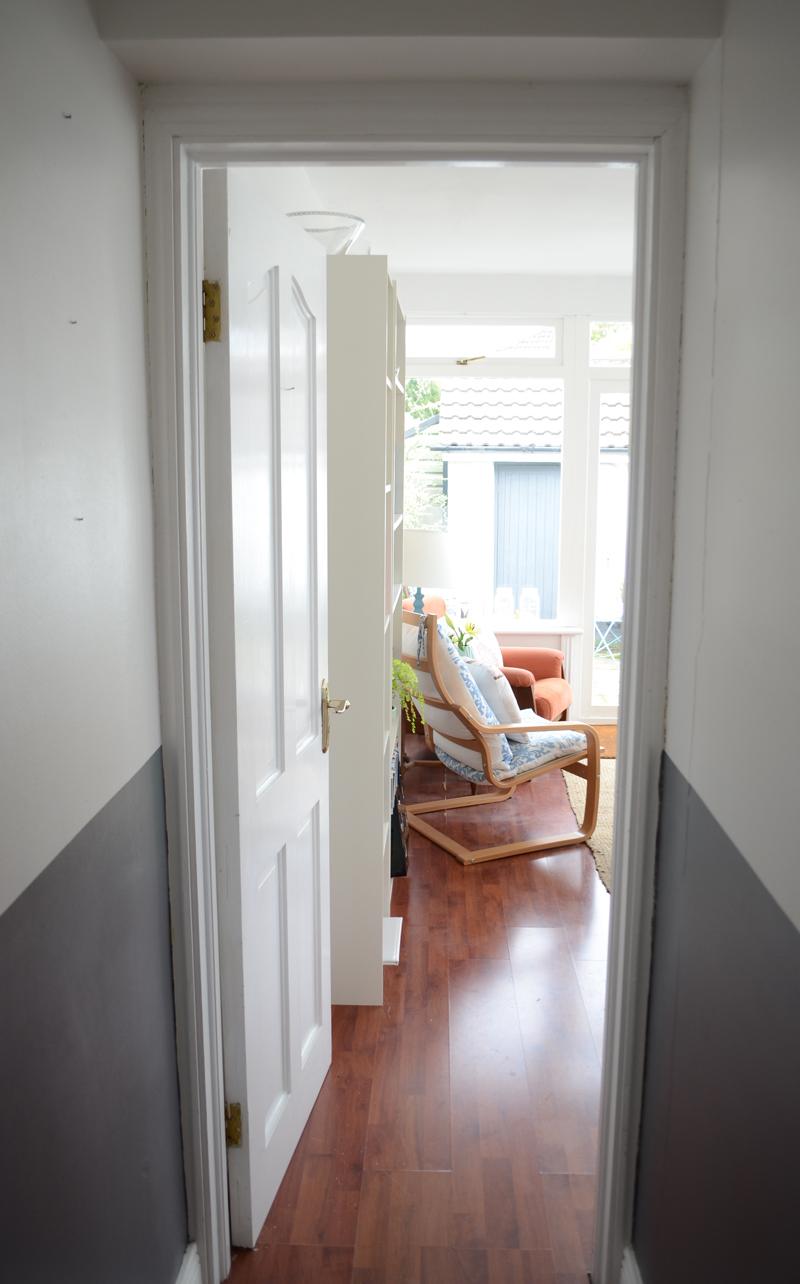 Our living room is at the very back of the apartment and is also our dining area. It's a little inconvenient because the kitchen is down the hallway, but it's so bright that all is forgiven. If you can believe it, I took these photos when it was relatively grey outside and even sprinkling a little. Unless it's nighttime, this room is bright and that's one of the things I've loved about this room. It benefits from windows along two walls looking out on our patio, and in our white makeover I painted the dark brown trim bright, glossy white. Michael went away for a weekend and came back to a transformed room. He criticized my painting techniques (I'm not the most careful painter) but he came over to the light side quite quickly.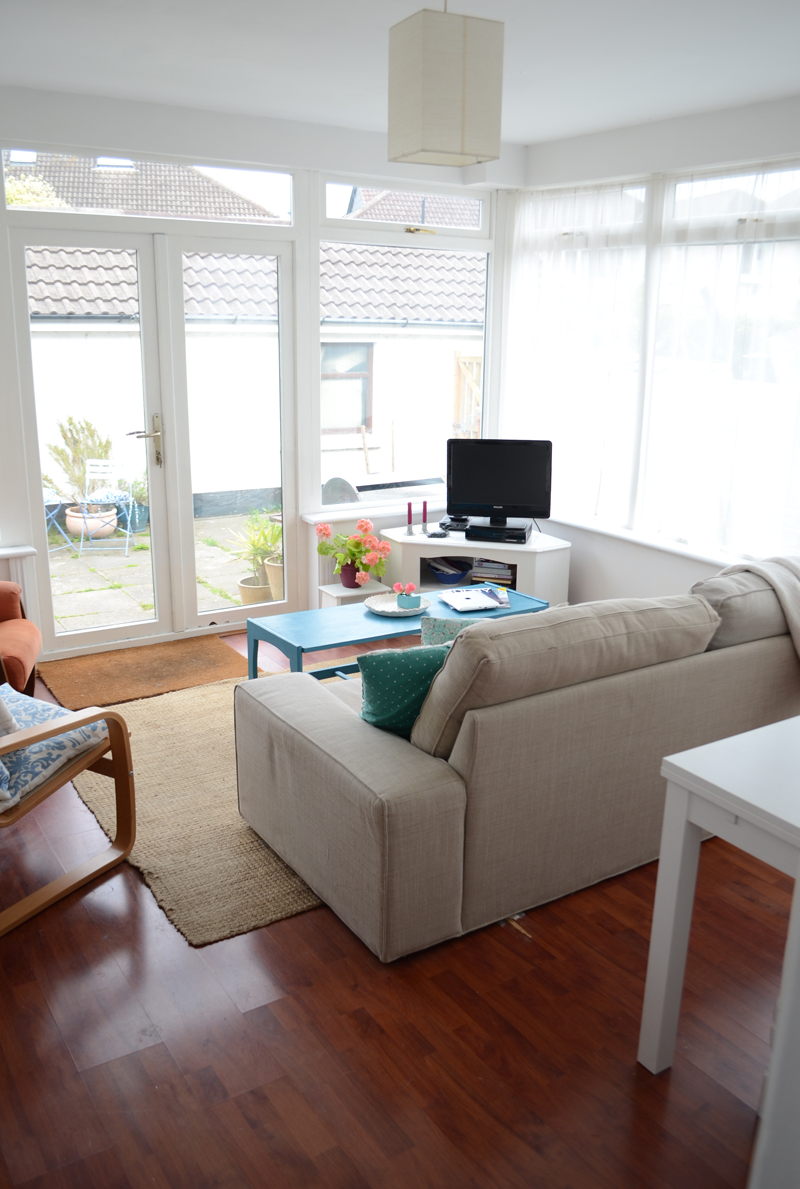 We swapped out the giant overstuffed leather couches that came with the apartment and sent them next door to our neighbors (we share a landlord) and bought this couch. It's bigger than I would have liked, but I rarely sit on the couch so Michael got a bigger vote than I did. It's very comfortable, but its profile is a little large for the room. But even though I don't love the couch, I like that cosy rust-colored chair in the corner the most. And so does Coco. He can be found there sleeping most days. When my mom came to visit a year and a half ago, she re-covered its ugly brown fabric and this last Christmas gave me those fun pillow covers to match. In fact, she made the covers for the blue flowery chair as well. Thanks, Mom!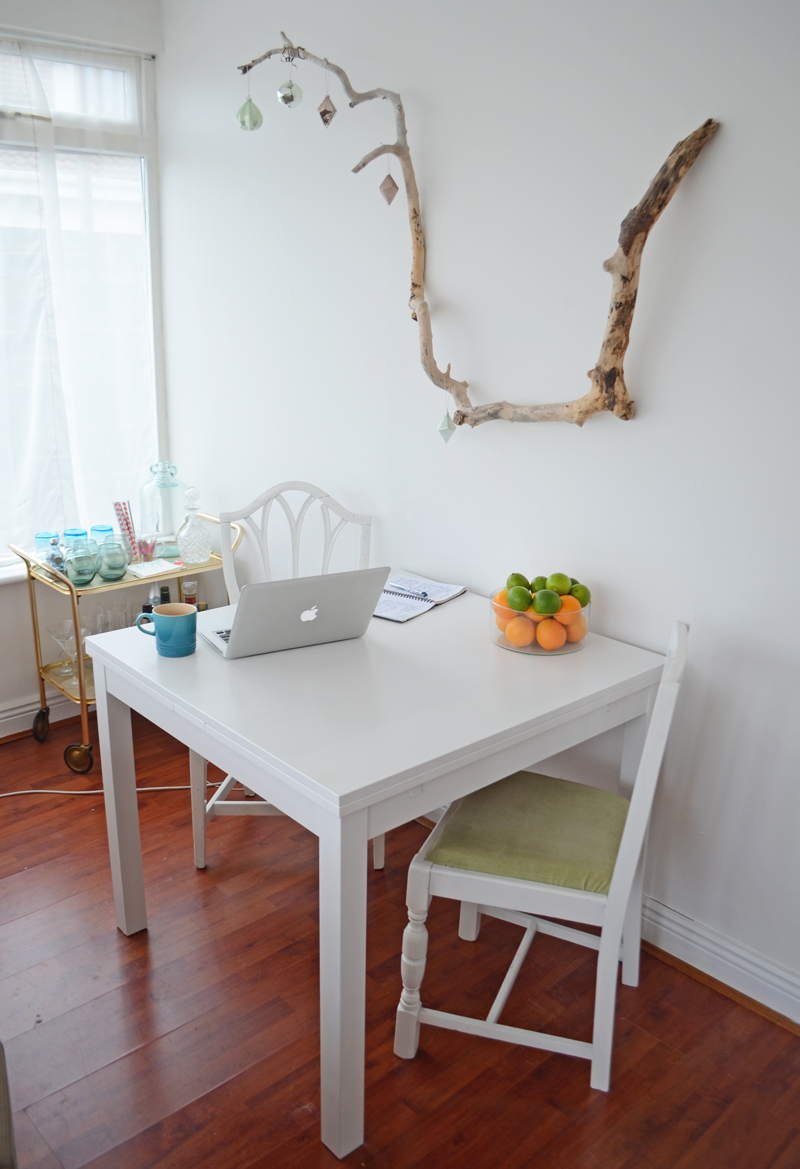 This is our little dining nook. We swapped out the too-big table for a square table from Ikea that expands to fit six in a flash. Given, we have to scoot the couch over to fit that many people, but it has happened on occasion. I picked up the two chairs for maybe €10 at Second Abbey vintage shop. I painted them white (sensing a theme?!) and gave them green velvet covers. They're not ultra comfortable, but they're pretty to look at! When I work, I sit at the table but I swap out one of the chairs for a big blue exercise ball.
The giant piece of driftwood hanging above the table is from my 30th birthday party decor, pulled from the Irish sea an hour before the party. I've hung a few non-Christmas-colored Christmas decorations and kept them there year round. I think most people think it's weird, but it makes me happy.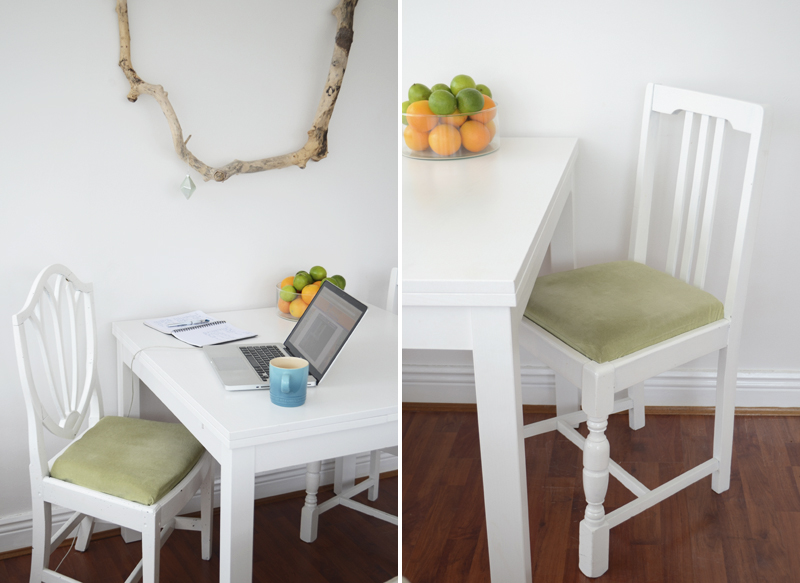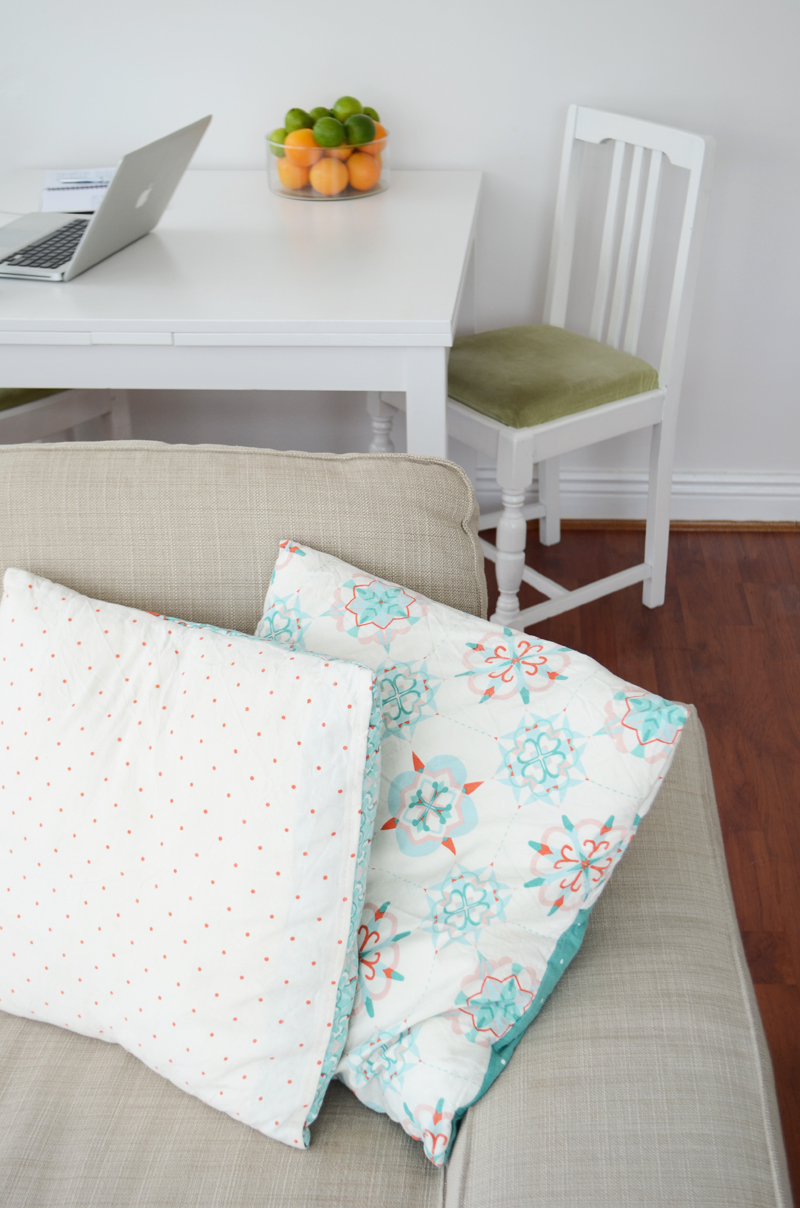 Pillows I made from tea towels from the Carolyn Donnelly collection at Dunnes! I just sewed them up into envelopes, so easy and so washable!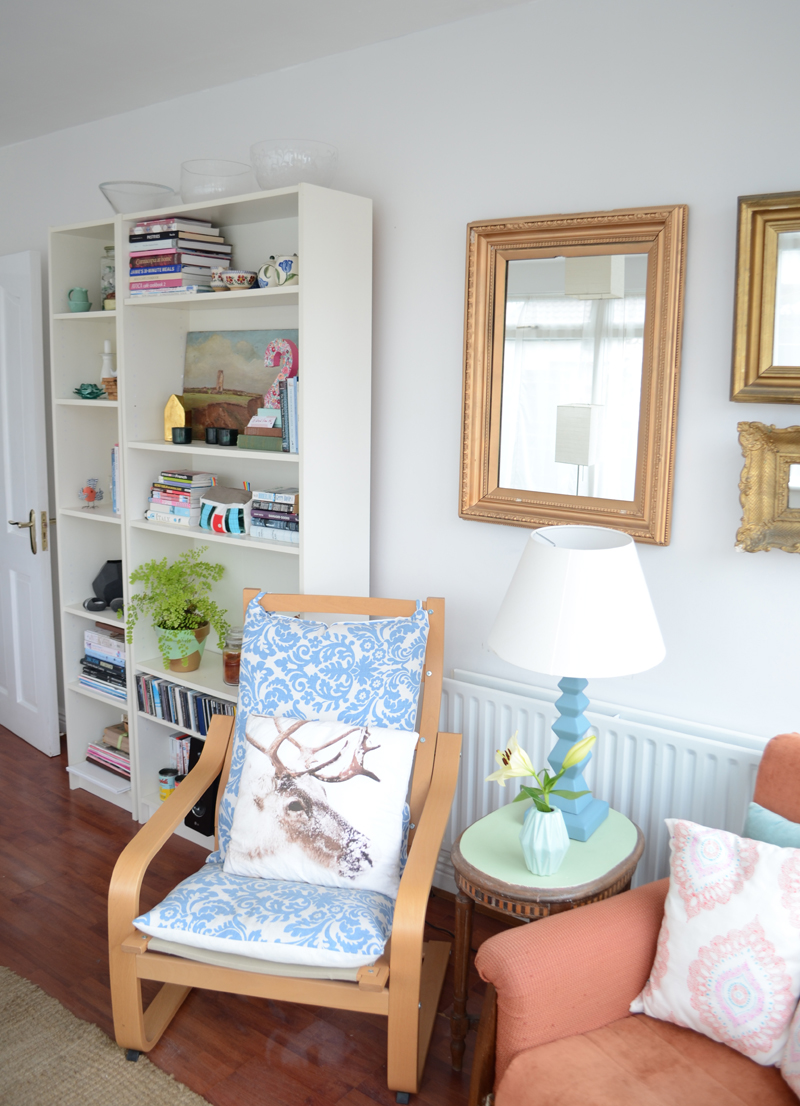 On the other side of the room, we have a bookcase and this slightly typical Ikea chair that's so comfortable it's worth the eyesore. My friend Joi at 31 Chapel Lane managed to source us some cushion inserts and my mom made the flowered covers from old curtain fabric I picked up at Goodwill in the States a few years ago. The side table and the lamp benefited from coats of paint at some point along the way.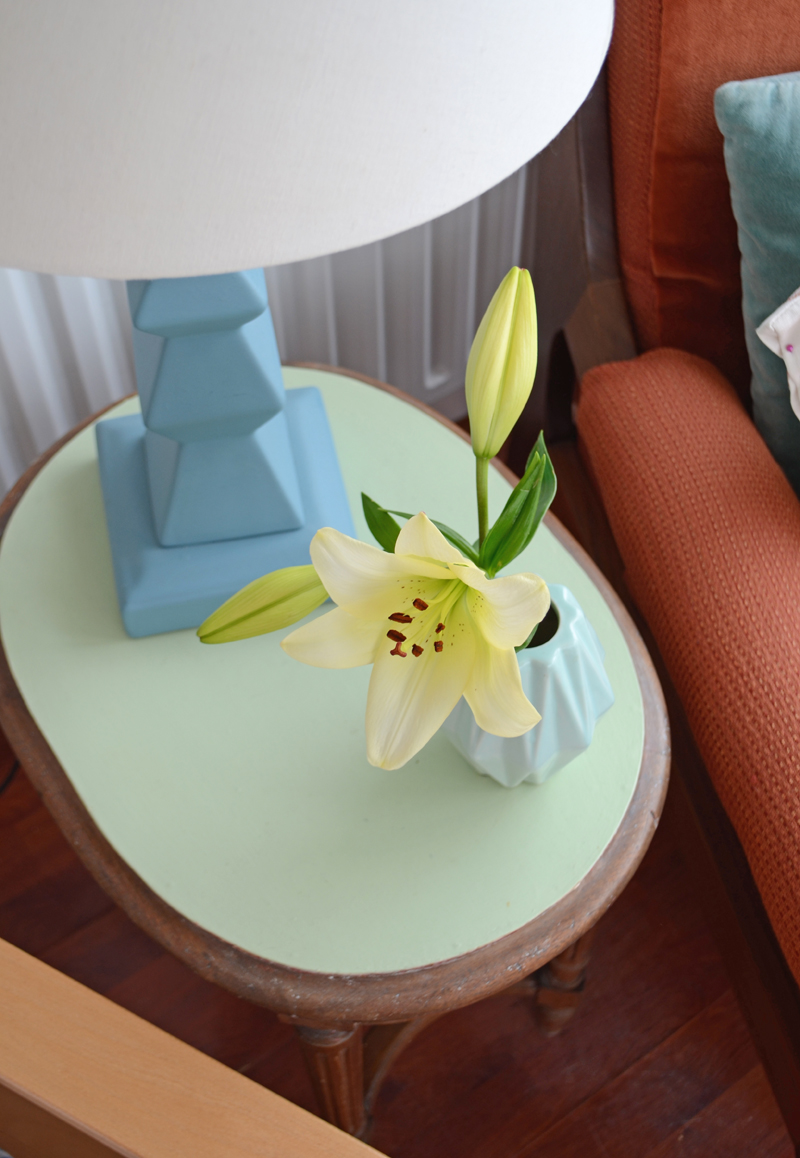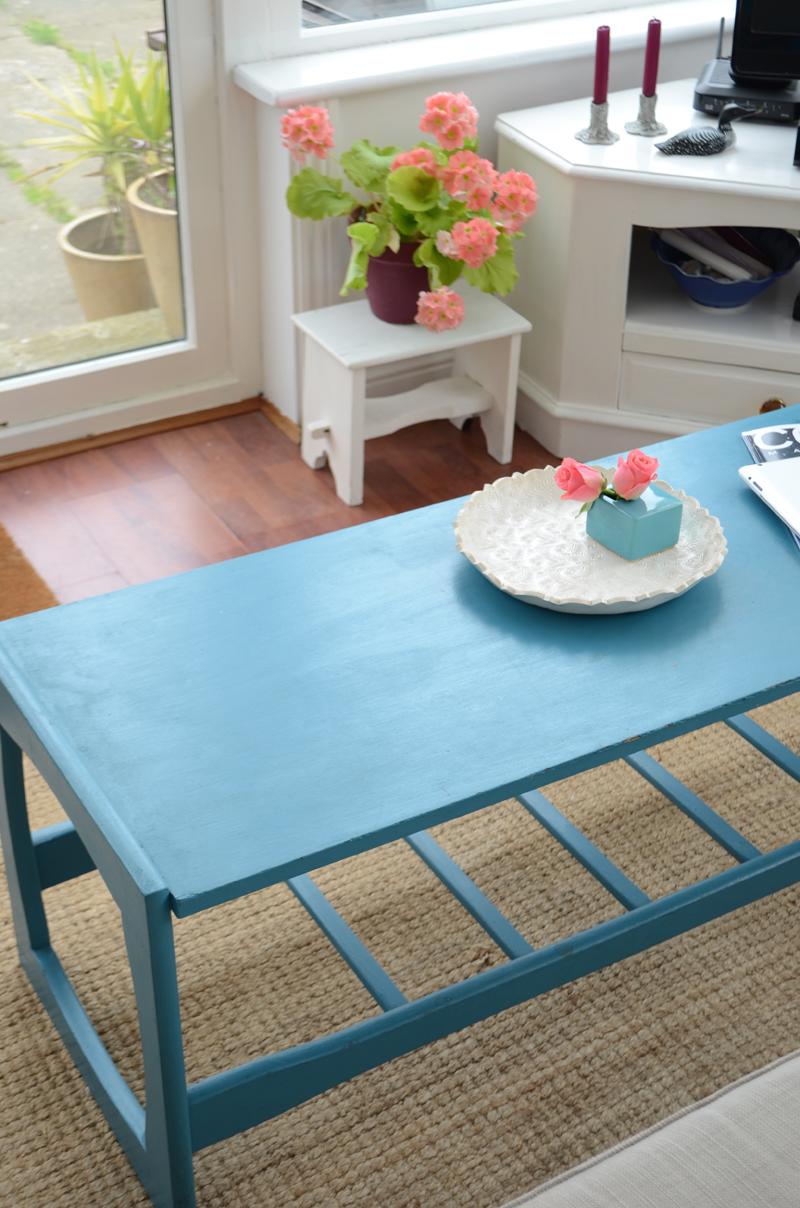 This is probably the last life this coffee table is going to have. I bought it for €10 second hand on our version of Craig's List and painted it blue. I love the lines, but it's had a hard life in our house. In our next home Michael is getting an ottoman for his giant feet instead of the coffee table!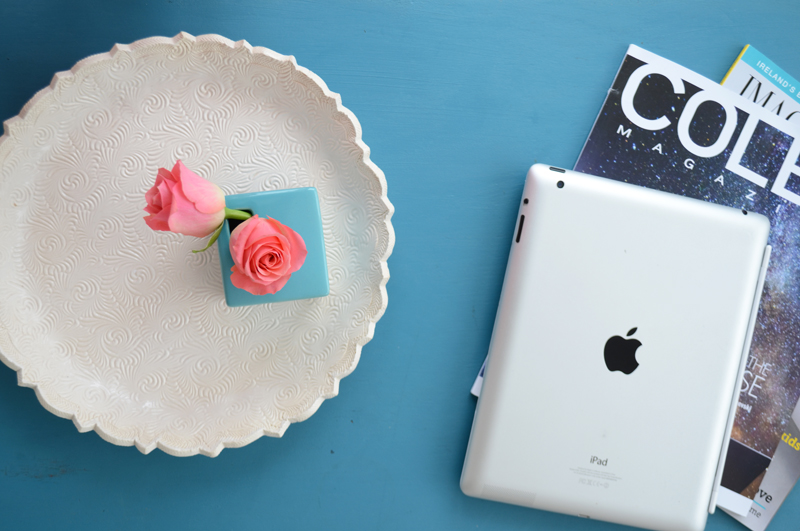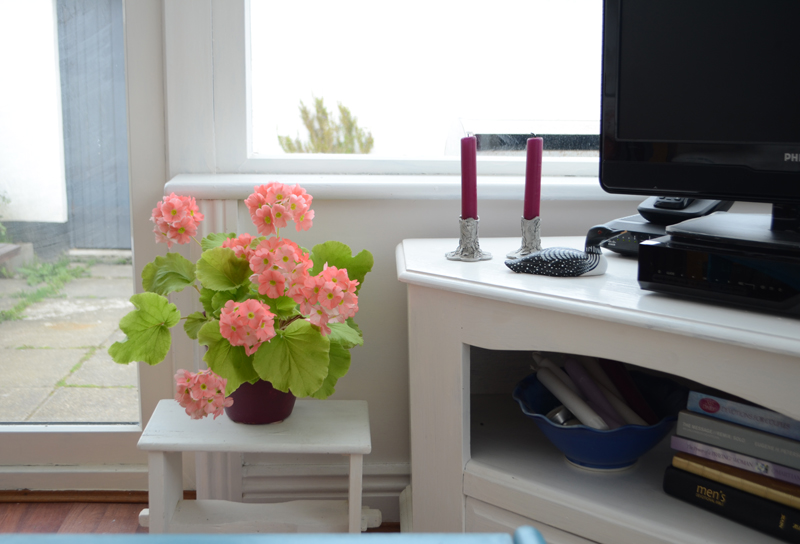 The little corner TV unit has been with us since we first moved into this apartment. I still can't believe I found it on the same Craigs List type site for free! I gave it a new coat of white (!) paint and a new drawer pull. And having the TV back up to those windows has mostly meant it's impossible to watch television in broad daylight – sneaky, huh? 😉  Also, that is the plant that will not die. I'm not complaining, but I am shocked! I bought it several months ago and I have to keep pruning the blossoms because they get so top heavy – but they never die on their own. It's so incredibly cheerful.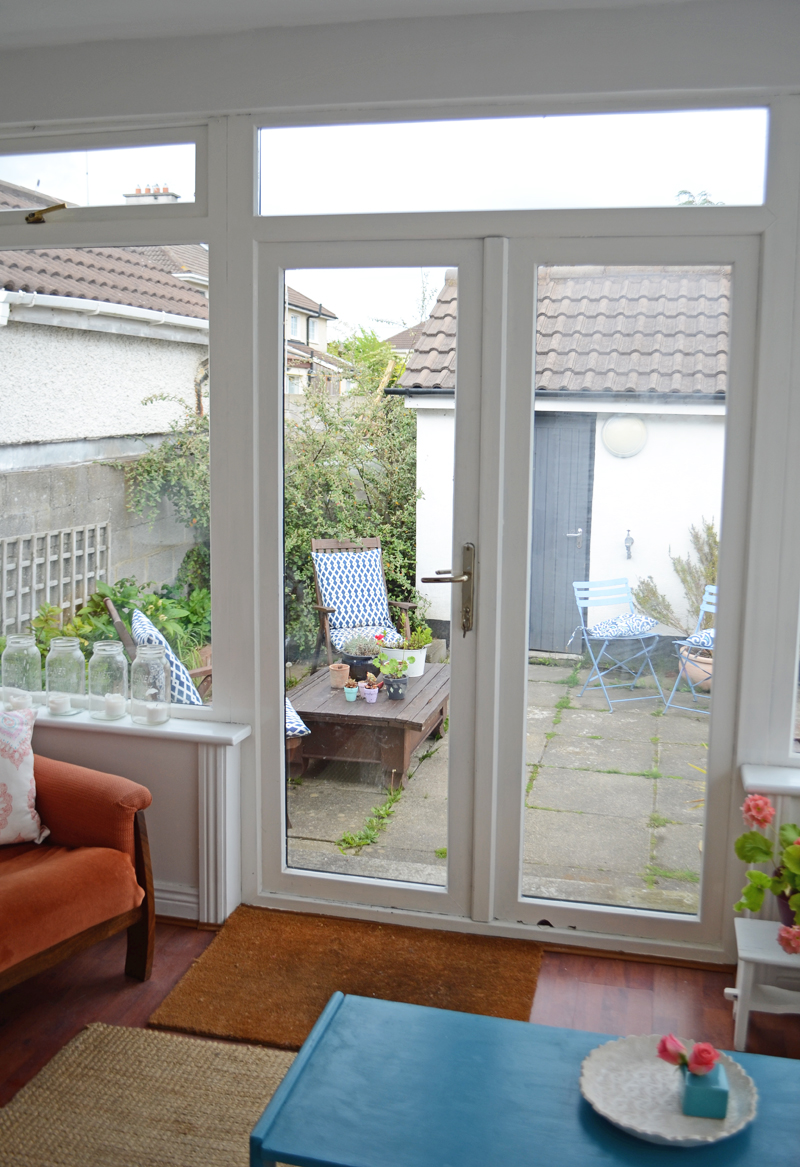 Our patio has been getting less and less green in the last few months. I don't think we ever realized that so much of the greenery was actually overgrown from our neighbors' gardens until they started pruning things back! It's looking a little bare out there, but at least my flowers have finally taken off. I have one peony bud that's on the verge of popping and hydrangeas that I've finally figured out. In Maine, you prune the heck out of hydrangeas after every season. In Ireland, apparently you do not. Took me four years to figure out why my hydrangea bush never grew an inch.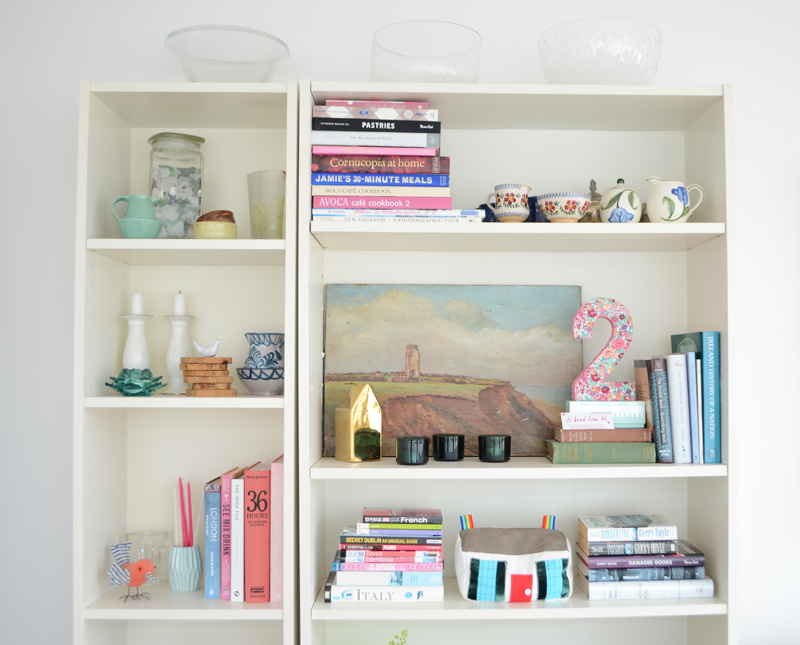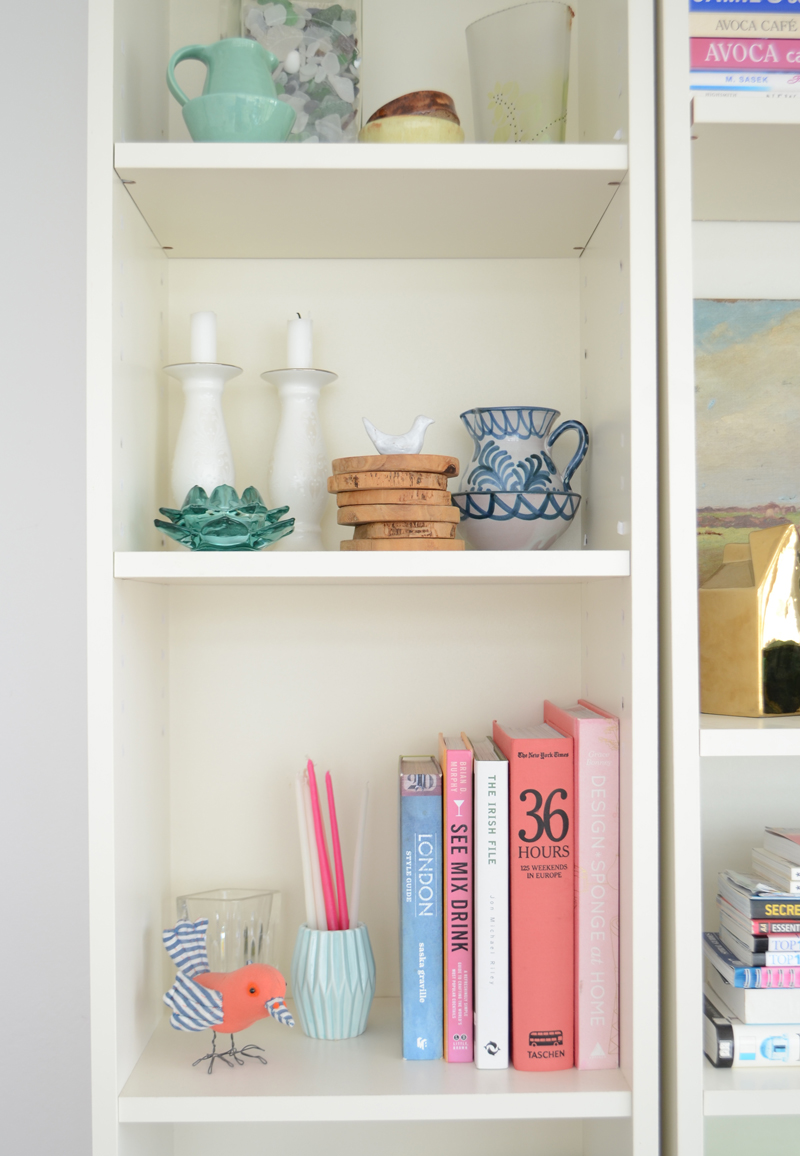 And finally, Coco. He loves finding the sun spots in this room, and occasionally the shady spots when it gets too hot for his black fur.
So that is the grand finale of our apartment makeover tour. I'm realizing now how fun it is to look back and have a record of each room (clean and tidy!), and I'm sure we'll be grateful for these photos years from now. And when I'm trying to convince Michael of the benefits of painting everything white in our next house, I can use the before and after photos to make my case!