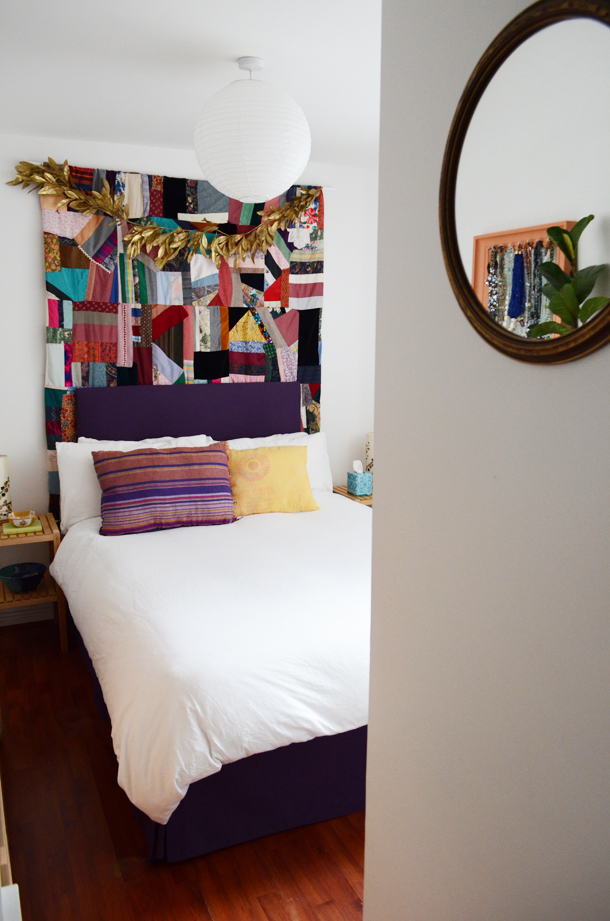 After a harrowing weekend dealing with a hacked website (I'm sorry if you visited and weren't able to see anything!), I am finally, finally, finally ready to share the reveal of our bedroom makeover! And there's even a fun giveaway for those of you who make it to the very end! Bear with my photographs, as this room tiny and therefore very difficult to photograph!
Let's start at the beginning. First, the before photo. Here's what our bedroom looked like before. It was fine, but so very beige and bland. And although it may not look like it, the new version is much more spacious.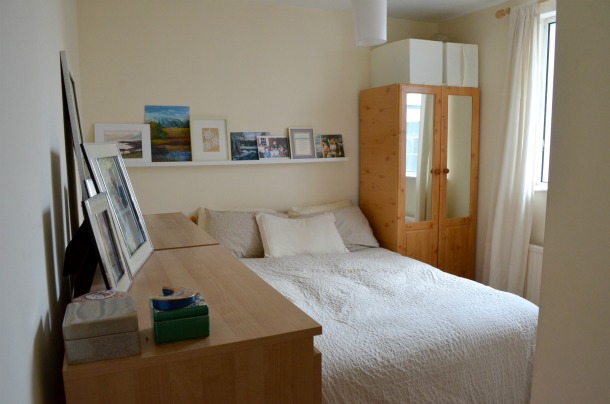 First things first, we painted everything white. No more magnolia cream! Then, one night while Michael was at practice, I moved that wardrobe into our front room (which is also almost finished, so you'll get a reveal of that in a few weeks). He wasn't too pleased at the beginning that I was moving things all around, but I think he has grown to appreciate exactly how much better it is to have the wardrobe in another room, both visually and spatially. At least that's what I tell myself.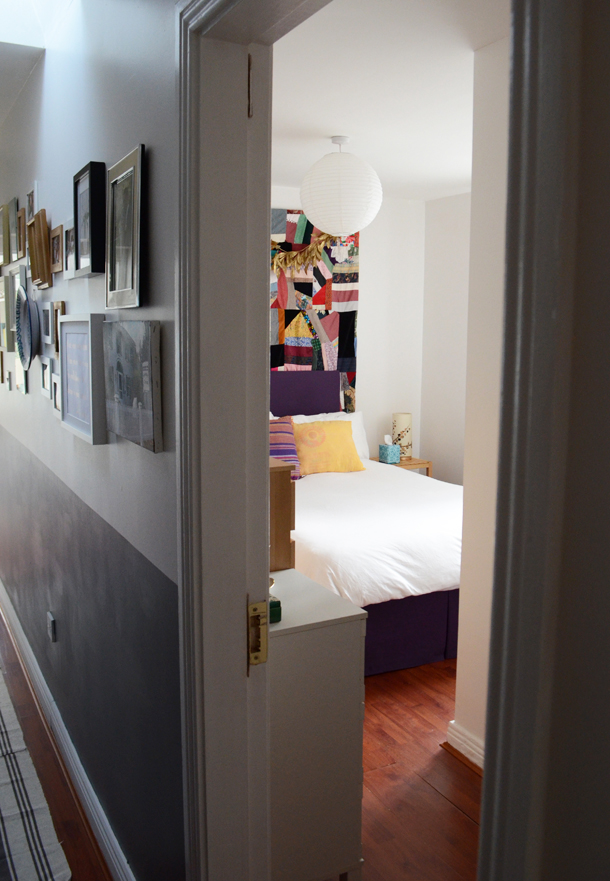 There are two people who deserve so much credit for their part in this room makeover. First, my grandmother. My grandmother has handmade these beautiful patchwork quilts for the beds in her house. When I was little I used to love running my hands over them to feel the different textures. Who are we kidding, I still love doing that – it's the best when you find the little squares of soft velvet.
For a few years, I hinted that I might like a "Grandma quilt" of my own. When I received one I was so pleased to get to see all the pieces of fabric that I remembered from growing up – Barbie dresses, Easter frocks, and so many more that I know my mom and grandmother have such sweet memories from.
Now, here's the only problem. I am very protective of my Grandma quilt. I brought it to Ireland when I moved, and I put it in a basket of blankets in our living room. And I never let Michael touch it for fear that he would smudge chocolate or crumbs all over it. So it really wasn't living up to its full potential.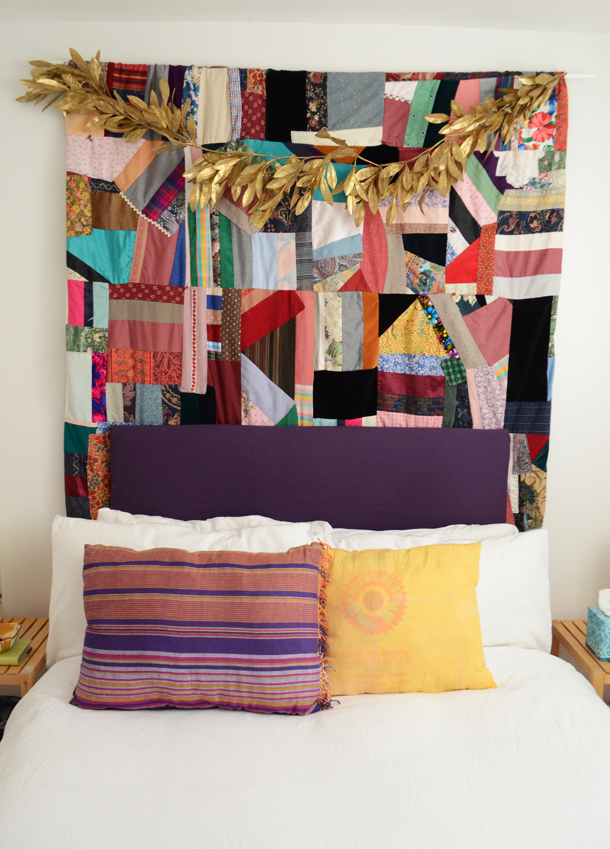 But this year, in one of my daydreams about making over our house, I realized I could use it as a sort of headboard if I could figure out how to hang it from the ceiling. Finally, my mother-in-law suggested using a dowel (infinitely cheaper than a curtain rod in this country!) suspended from hooks. It's perfect! It keeps the quilt out of harm's way, but gives it a place of honor where I can look at it every day.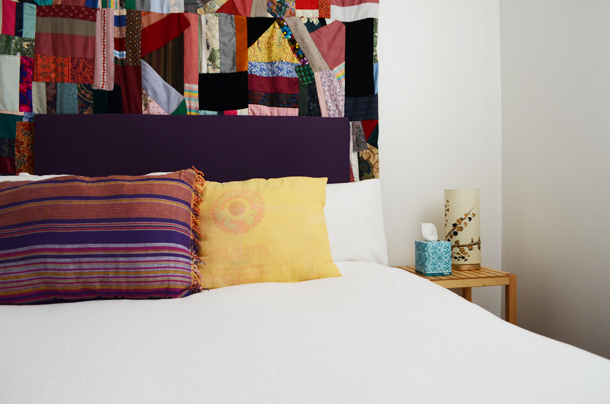 When my mom came to visit last fall, she helped me with some of the other projects in the room. First, she came up with the totally inspired idea to make the two side tables by cutting a taller set of shelves that we already had into two pieces. And then she made me a dust ruffle to cover the hideous box spring. I didn't want something too ruffly, so she made it flat with pleats. We have drawers for added storage in the box spring, so we needed to have access to them, but I really didn't want to see it any longer. This is way more classy!
Using a piece of MDF that was hanging around, I made a matching headboard and the two pieces together make the bed look completely different. Rather than pay an arm and a leg for batting to make the headboard puffy, I picked up a cheap duvet from Ikea and staple gunned that around it before stapling on the purple fabric. Then I attached the purple piece to the posts from our existing headboard.
Finally, I sewed a couple pillows to tie in the deep colors from the quilt. The yellow pillow is actually made from a flour sack cloth that came from the farm where my mother-in-law grew up. I love having a piece of Michael's family and a piece of my family displayed in the room.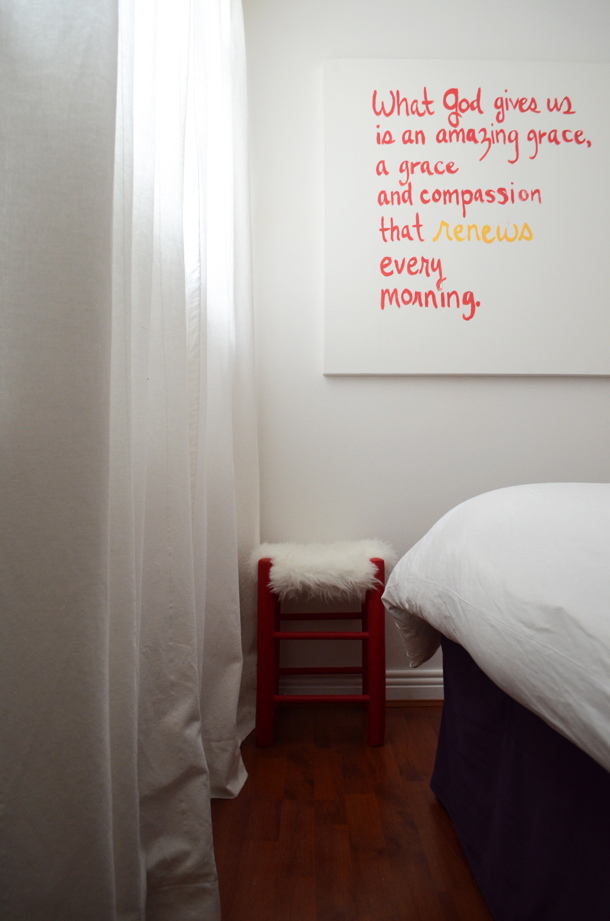 For the wall opposite the bed, I spruced up this faux fur stool, which you'll remember from this DIY tutorial. Then I decided to take a quote from our wedding and turn it into a calming piece of art we could wake up to each morning. We were married by a couple who were Michael's youth leaders when he was growing up, Josh and Debs, and they spoke so eloquently about grace and forgiveness at our wedding. I remember their words so often and I thought I'd like to wake up to these words of wisdom every morning. The words aren't painted perfectly, but they have already brought me such peace if I'm stewing about something when I'm trying to go to sleep.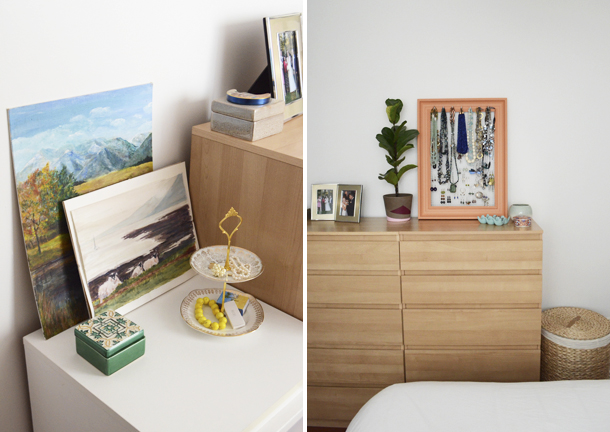 Our Ikea dressers have stayed in the same spot because there is really no other space to put them – and boy did I try! Eventually we'd like to upgrade them to something more visually pleasing (and less obviously Ikea), but for now they are working fine and are way less dull now that the walls are white!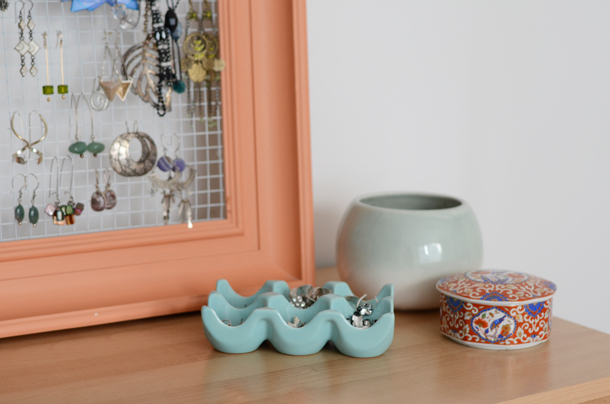 I've started using this little green egg crate for my earrings and rings. I love that it reminds me of the chickens! And you can find the DIY tutorial for the frame jewellery holder right here.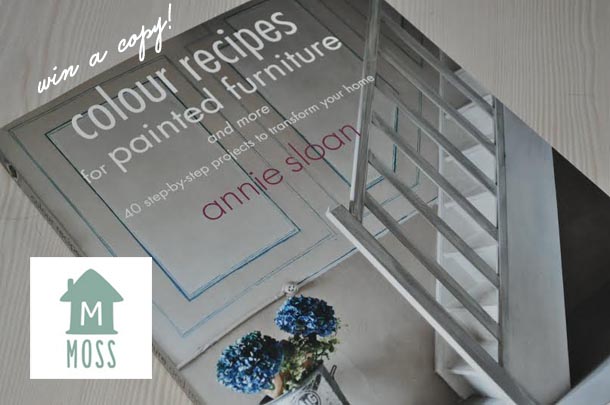 And now for the giveaway part of this post! Jen from Moss Cottage has offered to give one lucky winner a copy of Annie Sloan's most recent book: Colour Recipes for Painted Furniture. I used chalk paint to make over our little fuchsia stool and just loved the results – and this book is packed full of ideas for sprucing up furniture with chalk paint.
To enter, leave a comment and tell me if you have used something that reminds you of your own family in your home decor. I'll pick a winner on Monday, February 10th.