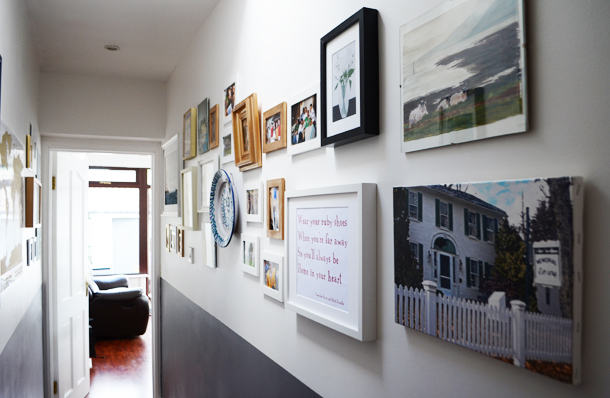 Another reveal today! This time, our hallway, which stretches a good forty feet through our house, kind of like a boat.
This time, I have a before photo! Ta-da! So much cream!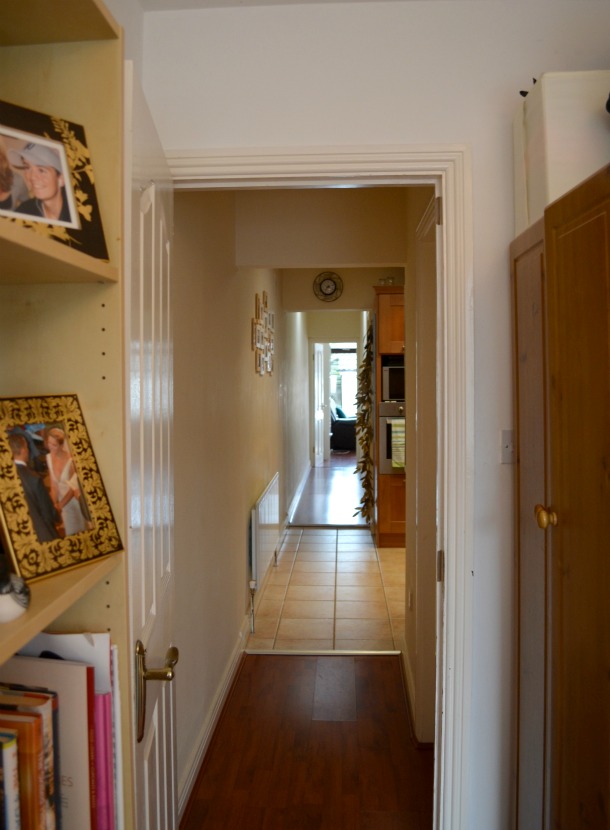 And now white and charcoal! It's so much more fresh and clean. And for the record, it's even nicer in person. The half charcoal wall is possibly my favorite thing in the house so far, maybe because I did it all by myself! I measured and taped, two things I don't particularly enjoy doing. But it was worth it. I saw a post on The Marion House Book a few months ago about half painted walls and filed it away in my brain until one day I was thinking about the hallway and it popped out again! That's how most of my design decisions happen – like epiphanies of ideas stored in there from hours of Pinterest longing and blog reading.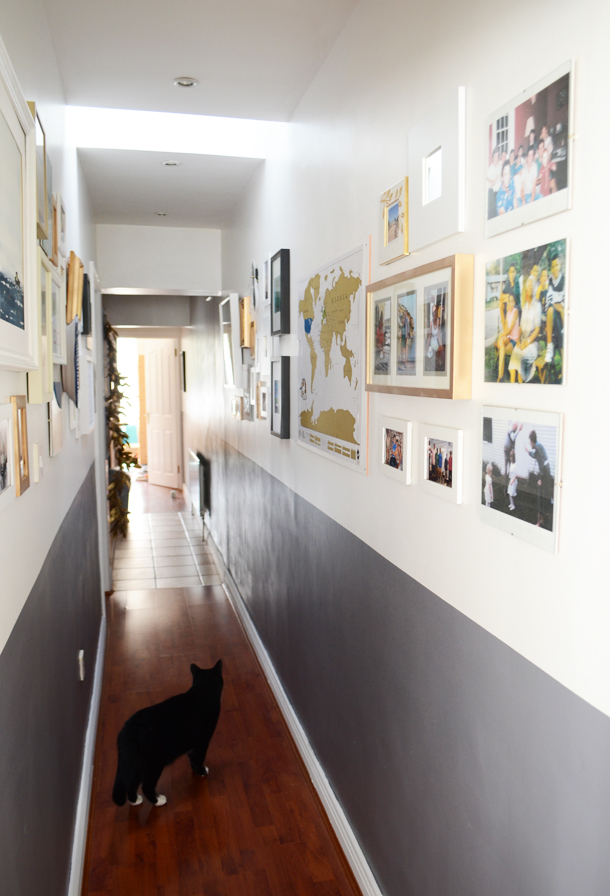 A Coco cameo, of course, because even he likes hanging out in the hallway now that it's spruced!
I've never attempted a gallery wall before but I thought it would be perfect for the space between the kitchen and the living room. Some of the pictures moved from other rooms, where I had gotten sick of them over the last few years, and they have new life now! I originally thought I would need frames, but as it turns out, I did not need frames. In fact, after putting fifty (!) frames on the wall, I still have about ten frames of various sizes left over! They'll get used around the house, but for the love of Pete, no one should let me buy any more frames.
I didn't want the wall to get too busy, since it's a tight space, so I kept the wall to white, black or gold frames. I had a bunch of plain wooden frames from Ikea, so I sprayed those with gold spray paint. They dry in a flash and add a little sparkle! I also had artwork that didn't quite fit some of my frames, but at Alex's smart suggestion, I took them to a frame maker and had mats cut. It makes a big difference on larger pieces and cost about €8 per mat. It worked out perfectly and allowed me to use frames I wouldn't have otherwise. Success!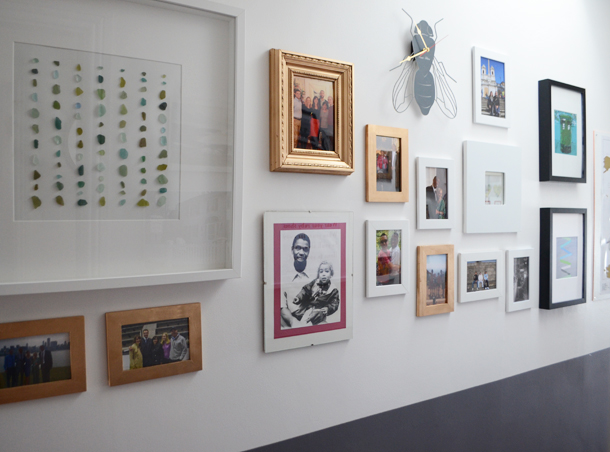 Since prep work isn't my favorite part of any project, I decided we weren't going to try to block it out with paper like most bloggers seem to do. I can see how that would be useful, but we don't have a piece of floor that's big enough for laying out all those frames! So I decided we would wing it. We started with the largest pieces and then worked slowly, adding more frames, making sure that the different color and size frames were balanced on each side of the wall.
It took us about three hours, and a bottle of wine, to get them all up on the wall. It was mostly a peaceful process, although I think Michael asked me Is it level? about seventeen times. I was thankful/cursing the person who gave him that handy little level for Christmas a few years ago!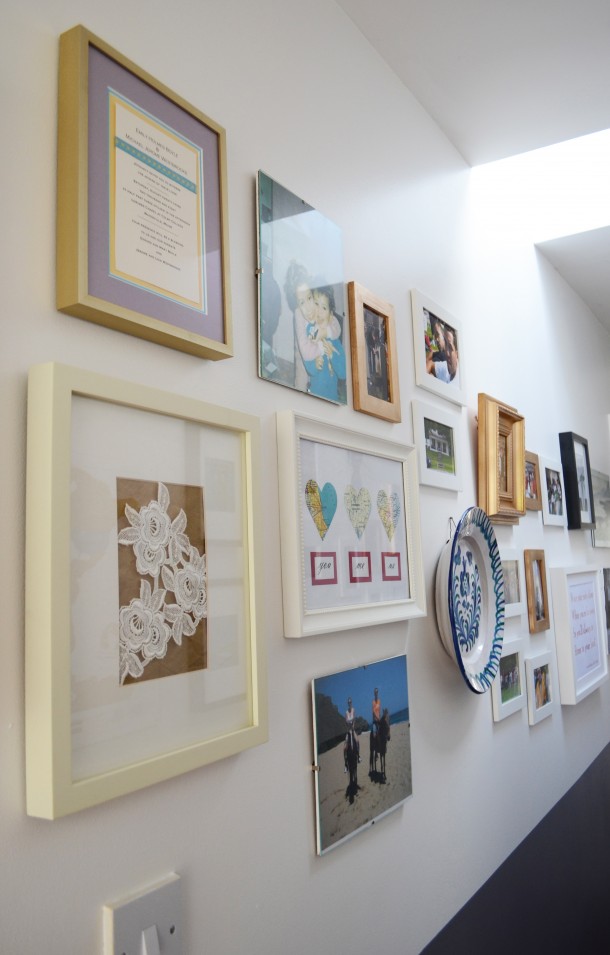 And now the fun part! See that wonderful Time Flies clock on the wall? Designed by the incredibly talented Irish designer, Jenny Walsh. She makes the sweetest clocks in funny shapes – a grandfather clock the shape of an old man or cuckoo clocks in the shape of birds. Jenny is one of the nicest people you'll meet – and her whole intention with her products is to make people smile. She also has these new steel deer antler hooks I totally have my eye on – they'd be great for hanging jewellery! Sadly for me, they sold out so quickly I have to wait a bit to get my hands on one!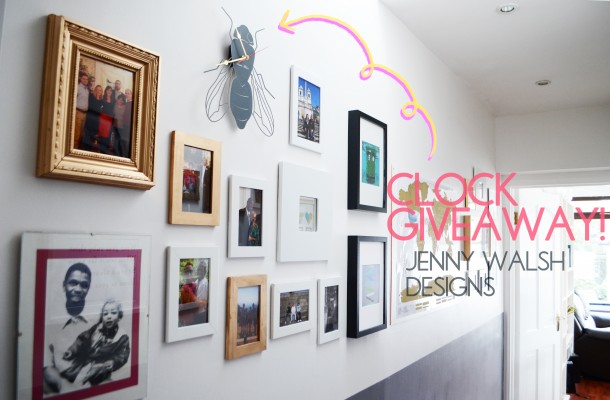 Jenny has kindly offered one of her creations to one of my lucky readers! One reader will get to pick one of her cuckoo clocks in the color of their choice! And they're great colors – teal, yellow, fuchsia, grey, blue or red! You can't go wrong!
All you have to do to enter is leave a comment on this post and tell me whether you're the kind of person who's always late, always early or always on time. (Full disclosure, I used to be on time or early, but moving to Ireland has made me always late. Because Irish people have a tendency to be late by about half an hour!) I'll announce the winner on Monday.