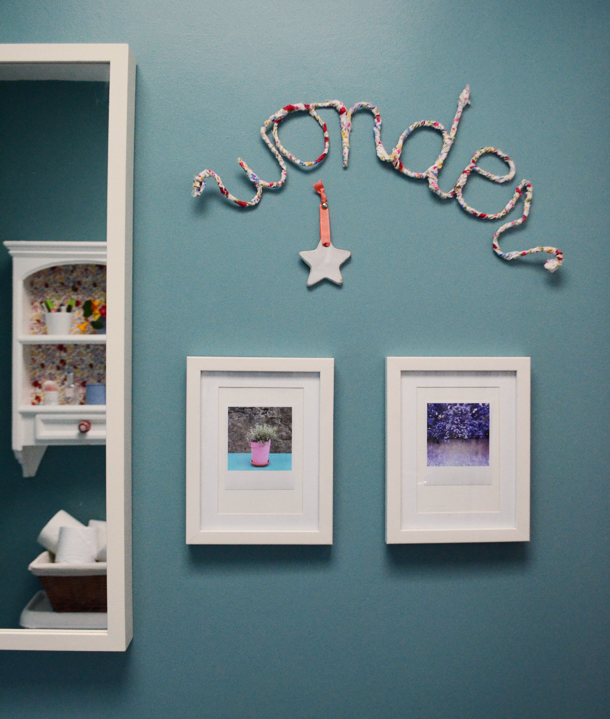 I'm so excited to share with you, finally, the first room in our whole apartment makeover (and a fun little giveaway at the end of this post)! As I was putting these photographs together, I realized I don't actually have a before photo of either of our teeny bathrooms. But try to imagine that until recently, they were both off-white, in desperate need of a paint job, devoid of storage except for a few shelves over the toilet, and completely lacking any artwork or fun or personality. But not anymore!
These photos are from the bathroom that I refer to as my bathroom, which isn't technically true, but I decided calling it that simplified things and gave me license to do with it whatever I pleased! We have two (almost) equally tiny bathrooms in our apartment. Michael's bathroom is the en suite off our bedroom, and mine is the outside one that I and any of our guests would use. Both have a little cube of a shower (mine's a little smaller than Michael's, but that's okay since I'm smaller than Michael), a toilet, a sink, and very, very little room for anything else. Explaining that we have separate bathrooms now sounds a bit strange, but it's really nice not to share that space – it makes getting ready in the morning way easier if we aren't bumping into each other trying to find things or brush our teeth, and it means I've gotten out of cleaning both bathrooms. I clean mine, Michael cleans his. One happens more often than the other, but hey, no one else has to see it, so I don't put up a fuss.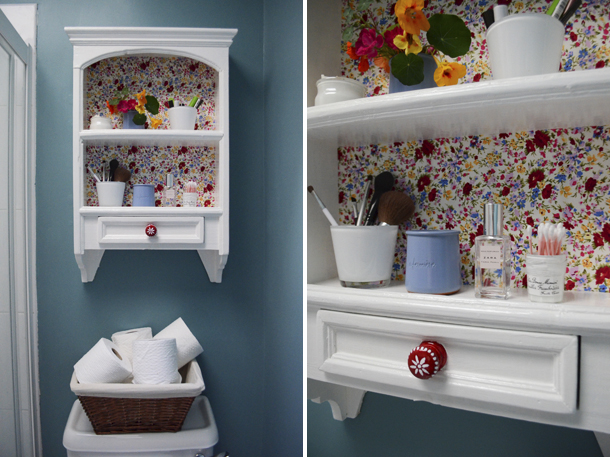 First things first, the color. When I decided to paint everything else in the apartment white, I thought it might be nice to inject a little bit of color by painting the bathrooms something more dramatic. I thought I wanted a blue-grey color, but when I went to the paint/DIY store, they had stopped doing the color I chose. So, I chose a different one on the spot – Atlantic Spray. It's a version of my favorite color, and so far hasn't surprised a single one of our friends or family that I chose it. Apparently, I am predictable even if I didn't predict it myself!
I was a little worried that painting such small spaces a strong color would make them seem smaller, but it just doesn't! Instead, they just feel amazing and complete. Since they have white ceilings, white fixtures and shower tile, and they each have a skylight, there's still light coming through, which makes a big difference.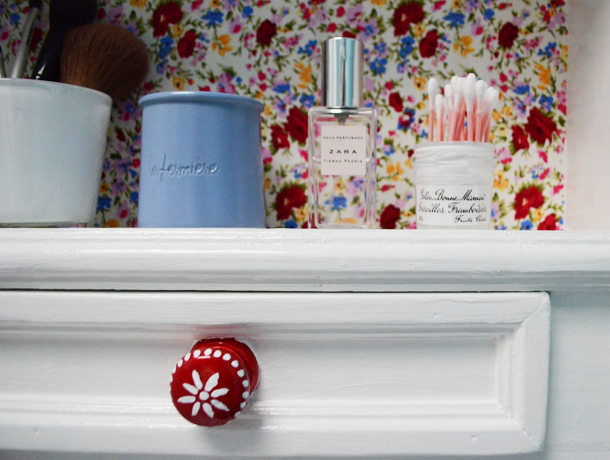 I also knew I wanted more storage in the bathroom. I had this old wooden shelf thing in the shed that I picked up (probably from a skip!) a few years ago and was using to hold thread and needles above my rarely used sewing machine. Again, no before picture (except this photo half way through!), but I'll get better at this – a little out of practice on DIY projects!
So, shock of all shocks, I painted it white! Three coats of the same water based gloss I've been using on the trim. I had Michael hang it, and then I cut out pieces of flowery fabric to sort of decoupage the back of the shelves. I brushed a little Mod Podge (diluted glue would work too) on the back of each shelf and smoothed the fabric onto it. Then I painted the little drawer knob red and added a little white flower detail. I actually searched "Anthropologie knob" on Pinterest to get a little inspiration, then just winged it! It's not perfect, but not many of those Anthropologie knobs are, so I think it works perfectly as an impostor!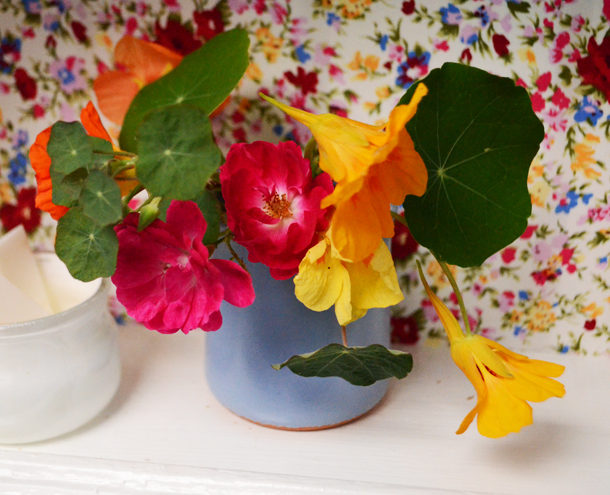 I think every good bathroom reveal needs a few nasturtiums, no? For added storage on the shelves, I painted the inside of a few jars and yogurt pots with white paint and let them dry over night. I also added a few of my favorite purple French yogurt pots to the mix for a little color.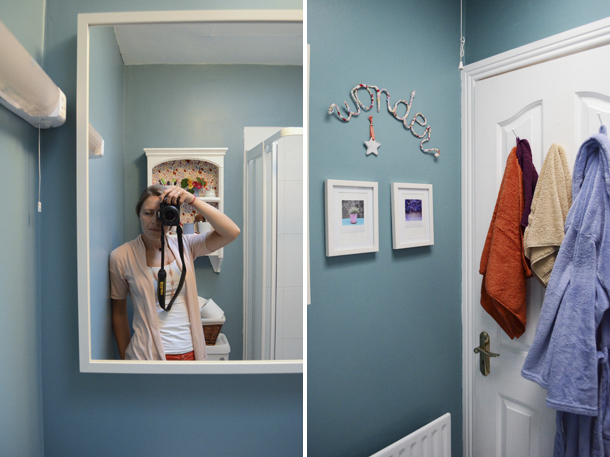 On the other side of the bathroom, I pinned up my little fabric-wrapped wire word (DIY instructions here!) and a pottery star I made last year for Christmas. With a pink ribbon, it suits all seasons!
Then, I framed two photos I had printed using this great iPhone app called Printic. I saw a few bloggers were trying it out a few weeks ago, and although it's not really my style to jump instantly on that type of recommendation for products, I tried it out and absolutely love it. You download the app, select photos from your phone, your Instagram stream, even your Facebook photos, and order them on your phone. You can even pay with Paypal, which saves me searching for a credit card and typing in all those numbers every time.
The prints arrive a few days later in a cheery little envelope, and they're just the perfect size for my little Ikea frames. The quality is great, and the shipping is included in the print price – which, when you live in Ireland is a huge luxury! I hate getting all set to order something only to find out the shipping is eight times as expensive because we live on this little island!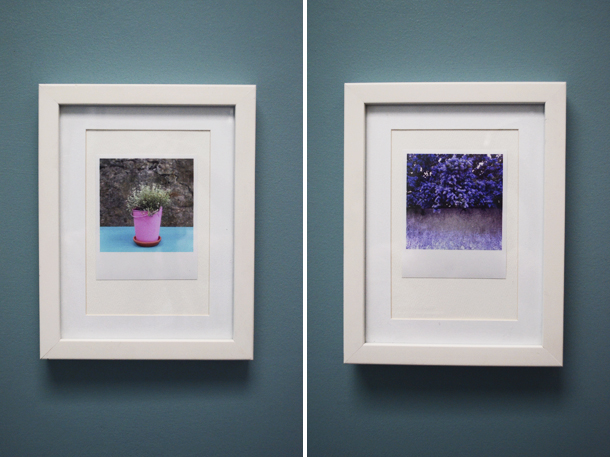 So now for the give away portion of the post! The kind people at Printic are offering five of my readers three free Printic prints. All you have to do to enter is comment on this post and let me know an example of a photo you'd like printed. One entry per person, and of course, they'll ship all over the world! I've already sent Printic photos to a few family members, and they're such a hit! I'll choose a winner on Monday and let the winners know by email!
And there you have it, more words than I ever thought I'd write about a bathroom the size of a postage stamp! Next up, a gallery wall that is proving very difficult to photograph!