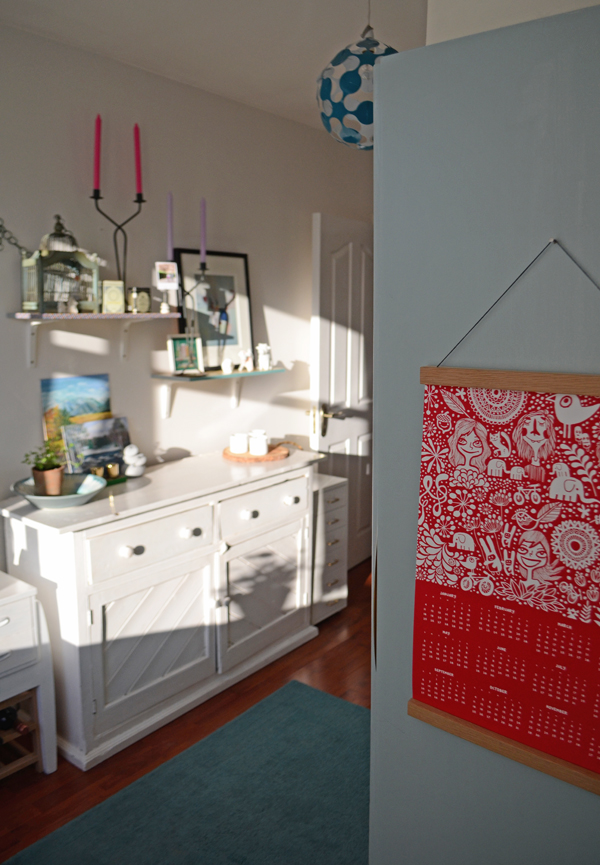 In the next few months, unless something really unexpected occurs, Michael and I will be moving out of the sweet little apartment we've lived in for the last five years. We're in the process of trying to buy a house that will give us a little more space, and while we aren't sure when we'll leave this home, it will likely be sometime this summer. I'm already getting soppy envisioning our last night in what was truly our first home as a married couple. We have so many happy memories here – parties, kittens, chickens, dinner parties, fights and some of the saddest and loneliest moments of my life, but also the making up and moving on and growing that happens in a home.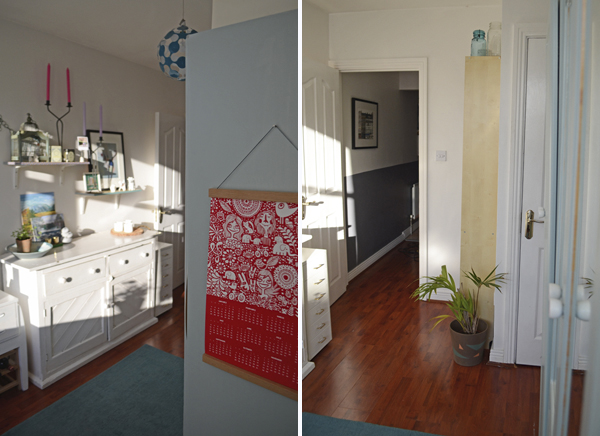 I'm sure I'll have so much more to say about the move and the changes we're planning in the coming months, but in the meantime, I realized I hadn't shared the changes we had made to a few more of the rooms in the house last year! Really, since there are so few rooms, it's only the entry room and the living/dining room that I have left to show – and since we're running out of time here, we're going to forget that it's not Pinterest-perfect!
I lovingly call the entry room our landing strip, because it's where we enter and drop everything. Jackets, bags, motorcycle helmets and gloves and pants, so many shoes, mail and bills and grocery bags, all start and live here. Luckily, this is where the only closet in the apartment is, although it is half full of the immersion hot water heater (which you have to turn on half an hour before you want a shower every single time, don't get me started!) and half full of shelves up to the ceiling.
You can see the before photos here!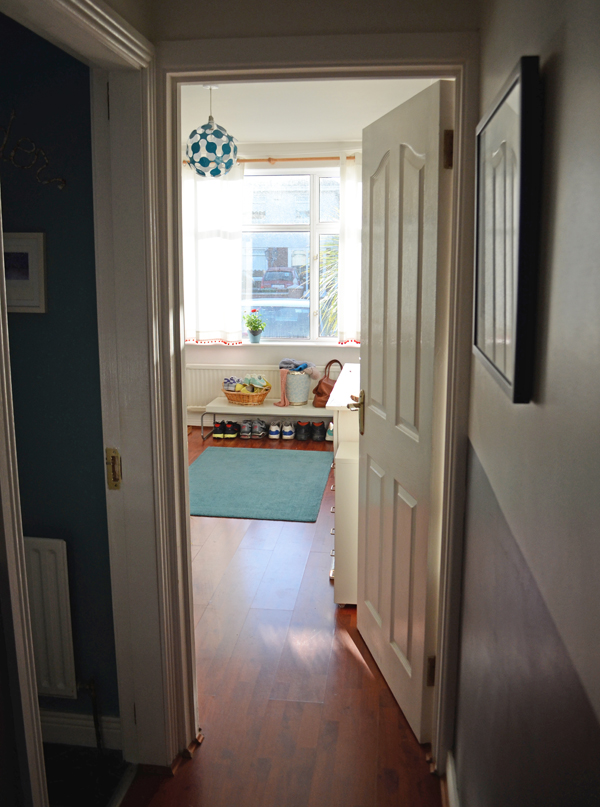 Last year, when we decided to paint the whole apartment white instead of cream, we also tried to make each of the spaces work better for us. We moved the standing wardrobes out of the bedroom so that we could walk all the way around the bed and it was life changing. It made such a big difference. We moved the wardrobes into the landing strip and effectively turned the room into all storage. It once held my desk, but since the internet signal won't reach that far, it didn't make sense to keep it there, so we sold the desk and I work on the dining room table now instead.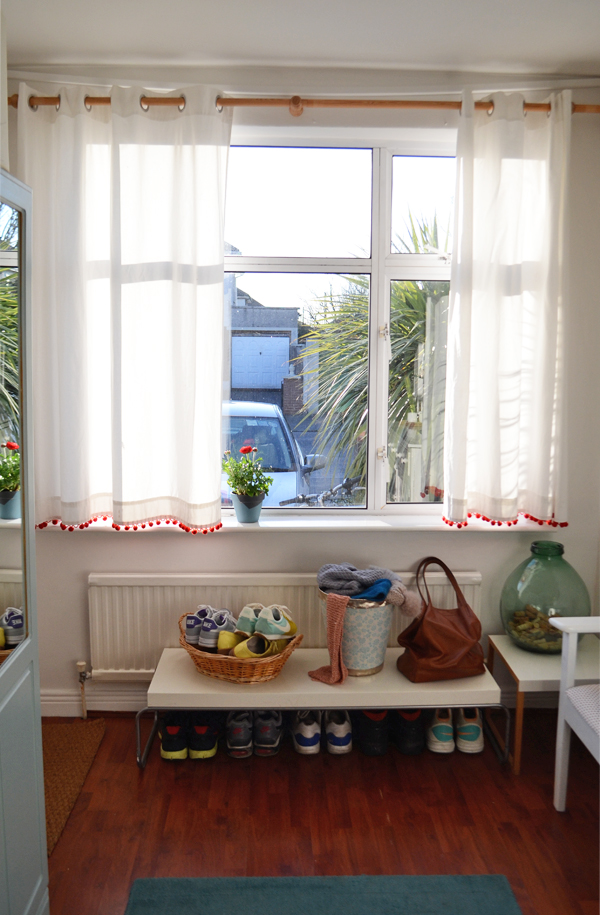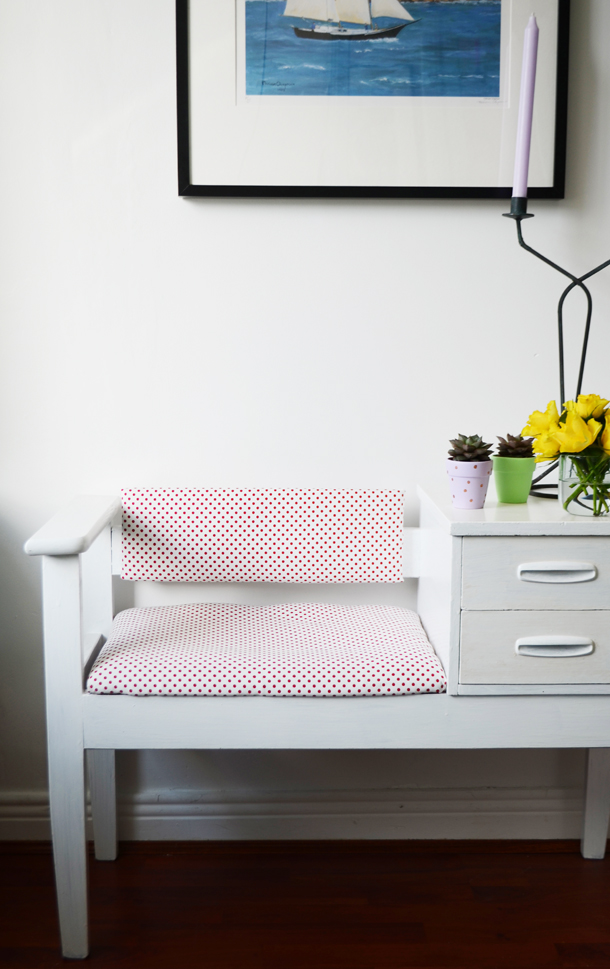 This is an old photo of the phone seat that sits opposite the front door. I realized I completely forgot to snap any photos of it, plus Coco was snoozing on it and he just looks like a black blob in photos! You can see a few more photos of it here!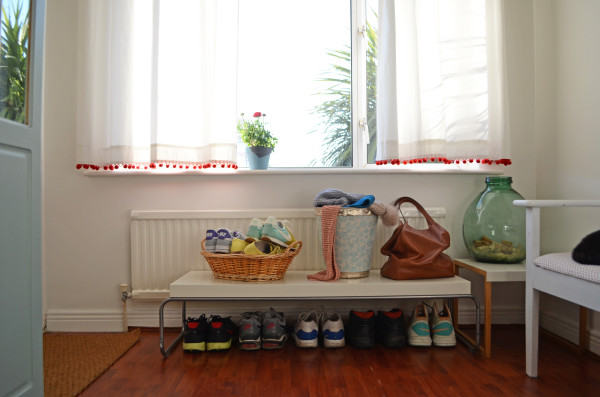 You can see Coco snoozing there on the phont seat to the right, and on the left are the two wardrobes, which I painted blue. We obviously have more shoes than we have storage, so Michael's giant basketball sneakers and coaching runners go underneath the bench. A few pairs of mine go in the basket, and we keep scarves and hats in the bucket.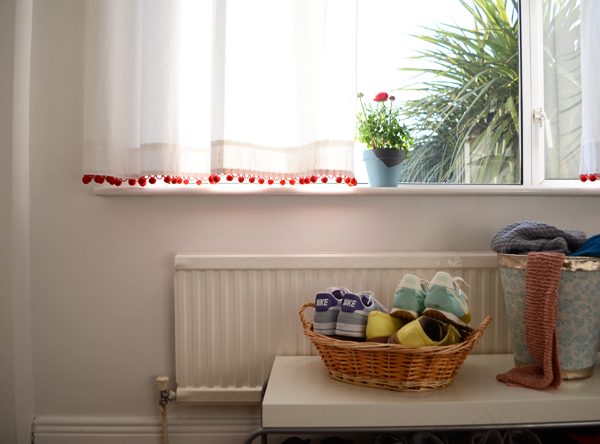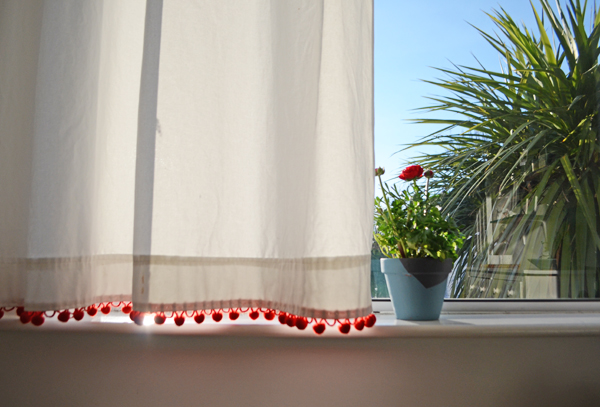 When I found light blue paint for the wardrobes, I thought light blue with accents of red might be cheerful. I ordered red pom pom trim from Ebay in America and my mom brought it with her when she visited in October. I'm not the biggest fan of red, but the contrast with the white is ultra perky.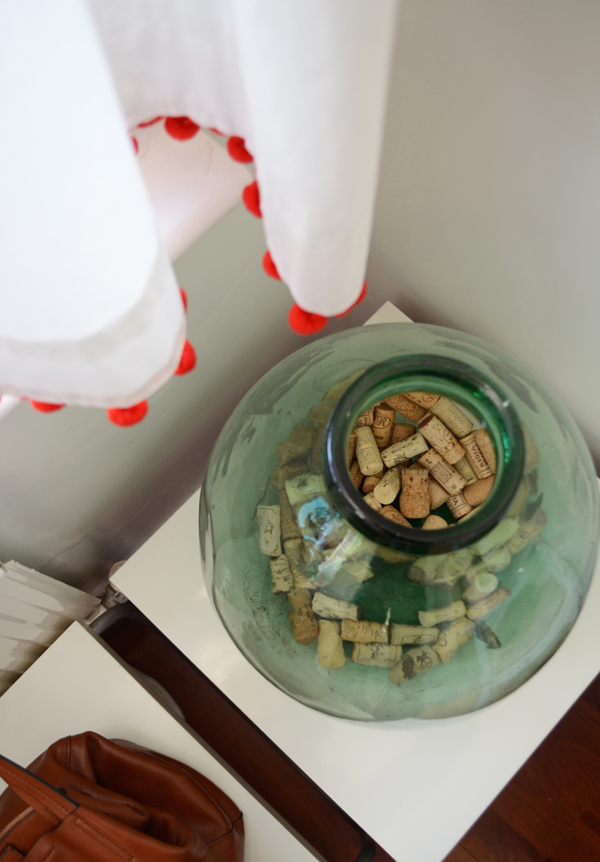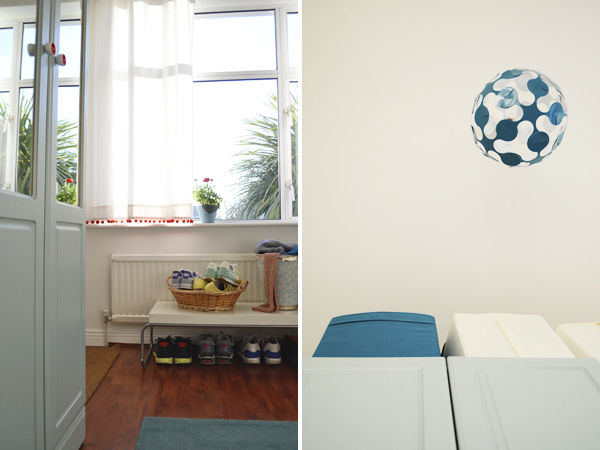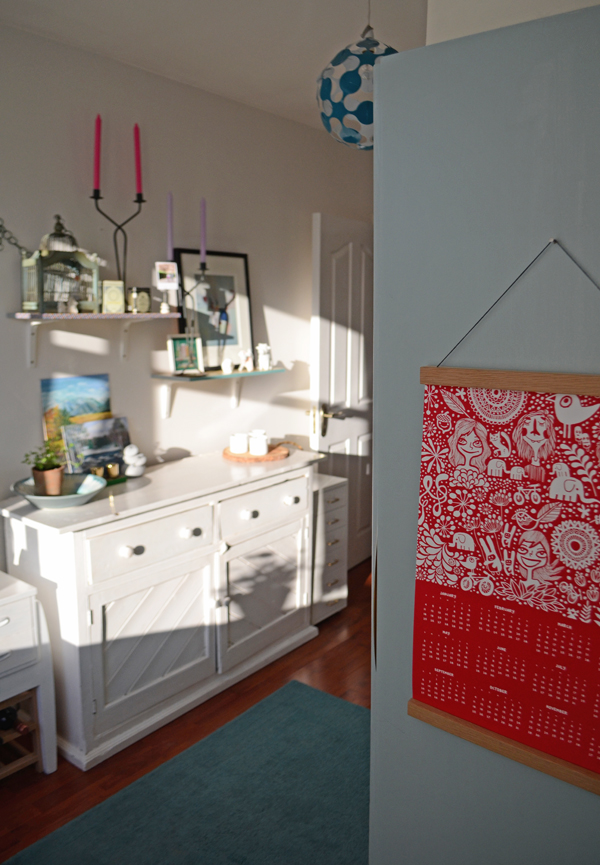 The room is quite narrow, so quite difficult to get much of a shot of every wall. We bought the sideboard my first year in Ireland for €11 on Ebay! It holds extra bedding, all those grocery bags, extra hats and mittens, all our keys and sunglasses, and the ever-important junk drawer. The light fixture is from Irish designer Grainne Lyons. It comes in flat pieces and you put them together yourself. It took us a few tries, but once we got the hang of it, assembly was quite simple.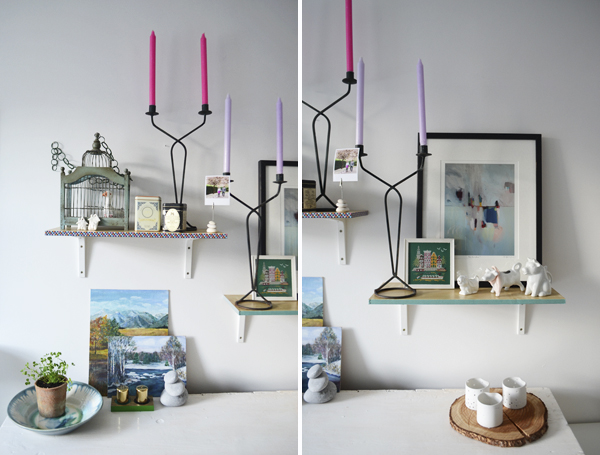 But of course, more fun is the set of shelves above the sideboard. They're inexpensive Ikea shelves and brackets, wrapped with colorful washi tape around the edges.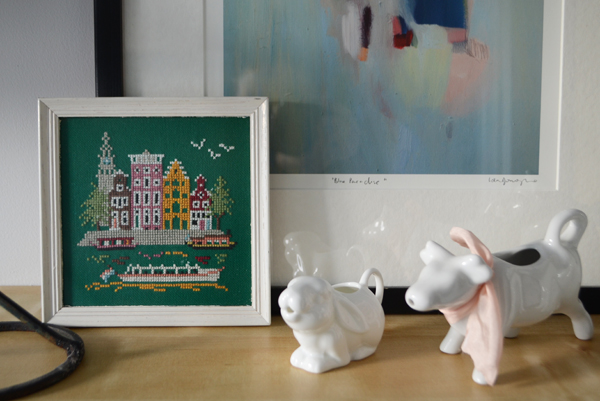 I brought that little cross stitch back from Amsterdam last week! Isn't it adorable? It was €5 at the Noordmarkt and it was made and framed in 1983, the year I was born. The creature creamers are from Avoca a few years ago, and the painting is a limited edition print by Irish artist Lola Donoghue. My favorite trick with art is to buy a slightly less expensive frame and have a framer cut a mat to fit, making it look much more polished without breaking the bank.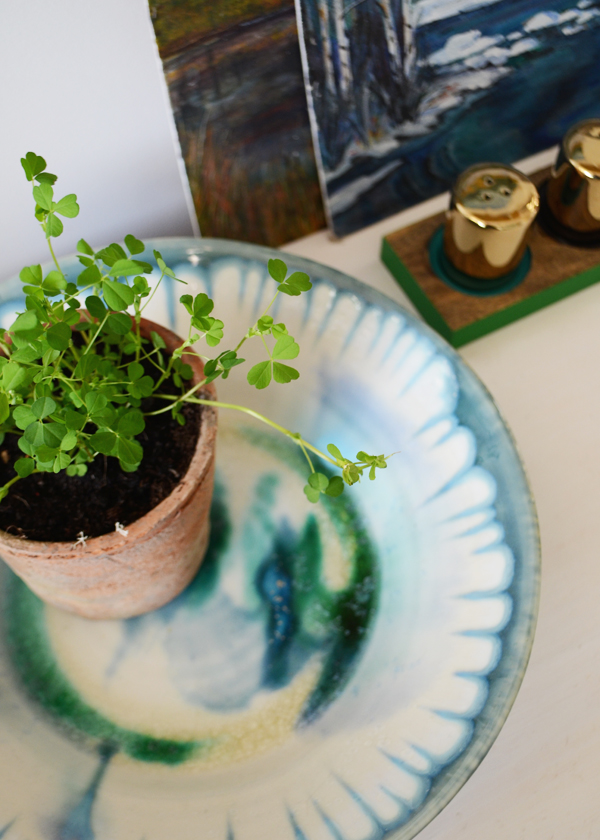 My mother-in-law painted the landscapes, and we rescued them from her parents' farmhouse before it was torn down. The pottery dish was a wedding gift and is one of my favorite possessions. The salt and pepper shakers are from the Oh Joy for Target collection and I picked them up on clearance last time I was in America! One cracked in transit back to Dublin, but eventually I'll superglue it back together.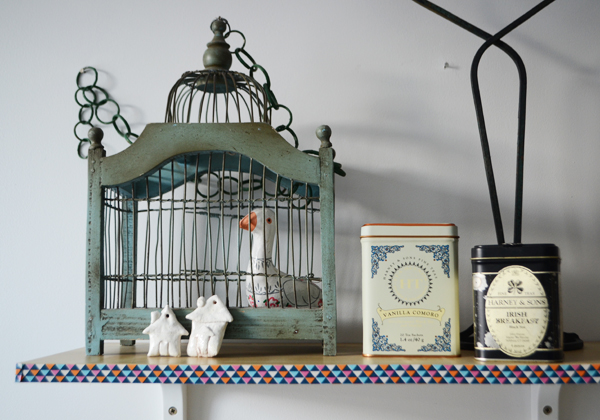 We keep loose change and coins from other currencies in the old tea tins. And for Christmas this year, my mother-in-law made us these little salt dough ornaments that represent the homes we've had. First, our little "Hobbit House" as we called our tiny basement flat where we lived for a few months when we first arrived, and then this house. On the back they even have tiny labels with our addresses and the dates. Such a lovely keepsake idea!
I have to say that having this whole room function as storage has made our home so much more pleasant in the rest of the rooms. It's still a tight squeeze for all those pairs of shoes, but that keeps us from buying anything that won't fit! It'll be interesting to see whether more space means we end up with more things. I hope not!
In a few weeks, when the garden fills in a little, I'll share the final room in our little apartment. Our dining/living room is where we spend the bulk of our time and it's so bright no matter the weather. Back soon!
Check out our bedroom, bathroom and hallway makeovers too!