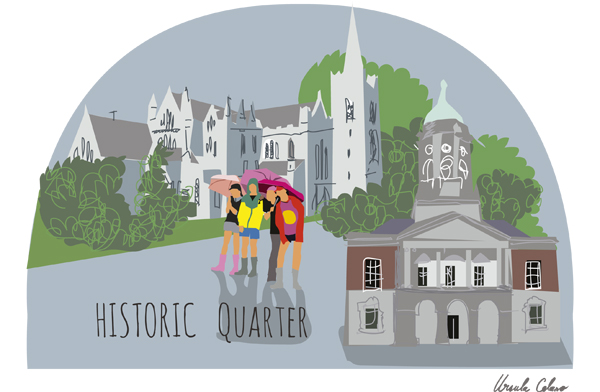 Happy Friday, everyone! Do you have nice plans for the weekend? I gave a walking tour this afternoon and got drenched (my first soggy Vayable tour!), so I'm working on warming up before we spend the weekend puttering around the house. The next few months hold a lot of travel for us around Ireland (Donegal, Clare, Galway) and beyond (Glasgow, Barcelona, America), so it's nice to have a weekend without much planned.
Delightful Dublin is just about finished, and Julie and I are preparing to release it into the world in just over a week. The illustration above is a preview from the book – each of the six neighborhoods we feature includes an original Ursula Celano illustration! Isn't it so great? We will hopefully be making the illustrations into prints or postcards you can buy in time for Christmas!
The process of writing Delightful Dublin has been different than I imagined when Julie and I started exploring the idea almost a year ago. It has been equally more fun and more exhausting than I thought it would be. I've learned how important it is to work with the right partner on a project, and honestly, working with Julie has been the most fun part. With a project this size, it's so helpful to have someone who believes in it just as much as you do, who can give you creative pep talks if you're doubting yourself, and who has such a great eye for the aesthetic as well as the general look and feel of the project. I think we're going to have to write another book after this one just so we can keep working together! But just a few more weeks and you'll be able to see the fruits of all our work on this one!
I hope you have a dry, happy weekend, friends! See you Monday!