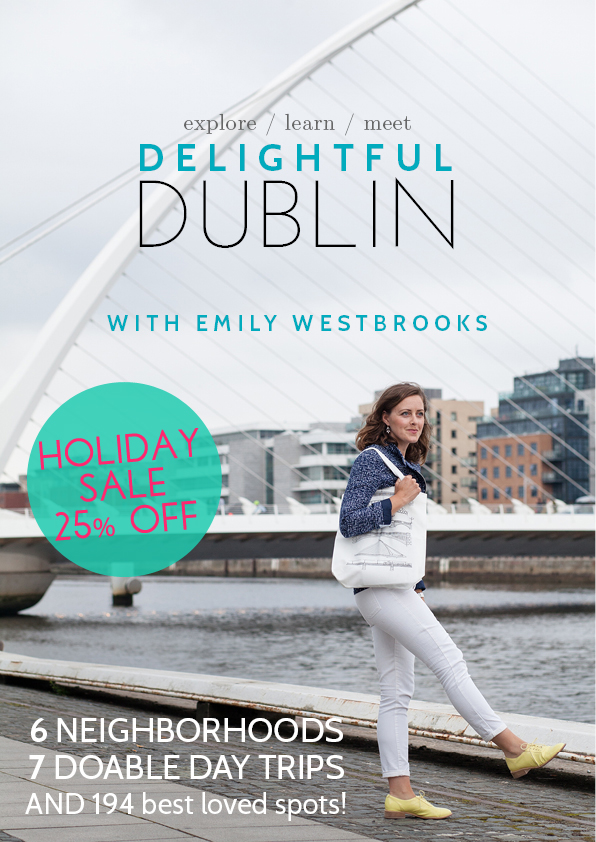 Just like that, Christmas is right around the corner. It's not even possible that it's surprising – we've been talking about it for months – but yet how is it so close?! I went to order a gift online today and was out of luck because it won't get there in time for Christmas. Ack!
So I figured a few of you might be in the same predicament and are spending your last few days looking for great online gifts. Terrifying side note/trivia fact, did you know Amazon's busiest time for ordering gift cards is Christmas morning?! I'm not sure where I heard that, but it's a little depressing, so we'll get back on track.
In case you're in the market for a last minute gift that doesn't rely on postage, you can order a copy of my guidebook, Delightful Dublin, and receive it instantly! If you're like me and like to have something physical to accompany an online gift, order a copy, then send me a note and I'll email you a file you can print and include in a card! It's a pretty affordable little gift for anyone who loves Dublin or is planning a visit!
Use the code HOLIDAY25 to get 25% off the price of Delightful Dublin, so that's only $9 for 250 beautiful pages of inspiration and information on this delightful city. Ho ho ho!
Order right here!
*Discount applies to postcard packs (see those right here) as well, but you'll have to wait until after Christmas to get those!