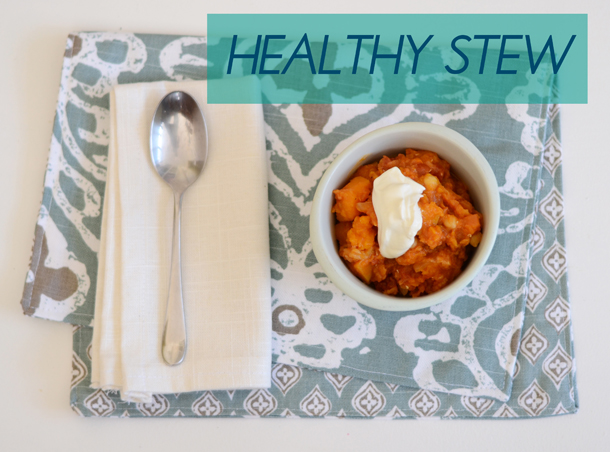 Do you ever find a recipe you just absolutely love and then proceed to make it for weeks on end? I've been making this awesome Healthy Butternut Squash Lentil Stew every week for months and can't seem to get sick of it! It's filled with so many healthy veggies but tastes delicious and hearty. It even has a bit of kick from jalapenos. As if that wasn't enough to persuade you to give it a shot, it's barely more work than chopping a few ingredients and opening a few cans. Then it sits on the stove for a couple hours and it's good to go!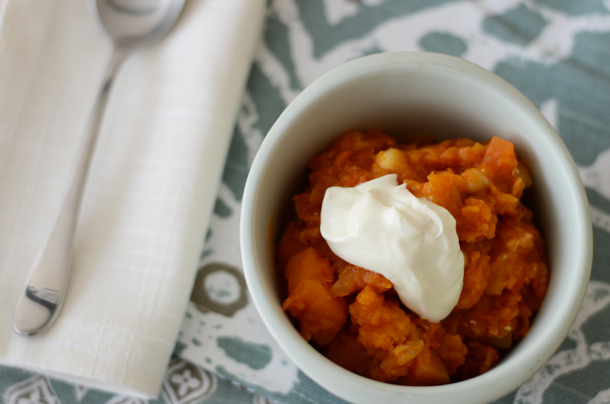 Ingredients:
1 glug olive oil
1 onion
1 carrot
1 tsp jalapeno, minced (or however much you can handle!)
1 tablespoon curry powder
1 garlic clove, minced
3/4 cup dried red lentils
1 butternut squash, peeled and chopped into 1 inch cubes
2 cans chopped tomatoes
1 can chickpeas, drained
2 vegetable stock cubes
4 cups water
Heat the olive oil in the soup pot. Add the onion and carrot and allow them to cook until they start to get tender, about five minutes. Add the garlic and cook for two minutes. Add the curry powder and cook for two minutes. Then add the jalapeno and cook for two minutes. Now, add all of the rest of the ingredients, adding the water last. You want to make sure the water almost covers the rest of the ingredients. Put a lid on the soup pot and allow the stew to come to a boil. Let it boil for about five minutes and turn the heat down to medium low. Let the stew simmer for about two hours. It should start to get thick and the butternut squash will start to fall apart just a little. Serve with sour cream or creme fraiche!