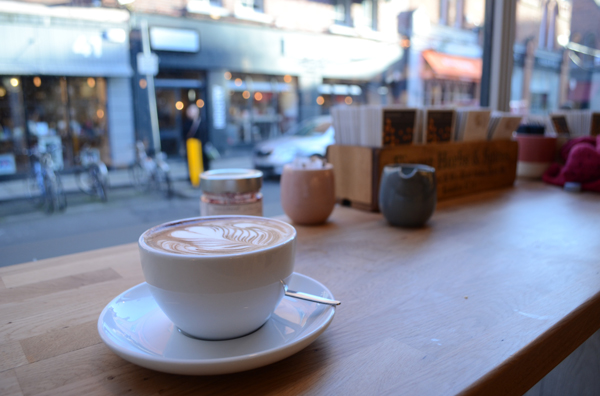 Good morning from snowy Dublin! Well, snowy might be overstating it, but there were some soggy flurries and it is cold! What better time to talk about the best hot chocolates in Dublin? I've been on a hot chocolate kick this winter and these are my faves – for different reasons!
(I should also tell you that this is one of the most painful posts I've written in a long time. My love for hot chocolates – and every other kind of chocolate – this winter prompted Michael and I to take on a 14-day total sugar detox. We're on Day 6 and I don't think it's a good sign that I'm still dreaming of hot chocolate!)
Here's a little warning about Dublin hot chocolate. Not every restaurant or cafe is going to give you great hot chocolate, even if it's on the menu. I've ordered it in places and ended up with the powdery mixed in chocolate you'd make at home. I think that's disappointing and not worth the calories if you're out and about in Dublin because we have so many delicious options for the real deal. Consider yourself warned!
Right, back to the task at hand.
Butlers Chocolate Cafes / Best hot chocolate for walking around
Butlers is kind of the holy grail of hot chocolate in Dublin. It's an Irish chain with multiple branches throughout the city, so it's almost always convenient. Which is much better if you're a visitor than if you're a local. If you're a local, you'll eventually land yourself in sugar detox time out.
I'm not a big fan of different flavored hot chocolate, like mint or chili, but Butlers does have those as well. The regular hot chocolate is made with their gooey chocolate sauce and hot milk, topped with whipped cream if you so choose. If you sit in (some of the Butlers cafes have space, some don't), it's served in a tall glass, which also isn't my favorite. I think the better way to enjoy Butlers hot chocolate is in a take-away cup, walking around the city with pleasantly warm hands. If you're a coffee fan, their mochas are made with the same gooey chocolate and they are divine.
They also have Butlers at the Dublin airport in both terminals, so I always grab one when I get through security as a reward for making it that far!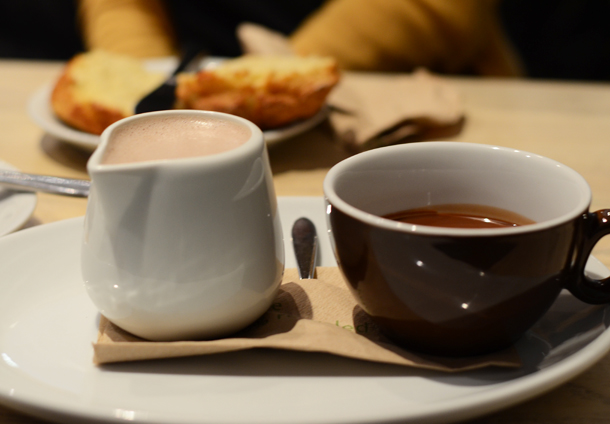 Brother Hubbard and its new Sister Sadie / Most chocolate-y
Brother Hubbard and its new south side location, Sister Sadie, wins the award for most chocolate-y hot chocolate in Dublin. I've written about Brother Hubbard before, and I still can't get over how they manage to make hot chocolate so chocolat-y. It's really rich, but it's not overly sweet, which makes it drinkable!
It's served with a little jug of already chocolate-y hot milk, and a mug of rich liquid chocolate that's thinner than sauce but thicker than hot chocolate. You mix the two together yourself, sip and swoon. I know that word is over-used, but I think swoon is an appropriate response to Brother Hubbard's hot chocolate.
Considered Cafe / Frothiest
I wrote about Considered Cafe only last week, and I'm still thinking about their frothy hot chocolate. I was offered marshmallow on top, but I declined, because sometimes Dublin marshmallows are tiny, crunchy pink things that make this girl who used to eat Marshmallow Fluff with a spoon very disappointed. So, no marshmallows. Verdict? Totally not necessary. They froth the milk so well and pour it so it looks like a gorgeous cappucino with a little tree design (photo above). Despite the good frothing, it's still chocolate-y enough for me. I'll be back!
Bean and Goose / Best bonuses
I mentioned I'm not such a big fan of flavored hot chocolate, but Bean and Goose in the Temple Bar Market in Meetinghouse Square is an exception. Sometimes Aztec hot chocolate, with lovely cinnamon flavor, or even whiskey hot chocolate, which some days definitely call for!
But what I love about Bean and Goose hot chocolate are the bonuses. First, they share a table with Wildflour Bakery (Kate made my birthday cake for my 30th and I wish there was still some left in the freezer!), their table is covered in 31 Chapel Lane Irish linen (which makes the best gift!) and you can take blocks of Bean and Goose hot chocolate home to make yourself.
Clement & Pekoe / Crowd Favorite
I have to admit this last hot chocolate I haven't tried myself. When I go to Clement & Pekoe, I zero in on their cappuccinos or flat whites because they are one of the best in the city. But when I asked for recommendations on Instagram the other day, Clement & Pekoe was the crowd favorite, so I wanted to include them in this list.
French Foodie in Dublin recommended them in her list of the best hot chocolates in Dublin and it looks yummy and maybe a little cheaper than some of these options, but I'm worried about the chocolate factor. I like a really chocolate-y hot chocolate and this one comes with hot milk and a chocolate stirring stick. But seriously, so many people recommended it, and I trust Instagram friends, I do!
**
Now here's the fun part. How about you all make your recommendations for your favorite Dublin hot chocolates and I can commence dreaming about them until this stupid sugar detox is over and I'm back to my life of indulgence! If you don't have a Dublin favorite, you could share your all-time favorite from anywhere in the world, and wouldn't that be an awesome chocolate-y list!