Welcome! Today is the first in what will be a series of posts exploring Dublin – perfect for both visitors and locals – and all on foot! (Although if you wanted to hop on a Dublin bike, I've got tips for that here!) My friend Naomi joined me for the day and was great company along the way. So off we go!
11:25 // We arrived in the city centre on the Dart and decided we needed a little caffeine and food before we started exploring. What better place to start than a cute cafe. We walked from the Pearce Dart station to KC Peaches on Nassau Street.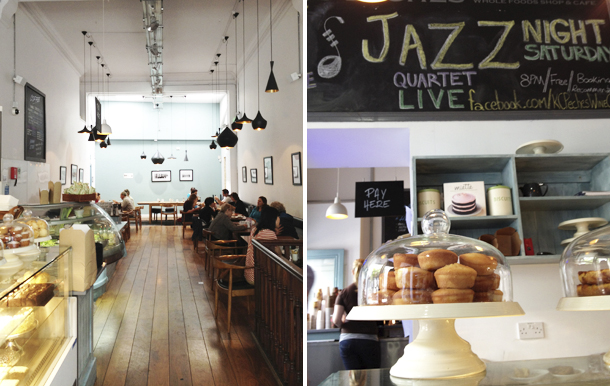 Our theory for the day was to eat a little less than we normally would, but to eat a little more often – that way we were able to try more! We decided to split a quiche and a selection of their delicious salads, and then try a few sweets with our tea and coffee. The lovely girl behind the counter named off every one of the treats so we could decide – and there were about 30! We chose their basic tea cake and shortbread. All were delicious – the ham and cheese quiche had their own roasted ham, and the tea cake and shortbread were perfect with our caffeine!
12:15 // Properly caffeinated, we headed down the road to catch a lecture at the National Gallery of Art. They have a daily schedule of free tours and lectures, so we caught Aspects of Irish Art with Katie. It was short and sweet – twenty minutes covered about six paintings and I left feeling like I had learned a bunch about Irish art in just a short time.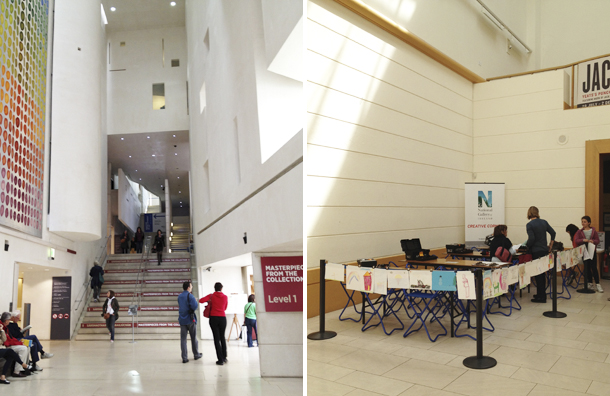 1:00 // On our way into the gallery, we noticed a new shop across the street called MakeShop. And who wouldn't be drawn in by a name like that?!Turns out it's an extension of the Trinity Science Gallery (more on that in a minute) where you can spend 15-30 minutes doing a workshop that teaches you how to make something science-y. I made a robot to learn about circuits, and Naomi soldered a pin with a little LED light. We were very proud of ourselves!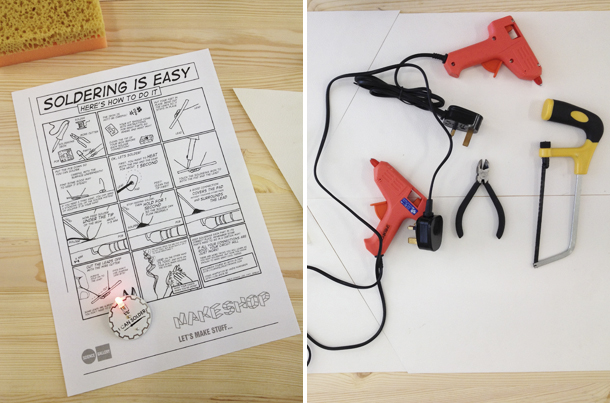 1:30 // Since we were feeling so science-y, we walked around the corner to the Trinity Science Gallery. Neither of us had been before so when we walked in, we weren't quite sure what was going on. The exhibits change fairly often, and there were about 10 different exhibits. We must have looked a little baffled because one of the staff came over and offered to tell us a about one of the exhibits. Our new friend, Barry, was then commandeered to tell us about the entire exhibit. He knew lots about each exhibit and even told us about the different artists who created them.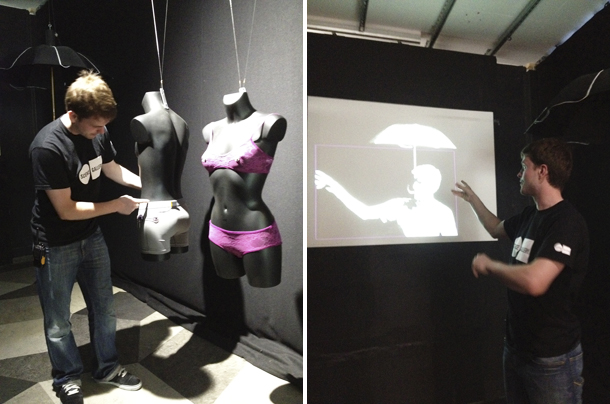 At the risk of totally mortifying Barry, here he is explaining an odd exhibit that involved preventing credit cards from being hacked using special underwear. Sorry Barry!
2:00 // A quick walk past the artists displaying their work on Merrion Square (every Saturday and Sunday!) and over to the Natural History Museum, otherwise known as the Dead Zoo. We took a short stroll through the small museum (only two large rooms, one up, one down) to see all the stuffed (real!) animals. I can't imagine what it would be like to see as a child since I get such a kick out of it as an adult!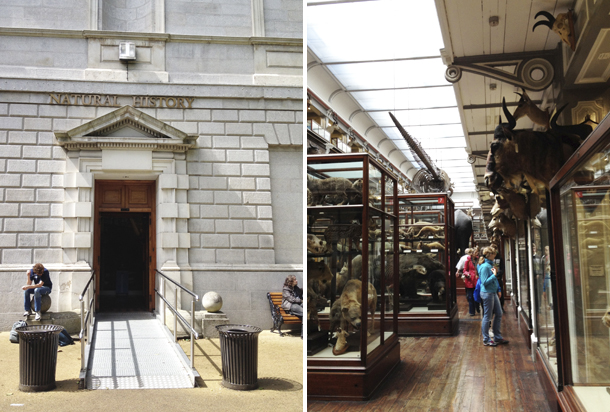 2:20 // A sunny stroll through St. Stephen's Green. We loved seeing a group of women in fancy hats having a little picnic tea party in one of the gazebos! What a great idea!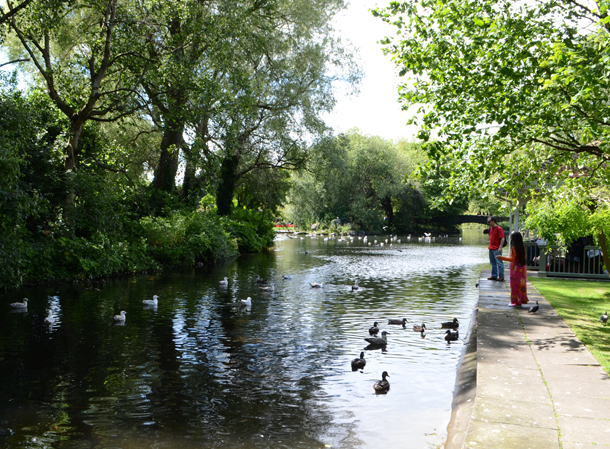 2:30 // A peek inside a new fabric store at the top of Grafton Street – the Cloth Shop. It's lovely inside and has a great range of pretty oil cloths, among lots of other fabric. I just loved their logo stencilled on the wall!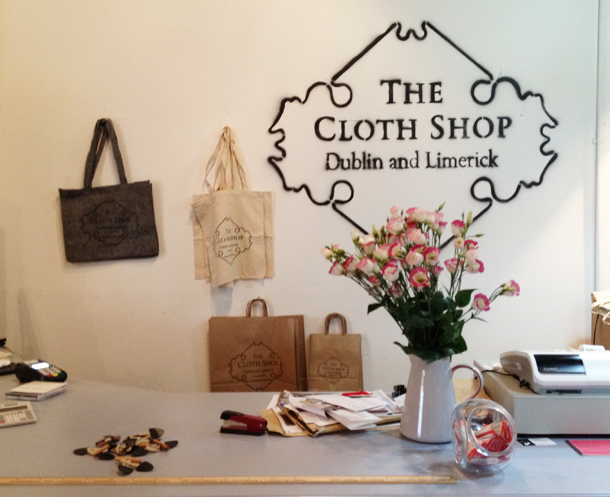 2:40 // Another little browse through A. Rubanesque, a gorgeous shop in Powerscourt Centre filled with ribbons, buttons and generally gorgeous bits. Working in one of these beautiful shops would be so fun and cheery!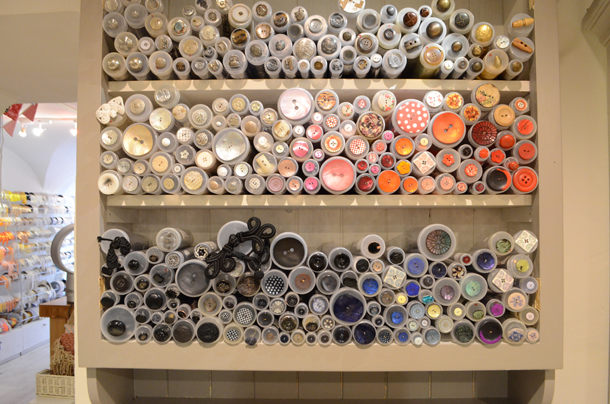 3:00 // After visiting a few more shops in Powerscourt (I'll share in depth about a few of them in the next few weeks), we strolled up George's Street for a late lunch and a little more sugar. Despite the occasional rain, the street was bustling.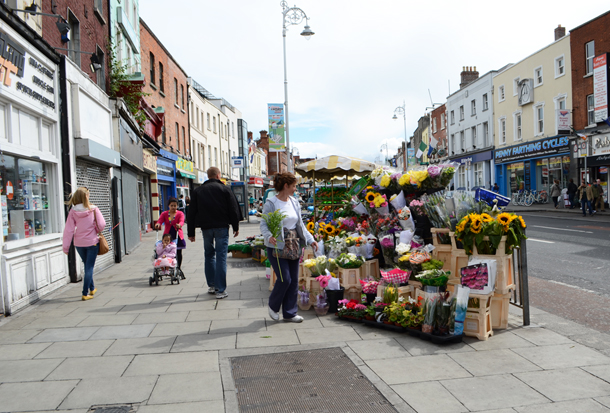 3:30 // The Cake Cafe. If you live in Dublin and you haven't been, you need to go. If you're just visiting, you also need to go. Walking up Camden Street, you look for a shop with a bright orange awning called Daintree. Daintree sells pretty paper goods and wedding invitations. After browsing through the colored papers, you walk straight through Daintree and out the back door to the courtyard. Set back through bamboo leaves is the Cake Cafe. If it's nice weather, you can sit outside in the arty courtyard, or you can cozy up inside. The weather when we were there couldn't make up its mind, so we took a spot by the window inside – great for people watching and weather watching!
We split a sandwich on their delicious homemade bread – goat cheese, cranberry relish, baby rocket greens and roasted hazelnuts. It was divine.
And of course, we couldn't leave the Cake Cafe without a slice of their freshly baked cake. We shared the carrot cake; I enjoyed mine with a chai latte (sometimes hard to find in Dublin!) and Naomi sipped her way through a huge pot of tea.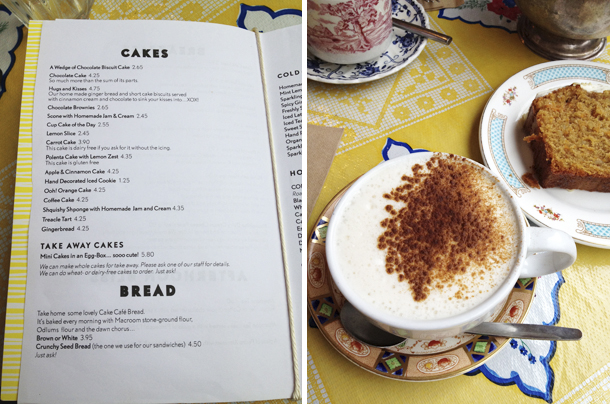 And since it kept raining off and on, we just kept sipping and people watching for another hour!
So there you have it! A day of exploring Dublin, eating lots of sweet treats, exploring pretty shops and even learning a little!
One Day in Dublin is a series of posts detailing a day of exploration in Dublin. If you have suggestions for places to explore in Dublin, please send me an email at emily@fromchinavillage.com!