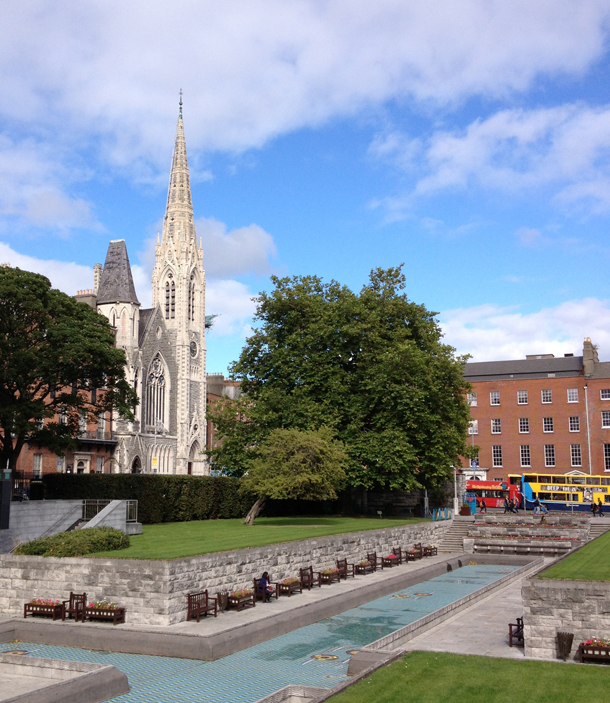 I was giving one of my Vayable walking tours last week, and we headed up to the top of Parnell Square. Right after checking out the fruit and veg on Moore Street, and right before wandering through the Hugh Lane Gallery, we wandered up to the (currently empty?) reflecting pool at the Garden of Remembrance. It reminded me how much I enjoy the poem inscribed on the back wall.
In the darkness of despair we saw a vision,
We lit the light of hope and it was not extinguished.
In the desert of discouragement we saw a vision.
We planted the tree of valour and it blossomed.
In the winter of bondage we saw a vision.
We melted the snow of lethargy and the river of resurrection 
flowed from it.
We sent our vision aswim like a swan on the river. The vision 
bec ame a reality.
Winter became summer. Bondage became freedom and this we left to 
you as your inheritance.
O generations of freedom remember us, the generations of the 
vision.
~ Liam Mac Uistin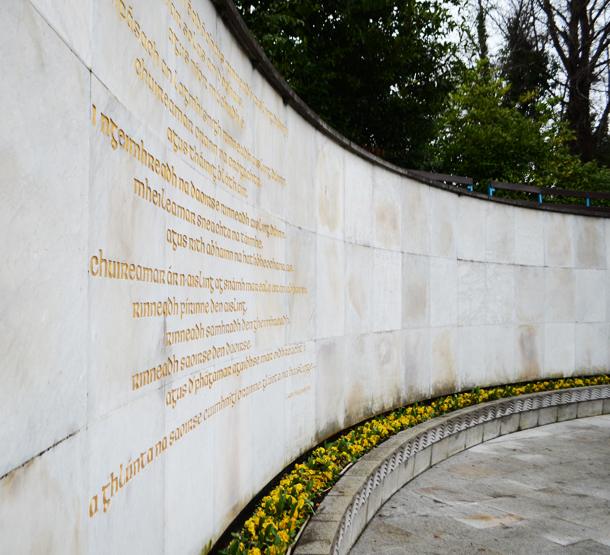 Sometimes it's nice to be reminded how hard people fought for Irish freedom not that many years ago. But of course, that's exactly the point of the Garden of Remembrance, isn't it?
{And the winner of the Jenny Walsh Clock Giveaway! Congratulations, Aoife Kinsella! I'll email you tomorrow with the details!}