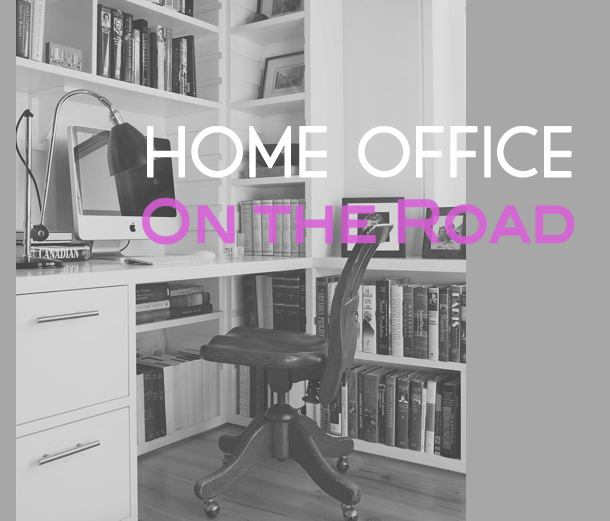 If you're a regular reader, you're probably well aware of how much time I've spent traveling this summer. If you're not, there's this, this, this, this and this to give you a little taste of exactly how much travel we've been up to. Nearly ten weeks of travel this summer, including Florida, the Midwest, Colorado, Maine, the south of France and the south of Spain. It was an epic summer of travel and honestly, I think I'm still recovering.
There were a few of those ten weeks that I specifically took off as real vacation. The first five months of the year barely involved a weekend off, so I needed a few weeks break. But the rest of the time, I was trying out the theory that because I work for myself, I can work from anywhere. Today I wanted to share how that worked and what I learned.
First, packing. Here's what I brought with me for work on almost all of my travels:
Laptop, case and charger
DSLR camera
iPhone and charger
iPad and charger
External hard drive
Notebook
It sounds like a lot, but other than the iPad and hard drive, it's what I like to travel with even before I started working for myself. When we went to France, I didn't bring my laptop, but we ended up not having internet so I couldn't really test what it was like to work with only the iPad. On the rest of our travels, I hardly used the iPad, so if I was traveling without Michael, I would choose between laptop and iPad and not lug both around. However, with both of us traveling, Michael liked having the iPad in case I was working for a few hours. He's also a big fan of watching movies on it on airplanes, so it is useful if there's someone else there to carry it!
Beyond the iPad, I used everything on that list repeatedly, and it all packed up neatly. I definitely got the packing part down after ten flights in three months!
Now, the work part. Other than my packing list, the only other thing I really need to work is internet access. All but one of the places we stayed had working wifi, so I found I could work best when I woke up in the morning and we didn't  have plans with whomever we were staying with. I have regular deadlines for my writing with Snippet & Ink, and somewhat regular deadlines with One Fab Day, so I would work on those when I had a few hours. I scheduled conference calls based on working hours in different time zones, and responded to emails whenever I had a few minutes with my computer every day. Overall, I found keeping up with regular work fairly easy while we were away, as long as I could be flexible about when that work happened.
But the trickier part was the freelance pitching I wrote about in my last Home Office post. I simply found it hard to pitch stories from the road. It's hard to pitch stories about Dublin when you're not going to be in Dublin for nearly two months, and it's hard to pitch stories at all when your brain doesn't really have time to rest.
Overall, this summer was a good test of the working-from-wherever system, and I do feel like I learned what I can and can't accomplish when I'm not at home. And that will be pretty valuable when I get ready to pack up again, although it might be awhile. Those last few Ryanair flights wore me out!
Anyone have experience working from anywhere? Any tips or tricks? And I'd love to know what's on your packing list!