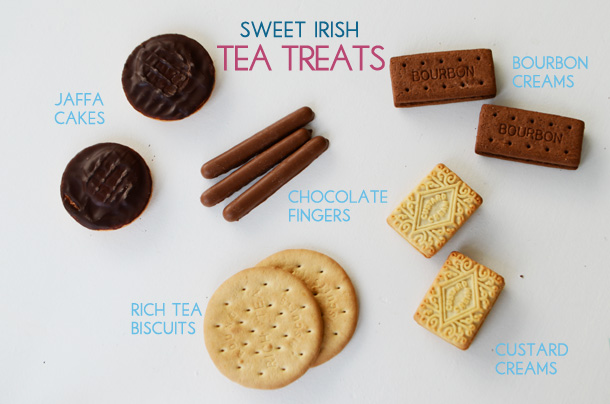 Last week, I did a very scientific poll on Twitter and Facebook to find out exactly which treats are the best and most typically paired with tea here in Ireland. The answers were split right down the middle between store-bought and homemade treats, so I thought I'd start with what you can pick up in the shop and bring you a second post with homemade treats from a very expert Irish baker. Best of both worlds, huh?
At my last job, there was an all-but-mandatory tea break at 10:30 every morning! Can you believe that? And these treats were always key players.
Jaffa Cakes – A biscuit layer, a layer of orange jelly, with the top dipped in dark chocolate. These are Michael's favorite – apparently there's a myth they're good for energy during a workout. I'm not sure I quite believe that.
Bourbon Creams – Two chocolate biscuits sandwiched with chocolate cream. My personal favorite of this bunch.
Custard Creams – Two vanilla biscuits sandwiched with vanilla cream.
Rich Tea Biscuits – Just like an American animal cracker – light, crunchy and good for dunking.
Chocolate Fingers – Biscuit sticks covered in chocolate. My Irish girlfriends insist the best way to enjoy a chocolate finger is to nibble the ends off and then dunk it in the tea and use it as a straw.
Now, tell me. What's your favorite tea treat? And more importantly, do you dunk? Or are you a dunking wimp like me?