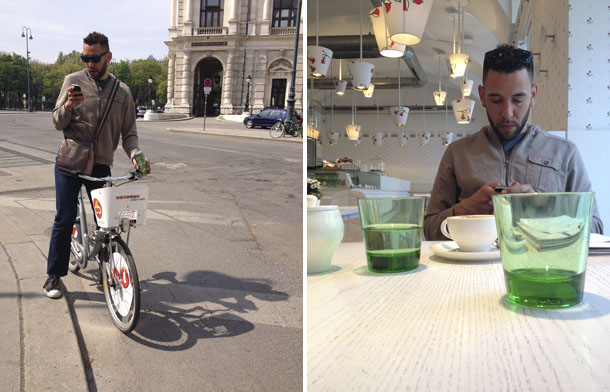 After a few years of traveling together, Michael and I have come up with a really great system, wherein I do very little and he does it all. It sounds a little unfair, but it seems to be working for us so I'm going to enjoy it as long as I can! I'm usually in charge of bringing snacks for the journey and otherwise I try to bring general cheerfulness as I follow along behind him. Michael will generally ask me for my input while he's planning, and whether there are any stores or museums I want to add into the itinerary, but even then he figures out where the places are and how they will fit into our trip.
I asked Michael to offer a few tips to people who aren't quite so lucky to be married to a dedicated travel planner.
Hey everyone, this is Emily's wonderful husband who, after five years of reading my beautiful, most talented wife's blog, has decided to make his opinion known.
So, here are a few tips on planning a trip away.  For me the first step starts with deciding where you will stay and the rest of your trip can build and develop from this. Usually Emily and I will stay in an apartment when we travel. We have found that this gives us more flexibility with what we want to do. It allows us to prepare some of our own meals, and also I find that by renting apartments we have a little be more control over staying in fun, new areas of a city.
The majority of the time I find myself using Airbnb. I try to find a place that is located near the city  center, but not necessarily  in it. A lot of cities have great artsy, crafty sides to them and by staying in these areas you can get a feel for the people of the city and a real local vibe, while still being in touching distance of many of the popular tourist attractions of that city. Read the reviews on Airbnb, they do help.
I always research the public transportation in our destination city. I make sure I know how we will be getting from airport to destination and back again. Once I know where we will be staying, I research how to get to the areas and attractions that we want to visit. Many  cities have public transport apps that are very helpful in helping plan journeys around the city. I always try and download any free city apps that are helpful for our trip. For example, recently in Vienna the local transport system the OBB has their own app which allowed us to put in our current location and desired destination. It mapped out possible route via public transport, which was very useful.
Once Emily and I have decided on some of the areas and attractions we would like to visit, my next step is to figure out where can we eat, grab a beer or glass of wine or a coffee in these particular areas. I try to have a couple options for each area. By doing this we are not left wandering aimlessly around a city trying to find a place to eat or wondering if this place or that place will be what we are looking for, which keeps us from getting too hungry and grumpy searching for a place. For these places I usually check out city websites or local blogs that are similar to (but usually not as good as) From China Village. For example for our upcoming trip to London I have been checking out the TimeOut London site. Not only do these websites help with finding good places to eat, drink and socialise, they are also great for letting you know what might be going on in the city while you are there.
Although I like planning our itineraries and can spend lots of time preparing before our trip, we never have an itinerary that is rigidly set. I don't have our day broken down to the last minute. It is actually the opposite, instead we have things we want to do for each day and usually have two or three that are divided into morning/brunch time, afternoon & evening.  This still allows us the flexibility to still wander and discover the city and do things like stop and shop.
Obviously I could go into a lot more detail about each but for now I think that should do. Plus I don't want Emily to think I am trying to take over her blog. So until next time, slán!
And with that, I'll let Michael get back to his travel planning. We're off to London this weekend and I can't wait to see what he has planned!