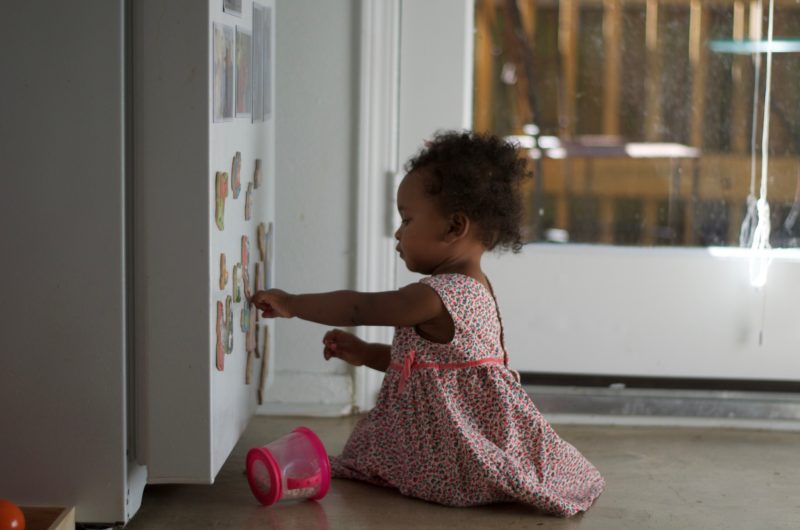 Little one-year-old Maya playing with her animal magnets
With the holidays coming up, gift ideas are starting to pop up here and there. And by here and there, I mean everywhere I turn. Maya has been gifted a few sweet gifts in the last year so I thought I'd share some in case the ideas are helpful for your toddler shopping.
This year, we're going with the wear-read-need-want combo that I've seen other parents around the internet sticking to in order to curb some of the over-giving that happens around Christmas. I love gift giving, but I also like the idea of having limits.
These are some of the hits we've experienced in the toddler toy department in the last year or so, in case there's a toddler on your gift list this year!
Chunkies – My mom brought these for Maya last time she visited and they're the consistency of an oil pastel, but they dry like paint very quickly. They're more satisfying for Maya to play with, since they easily make bright swaths of color, whereas crayons are a little less exciting because she's not strong enough to press down very hard yet.
Cupcakes – My friend Becky sent these for Maya for her birthday and she'll play with them for ages, at least by toddler standards. They have pieces that easily slot in together, and the colors aren't obnoxious.
Play kitchen – For realllllly tiny spaces, like our cosy 800 sq foot apartment, this mini kitchen from Ikea fits in one of our closets!
Forest Magnet Set – This one has been socked away for our plane ride to Maine in a few weeks, another gift from my mom. It's a little heavy, but it has lots of animals to play with.
Wooden camera – My sister gave Maya a camera for her birthday and she's just now figured out she can "use it" to take "potos," through the wrong side. It's hilarious but also nice to have something that's fully imaginary. Nothing lights up or make noise, so instead she says, "one, three, kick!" She means click, but we'll get there.
Animal magnets – Maya carries at least one of these around every day. We gave them to her when she turned one and they live on the fridge. The kitty and elephant get the most play, by far.
Little People farm – You can't go wrong with Fisher Price Little People, even if they have changed since I was a kid. Maya plays with this set every day.
Dog Charlie – My brother's name is Charlie, so when our friend Debs gave Maya this pre-named dog for her birthday, we had to differentiate between human Charlie and dog Charlie. Now dog Charlie goes everywhere with Maya, and whenever she's scared or sad, she cries out for "My Charlie!" He came to LA with us and about eleven million other places.
Good luck with your holiday shopping! I'm still at lest 75% unfinished 😉