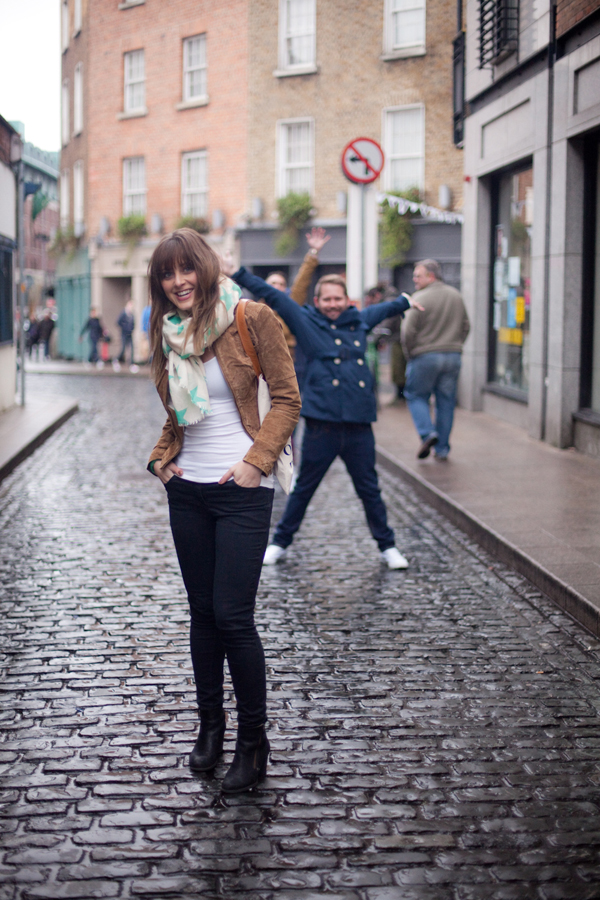 A few months ago, poor old Temple Bar made a totally depressing list of top ten most disappointing places in the world. What a shame, huh? It's never good to have such an infamous award in your city. (For the record, those guys on a stag behind me in the photo above are a big part of why Temple Bar made that list! Come on, lads!)
When I went to write about Temple Bar in Delightful Dublin (don't forget, you can sign up for our mailing list so you hear first when it comes out!), I thought it might be difficult to find very many delightful things about the neighborhood. Turns out? It's full of delightful spots, but you really need to know what you're looking for to make sure you avoid the places that landed it on that very embarrassing list!
Today I thought I'd share just a couple delightful spots, and of course when Delightful Dublin is released in just a few weeks, you can find the whole list inside. I'll leave you waiting with bated breath!
Folkster – One of my new favorite shops, I'll give you a bigger peek inside Folkster later this week. It's filled with vintage clothing and accessories sourced from around the world, as well as a new Folkster Edit collection of party and wedding dresses, and a new Folkster Home section. The belt I wore to Michael's brother's wedding came from Folkster!
Cow's Lane Designer Studio – Cow's Lane is a collective shop where you can find Irish designed crafts and accessories. Check out the great hats from Shevlin Millinery and the pottery from KaroArt.
Bar Pinxto – When the tapas restaurant, the Port House, is too busy, we walk three blocks to its sister restaurant Bar Pinxto. In fact, I'm not sure why we don't just go there to begin with! Bar Pinxto has the same menu, the same ambiance, and it's always less busy.
Farmer's Market at Meeting House Square – On a Saturday, the market square fills with stalls – rain or shine. They have permanent umbrellas they can put up that cover the whole square if it rains.
Indigo & Cloth – Indigo & Cloth is a hipster clothing store / coffee counter, but it's where you can pick up a copy of Kinfolk or Cereal magazine as well as original Irish county screen prints.
Photo by Julie of Half a Dream Away.