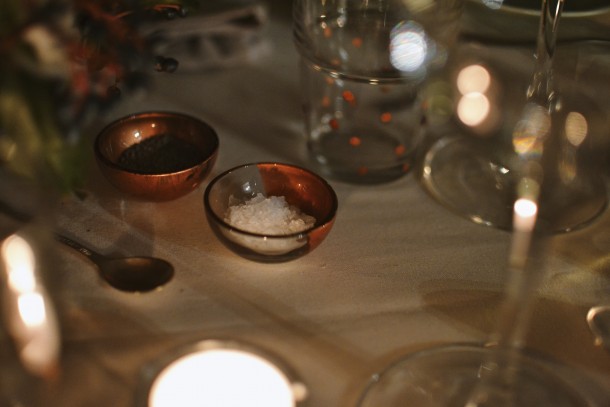 Happy Thursday, friends! Time for another DIY project and this one, yet again, is the simplest. I got it in my head that for my 30th birthday dinner party, I wanted to have touches of copper along with my mint green dishes. I've already shared how I polka dotted the water glasses, so now I thought I'd show you my little copper gilded salt cellars.
I love the look of salt (and pepper) cellars with tiny little spoons. I rarely use them in restaurants, but they just look so fresh that I've started to use one in our house. I'm always tempted to run my fingers through the salt – I never do, but let me tell you that is the reason I don't use them in restaurants! If I'm tempted, who knows who else is tempted!
Anyway, I digress. The copper gilded salt cellars involve three supplies: liquid copper leaf, masking tape, and these little tiny glass bowls I found at Ikea in a pack of four. Tape off a little section of the bowl with the masking tape, and paint the remaining bit. Let it dry and peel off the tape carefully. Et voila! Copper gilded salt cellars perfect for making any dinner a little more festive.
Tell me, what are your thoughts on salt cellars? Do you ever use them in restaurants or do you have the same reservations as me?