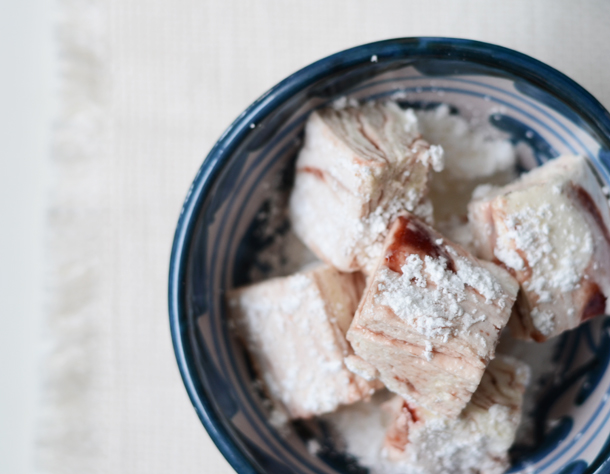 Today I'm very excited to be kicking off the blog tour for Irish food blogger Donal Skehan's latest cookbook, HomeCooked. It's a little intimidating to be responsible for the first post in a blog tour, but I was very excited to be asked to try out one of Donal's recipes since we're practically neighbors! Donal lives in Howth, and I love following his Instagram feed for sweet pics of his dog Max exploring lots of our favorite walks. Donal also has a super cooking show that always ends with a cosy dinner party and you know that's right up my alley!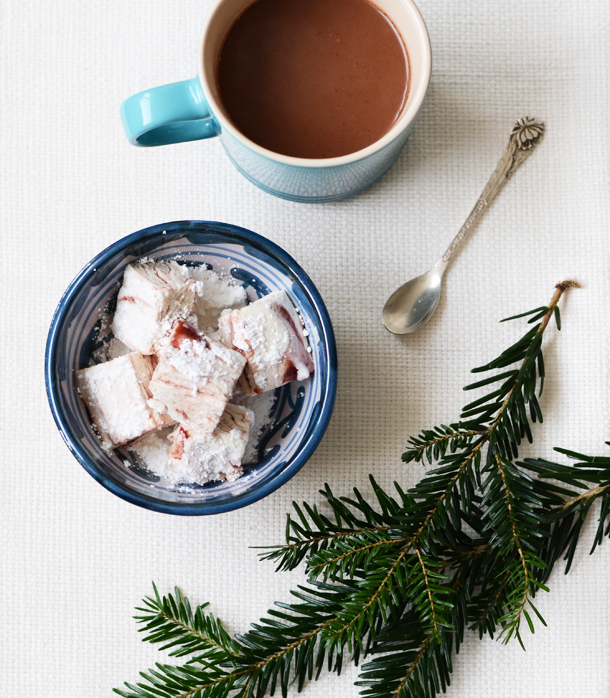 I had a browse through HomeCooked and decided to tackle the Strawberry Swirled Marshmallows – I figure they'll be great gifts for friends and neighbors next week, wrapped up with a package of hot chocolate! I've been pinning marshmallow recipes for months now but was always a little nervous about the amount of mixing involved since we only have a little hand mixer (there's really no room in our kitchen for a stand mixer!). Turns out, I needn't have been so worried. They were pretty simple!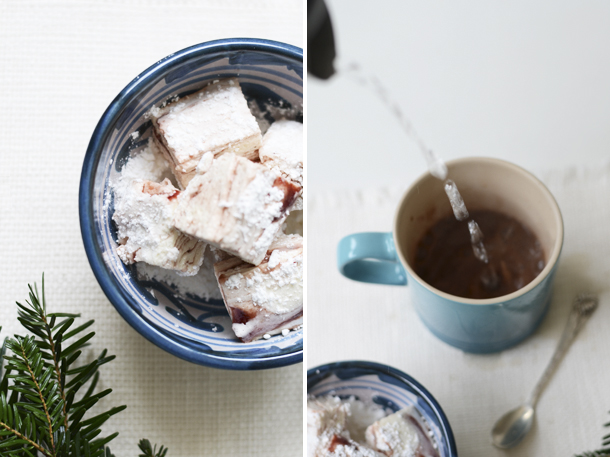 Strawberry Swirled Marshmallows from Donal Skehan's HomeCooked 
Sunflower oil, for greasing 
30g or 1/4 cup icing sugar
30g or 1/4 cup cornflour
9 sheets of gelatin 
2 large egg whites 
450g or 2 cups caster sugar
1 tbsp liquid glucose
100g or 1/4 cup strawberry jam, strained through a sieve

sugar thermometer
baking tray
Place a fine sieve on a small plate and add the icing sugar and cornflour. Use some of the sugar/cornflour mix to dust the greased tin and set the rest aside.
Place the gelatin and 140ml of cold water in a jug and allow it to sit for 10 minutes.
Meanwhile, put the egg whites in a standing food mixer and beat until stiff peaks form. (I obviously used our hand mixer and it didn't take too long!)
Place the sugar, liquid glucose and 200ml of cold water in a saucepan. Stir the mixture over a gentle heat until the sugar crystals have dissolved, then increase the heat to high and bring it to a steady boil and continue to cook until the sugar solution reaches 127°C/260°F on a sugar thermometer. Remove the pan from the heat and pour in the gelatin mix from the jug. Be careful, as the mix will bubble dramatically.
Turn the whisk back on and gently trickle in the warm mixture into the beaten egg whites and continue to whisk for 10 minutes until the mixture turns shiny and thick enough to hold its shape on the whisk. Pour the marshmallow mix into the prepared tin and then drizzle the strawberry jam over the top and swirl through. Dust with a little of the icing sugar and cornflour and set aside to cool over night.
Dust a clean surface with more of the icing sugar and cornflour and turn out the marshmallow slab. Using a sharp, dusted knife, cut the slab into marshmallow squares. Coat the exposed edges with the remaining dusting powder and then serve as a special treat with hot chocolate or pop into an airtight container for later.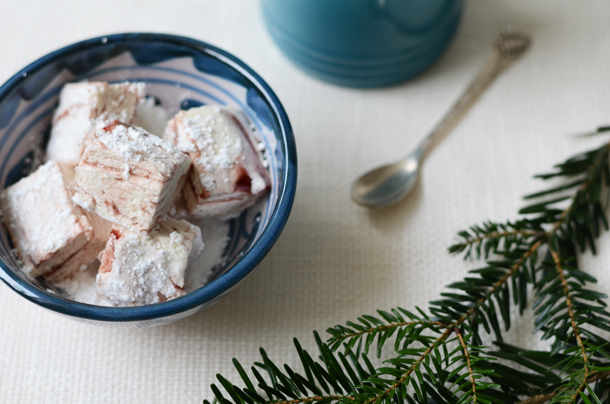 You could use any kind of jam or spread (how yummy would Nutella marshmallows be?) in place of the strawberry jam. They melt perfectly into a mug of hot cocoa and would probably be amazing in s'mores!
Tomorrow, the extremely talented food blogger and photographer, Imen from Modern Farmette, is going to be sharing another of Donal's recipes. I can't wait to see which one!
You can pick up a copy of HomeCooked in shops in Ireland or on Amazon as well, and you should get it just in time for Christmas!