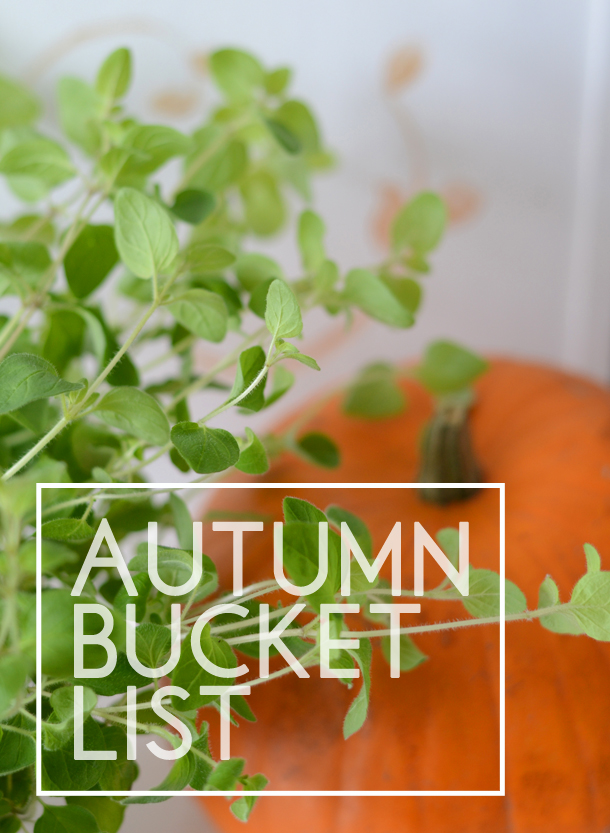 I spent most of September fully in denial that summer was over. It was warm and sunny a lot of the days, and we only turned the heat on once or twice. It didn't really feel much different than most of the summer here in Dublin usually does! But I can't deny it any longer: autumn is here and I might as well make a whole list of ways to enjoy it!
Do you make lists for enjoying the seasons? I like making a list so the season doesn't slip by without doing some of these special things. Some of these activities we wouldn't necessarily be able to find here in Dublin (do you know where to find a pumpkin patch in this country?!), but we'll be in Houston and Maine in a few weeks, so we kind of get to cheat!
go to a pumpkin patch
carve pumpkins
collect and press leaves (I did this already and it wasn't that successful. I think you have to press them for longer than a day?)
make a leaf garland
pick branches with berries for the table
make homemade chai
have a pumpkin spice latte (we can even get this in Dublin!)
collect driftwood
get hot cider at the farmer's market
bake something apple-y
bake something pumpkin-y
make a wreath from branches
pick up a mum for the garden
eat lots of candy corn
learn a new way to tie a scarf
have a picnic on the beach, preferably breakfast with a thermos of coffee
go for a walk in the country/woods
crunch through piles of leaves (did this for 10 miles this weekend on my run!)
make caramel apples or pears
Anything else I should add to the list?
And here are three free and wonderful autumn wallpaper downloads for your desktop! Enjoy!
Autumn flowers from Lisa Rupp // October Fox from Oana Befort // And another floral October calendar from Rebekka Seale