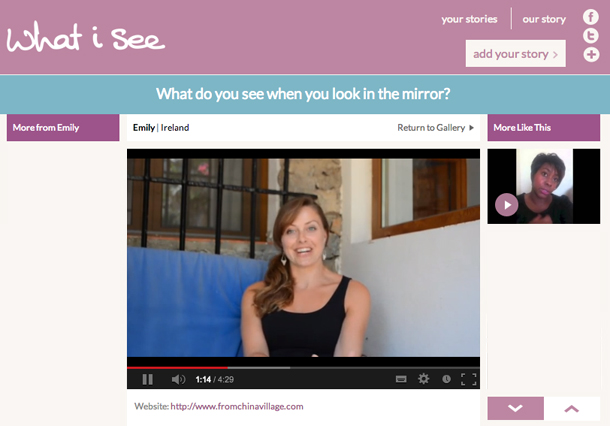 I got an email about a month ago asking if I would consider taking part in the What I See Project. It's a non-profit based in England that's designed to give women a voice to answer a question they aren't often asked – what do you see when you look in the mirror? The website is full of more than 500 videos submitted by women all over the world answering just that question, and it's so interesting to watch a few of them.
I love anything that strives to empower women in a meaningful way, so despite how cringy self-recording a video is, while we were in Spain, I found a quiet nook and pressed record on my own version. I think I was feeling particularly sappy that day, but I actually got a little emotional chatting about what I see when I look in the mirror. You can click on the photo above to view the video (some day I will figure out why videos won't embed on From China Village!), or you can click here to watch it.
For their launch, the What I See Project is highlighting videos from 100 bloggers, and mine is on their homepage today! The fun thing is that you can actually upload your own video to add to the mix, and (if you're a woman) I'd encourage you to at least think about the question. Since recording my little video, I've found myself trying to be a little bit more mindful of the ways I can be a little more empowered and empowering. All around, not a bad reminder.
So hop on over and check out my video and a few others (try Georgina's video – and her necklace is so fab!). Have a confident, proud and wonderful day, ladies (and gents

!