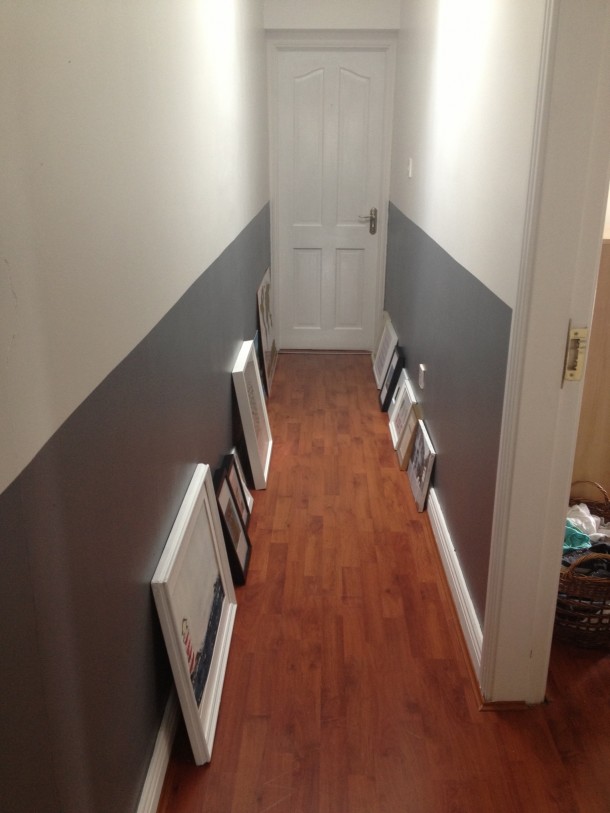 Happy Friday, friends! How was your week? I had a major case of the blahs this week, perhaps because it finally hit me that the summer is over, and a little let down that our epic travels are over. For the first time in years, I haven't been feeling quite ready for fall! But I've been trying to shift my perspective and get excited for the leaves to change, more stews and pumpkin-y baked goods, and cozy evenings lit by candles.
I wanted to show you the tiniest sneak peek of our hallway with its new half and half paint job, and a gallery wall getting ready to hang. The photo doesn't do justice to how fresh the space looks, or how amazing the paint job is. That line is straight, friends! And I managed it all by myself!
I'm hoping to share a made-over bathroom with you next week, along with a fully finished gallery wall in our hallway. We're still plugging away on the other few rooms (thankfully we don't have that many – this tiny apartment is taking a while to spruce!), and making steady progress. My mom just booked flights to come over in a few weeks, and she has graciously agreed to help with some of my sewing projects while she's here. Those might just be the finishing touches!
In other news, Michael is currently in the back garden putting together a coop for four feathery friends that are coming to live at our house tomorrow. I am panicking, so if you have anything negative to say about raising chickens, zip it. I have no idea how Michael got me to agree to this plan, but I'm really hoping it works out. We're taking ideas for names, and Nugget and Fajita are already on the short list.

Have a happy weekend, I hope you have lovely plans!