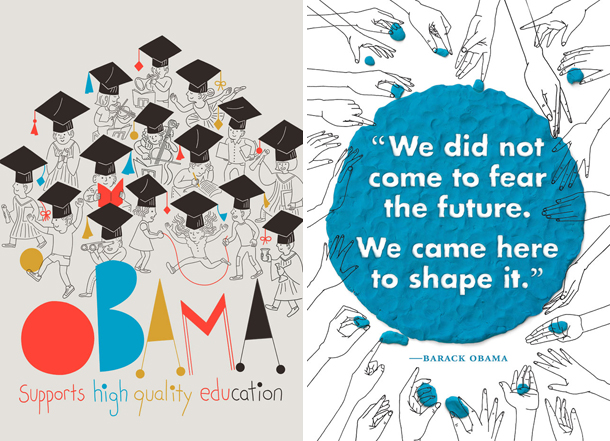 I was talking with my Mom the other day and she asked if I missed being involved all the election action going on in America at the moment. In 2004, I travelled the country planning motorcades for Senator Kerry, and in 2008 I was the director of a political action committee working to get local women elected.
I explained to my Mom that I'm actually a little relieved to be an ocean away from it. I like that I don't have to get all wound up about the latest polling results or the newest television ad. I'm keeping up to date with the news of the election, and listening to lots of political podcasts on my commute to work, but it all feels one step removed.
That said, I plan on voting absentee, and if you have the right to vote, you should be exercising it! I'm not allowed to vote in certain elections here in Ireland which always makes me feel a little powerless. 
This 30 Reasons campaign, 30 posters from artists and designers that encourage people to vote for President Obama, is quite cool. They're only partway through their series and I'm interested to see the rest of what they come up with. Personally, I prefer the ones with minimal vitriol, but I appreciate designers using their talents to add to the discussion.
What about you, are you an avid voter? How do you feel about presidential elections (American or otherwise)? Excited? Nervous? Ready for November 7th?