Here we are again, dear readers. Another One Day in Dublin post. This time, joined again by my friend Naomi and my sister-in-law Angie, we wanted to check out the cooler side of Temple Bar. Temple Bar can be tricky – full of tacky tourist trap pubs – but we found so many cool spots! In fact, we really only accomplished about half of Temple Bar. Turns out there's a very neat, local side to Temple Bar. Let's get started!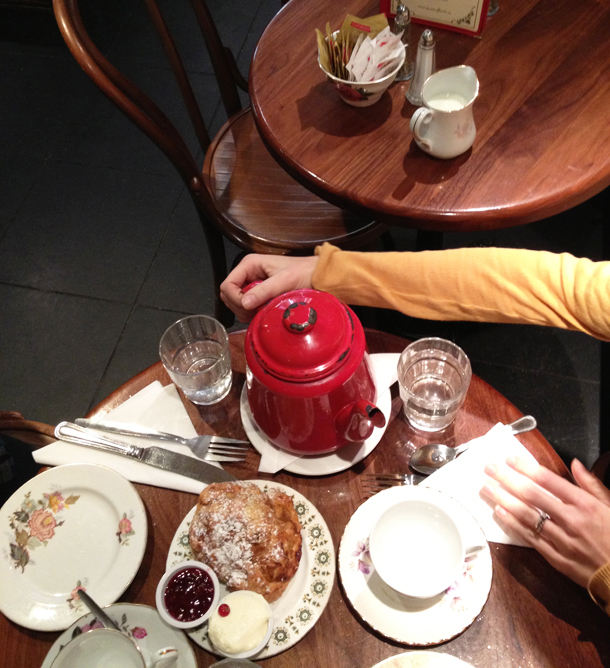 We're nothing if not predictable. We started with brunch – in the form of two different kinds of scones and pancakes to share at Queen of Tarts on Cow's Lane. First of all, it's adorable. Second of all, it's delicious. My partners in crime absolutely loved their huge pot of tea and I was a big fan of my cappuccino. Yum, yum, yum.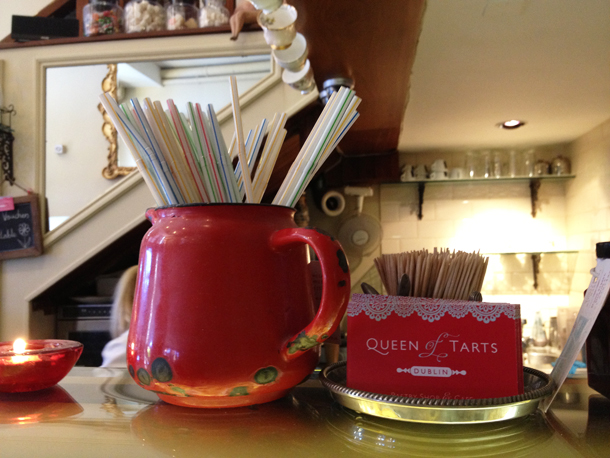 Suitably fueled, we started with a little browse around the Saturday Cow's Lane market – pottery, jewellery, prints, in stalls on the street. But the street is lined with cute shops as well. Find has lots of cute vintage and shabby chic housewares. It's the kind of shop where you keep seeing new things, every time you turn around. Oh, and they accept payment in dollars as well as rubies and emeralds. Quite convenient!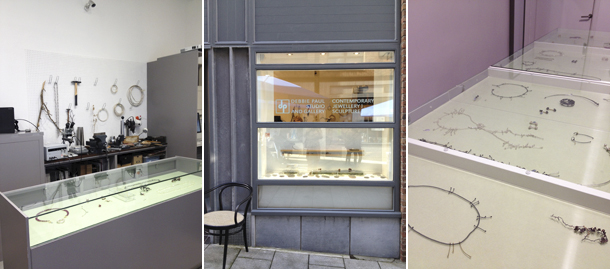 Next stop, Debbie Paul Studio and Gallery. Her pieces are part jewellery and part sculpture, with a small studio space behind the display counter. Eve, the lovely girl minding the shop, demonstrated her signature pins that are really a work of wearable art.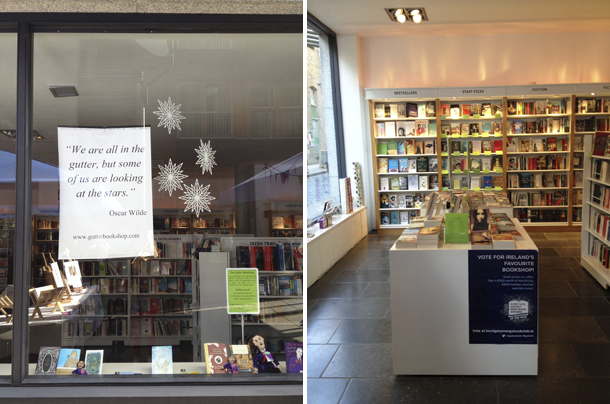 At the bottom of Cow's Lane, we got stuck in the Gutter Bookshop for way too long. I think we each could have stayed for hours! Cozy, bright and full of a great selection of books. Angie showed us a few classic Irish children's books I'll definitely be picking up when we have kids!
This is Scarlet Row, at the bottom of Cow's Lane. Isn't it sweet?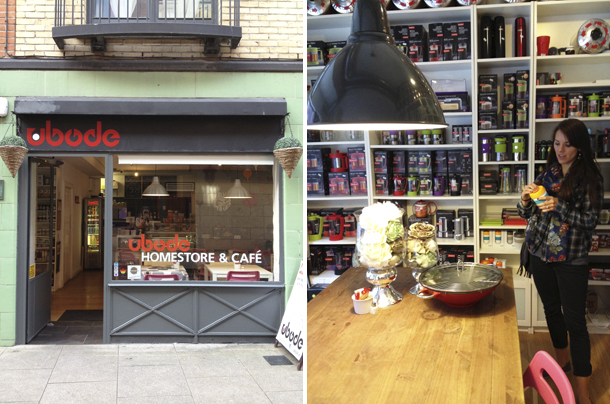 We popped into the Ubode Homestore and Cafe and browsed their collection of tea and travel mugs. The decor was adorable.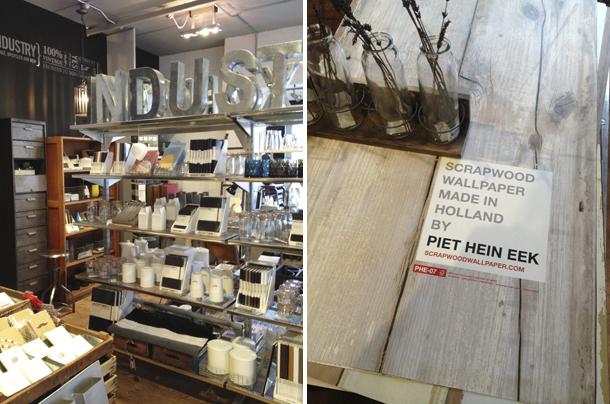 And of course we had to stop into Industry, a well curated shop full of industrial bits, big and small, for your home. I loved this scrapwood wallpaper!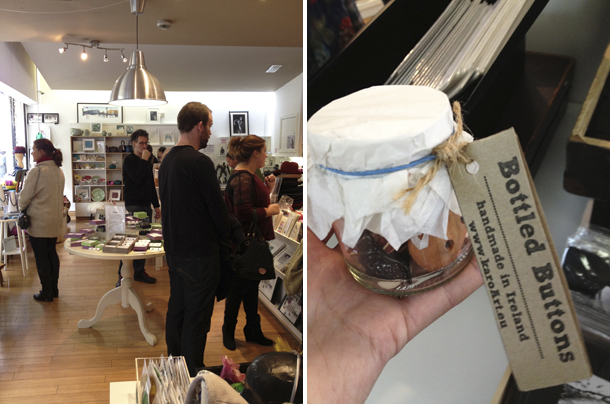 We popped in to the Cow's Lane Designer Studio for just a few minutes (tip: perfect place to pick up souvenirs or gifts if you're visiting Dublin!) but it was so crowded we didn't last long. I did manage to spot this cute bottle of clay buttons from Karo Art and think they'll make a cute Christmas present in a few months!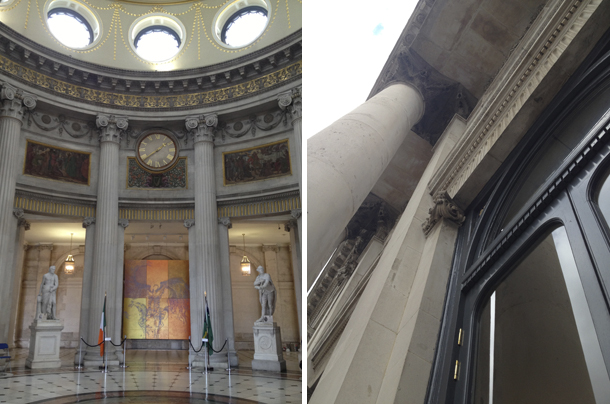 Now, lest you think we spent the whole day shopping and eating treats, we did sneak in a little culture! We stopped in to City Hall where I spent most of the time staring at the ceiling and the floor. Some of the buildings in Dublin have the most amazing ceilings and floors!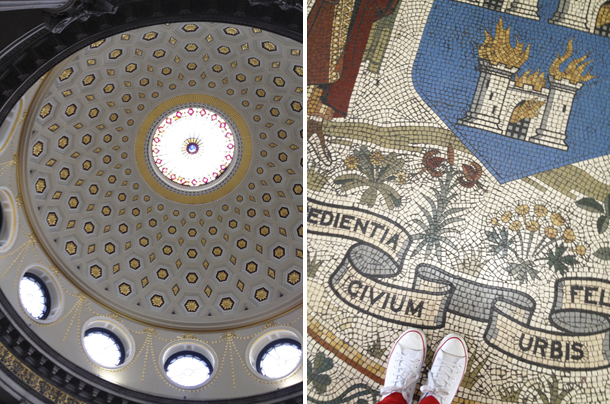 Right next to City Hall is Dublin Castle. And a guard hut we had to try out! Here's Angie!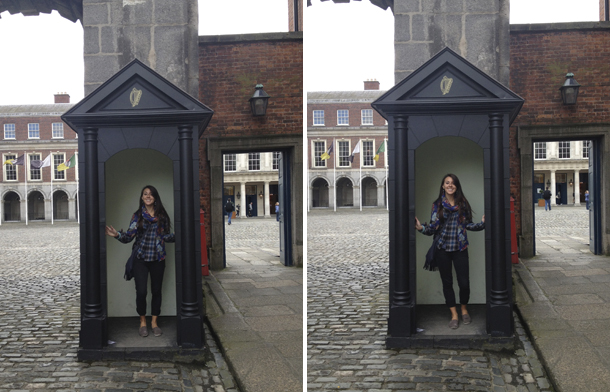 And me, trying my most serious guard face, and then not being able to take myself seriously!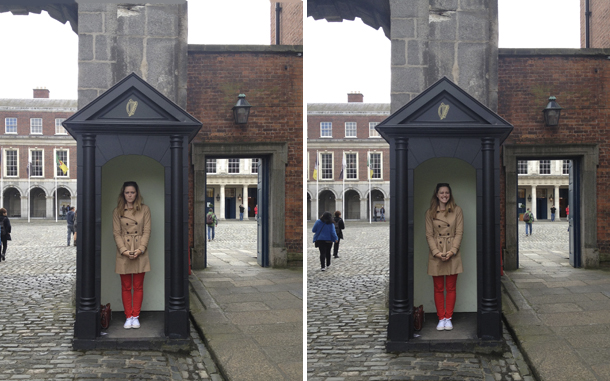 After that little detour, we made a beeline for the Chester Beatty Library. If you live in Dublin and you haven't been, go. If you visit, also go. It's a huge, free collection of the paintings, prints and artifacts collected by Sir Alfred Chester Beatty. It includes some of the oldest known versions of the Bible – they're only tiny bits that are really worn but the whole exhibition is so interesting.
Before we left, Angie asked if we had seen the rooftop garden. I didn't even know there was a rooftop garden! In Dublin, it's hard to get up very high to get much of a view, so the garden is an absolute treat. Plus, it was deserted and we had it all to ourselves! You can see the whole back side of Dublin Castle and it's really fun to watch the kids run around the grassy spot at the front.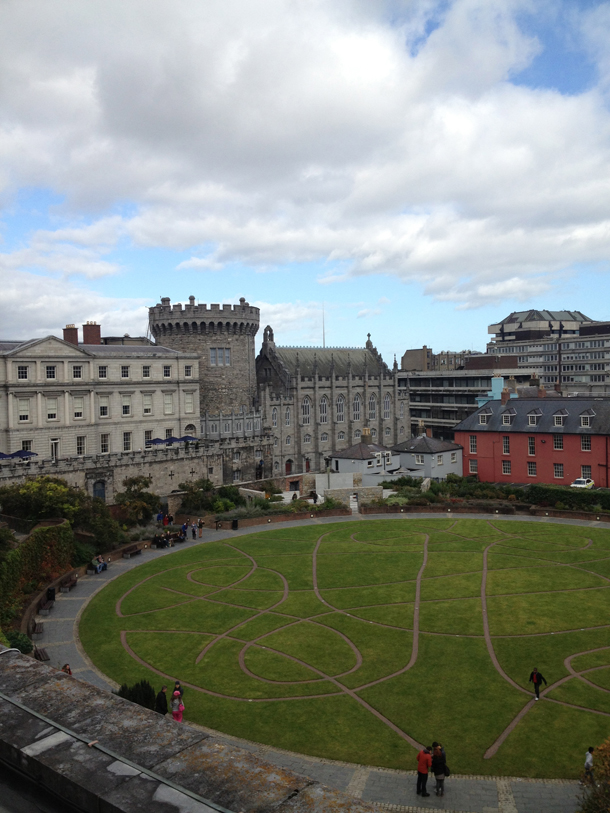 After all that culture, we were hungry. Saturday's Temple Bar market is a great spot for lunch, so we picked up quiche from the Gallic Kitchen. When they offer their tomato chutney, do not turn it down. It completes the quiche.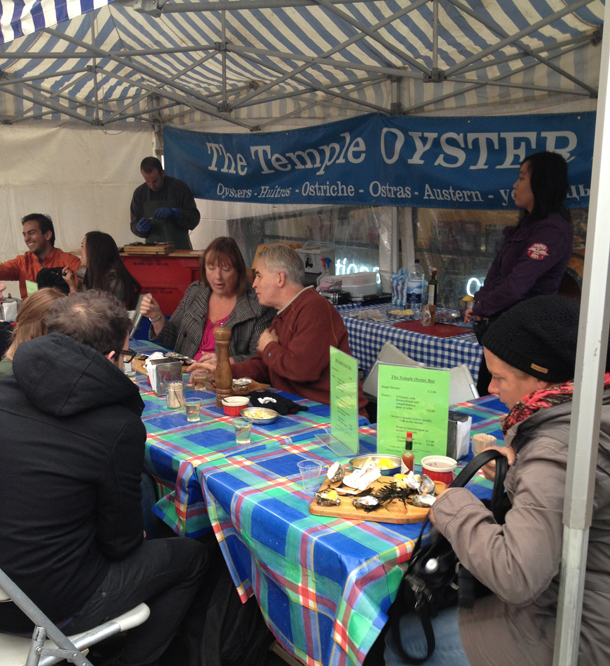 We could have stopped for a glass of wine and some oysters – that always looks so fun and festive! But we're fiercely loyal to our tomato chutney. Ha!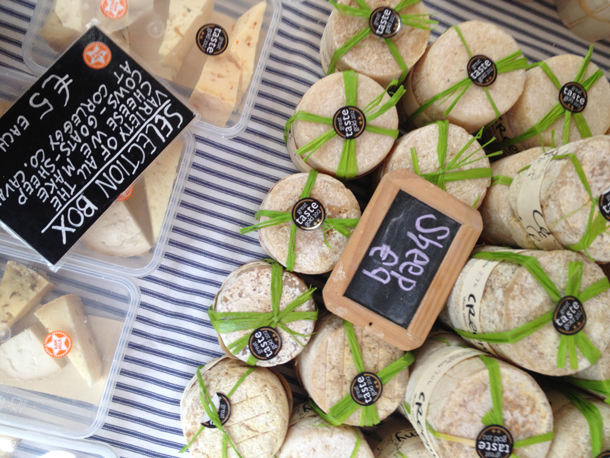 I did pick up one of these selection boxes for dinner later. Five euro for five different kinds of cheese – including one made with cumin seeds that was so different than any cheese I've ever had.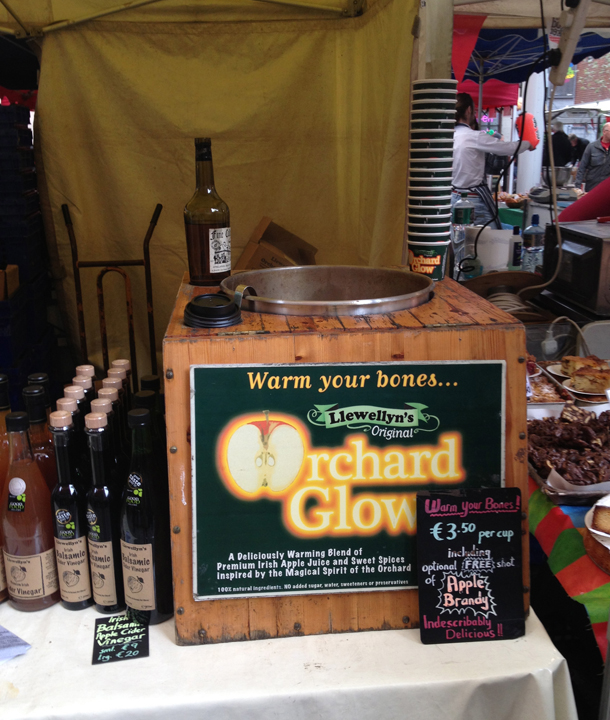 And finally, on our way out of the square, we picked up hot apple cider with a shot of apple brandy from Llewellyn's Orchard stand. It's as close to real American-style apple cider as I've found.
All cozied up, we headed for the train and made our way home. In the course of about four hours, we had covered so many shops and only made it halfway through Temple Bar. So consider this part one – we'll have to explore the other half, including lots of vintage shops and more cute cafes, soon!