Earlier in the week, Michael and I took our Dublin visitors to Rockland and Camden. Our final destination was a winery tour just north of Camden (which you'll read more about over on Poppytalk soon!), and we thought we'd do a little exploring along the way.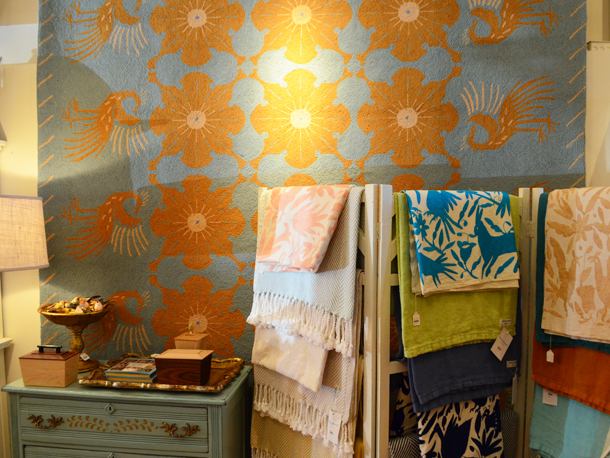 When we walked into Jo Ellen Designs on Main Street, Naomi and I immediately started oohing and ahhing over all the pretty home accessories. The store, with high pressed tin ceilings and bright white walls, holds a broad collection pieces – both large and small. My eye was quickly drawn to the rugs hanging from the walls. Each was more striking than you'd typically see in a rug design, and with simple, beautiful color palettes.
When I asked the lovely woman behind the counter about them, it turned out she was Jo Ellen! And Jo Ellen designs all the rugs and pillows in the store! She designs them, has them made overseas, and sells them in her store in Camden, online, and through a few wholesale retailers.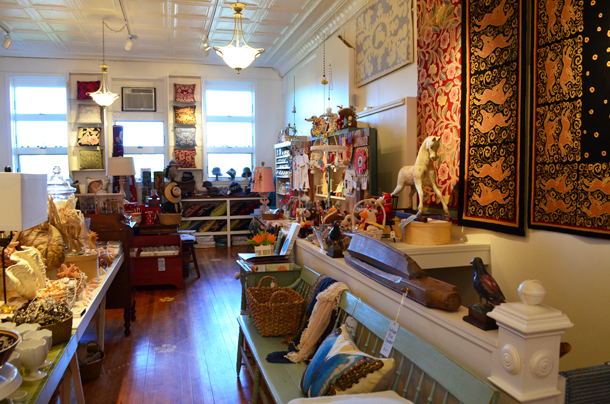 A bonus neat thing about her rug-designing business? Not only does she donate 10% of her after-tax profits to charity, she also donates $10 from each rug and pillow sale to a designated charity. When you buy one of her rugs, you can read about the charity you'll be helping to support.
Well worth a visit next time you're in Camden – or visit the website here! And we're adding to the never-ending list of shops I need to open in Dublin! Wouldn't that be lovely?