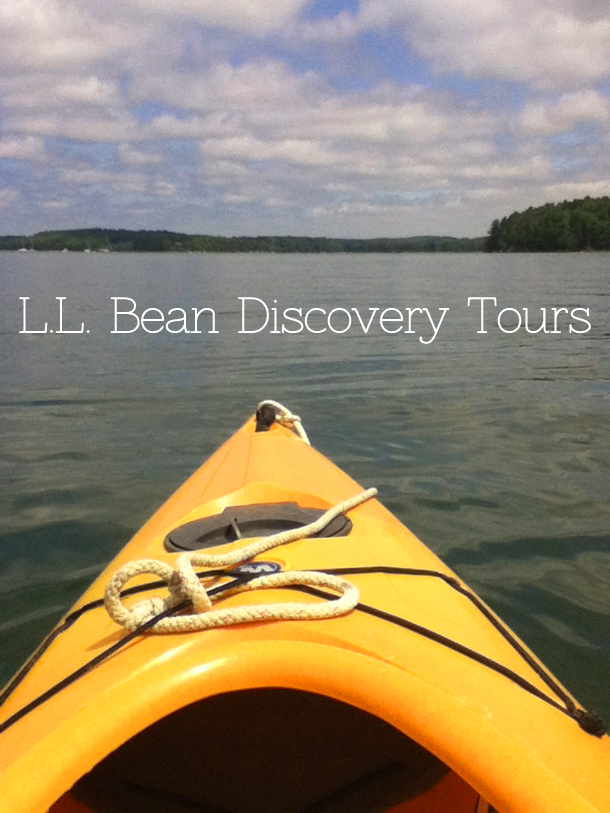 For non-Mainers, L.L. Bean is a Maine institution. They're a clothing and outdoor equipment company based in Freeport, Maine; open 24 hours, 365 days a year. They make iconic Bean boots and we're huge fans of their Wicked Good moccasin slippers and tote bags.
Approximately 24 hours before our latest guests arrived from Dublin, I discovered L.L. Bean's Discovery Tours. I can't even tell you how I came across them, but I landed on their website and immediately decided we'd be signing up.
I called the next day and made reservations for kayaking and clay shooting, three spots in each. I sent Michael with my brother and his friend to go clay shooting, knowing he wouldn't be too excited about deep, open water. He's a city kid at heart. And I joined our friends Andy and Naomi for a few hours of kayaking.
Can I just say? What a steal. Each class is $20 per person and runs between an hour and a half to two and a half hours. I would do it again every weekend if I could.
I don't have photos from the clay shooting class, but the boys loved it. They all came home with souvenir clays, slightly tender shoulders, and bigger egos. I only brought my iTouch in the kayak – I was too nervous I'd dunk my big camera, so forgive the blurry pics. Just imagine it's because of the wavy bobbing of the ocean water!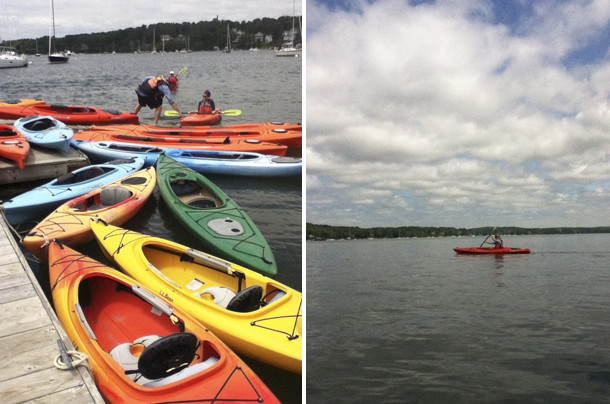 So here's how the Discovery Tours work. You call your local store and sign up, then show up and pay on the day. After we paid and signed a liability form, we hopped on the L.L. Bean bus and drove off to Wolf Neck State Park to meet our guides.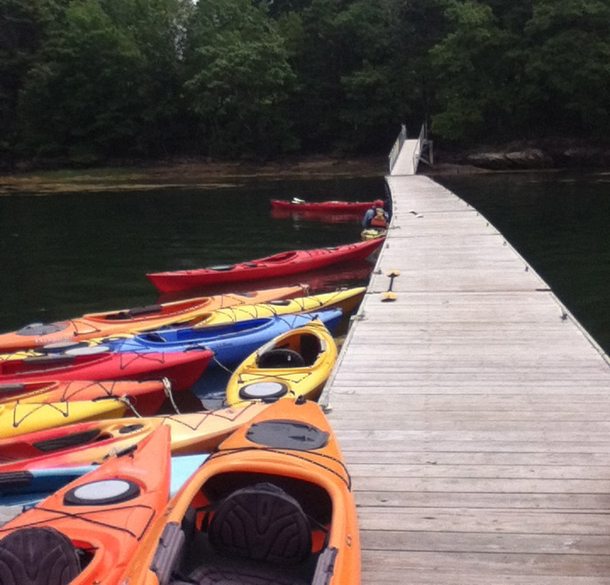 When we hopped off the bus, Pete and Rob met us and got us fitted in water shoes, life jackets and paddles. They gave us a little tutorial on how to paddle properly, and made sure we were sunscreened and bugsprayed up before they took us down the dock to the kayaks.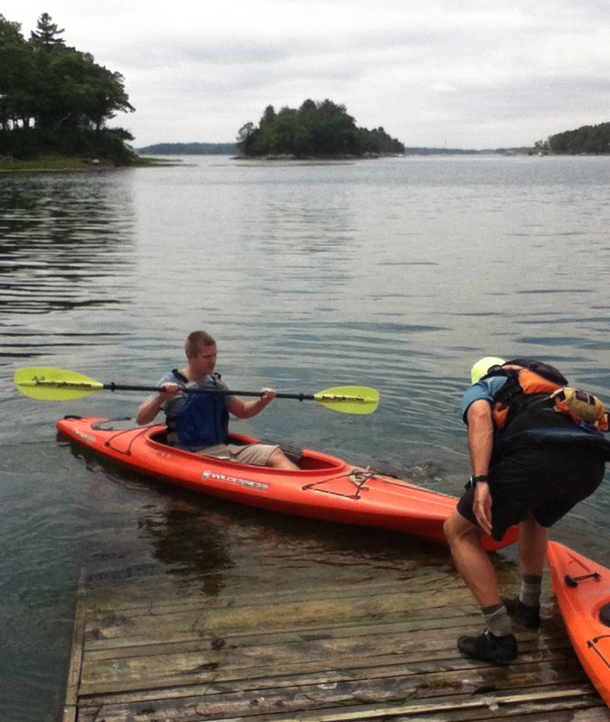 The dock has ramps, so you climb into the kayak, and they just slide you in. If you were a little nervous about trying to climb into a kayak from the dock, fear not! It feels very secure.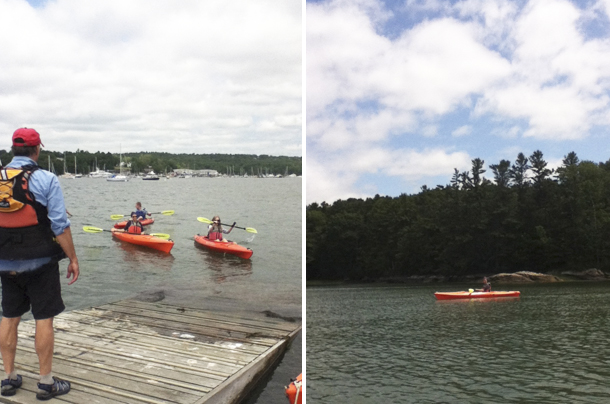 And then you're off! Your guides take you on a tour up the Haraseeket River inlet and then down again through all the boats moored there.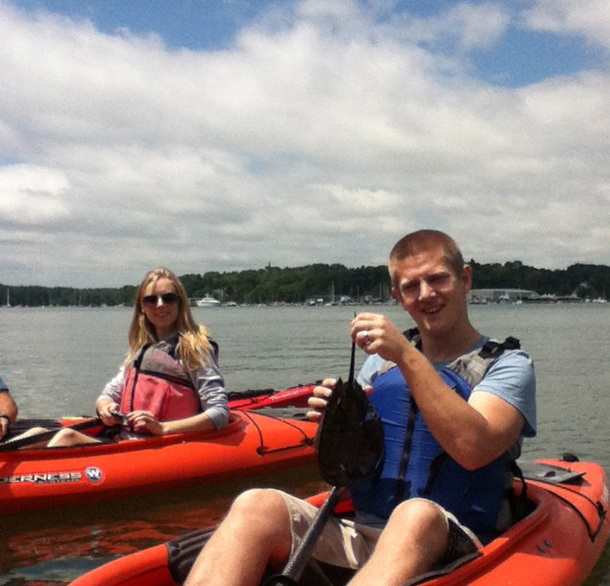 At one point, Rob stopped us to show a horseshoe crab he'd found in the water. My friends from Dublin had never seen one before! And between the two of them, Rob and Pete explained lots about the surrounding area, the islands at the mouth of the river, and the wildlife.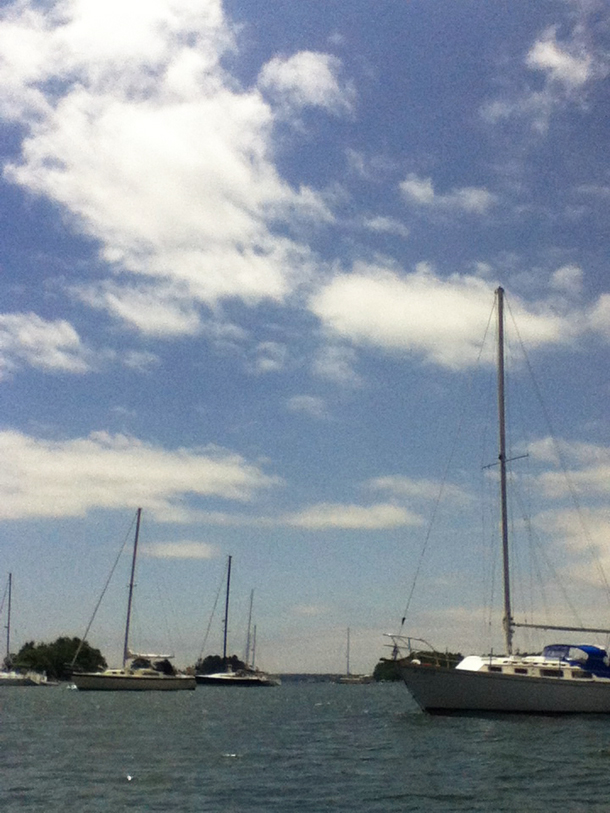 On the way back to the dock, we spent a little time 'boat shopping' in the harbor. It was so fun to get so close to the boats and weave in and out between them.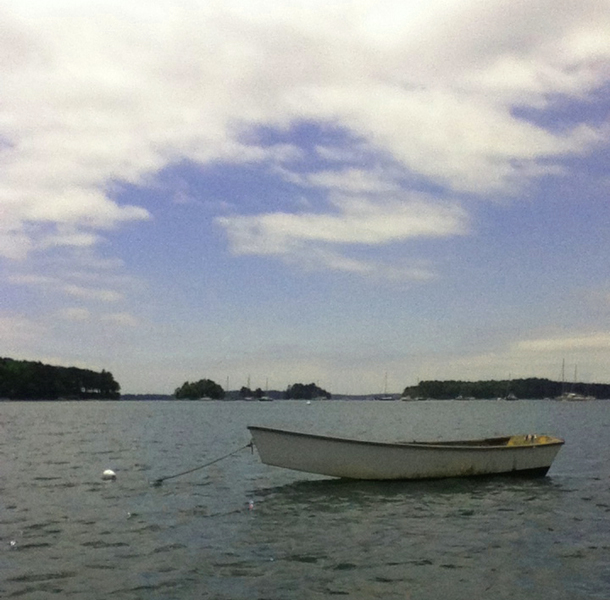 We lucked out with a nearly perfect day on the water – just warm enough but not too hot and not too breezy. It was the perfect way to show Maine off to visitors, and the perfect way for me to fall in love with it all over again!
If you're in the area, check L.L. Bean's website for more about their Outdoor Discovery classes.