Don't worry – I survived my boxing match on Friday night. I'm just a little behind on my presentation for The Hive, so you get rhubarb today and boxing tomorrow! All the gory (well, not really) details, I promise!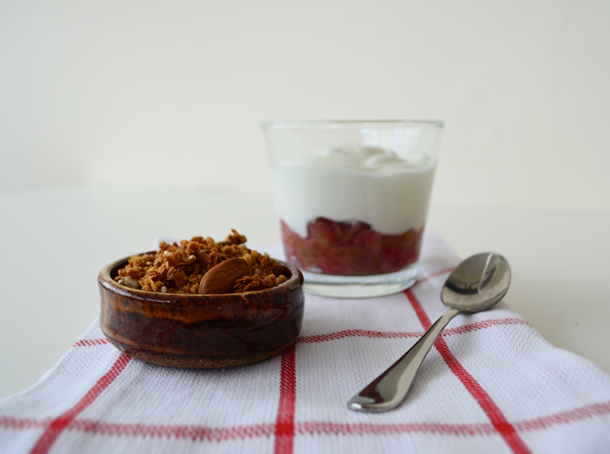 The taste of rhubarb reminds me of late spring in Maine. My mom would send one of us down to the edge of our garden to cut the stalks with her big serrated knife, and she would make rhubarb pie for my dad's birthday. Every year I'm tempted to buy a rhubarb seedling to plant in our garden. I always stop myself because I know it will take years for it to grow large enough for a whole pie. Some day, I'll have a big, huge rhubarb plant at the edge of my garden and I'll make pie every May and think of Maine.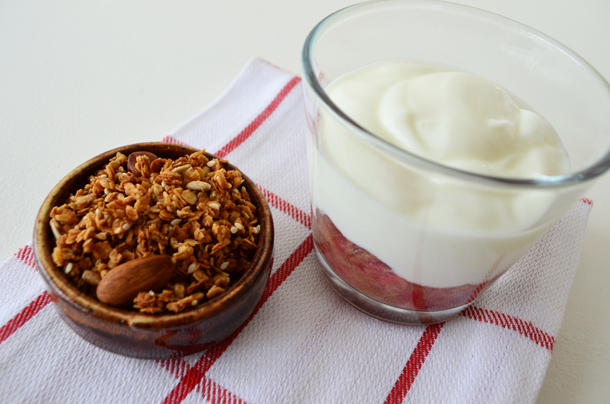 In the meantime, I pick up a few stalks from the grocery store and make this simple baked rhubarb parfait. Perhaps the best part? Michael has no interest in it, so it lasts so much longer!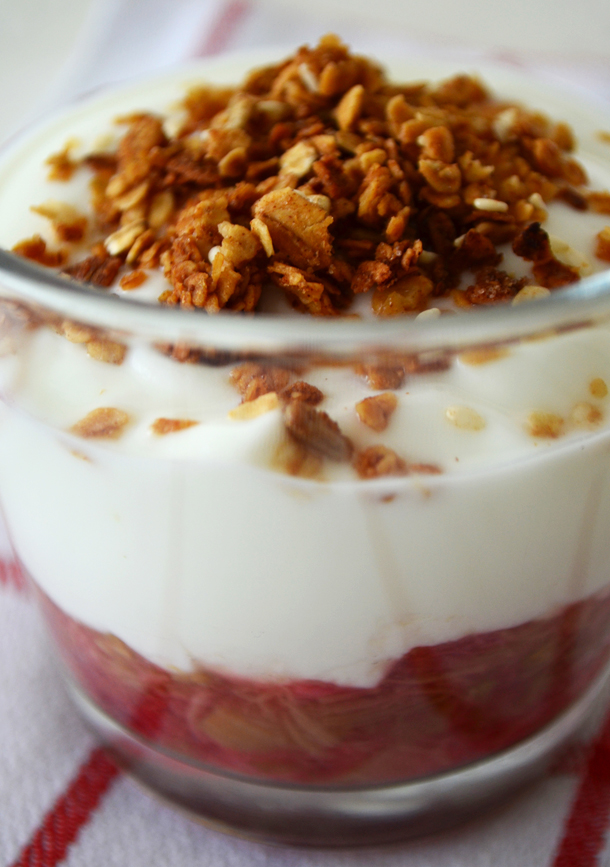 Simple Baked Rhubarb Parfait
6 stalks rhubarb, chopped
2 tsp coarse demerara sugar
plain or vanilla yogurt
granola (see below for my favorite recipe)
Layer the rhubarb on a sheet pan and sprinkle the sugar over it evenly. Bake at 350F/180C for 30 minutes, or until the rhubarb starts to break down.
Once the rhubarb has cooled, drop a few spoonfuls into a dish or cup. Over it, spoon the yogurt as the second layer. Top with granola and enjoy!
Granola:
3 cups oats (I used the inexpensive, quick-cooking stuff from the grocery store)
2 tbsp sesame seeds
1/4 cup sunflower seeds
1/4 tsp salt
1/2 cup honey
3 tbsp canola oil
1 tsp vanilla extract
1/4 cup almonds (slivered or chopped work equally well)
1/4 cup hazelnuts (again, whole or chopped work equally well)
Combine the oats, sesame seeds, sunflower seeds and salt together in a medium bowl. In a small bowl, whisk together the honey, canola oil and vanilla extract. Pour the honey mixture over the oat mixture and stir well to combine. Layer the mixture onto a parchment lined sheet pan and bake at 350F/180C for 15 minutes. After 15 minutes, sprinkle on the almonds and bake another 5 minutes. Add the hazelnuts and bake another 5 minutes. Allow the granola to cool completely before eating or storing in an airtight container.