I'm in Maine! I just made it up to China Village – had to make a stop in Portland for a wedding first. So I spent the weekend soaking it all in from my sister's adorable apartment. On Saturday, we got manicures and pedicures (it's my annual treat), lounged on the beach, took a trip to the craft store and Trader Joe's, and then ate dinner on the deck. Does it get any better than that?!
When I was packing for this trip home to Maine, I had such a hard time deciding what to bring. After a few trips within Europe this spring where I only brought a small carry on bag, I found myself totally baffled by having so much room. And yet I used it up pretty quickly! I had to pack for two weddings, be prepared for Maine's range of climates (when I arrived Friday it was 58 and Saturday it was 84!), and bring along work out clothes and sneakers, my computer and big camera, and a few little gifts.
But that didn't stop me from tucking in a little travel craft kit. Here are a few tools I know will get lots of use even while I'm on vacation for a month!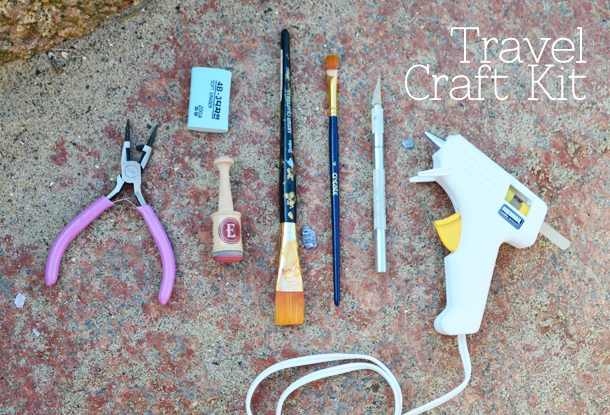 Here's what I brought across the ocean.
From left:
Jewellery pliers/cutters
Rubber eraser
E stamp!
Two of my favorite paintbrushes
Xacto Knife
Glue gun
I can't wait to share a few projects I've already started over the next week or so. My kit has already come in so handy!

As a complete aside, I started this post by calling it "How to Make a Travelling Craft Kit" but changed the title because I think the grammar was a little incorrect and I also couldn't decide how to spell travelling/traveling. Turns out – if you're in Ireland, you spell it with two l's, and if you're in America, you spell it with one l! Figured changing the tense kept half of you from thinking I was an idiot!