Over the weekend, when we got back from our road trip, I made a batch of shepherd's pie to bring to a friend and her family. I saved a little extra for us to have for dinner and it was so yummy – the perfect dinner for a stormy Monday!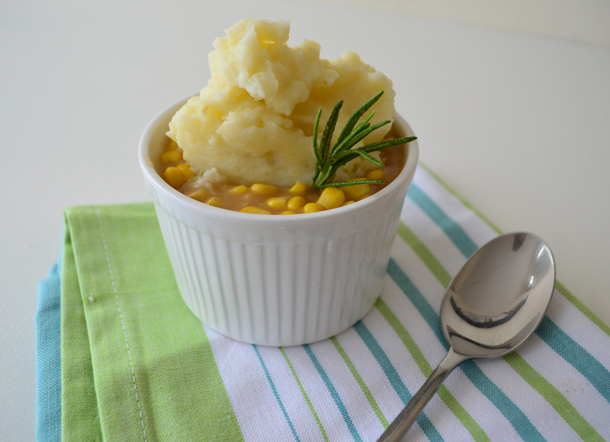 Here's the recipe – in case you need a little comforting too – although in most parts of the world I know it no longer feels like winter. If you are in one of those parts, I'd rather not know about it. I can't remember what warm weather feels like!
FCV Shepherd's Pie
1 onion, chopped
1 tbsp olive oil
500 g ground beef
1 cup corn (canned or frozen)
5 large potatoes, peeled and cubed
1/2 cup milk
1/4 cup sour cream
1/2 tsp garlic granules
3 tbsp butter
3 tbsp flour
3 cups beef broth
1 tsp fresh rosemary, chopped
salt and pepper
In a hot pan, saute the onions in the olive oil until they're translucent. Set aside. Brown the ground beef (I used the same pan, didn't even bother washing it!), season, and again, set aside.
Meanwhile, put the potatoes in a pot and cover with cold water. Bring to a boil and simmer for 15 minutes or until a fork inserted into a potato chunk goes in smoothly. Drain the potatoes and add the milk, sour cream, garlic granules and salt. Mash with a potato masher (our potato masher might be one of our most useful wedding presents – it's great for making guacamole as well!) and set aside while you make the gravy.
In a small pan, melt the butter over medium heat. When the butter is melted, add the flour and whisk until combined. Let the flour and butter cook for 2-3 minutes. Add the beef broth and whisk. Keep the pan over medium heat and whisk until the gravy starts to thicken. Add the rosemary and salt and pepper, and stir until the gravy coats the back of a spoon.
In a 9 inch square pan (or another shape that's a similar size!), layer the beef, onions and corn. Pour over the gravy. Top with the mashed potatoes. Sometimes I add a little grated cheese on top of the potatoes and put it under the broiler for five minutes so the cheese gets all bubbly.
Enjoy!