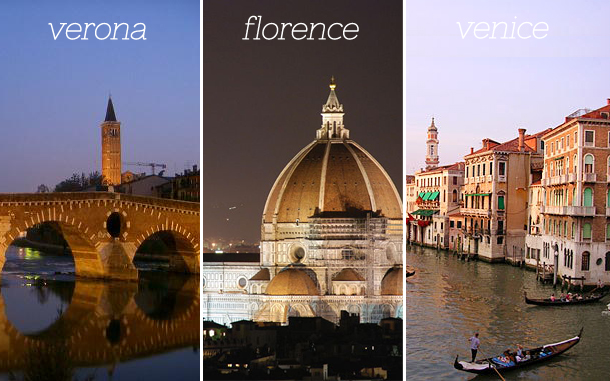 At the end of next week, my sister and I are going on a little sister adventure to Venice, Florence and Verona. We've never been to Italy before and we've done just about zero planning. Oh, and I'm working every day until we leave! Ahh! I'm not panicking yet, but I'm close.
Help me out – do you have any tips for Venice, Florence or Verona? I'd really appreciate the insider scoop! We're spending one night in Venice, two in Florence and one in Verona. We're loosely planning to travel by train between the cities. Good idea? Terrible idea? I'm envisioning a few hours watching the countryside of Italy flash by. Am I making that up?!
I'm dying to know, what's your not-to-be-missed list?
Thanks!