Happy Monday, friends! I'm heading to the airport in a few minutes, but I wanted to introduce the first, fabulous guest poster of the week! Jenna from Eat Drink Pretty has an awesome recipe to share with you today. Have you been over to visit Eat Drink Pretty? Such great inspiration for all types of parties, large or small! Thanks for kicking off the week, Jenna!
First, I want to say thank you to Emily for inviting me to guest post today.  I hope you are enjoying your "sun holiday"!
For those of you who don't know me, I write a blog called Eat Drink Pretty that's full of food, baking and parties. One of my favorite things to do is spend the morning baking in my kitchen with my kitty, Kody, perched on a chair to keep me company and a mug of coffee on hand.
Please keep an open mind for the recipe today and don't run away too soon.  I assure you, savory oatmeal may sound like a strange idea, but it is really lovely and a new favorite of mine.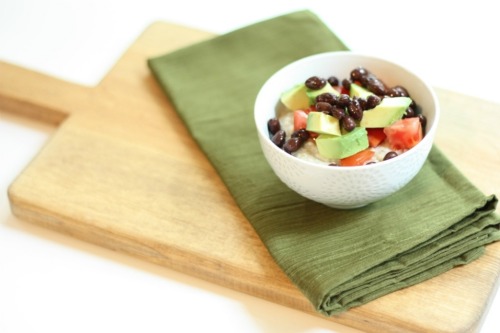 I love breakfast/brunch. It's one of my favorite meals, but sometimes I tire of quiche and hash browns.  So recently I've been eating a lot of steel-cut oatmeal.  It's hearty, easy to whip up and super healthy.  I'm actually not a huge fan of sweets in the morning, though, and oatmeal is typically accompanied with sweet ingredients.  So I decided to convert my oatmeal with yogurt and fruit to oatmeal with beans and avocado.  Still with me?  Good!
The inspiration for this oatmeal came from the classic breakfast burrito (one of my faves, but not super healthy).  I thought, why not take that and transform it into a savory oatmeal dish?  I promise you, it worked.
I am now officially obsessed with this dish.  It takes breakfast to an entirely new level.  I'm also convinced that avocado tastes good with absolutely everything (check out my avocado toast recipe here).  And it's especially good in oatmeal.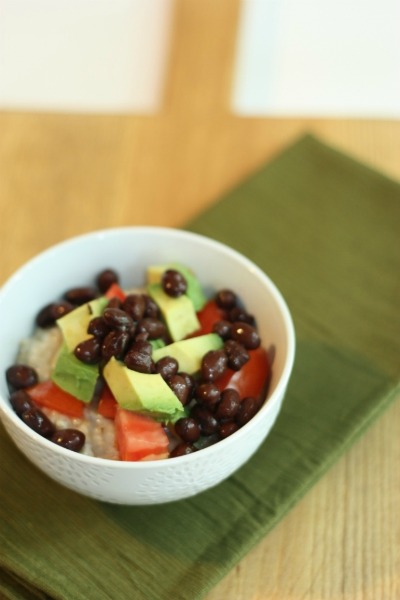 Savory Southwestern Oatmeal
Ingredients
4 cups water
1 cup steel-cut oats
1/2 cup black beans
1/2 cup tomatoes
1/2 avocado
1 tablespoon olive oil
Salt and pepper to taste
Salsa (optional)
Shredded cheddar (optional)
Directions
1.In a medium saucepan, bring the water to a boil. Add the oats and simmer over low heat for about 35 minutes, until the oats are tender.  Add the olive oil and stir.
Spoon the oatmeal into bowls and top with tomatoes, black beans and avocado.  Season with salt and pepper.  Add salsa and cheddar (optional).
Makes 4 servings.
Enjoy!