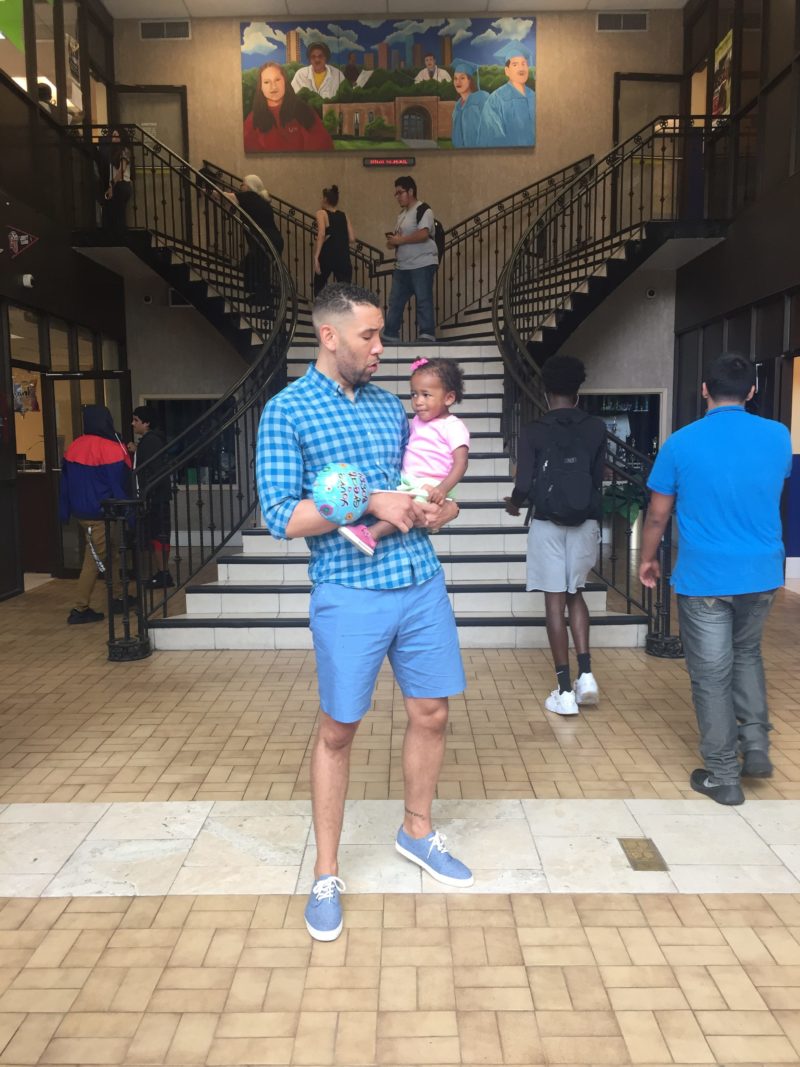 Both my people are making sort of funny faces in this photo, but it's the only photo I have from the school I'm about to talk about for a full 1500 words 😉 
Earlier this year, after 15 months at home with Maya (and several years working for myself as a freelancer) I took a job at Michael's school (where he's the guidance counselor) as their English tutor. I spent most of second semester working one-on-one with a handful of kids who have failed the Texas standardized tests in English. I took the job because we really needed a second income to get some breathing room and afford to travel a little more, and because I needed an emotional break from the rollercoaster we'd been on over the last year.
We had another failed infant adoption at Christmastime, a jail mom who had chosen us to parent her baby when it arrived in March. But when she was transferred to another prison for a longer sentence, she changed her mind. That was definitely the straw that broke my year-long, adrenaline-fueled positivity. In case you haven't been keeping track, we had a failed infant adoption in April, Baby J who left very unexpectedly in July, second baby J (who was actually our failed infant adoption) who left very unexpectedly also in November, and then our second failed infant adoption in December, right between Christmas and the New Year. And those are only the situations that really came to pass – or almost did, at least. There were countless other phone calls from our agency that made my heart stop and shaved months, if not years, off my life.
I'd describe it as one of the best and hardest years of my life. I was finally a mom, and Maya was and is utterly perfect. We fell into foster care and I will never, ever regret that. It was one of the biggest gifts I've ever been given. And neither Michael nor I regret having had either Baby J's (or the two other very temporary babes) in our home. In fact, I think we feel the most positive about those situations. Those were difficult, but we feel strongly about our role in them. God needed us to stand in the gap for both of those perfect souls in order to set them on a better path when they left our home.
But failed adoptions without ever meeting the baby? Pffft. No, thanks. Those just plain old stunk. I know that our role was likely to give a mom in crisis the feeling of a safety net for her child. And maybe having us as her safety net allowed her to regain strength to decide to parent. So I can't say that those situations were fruitless either, it was just much more difficult to tangibly feel our impact. Honestly, those two situations felt a little mean. I know this is what many people go through before they are able to bring a single baby home by adoption, and I am ever so grateful we had the reverse version.
Needless to say, after that year I needed a change of scenery and a change of focus. Our family needed to heal and grow together, just the three of us. We needed time to breathe and just be. And I had been feeling like Maya needed to see more than just me every day for a few months. She is a social toddler and it was becoming clear that she needed to be around other kids and other adults. Daycare has been an easy transition for her, for the most part.
So when Michael called me at Christmastime and said his principal was asking if I would be interested in the English tutor job, it was perfectly timed. I started in late January and I've been powering through every since. And I love it. Like fully, unexpectedly love it. We have two more weeks of summer school left and all I can think about is how I can somehow replicate this sort of job when we return to Dublin. I'm not entirely sure that's possible, considering I don't have any sort of teaching degree and Ireland hasn't embraced the charter school mentality like the United States has (for better or for worse – that's a conversation for another day). So for now, I'm trying to soak it all in.
Let me take a moment to explain that the school we're in is approximately 6 blocks from our apartment. It's also super small, around 240 kids in an old bank that doesn't even have a gym. They do all their PE classes out on the parking lot next to the school. The breakdown of kids is about 70% Hispanic, mostly ESL (English as a second language – as in most of them don't speak English outside of school and a lot of their parents don't speak any English). About 15% is African American, and 5% is white. Many of the teachers and staff speak Spanish as a native language. The kids have almost all arrived at our school from other, bigger or tougher high schools. Many of them failed out or were forced out because of discipline reasons. Our school is the end of the road for a lot of them – the last option to get a degree after spending many years in an education system that doesn't fit their needs. For a reference point, it's not unlike the movies Dangerous Minds or Freedom Writers. Teen pregnancy, teen jail time, parent jail time, foster situations, extreme poverty, extreme neglect, and many families split or struggling because of immigration.
I spent the second semester working one-on-one or one-on-two with kids who needed extra help trying to pass the state standardized English test. The funding for our charter school is dependent on a certain number of those children passing the standardized tests, so I was working with the kids who had the most likelihood of passing. They were just on the cusp – and I found out last week that many of them did pass. (Phew!)
Toward the very end of the semester, I happened to be sitting in the special ed room when a student needed help with a worksheet. The other two aides were occupied, so I offered to help even though he wasn't one of my kids. Well, he is now. He straight up broke my heart, not unlike both Baby J's did last year. The idea that he would graduate next year without being able to reasonably read a menu at a restaurant or read a letter from a utility company or read his kids a book a decade (hopefully) from now broke my heart.
I've been working with him ever since. Every day, we work on reading. Very basic reading. We work on digraphs and blends and flash cards and sight words. We chat, I encourage eye contact, I tell him he is improving, I tell him he's smart.
Within a few weeks, the principal could see that I was ready to break down walls to get this kid to be able to read and she found a handful more with similar needs. They are now my babes, my daytime foster kids I don't have to take home (although sometimes, truthfully, I wish I could). It's about two parts reading and one part counseling. I'm one part tutor and one part cheerleader. I am happiest when they smile with pride that they've just cracked a word they couldn't yesterday. Some days I must utter "Well done!" and "Amazing!" hundreds of times. My job is their reading and writing improvement, but my job is also their value and their dignity and their worth, things I believe have been slowly ground down over their school years.
I think, in the last year, my focus has honed. I think about my time in Dublin fondly, but almost like I was a different person. God brought our family to Houston to adopt Maya, but God also brought me to Houston to break my heart for what breaks His. I've always wondered if I would like volunteering with adult literacy, and as it turns out, it's pretty darn satisfying to me.
Of course, meanwhile, I'm writing part time for Romper about motherhood (and infertility and relationships), and newly writing a weekly interiors column for the Irish Mail on Sunday. I get several hours in the morning with Maya, and then another several most afternoons before she goes down to bed. One night a week I might zip to the coffee shop down the road for a few hours to file my interiors column or get ahead on my articles for Romper while Michael hangs with Maya. But the nice surprise is that I don't feel like I'm missing her whole childhood like I thought I would. Those hours every day are concentrated time with her, and I try to be as present as possible and fully soak her in before I have to get down to business. I miss her until I pick her up, but I don't feel like I'm missing out, if that makes sense.
Blogging has been the casualty, obviously, of the more-than-full-time-working-mom situation. I miss it, but I'm giving myself space to get to it when I have the energy to fully commit, rather than feeling obligated. I haven't had my camera out much lately, but I'm hoping that will change this summer when school is out in a few weeks.
So that, long story very long, is what this life, right this minute, is about. If you managed to get to the bottom, thank you for sticking with me. This post, for me, was therapeutic to say the least. xx