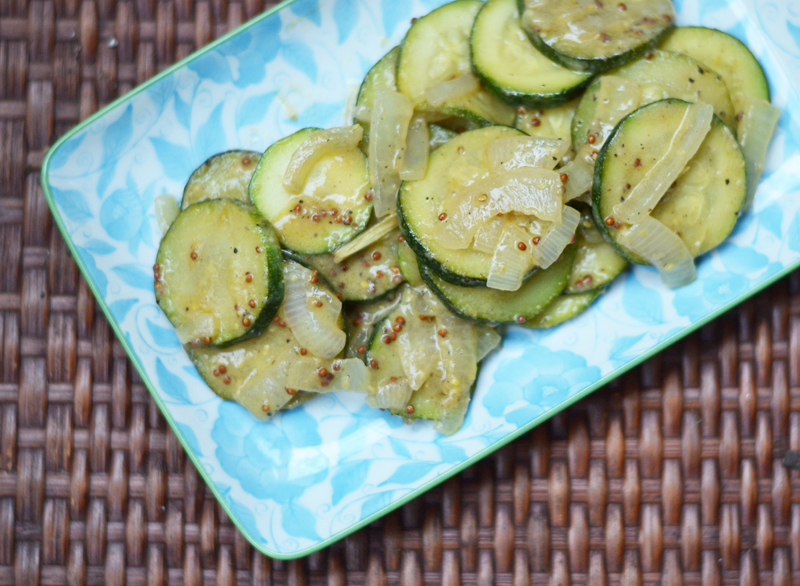 We took a pre-dinner China Village walk around the corner the other day to visit the neighbors' goats and chickens. We left with a dozen eggs (the week's delivery a day early) and a box of zucchini and summer squash. "We're inundated!" They said. We gladly took a few off their hands. I remember that season from growing up, before the trees near my parents' garden grew so big there was only shade underneath. My mom used to put a box down by the side of the road with a sign that said free! There was a lot of zucchini-crusted pizza and zucchini bread in those summer days.
Houston and Ireland may be different from Maine in the zucchini (or courgette) department, but this time of year in the northeast, zucchini is plentiful and bordering on overwhelming. Here's an easy zucchini summer side we made a few weeks ago.
Honey Mustard Garlic Zucchini
Ingredients:
2 tablespoons olive oil
1 onion, sliced thin
2 zucchini, cut into 1/4 inch rounds
2 tablespoons honey mustard
1 tablespoon grainy dijon mustard
1 teaspoon garlic powder
1/4 cup chicken broth
Heat a nonstick skillet with the olive oil on medium heat. Add the onions, and then a few minutes later the zucchini. Let them cook until they start to soften. Add the two mustards and sprinkle over the garlic powder. Add the chicken broth and give it all a stir. Season with salt and pepper and let everything cook until the chicken broth reduces and the veggies are cooked but not too soft that the zucchini falls apart.
Bon appétit!
(p.s. Can you believe it? A post not about Maya or adoption or fostering? 😉 Shocking!