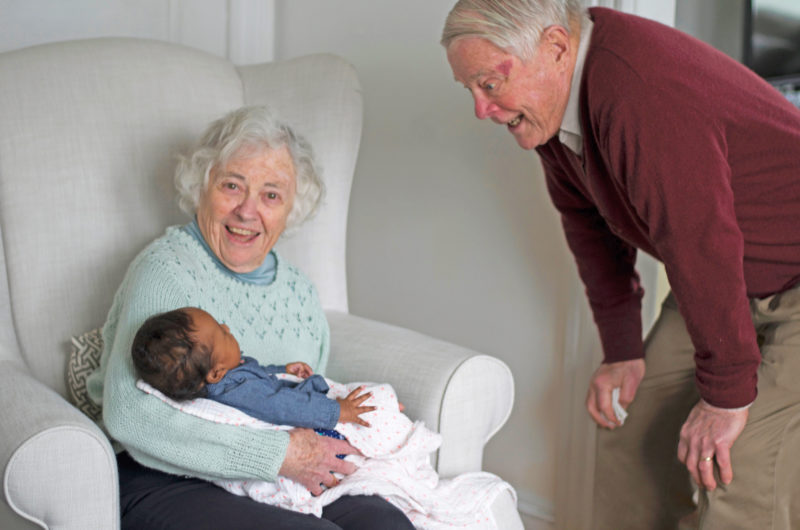 Last night, quite suddenly in the end and after several years courageously battling various cancers, my Grandma passed away. She was the Catharine of our Maya Catharine, and just so, so special to me – just as she was to my siblings and cousins, to my mom and her brothers and sister and of course to my Grandpa. They were married 64 years, a whole lifetime of love.
She was strong and feisty and incredibly talented. She painted and knitted and sewed – she sewed so well she made my wedding dress! She was absolutely selfless; she and my grandpa took the utmost care of my uncle after an severe accident thirty years ago which left him quite handicapped. My sister was just telling me that Grandma called her a few weeks ago, shortly after she received the news of her latest and saddest diagnosis, just to ask how Carolyn was doing with her new baby girl. She was the wrangling matriarch of our family, effortlessly hosting Christmas dinner and coordinating family photos for an ever-growing family every year since I was born. She was the queen of small touches – flowers from the garden in the bathroom all summer and ribbons tied around the napkins and silverware at Christmas.
And she made the best grilled cheese in the whole state of Maine, I'd be willing to bed.
I've been lucky enough to be staying with my sister while we've waited for news of the last days of my grandma's life, so we've gotten to chat about how wonderful she was to us for a few days now. We've been talking about how incredible it is that we just loved calling her up for a chat, not many thirty-plus year-olds can say they get to do that – and truly enjoy it. She had a wonderful sense of humor and we always spent the half hour laughing and chatting. She was the token Republican in a whole family of Democrats, although we suspected that was mostly to be contrary. When I worked for Democratic congressional campaign, she changed her party affiliation just so she could vote in the primary, just because she was proud of her granddaughter running his campaign.
At eighty-eight she still kept a busy schedule – knitting clubs (to make hats and mittens for the homeless), book clubs, water aerobics and visits from kids and grandkids and friends. She completely inspired my theory that the key to a long life is to just keep moving. She was dignified and practical and always said exactly what was on her mind – which was rarely negative, but often hilarious. One time she asked my boyfriend at the time (previous to Michael 😉 what he thought of her implants. Ha! She meant her eye implants, but we've laughed over that interaction and his spooked expression for years.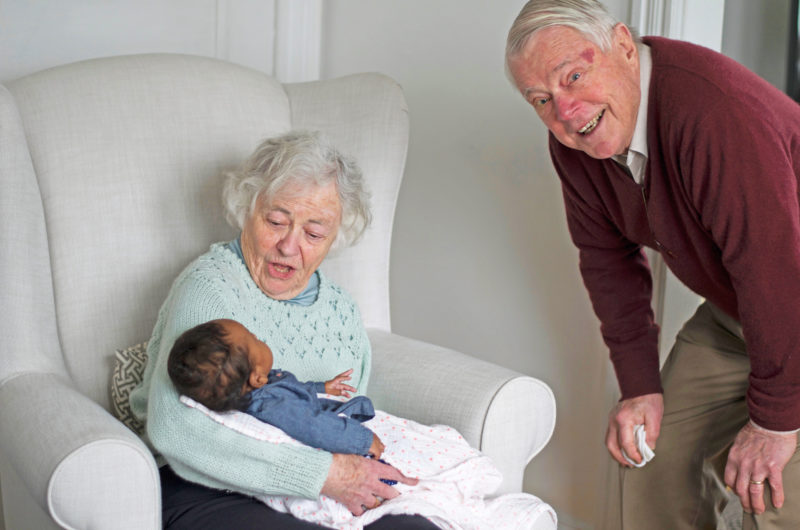 When Michael and I didn't know whether or when we would be able to have kids, all I wanted was to have a baby girl and name her Maya Catharine, after my grandma. And to have my grandma still alive to meet her. Maya Catharine was many, many gifts, including that big one. When we met Maya we knew the name would be perfect for her. My grandma was tiny but mighty, just like our Maya Catharine will be!
Quite selfishly, I was also really set on having the first grandchild on my side, primarily because I felt that being the oldest grandchild was so great. I always felt like the favourite grandchild, which, of course, was my Grandma's magic as well. She made each of her grandchildren feel like her favourite.
I remember the morning after we got Maya, calling my grandparents to tell them they were now great grandparents. My grandma, at 88, was out at water aerobics at the time, and when she returned my grandpa got to tell her that while she was out, they had become GGs!
I took these photos the day we finally got to introduce my Grandma Catharine to our Maya Catharine and both my grandparents were just so thrilled to meet her. (Maya was only eleven weeks old! She had so much hair but it hadn't even started to curl yet!) I had waited for and envisioned that moment for so long and it was everything I had hoped for. They were thrilled to hold her in their arms and my Grandma kept saying how cunnin' she was in her great Massachusetts accent. She couldn't get over Maya's dungaree top. She absolutely never called them jeans.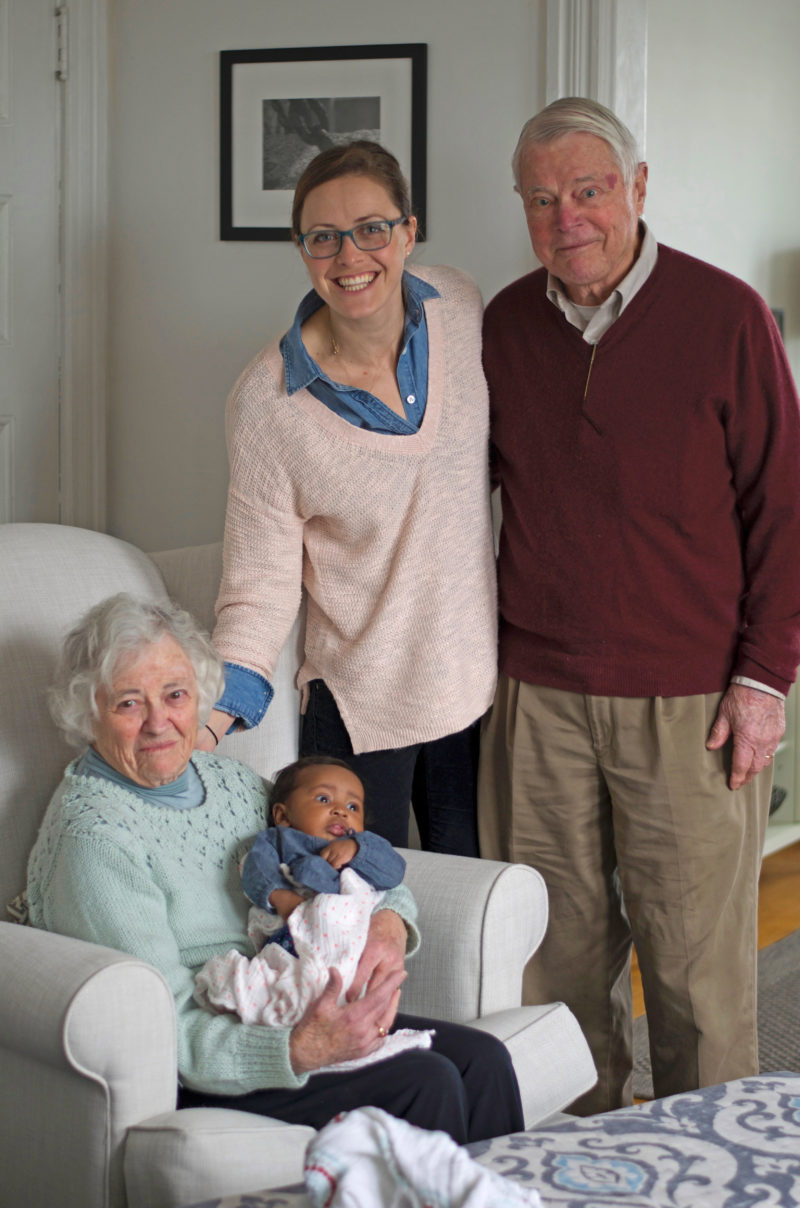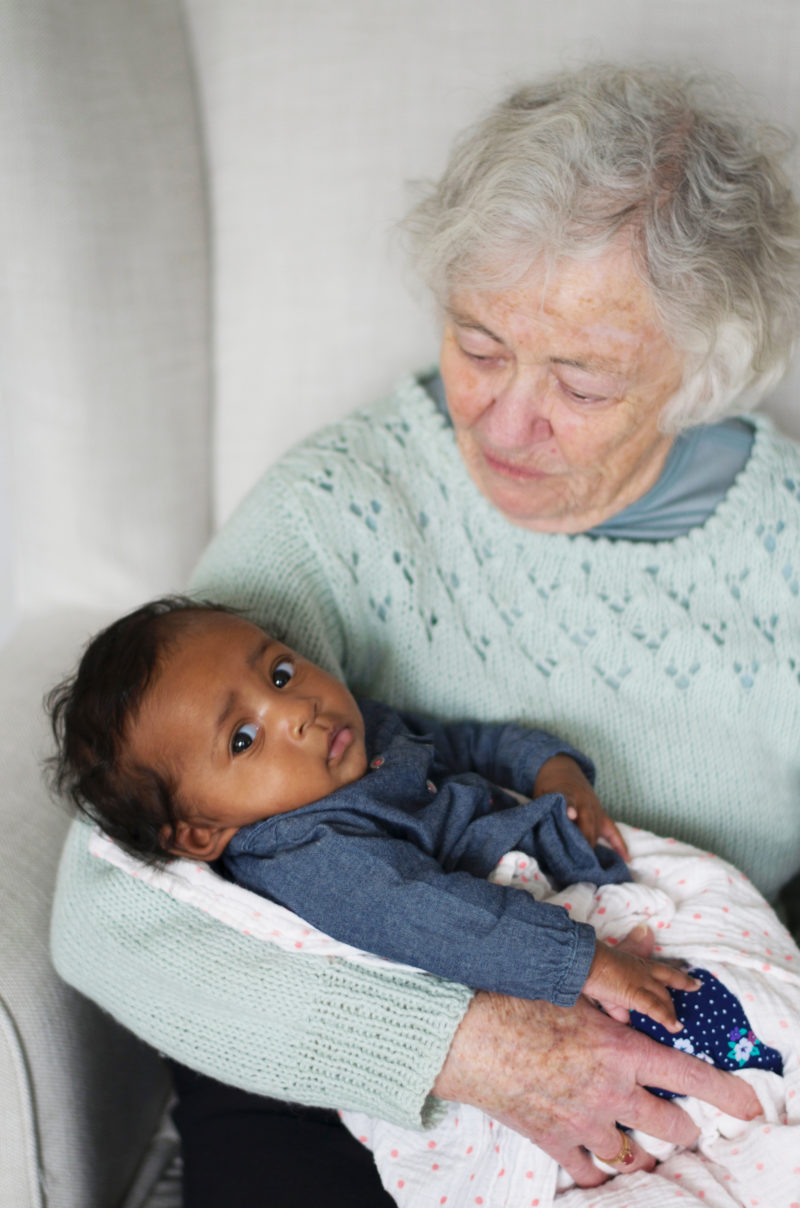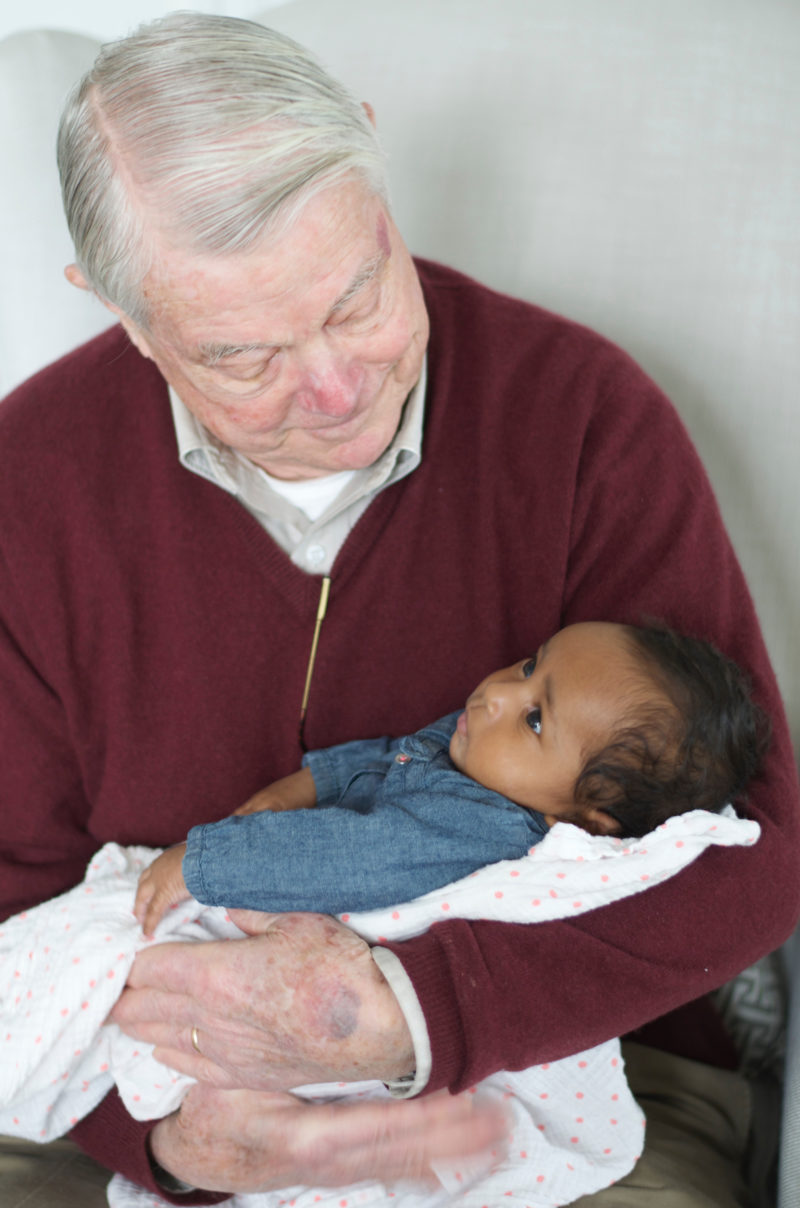 The story of the past weeks and years wouldn't be complete without recognizing the absolute love my grandparents shared for nearly 65 years, such an unfathomable and enviable amount of time they were able to share their lives. While I'm heartbroken that my Grandma has left us, the silver lining is that I have been wholly blessed watching my Grandpa's love for her over the years, as well as watching him care for her so sweetly in her last weeks. He never left her side as he nursed her and held her hand, and he never stopped reminding us how strong and special she was, although we really couldn't have forgotten. He'd shake his head and say, "She's some lady, your grandmother," his voice bursting with admiration and just a glimmer of a tear in his eyes at how lucky he was to have her.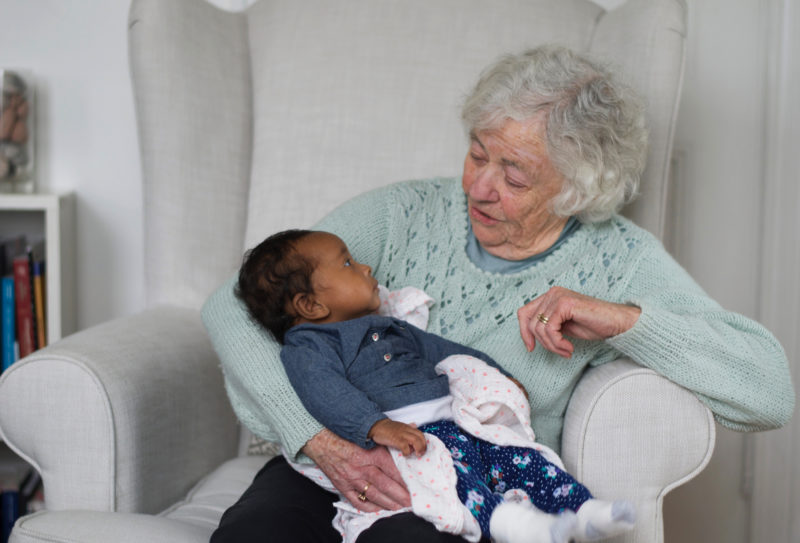 I love this photo above. I think Maya Catharine looked right at Grandma Catharine and knew exactly what tiny but mighty looked like. I think they had a Catharine moment as Maya looked up at her. We'll teach Maya everything else she needs to know about her namesake in the years to come. Her legacy of kindness and selflessness and spunk will absolutely be carried on in our girl. 
We loved her fiercely and will miss her fiercely. Xx