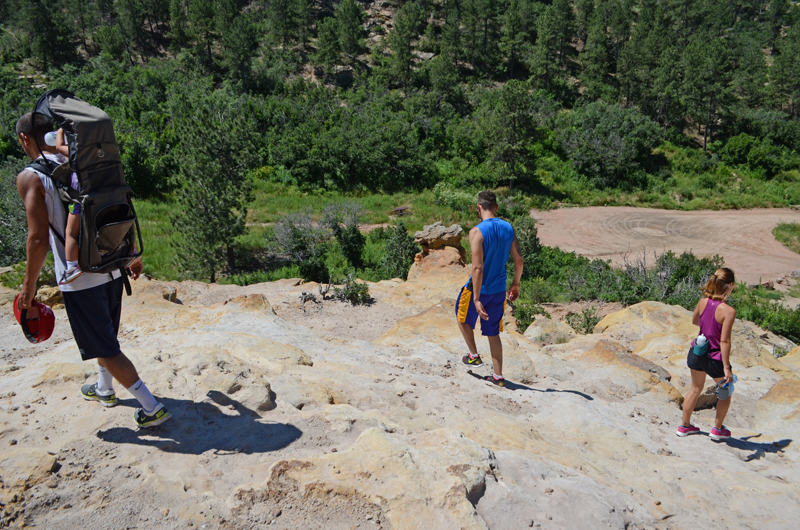 Good morning! Are you ready for part two of our Colorado Springs whirlwind adventure?! Well, that's what you're going to get today. These posts are a little more family-oriented, but I've realized they're as much for me to remember for posterity about our visits, rather than strictly to share tips for the area. But I'm in charge here, so you get what you get! It will be quite fun, though, I promise!
You can see our first day in Colorado Springs here, and our adventures in Boulder and Denver as well. 
We started off day two in Colorado Springs with a hike in the bluffs across the street from Angie's (my sister-in-law) parents' house. We popped Eabha in the backpack and put Bogey the dog on the leash and off we went! We've explored their bluffs a few times, but this was the longest hike we've taken. It's such an amazing feature to have on your front doorstep. It really feels like adventurous Colorado!
Here's Eabha getting into her chariot! Dad didn't get to keep his hat for very long.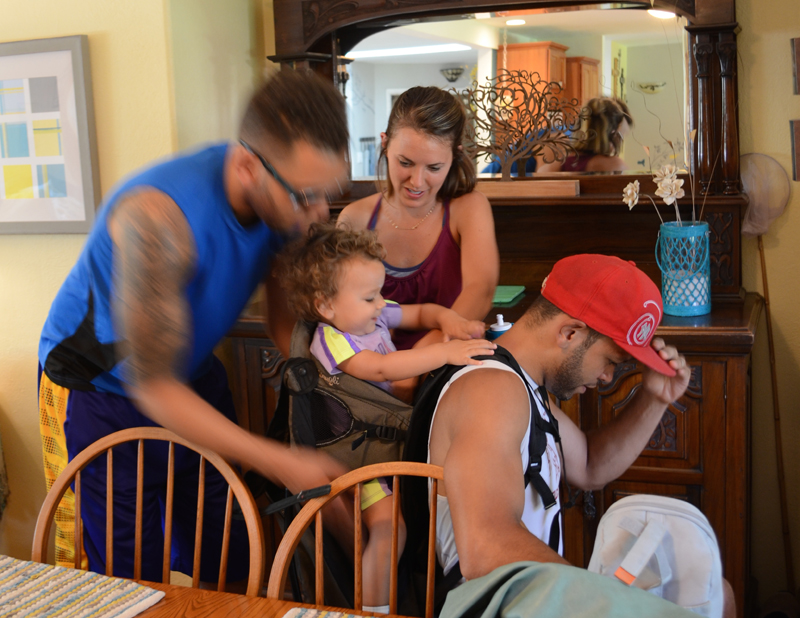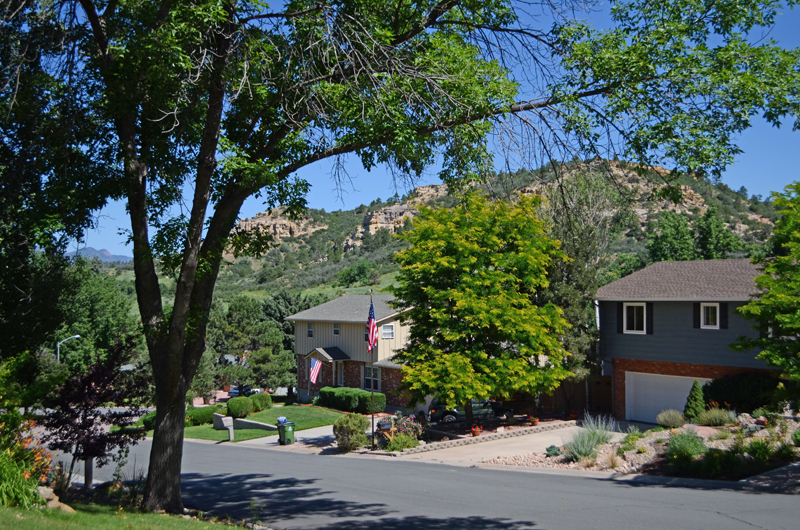 This is the view from Angie's parents' driveway across to the bluffs. Within a five minute walk you're scrambling up sun-bleached rock. The last few times we've visited Colorado, the state has been ravaged by forest fires. This summer has been so wet with thunder storms every evening that all the plants were lush and green. It felt like a different place altogether!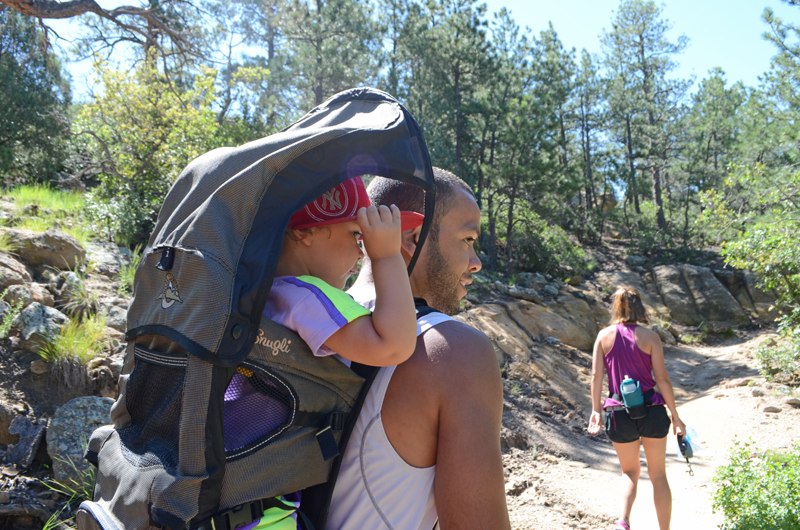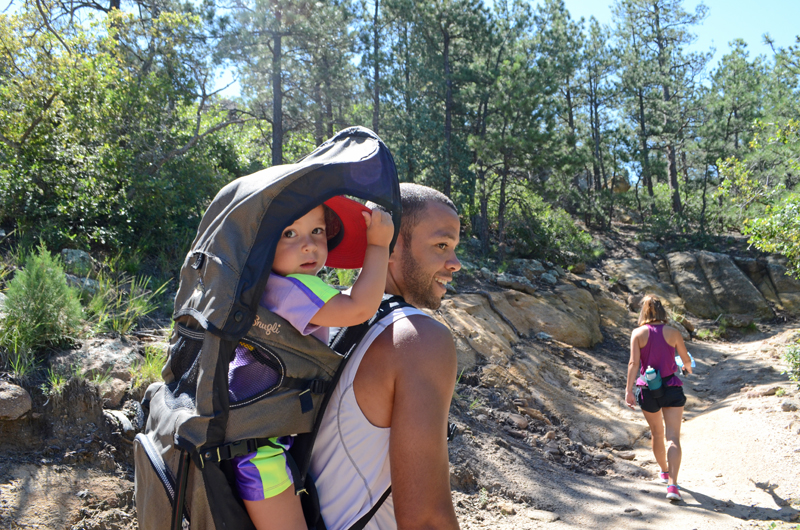 Hat robbery! Eabha has the best serious faces.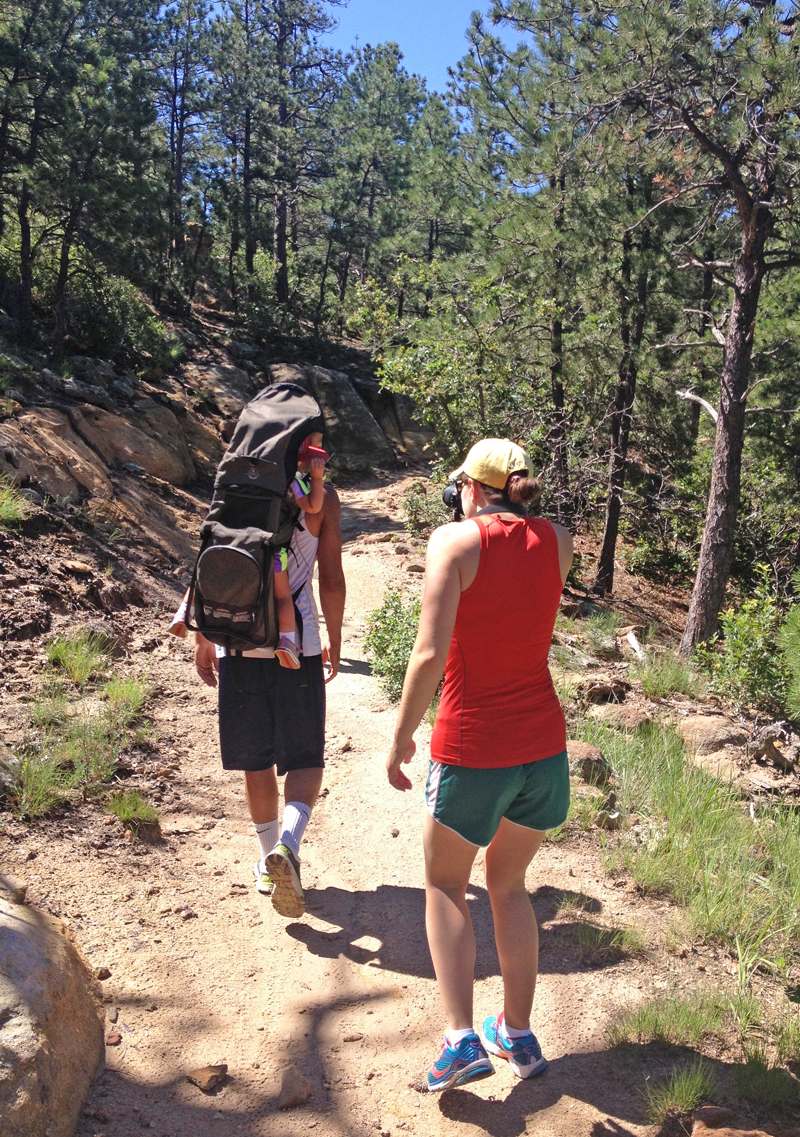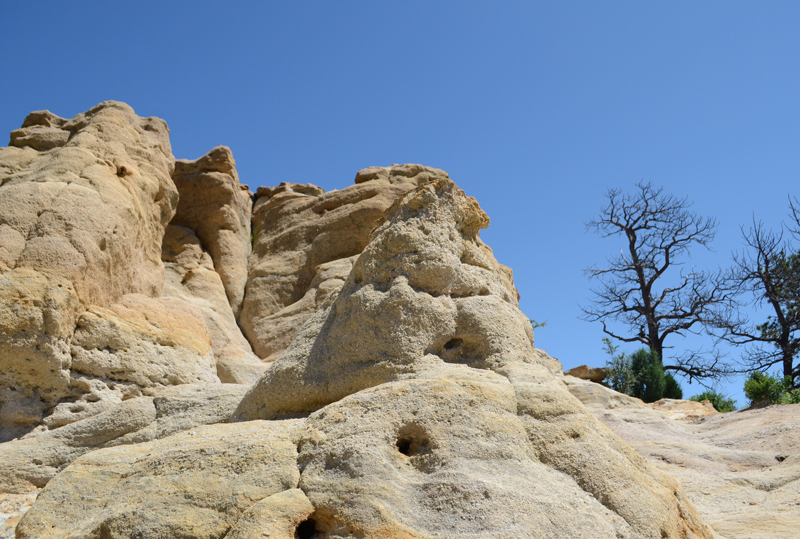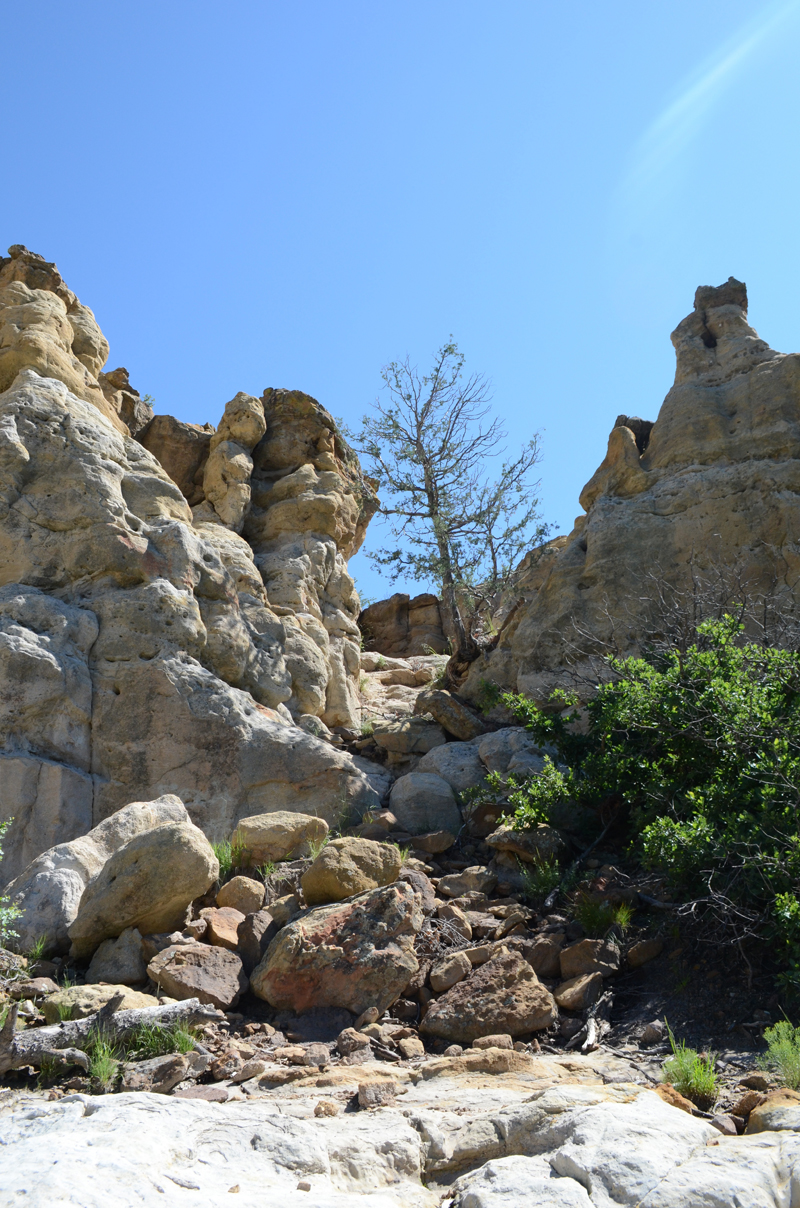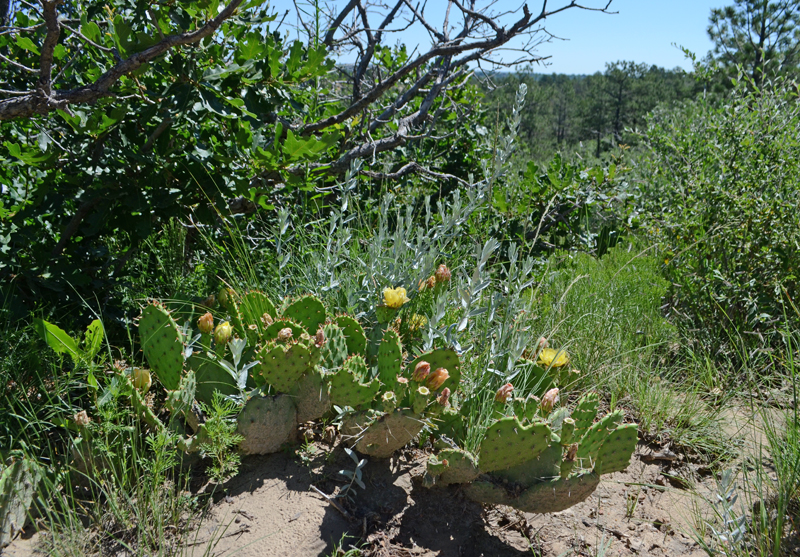 I'm such a Maine girl – cactuses are so novel! But really, cactuses in bloom are pretty fun no matter where you're from!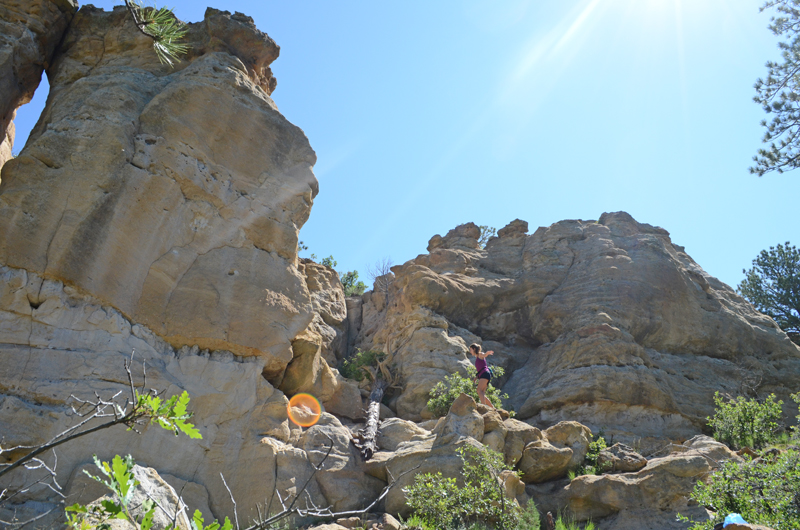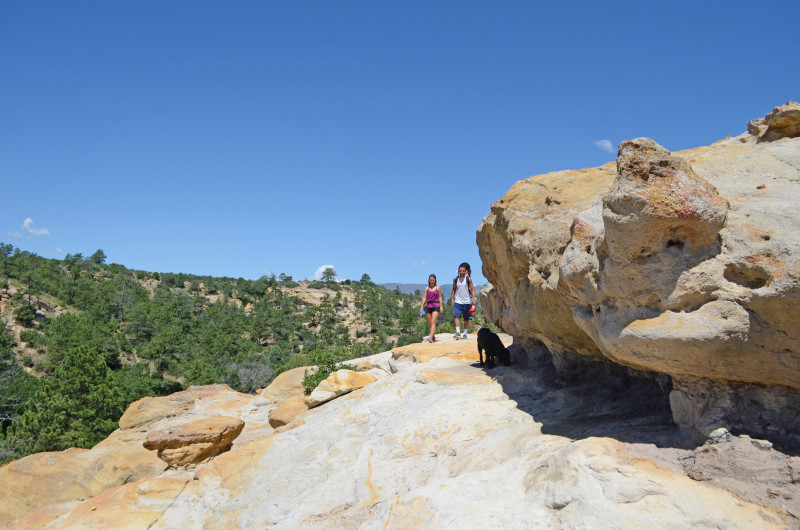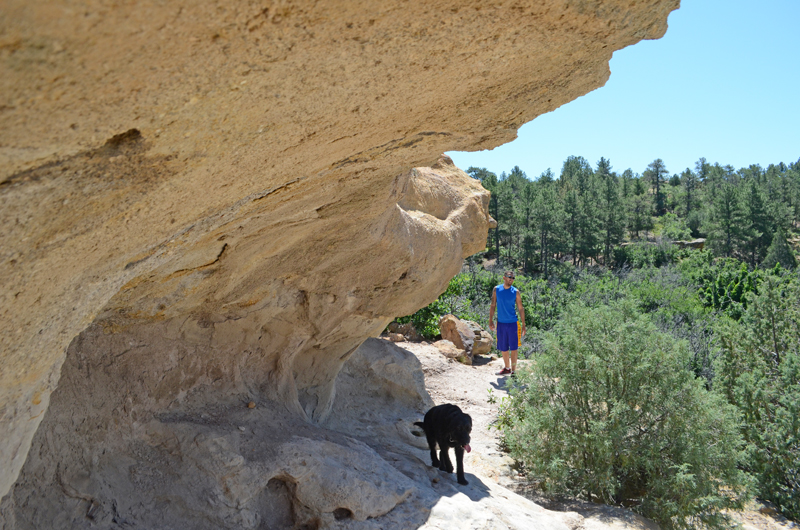 Michael's color-mixing cracks me up. He loves this combination of blue on different blue and he knows it drives me nuts and wears it anyway – on repeat!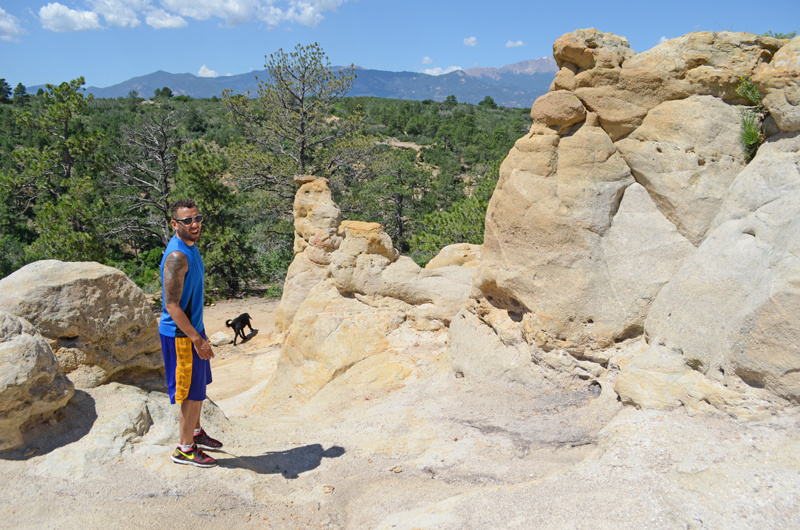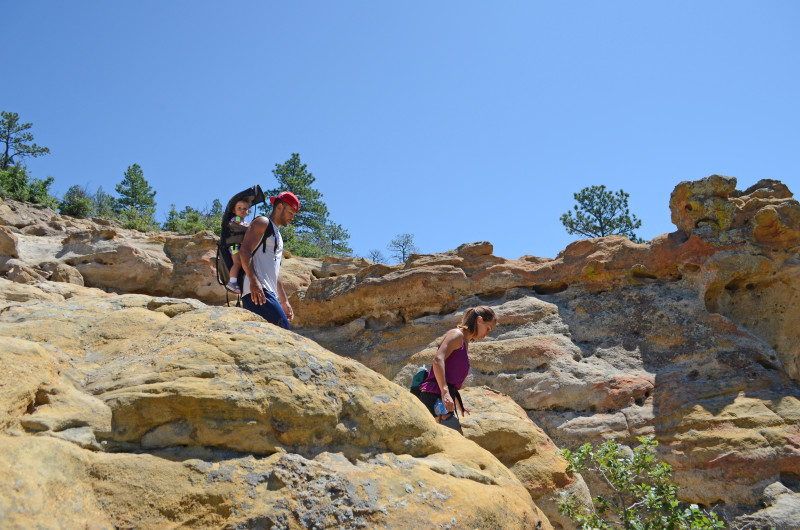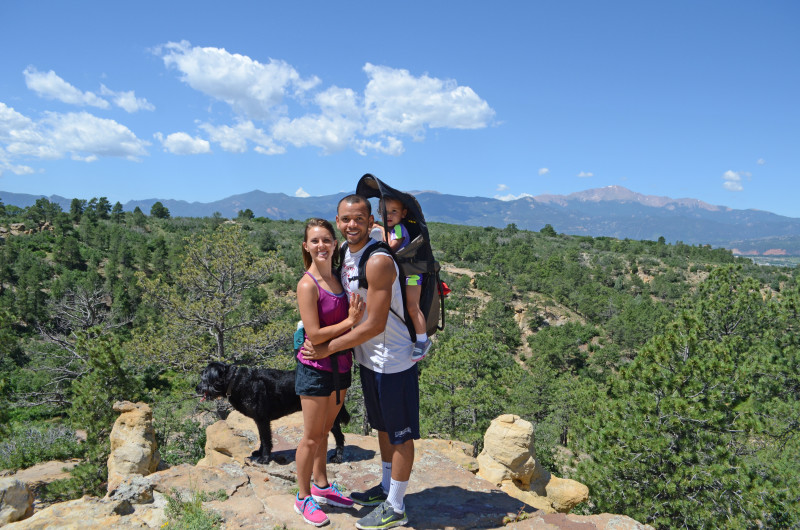 Prom photo in the bluffs!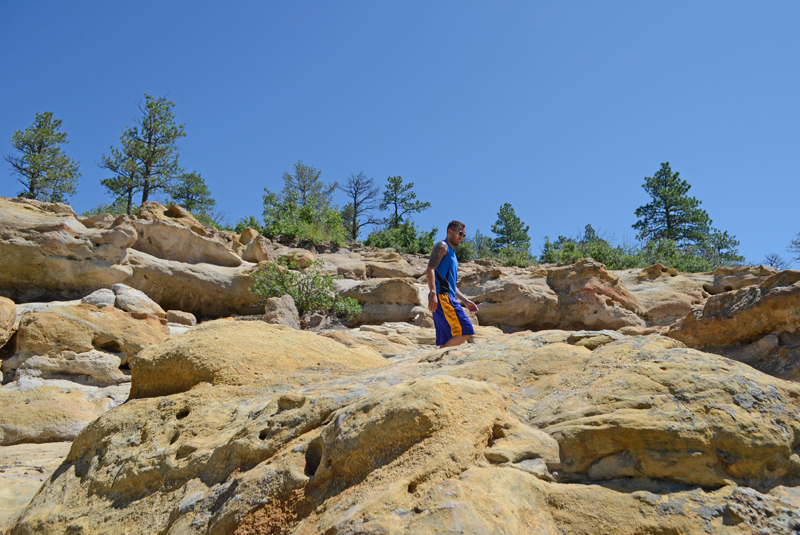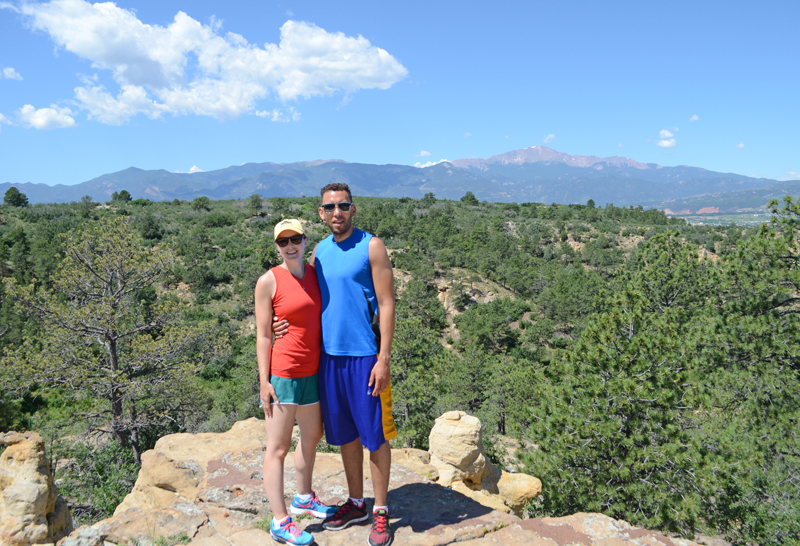 So many clashing colors! Ha!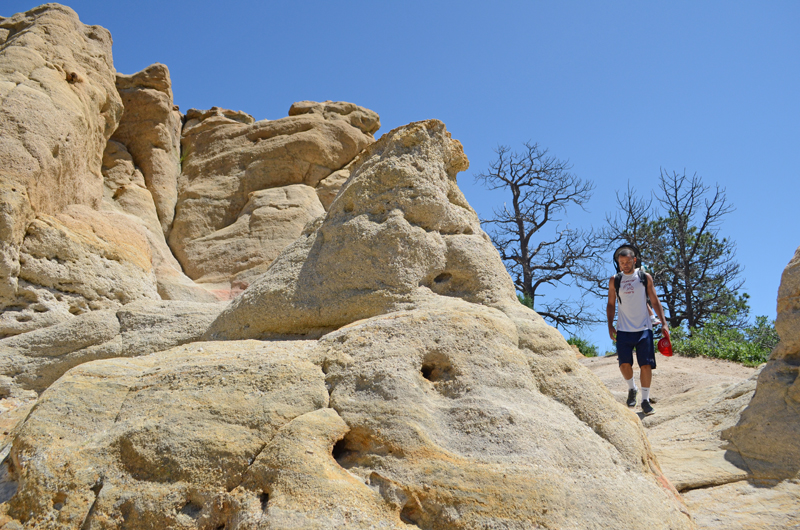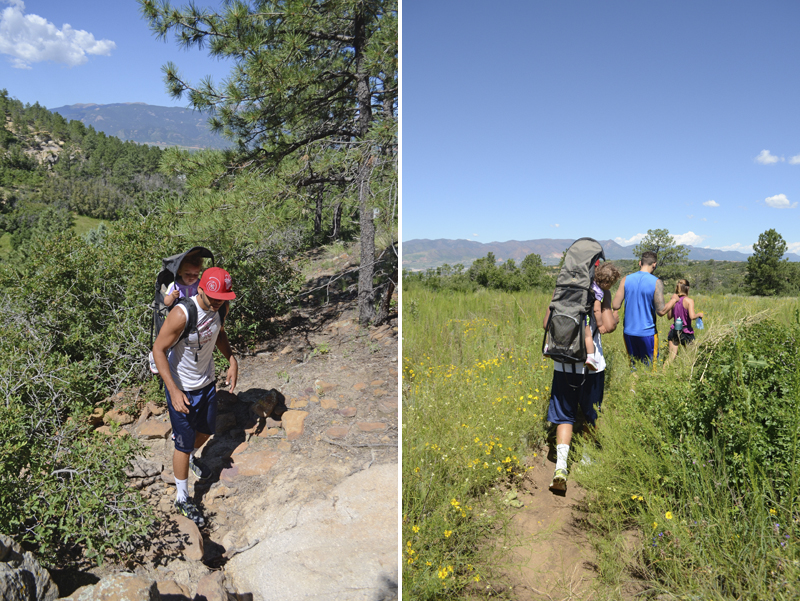 Eabha was getting a little bored at this point and hanging out the side of the carrier. About five minutes later she conked out altogether.
Our day's exercise behind us, we hit the showers and headed to another of Angie's recommendations, Ivywild School for lunch. Ivywild is a former school that's now this really exciting spot with a cafe, a brewery, a bike shop, co-working space and lots of outdoor deck space for sitting in the sunshine.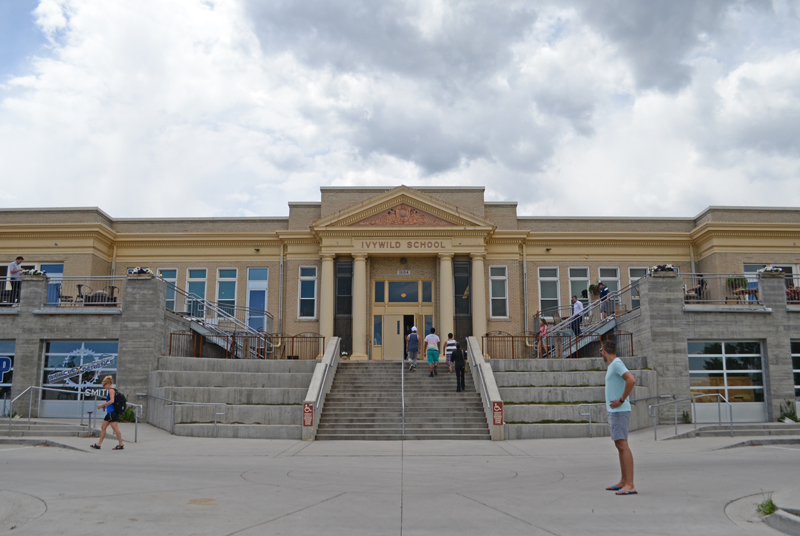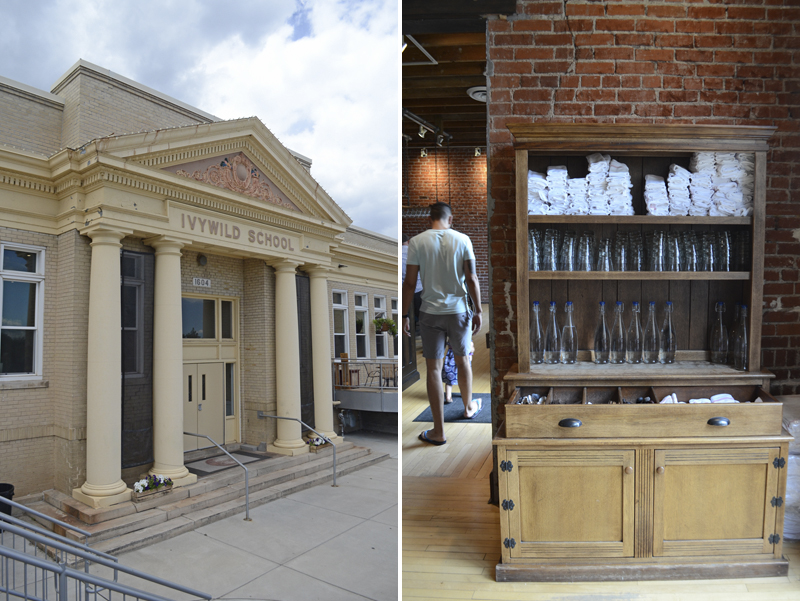 The charm is that Ivywild still looks so like a school, both inside and out. We ate lunch at the Principal's Office, where Michael claimed the coffee was the best he'd had since leaving Dublin! They have a large indoor space with high ceilings and exposed brick, but they also have this awesome outdoor terrace. I can't imagine how cool that must have been as a student at Ivywild!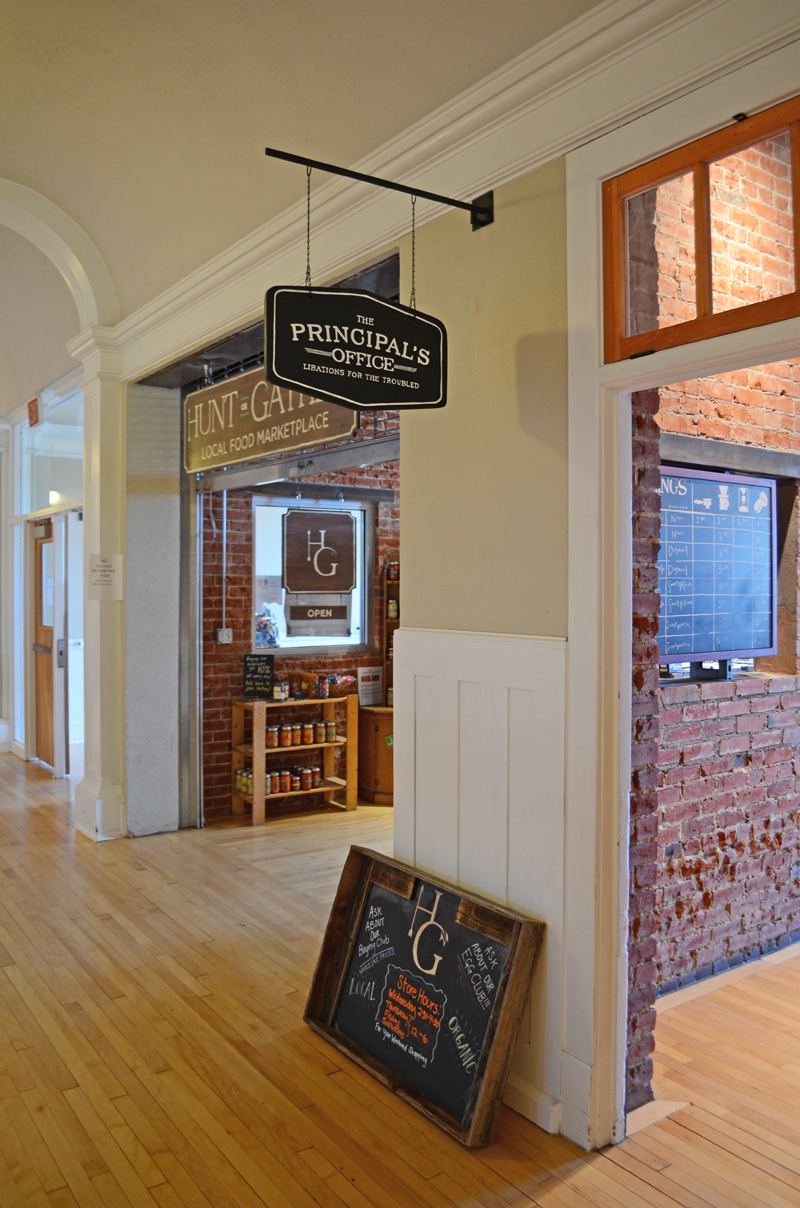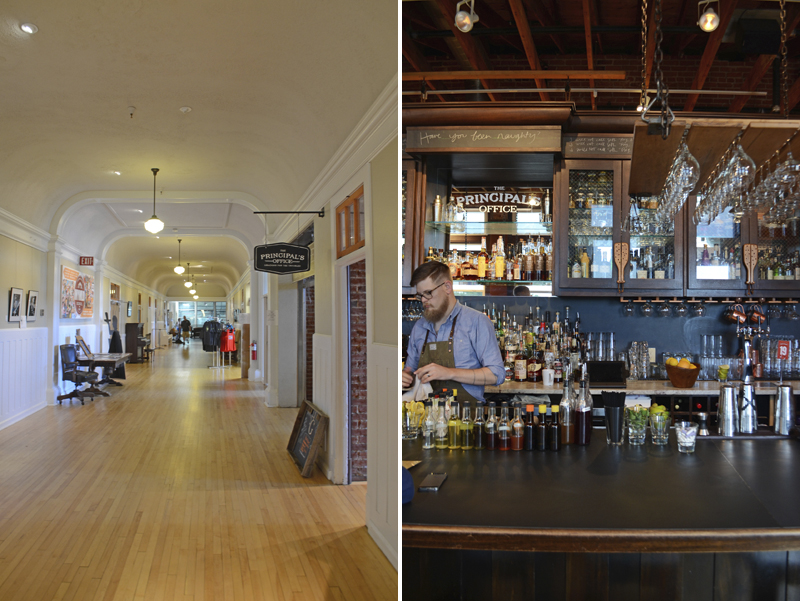 I loved all the references to school in the Principal's Office – on their main sign it says "Libations for the troubled" and on chalkboards above the bar there's handwriting repeating "I will not bring Bristol beer to the Principal's Office, I will not bring Bristol beer to the Principal's Office." Bristol is the name of the brewery at the other end of the school. A playful little rivalry!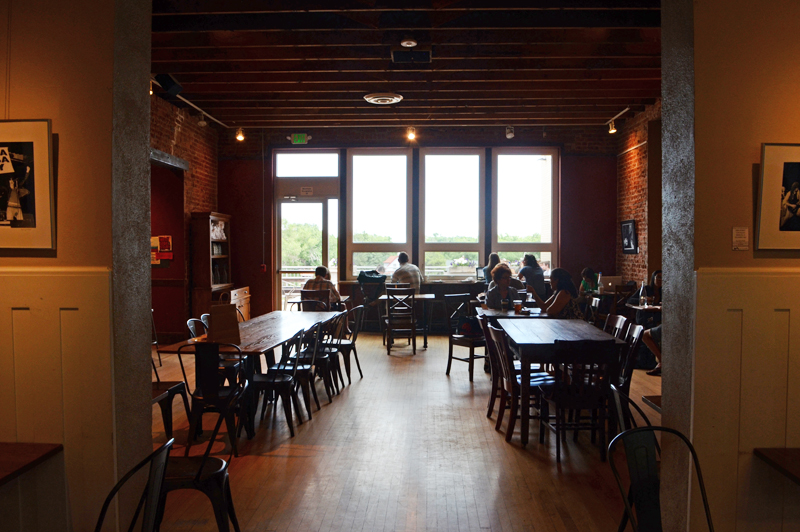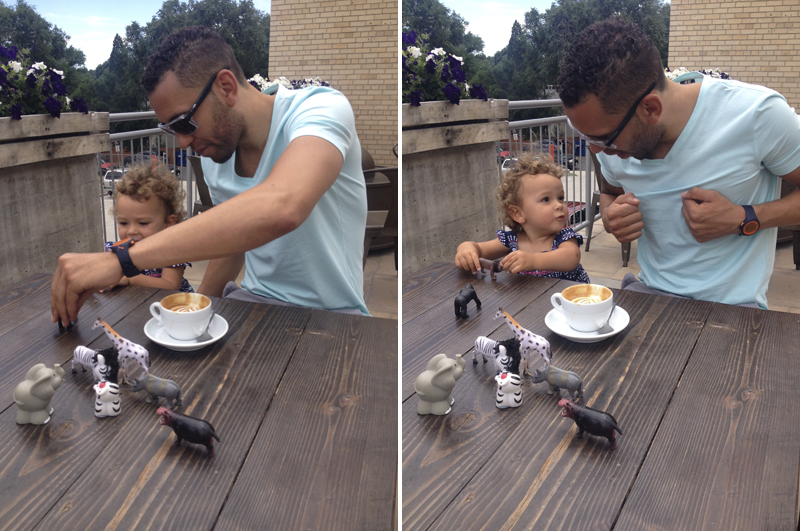 Eabha brought her animals out to play for lunch. I love that photo on the right. Michael was pounding his chest and saying "What does the monkey say?" You can tell Eabha is saying "Ooh ooh!" with her little lips. Doesn't get much better!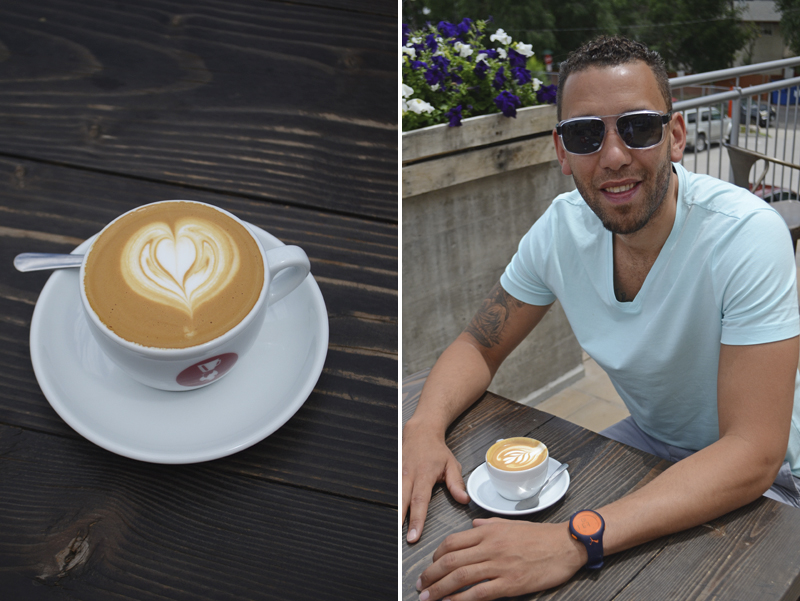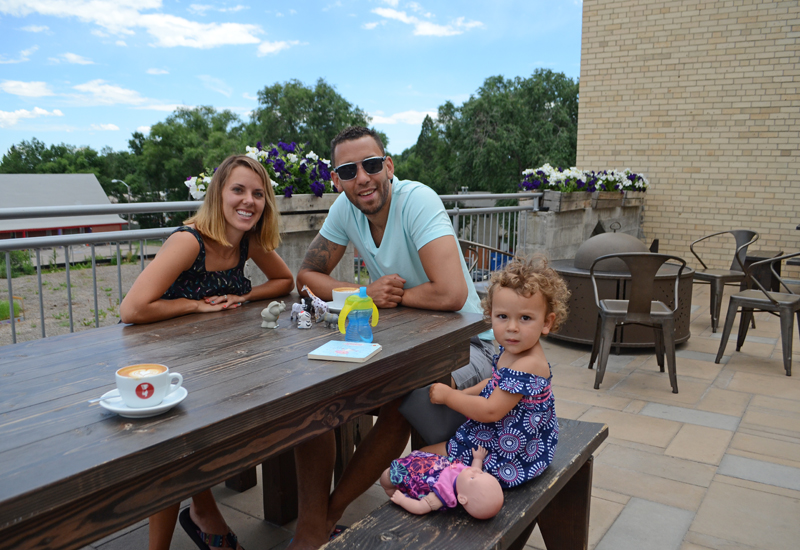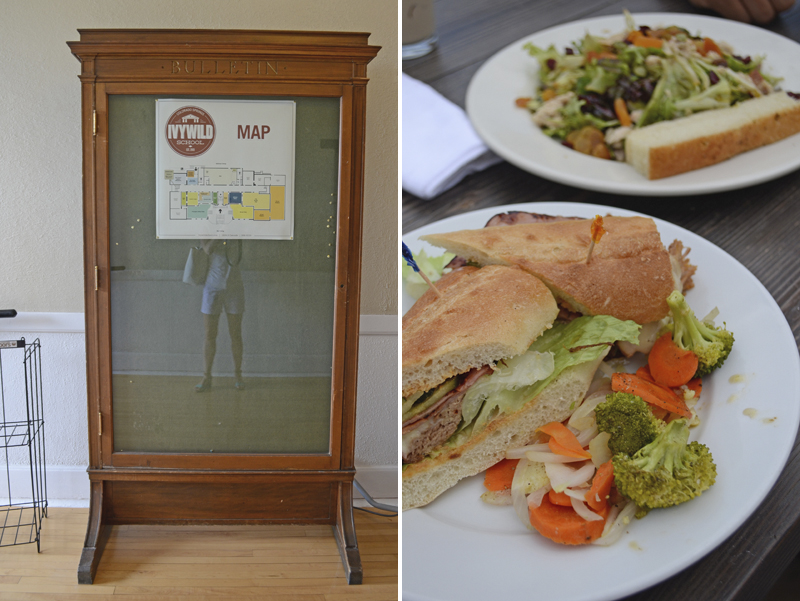 We enjoyed our Cuban sandwich and turkey salad with focaccia. I feel like the Cuban is having a revival around the country on the back of the movie Chef. Have you seen it? Michael and I rave about it to anyone who will listen. Such a feel good movie! But it will definitely make you hungry for a Cuban!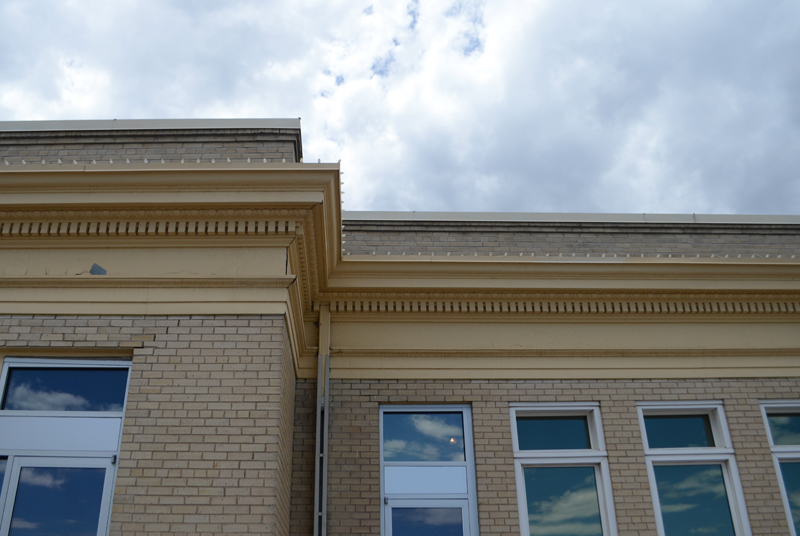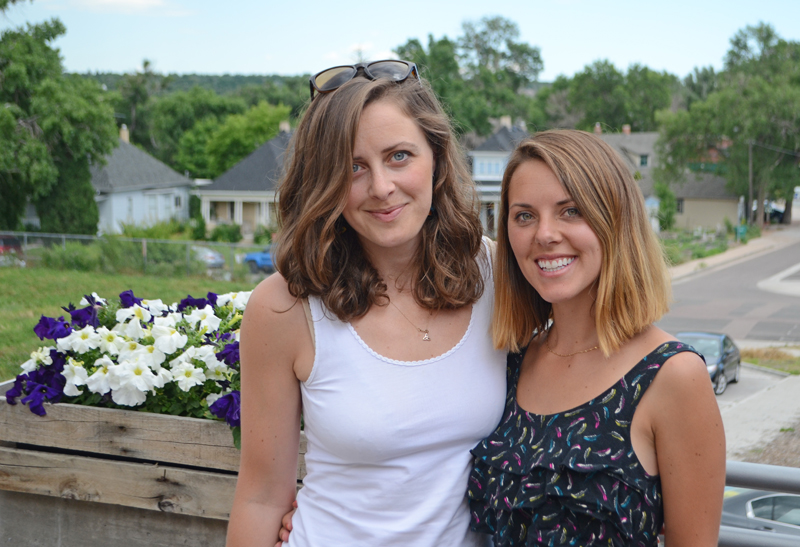 I got a haircut a few weeks ago, but I still feel like I need a haircut. So much hair in my face all the time!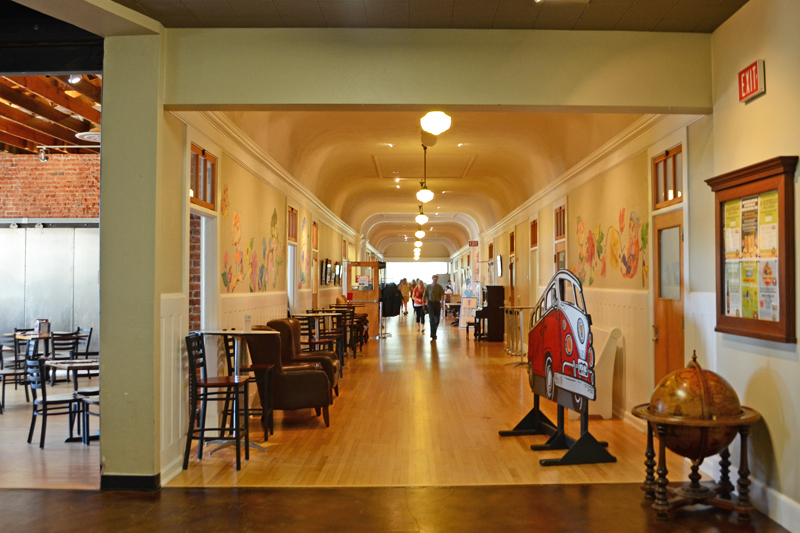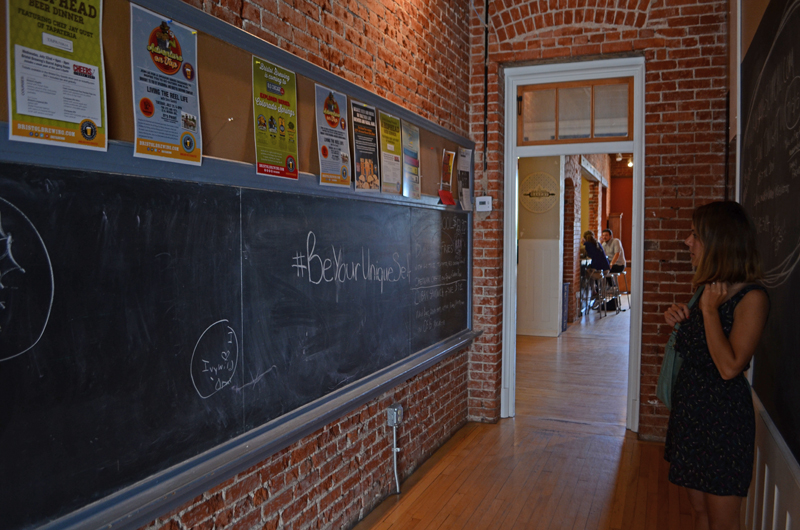 Fully worn out, in the best way, we headed back to Denver after our jam-packed 24 hours in the Springs. We clearly need more time there next time for more exploring! Thanks, Angie and Isaac and Eabha for being the best tour guides for your other home!
More Colorado exploring: Denver / Boulder / Colorado Springs Pt. 1