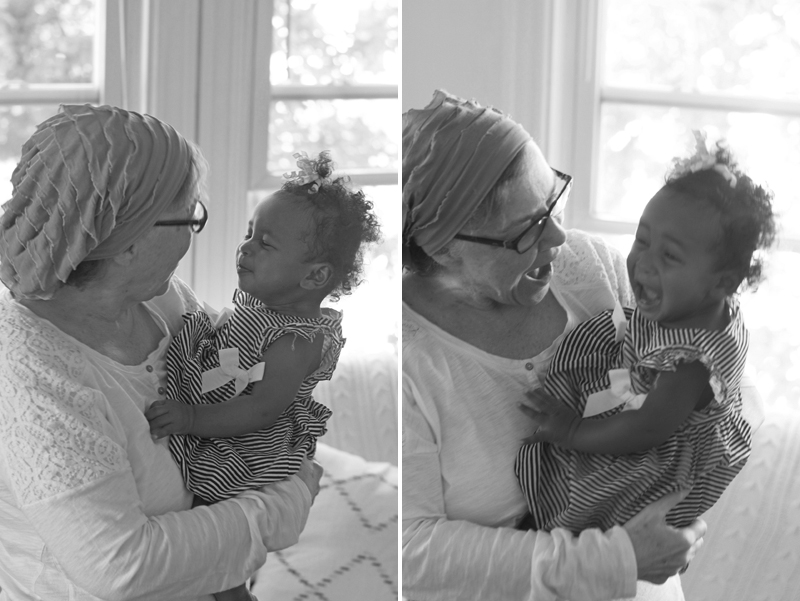 I was sitting in a coffee shop around the corner from our house last week when my dad called. My aunt Mary Catherine had passed away. Expectedly, but still unexpectedly. After we hung up, I sat there at my computer scrolling aimlessly through pictures of Christmas decorations for a freelance post I was working on, thinking about another sadness for my family and another legacy to be passed on.
After a short battle with a very aggressive and terminal brain cancer, the end part, which can be so painful and bad, was mercifully short. But it's still a shock to us all. She was my godmother, and one of my biggest cheerleaders, especially here on FCV. She loved my posts and commented often. She prayed so fervently that we would be able to start our family, and was overjoyed to meet Maya earlier this summer. Maya, of course, loved her instantly, giving kisses and then laughing hysterically each time.
Michael pointed out that Mary Catherine was a link to my grandparents on my dad's side, who both died of cancer (can I get an f-you cancer?!) before I was old enough to really know them. She would tell stories of my grandparents so vividly that I could just picture my grandmom through her. I think she carried my grandmom's elegance and grace and old fashioned-ness, which was such a gift to experience.
It's been a sad time in our family, with both of my parents losing a close family member in just six weeks. And it's my first real time facing loss and experiencing missing people who were part of my life on a regular basis. It's such a strange feeling to be carrying on with day to day things with added pangs of sadness every day or so. I suppose everyone goes through it eventually, and I'm grateful it took me until now to hit with real force.
I hope you're all well and healthy. I've missed you and hope to be back more regularly soon. xx em