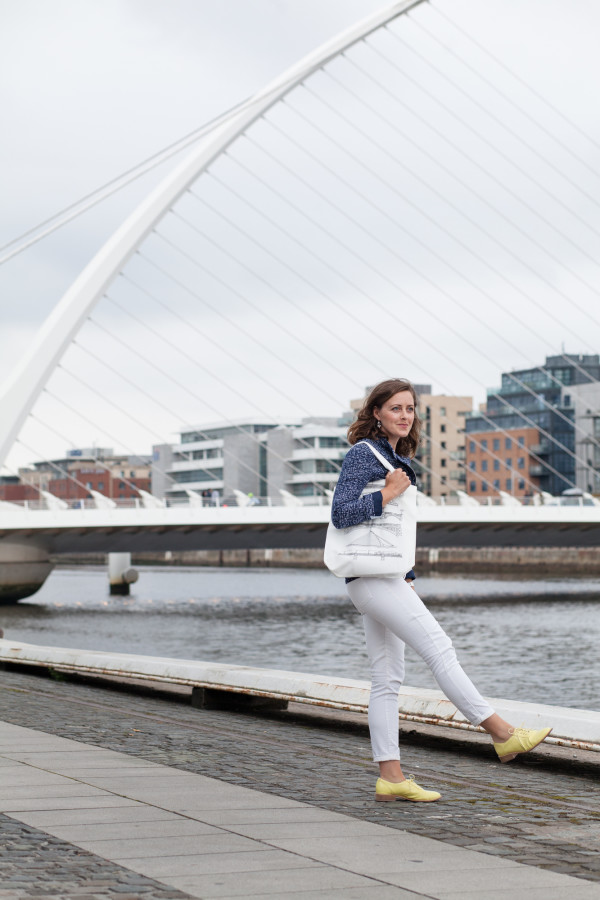 I had been wanting to take a few photos with my new Dublin Bridges tote from Clover Rua for months now. In fact, I carried it and my camera to church six times, since our church is near the Liffey and I figured it would be easy enough to have Michael snap a few photos before we headed home. Turns out? Not so much. Every single time, something came up. We were hungry (this happens a lot), we forgot we had plans, we were on welcome team and just couldn't wait to sit down. So, the bag just kept making journeys back and forth – close to the Liffey but never on the Liffey.
Until Friday, when Julie finally snapped a few photos of me and the Dublin Bridges bag on my very favorite bridge, the Samuel Beckett. And lo and behold, we loved one of those images so much, we made it into the cover of Delightful Dublin!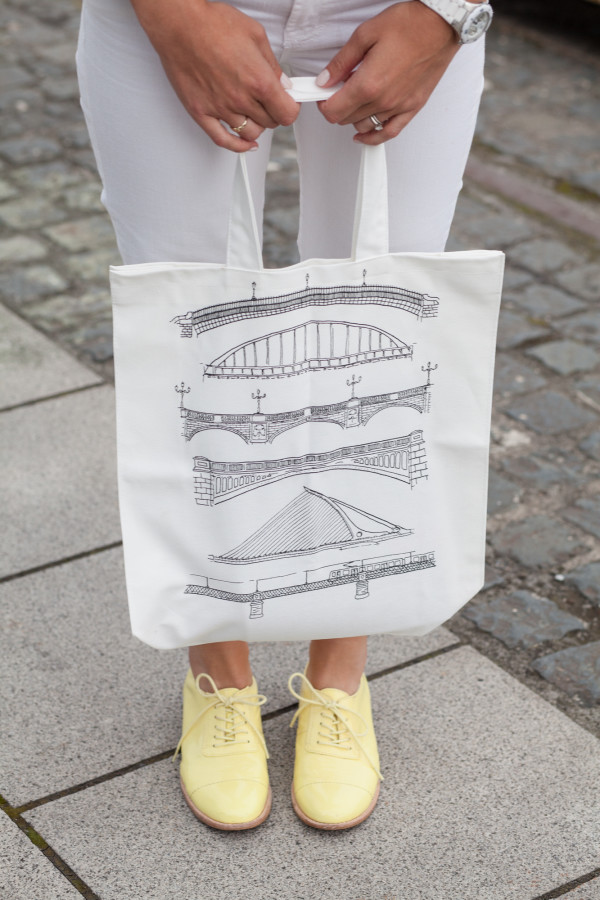 How sweet is that tote? It's very sturdy and Anita from Clover Rua assures me it can get dirty because it's very washable. I'm still a little careful with it!
We're also going to have to talk about my shoes for just a sec. I don't own a single other item of clothing this psychedelically bright and yet I love these shoes. And I found them at Gap this summer for $4. $4! They make me way more than $4 of happy.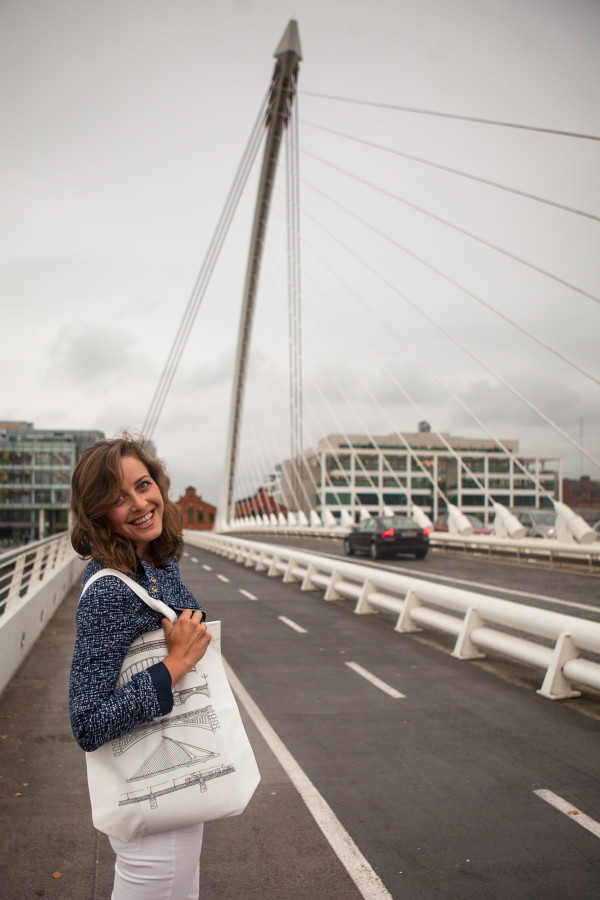 The Samuel Beckett Bridge was designed by Santiago Calatrava (which is a super fun name to say) and it reminds me of a cable-stayed bridge in Maine. The entire thing turns when a ship needs to come through, which is very cool to witness.
I actually used to be quite scared of bridges, but I think it was actually the height of some of the bridges in Maine that bothered me. I used to crawl down onto the floor of the car when we were going over one! All of the bridges across the Liffey in Dublin are so low to the water, I never get worried. Julie, on the other hand, was a little nervous!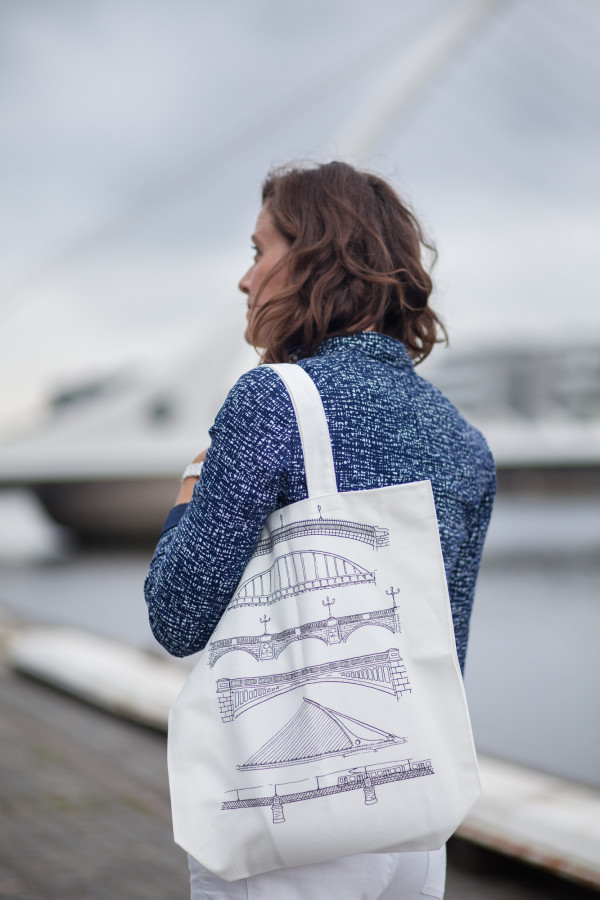 And on a somewhat unrelated note, I am having a love-hate relationship with my new haircut. It just has a mind of its own and only responds to air-drying, which still takes so long even though it's shorter. It looks pretty okay in photos but in person I think it looks wild and crazy. Anyone have a long bob of wild and crazy hair? What do we do with it?!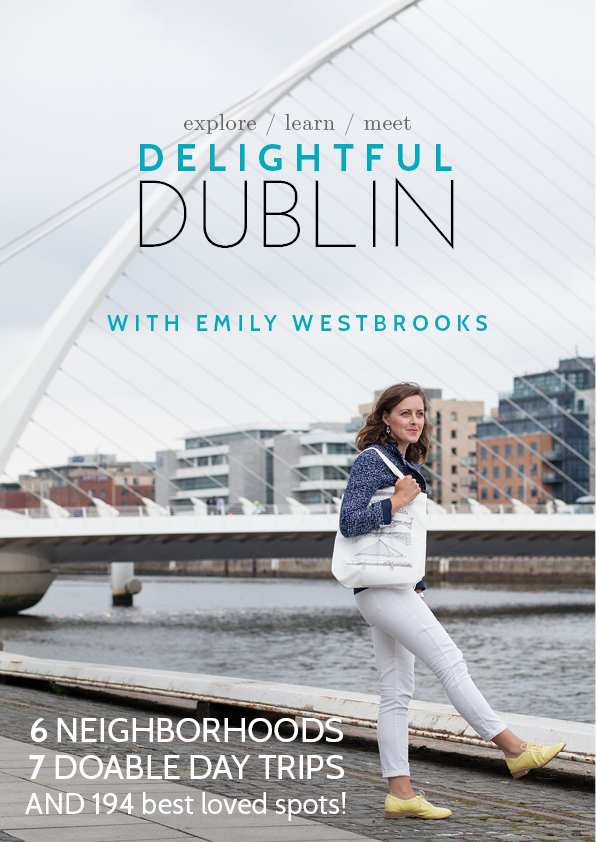 And here's that cover again! I'm so excited about the positive response Delightful Dublin has been getting. It's been a very fun few days!