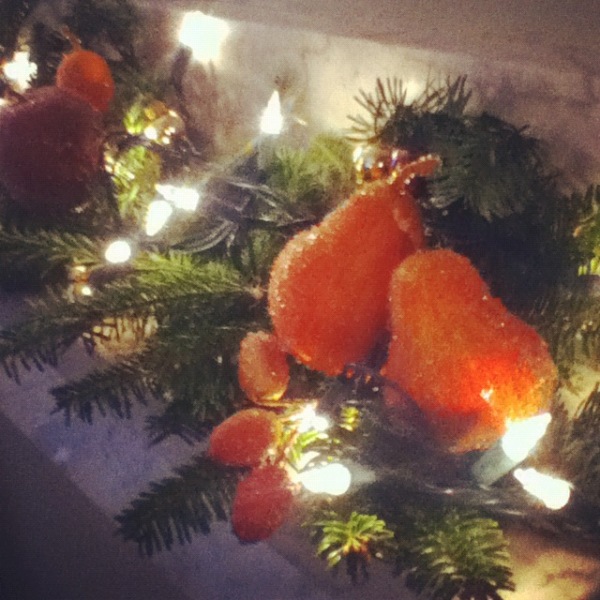 Every year growing up, when Christmas day was over, my dad would insist on playing Christmas music for at least a week longer. He would always complain that the Christmas season was just too short. I didn't get it until I turned into a grown up and now I agree – Christmas season goes by in a flash! Especially with Thanksgiving so late, I can't believe Christmas is three weeks from Thursday!
In Ireland, the Christmas season lasts right through the New Year, which is wonderful. St. Stephen's Day has become one of my favorite traditions – and we'll do our best to preserve the cosiness of the day after Christmas even when we're in Maine this year. Here's the equation for a perfect Stephen's Day: pajamas, leftovers, movies and more leftovers.
In an effort to really celebrate the season while it's here, I've made a list. I'm not quite organized enough to put this into an actual advent calendar, but I'm adding them to our to-do list for the next few weeks.
Make an advent wreath – I'll be a little late, but I'm excited for a little DIY action!
Join the She Reads Truth advent series (the app version started Sunday and it's really good!)
Make a wreath for our front door
Make christmas ornaments – I'm thinking of sewing some this year!
Decorate our kitchen chalkboards with some festive cheer
Give back – I'd love some volunteer suggestions for Dublin, please!
Get hot chocolate and go look at the Christmas lights
Go for a chilly winter beach walk
Make, write and send christmas cards
Set up the nativity scene
Put up twinkly lights – we won't have a tree this year, so I'm settling for lights in the windows
Finish our Christmas shopping in the city centre with Michael
Bring the neighbors Christmas cookies!
So what's on your holiday season list? How do you make the most of the season before it's gone?
If you're looking for a little inspiration, here's a round up of holiday projects from years past!