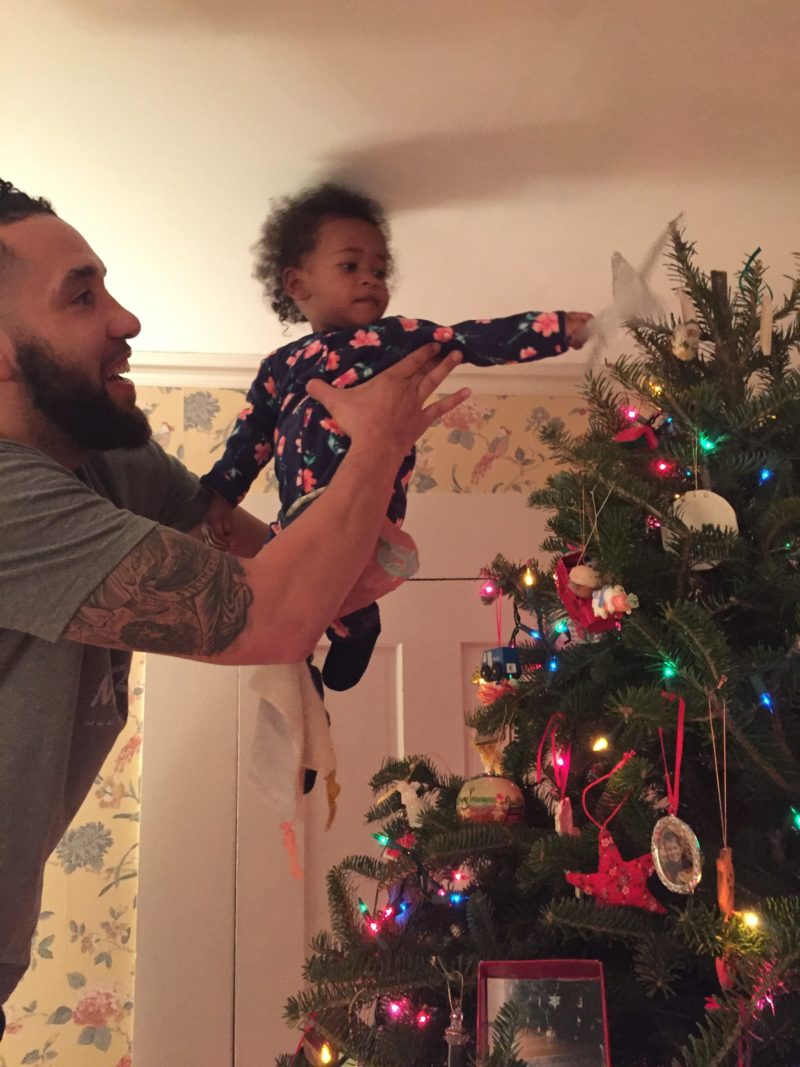 It's hard to believe that Christmas is really getting close. When the stores start to stock holiday things before Halloween, it's a very long run-up! But we're less than two weeks away! This is the first year that Maya has had any sort of inkling about Christmas, although she's still most excited about the lights she sees popping up around the neighborhood. And also candy canes. That girl could get a handful of candy canes for Christmas and be so thrilled.
We actually haven't really given our kids Christmas gifts yet. When they're babies, they're too young to care, and last year I made the mistake of having presents I ordered shipped to Houston…while we spent the holiday in Maine. (That's the second year in a row I've done that, it was no fun!) She obviously didn't notice, especially since my parents gave her such lovely and thoughtful and homemade gifts. She still thinks everything she's ever been given came from Grammy and Granddad!
But this year she's aware of Christmas, and we've been talking a lot about all of the other things that the season means, while also planning for how to keep our own impulses to buy them all the things in check. After seeing Maya's face at her birthday, when we gave her a single, very small Barbie-for-little-kids doll (because it had hair and she loves to brush hair!), I could give her presents every day. She was so darn excited and the pure joy on her face when she realized she had a gift to open was priceless.
That said, we don't have an unlimited budget and we would probably run the risk of spoiling the kids, so we're trying to put some parameters on ourselves. We've chosen something to read, wear, need and play for each kid. The categories help me stay organized!
I recently wrote an article for The Journal about how to keep Santa and holiday consumerism from going crazy when you have kids at home. I asked for suggestions from my friends on Facebook and Instagram and got so many great suggestions. You can read the full article here if you're looking for ways to keep Christmas simple. One of the suggestions that I got multiple times was to sort of limit Santa, so I think we're going to try sticking to stockings from Santa and the rest of the gifts will come from us. Maya will get to choose a gift for Noah, and Noah will "choose" one for Maya as well. We're trying to focus on the giving rather than receiving, but with a 3-year-old, that is still a little tough.
If you're still mid-Christmas shopping, have a peek at these suggestions. They were helpful to me and I hope they'll be helpful to you!