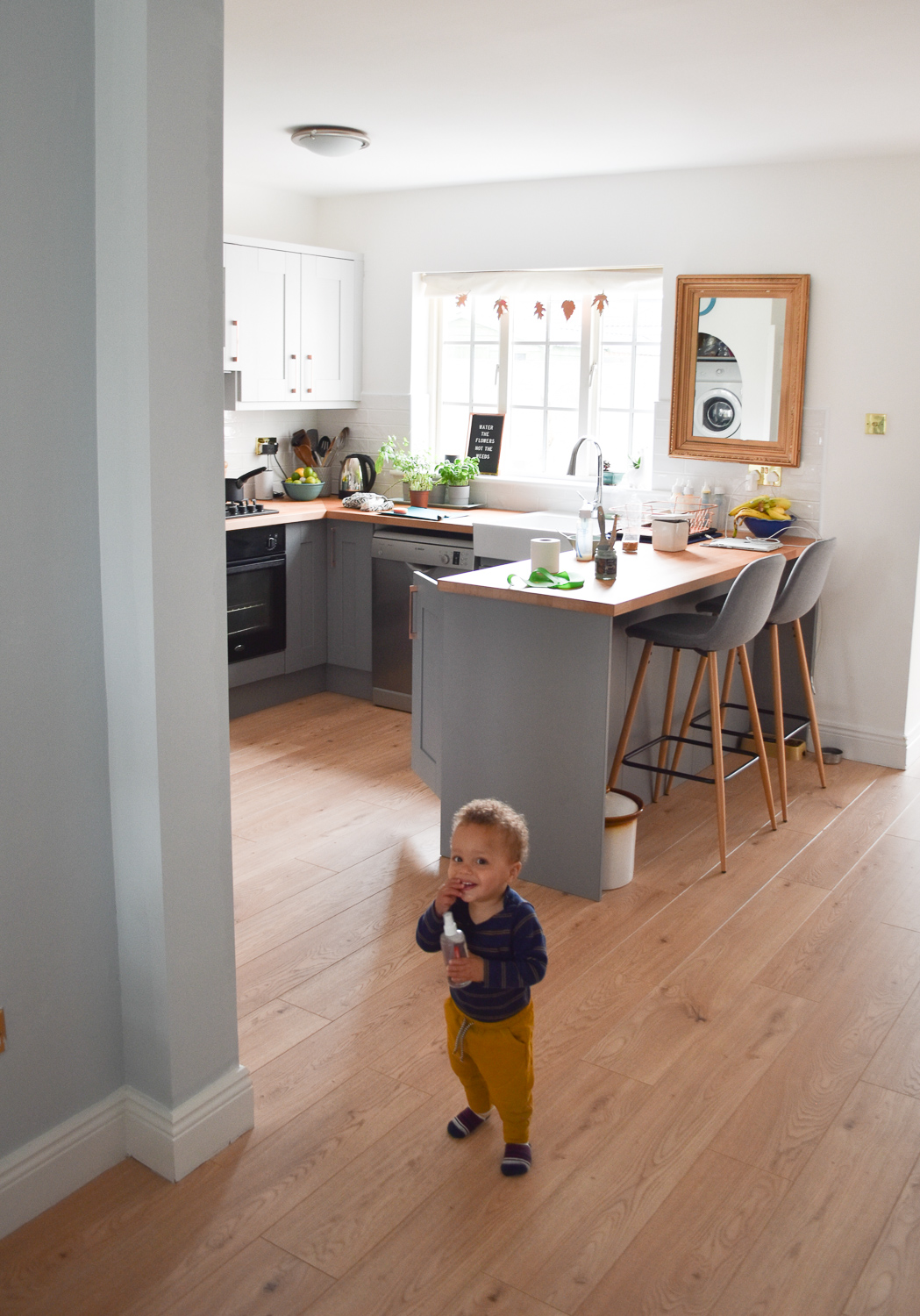 Noah would like to welcome you to our new kitchen!
First, a peek at the before: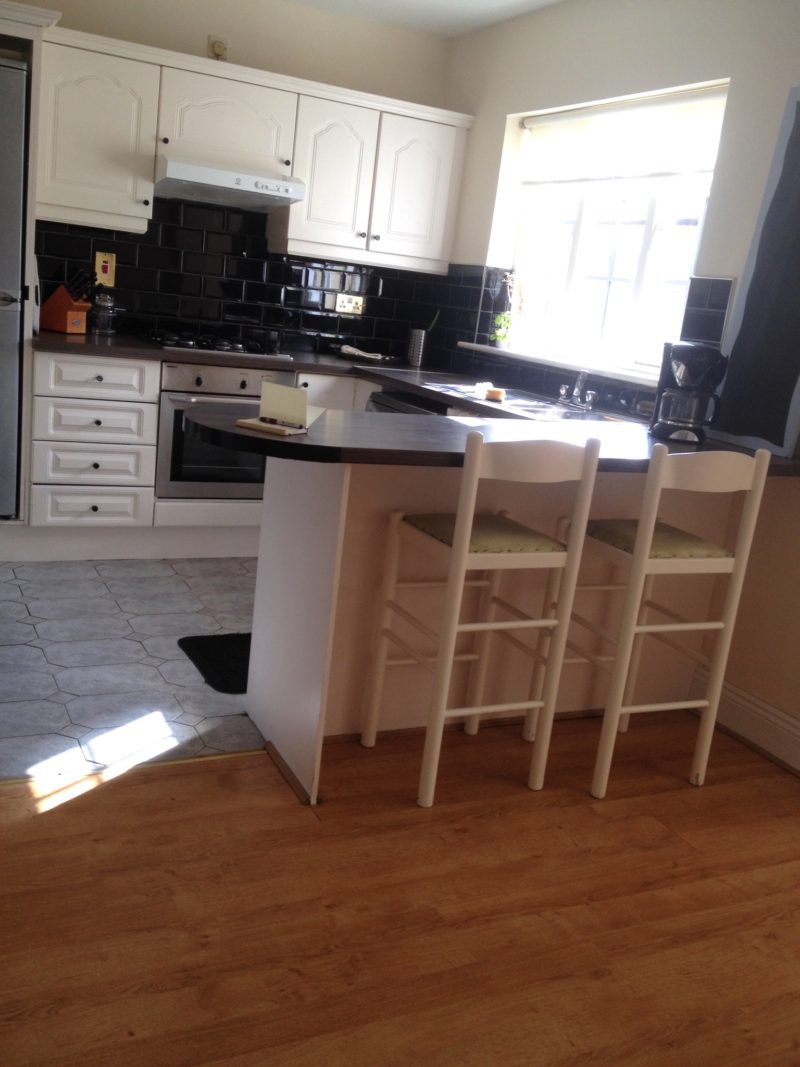 This was taken before the house was rented the first time, right after we bought it. We had been prepared to live with most of the kitchen, but when we got back and saw the state of it, we figured it was worth gutting. The brown linoleum counters, the shiny black tile, the sagging cabinets. It was all pretty yucky and we are so incredibly glad we have a brand new kitchen now.
Here is the after!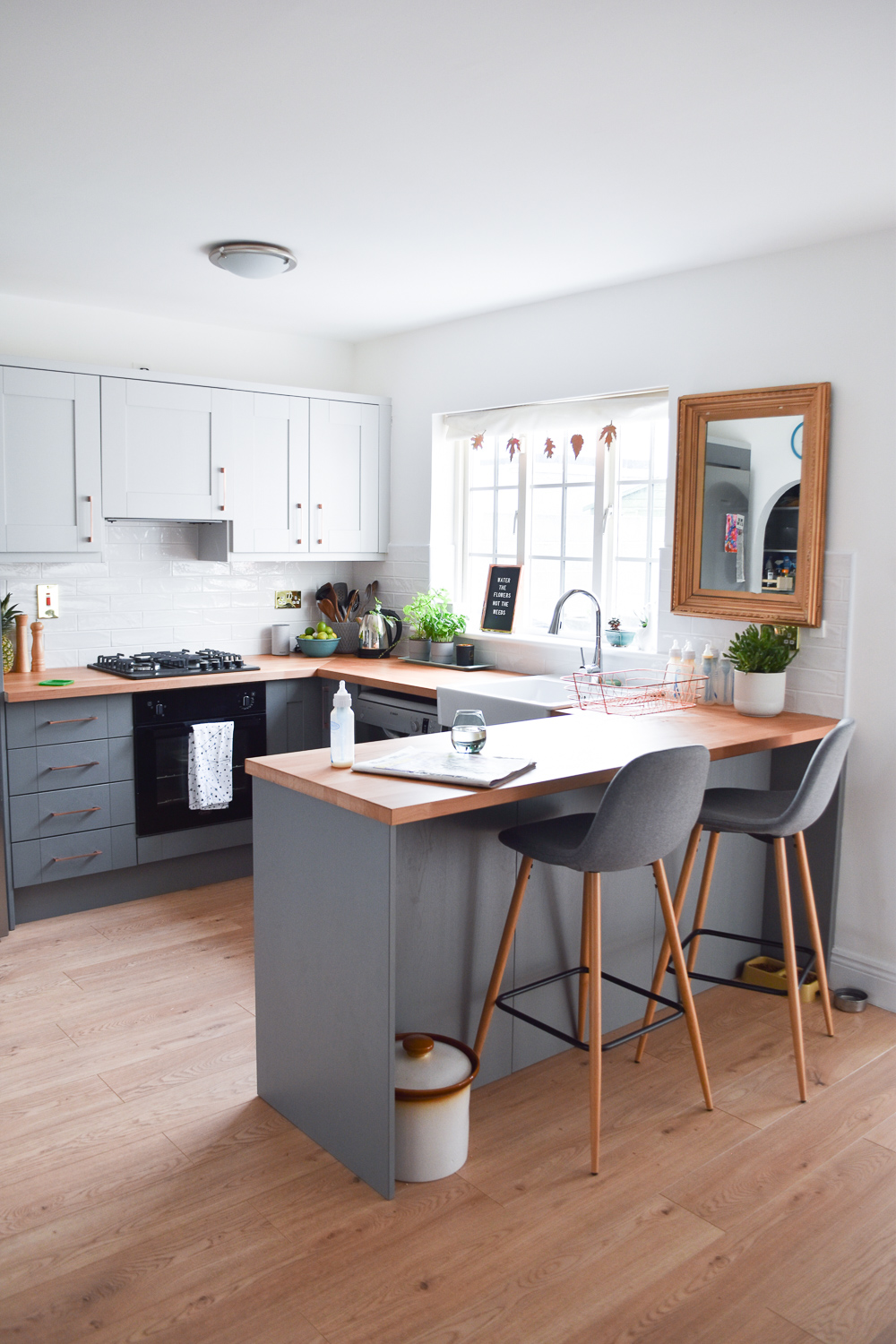 It's so. much. better. I think the oven and the dishwasher are the only things that remained, and that's because they had been replaced not that long before when their predecessors bit the dust.
Michael and Julian, our builder, ripped out the tile, the backsplash, all of the cabinets, the countertops and sink and island. I never thought I was going to get a brand new kitchen, but I'm so grateful! I spend a ton of time in it and I'm very, very happy with it.
The light fixture is going at some point, but I'm having trouble finding what I want to replace it with. But otherwise, the kitchen is done! The counters, stovetop and sink are all from Ikea and are holding up quite well. The cabinets are from The Paneling Centre, and they were a little terrifying to choose. Julian recommended The Paneling Centre and because we were trying to make decisions fast, we just went with what they had to offer. They didn't have as many color options as I was hoping (I originally wanted white uppers and dark blue/navy lowers) but I think the light grey and dark grey combination is probably more timeless.
I also think I'm going to take down the blinds in the window. We never put it down and it's a little wonky. I'd prefer it to be clean and open once we take down the autumn leaf decorations.
This photo might help you understand the layout better. The dining area is right through the old double doors and the kitchen is right across the little peninsula bar.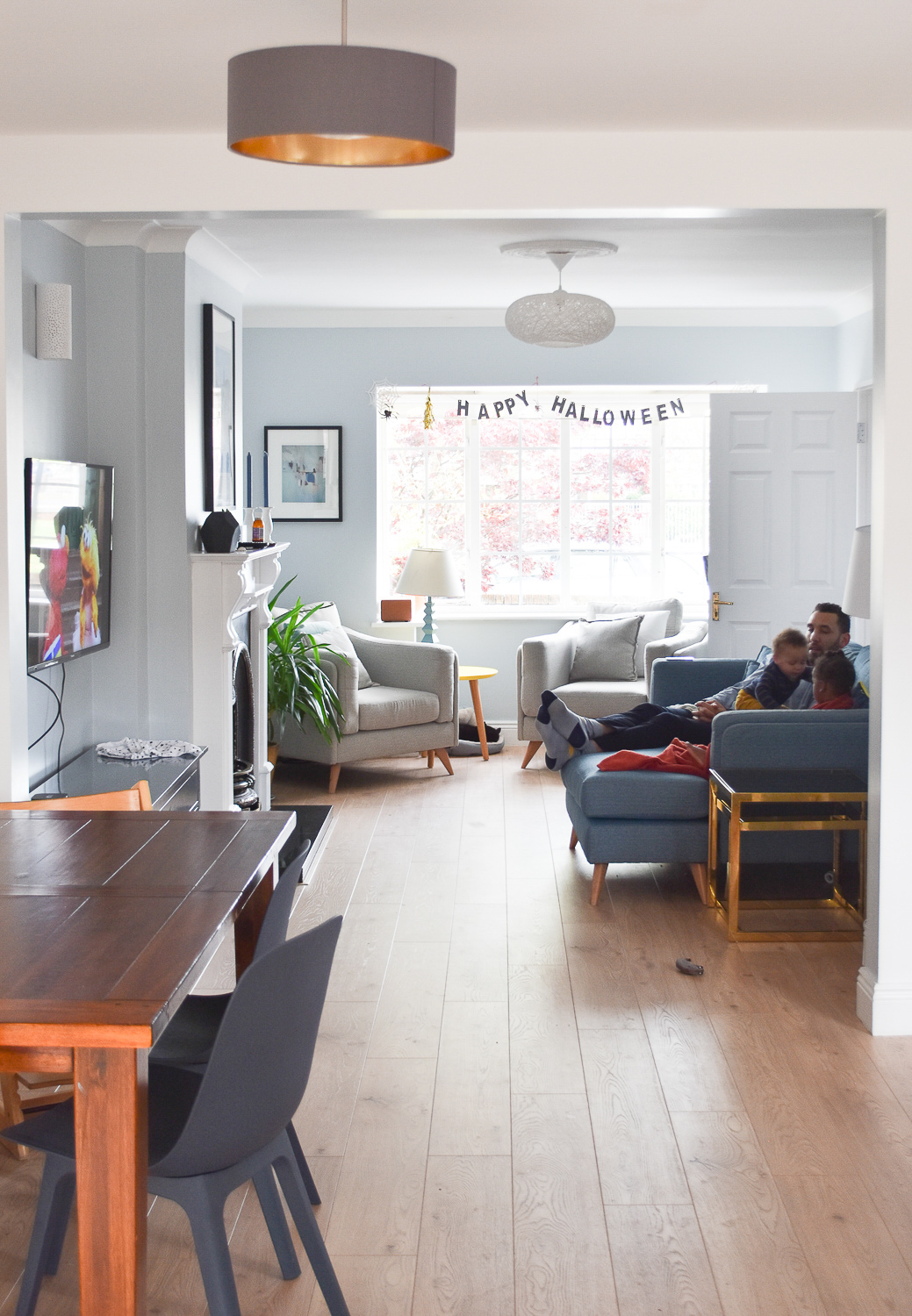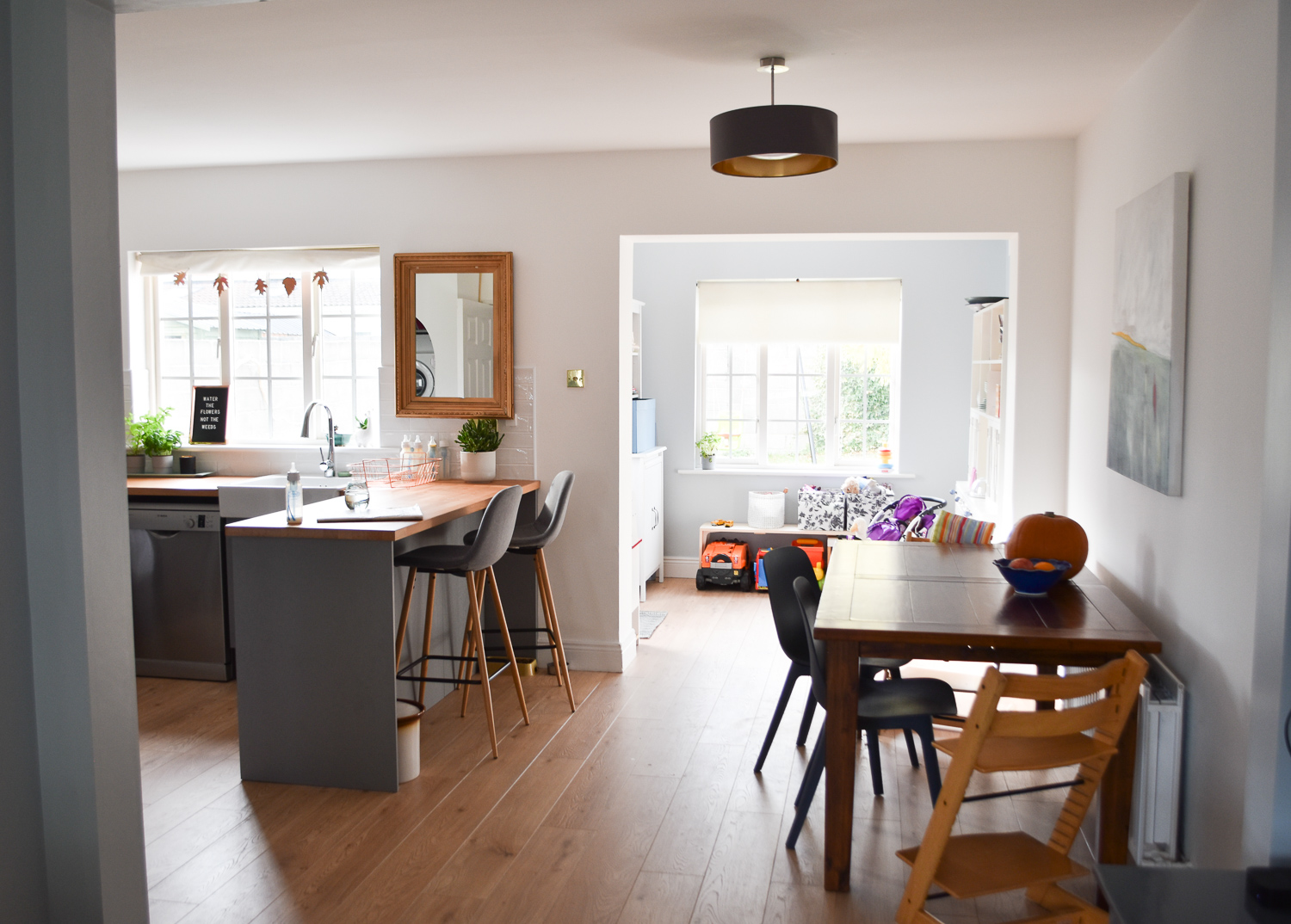 Here's a photo that will show you just how useless that peninsula was before.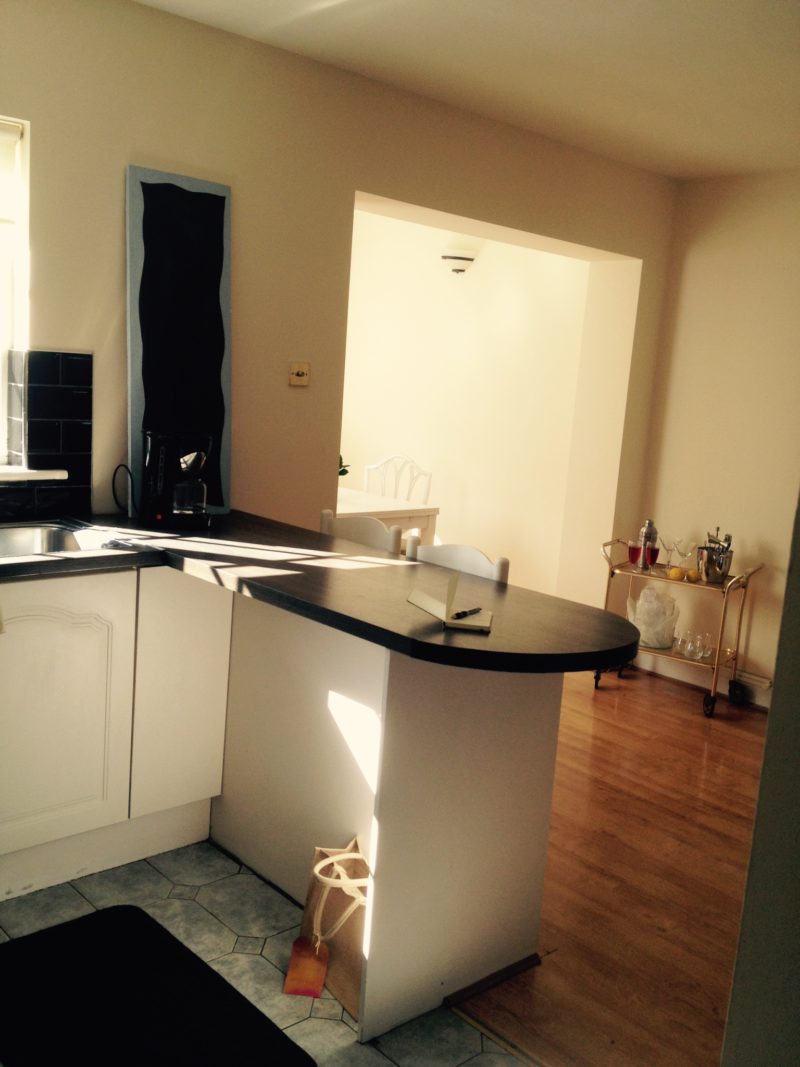 Not only was it ugly, but it didn't even have any cabinet space! Now it has cabinets that Noah likes to empty daily. We also got rid of that hideous rounded corner. Thank goodness!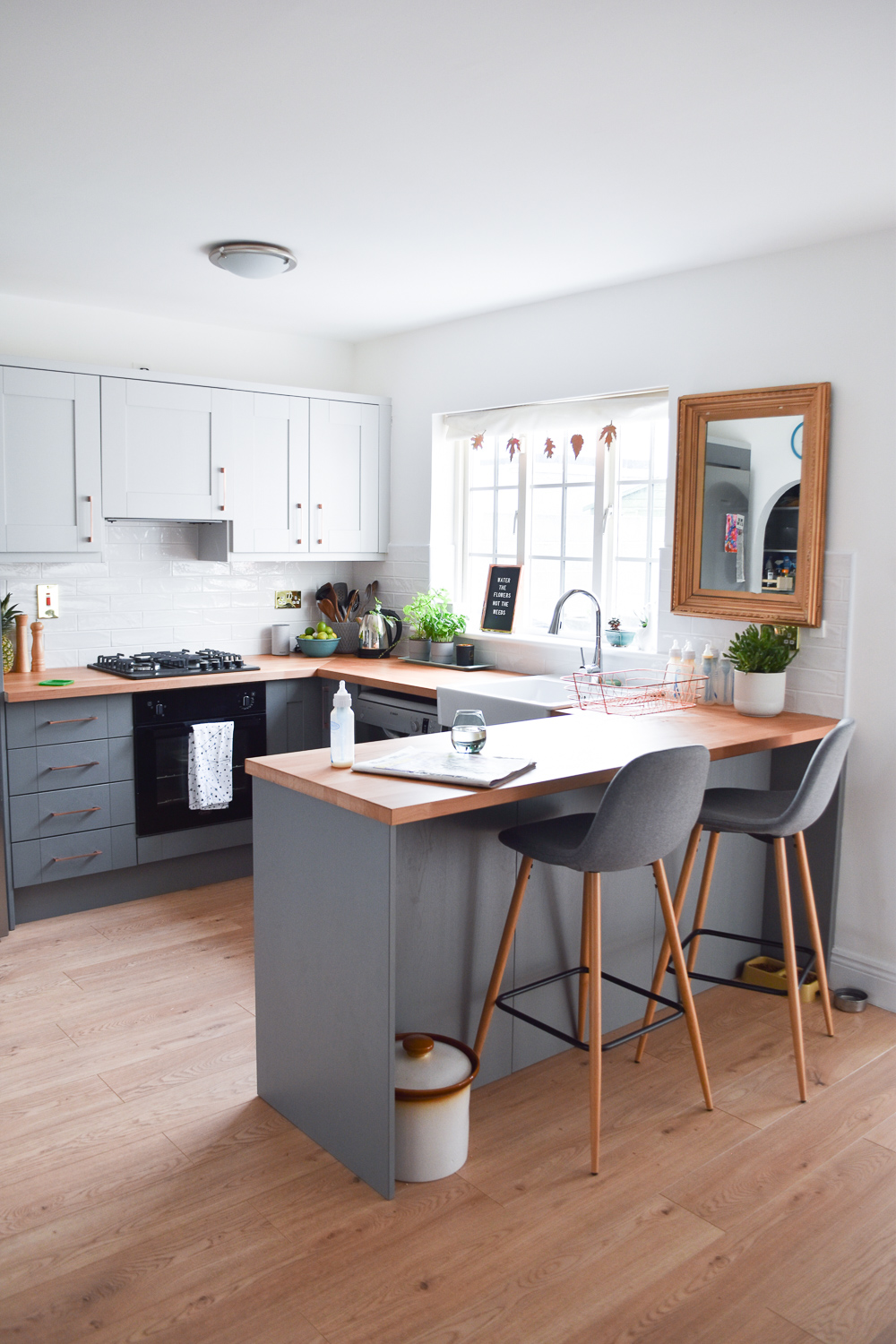 The stools are from Harvey Norman and they're really comfortable, although I'm a little worried they're not going to hold up to Maya's sticky jam fingers every morning. She knows she's not supposed to have dirty hands on them, but she's three, so you know. I know they won't hold up like a completely wipe-able option, but hopefully we can keep them nice for a little while!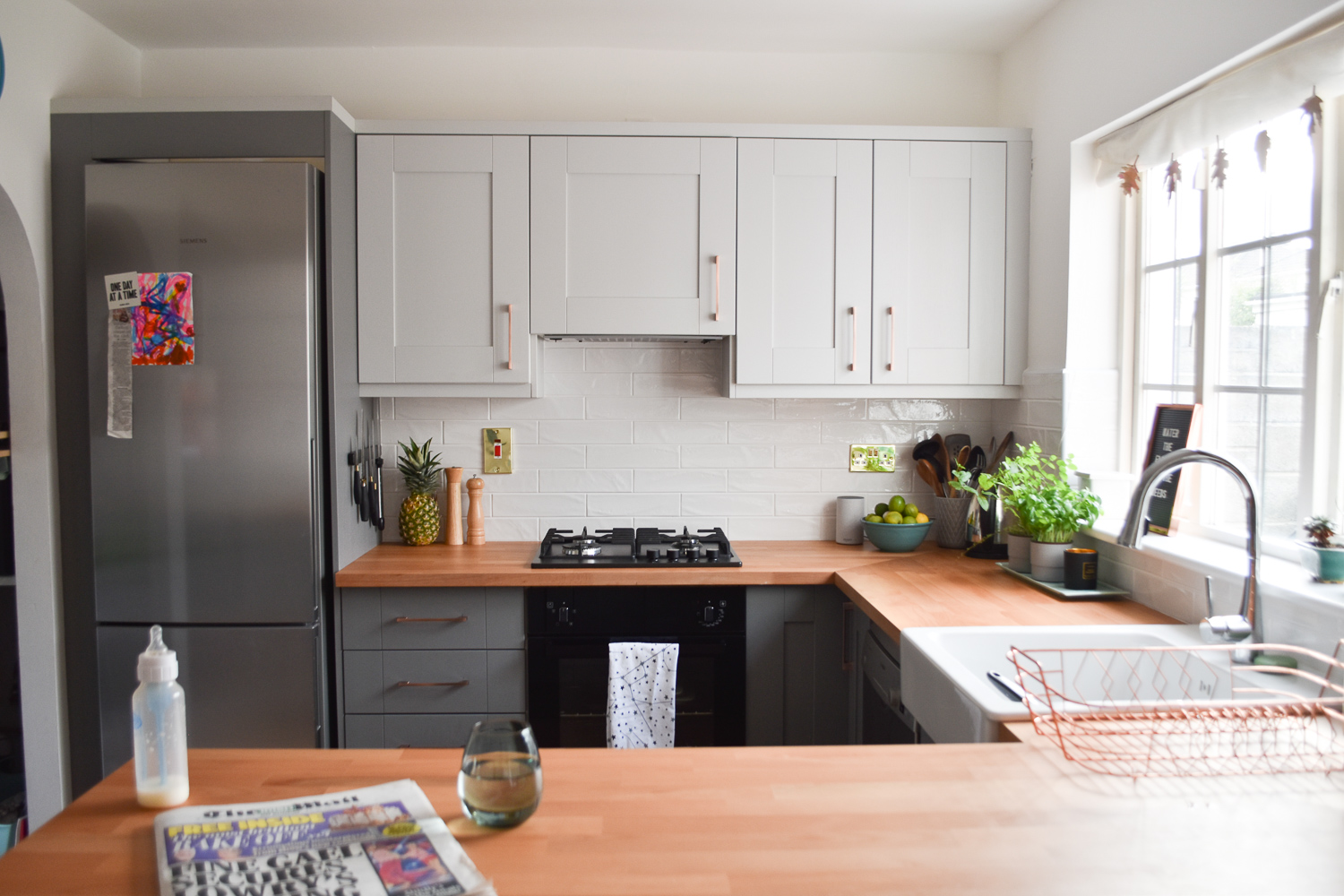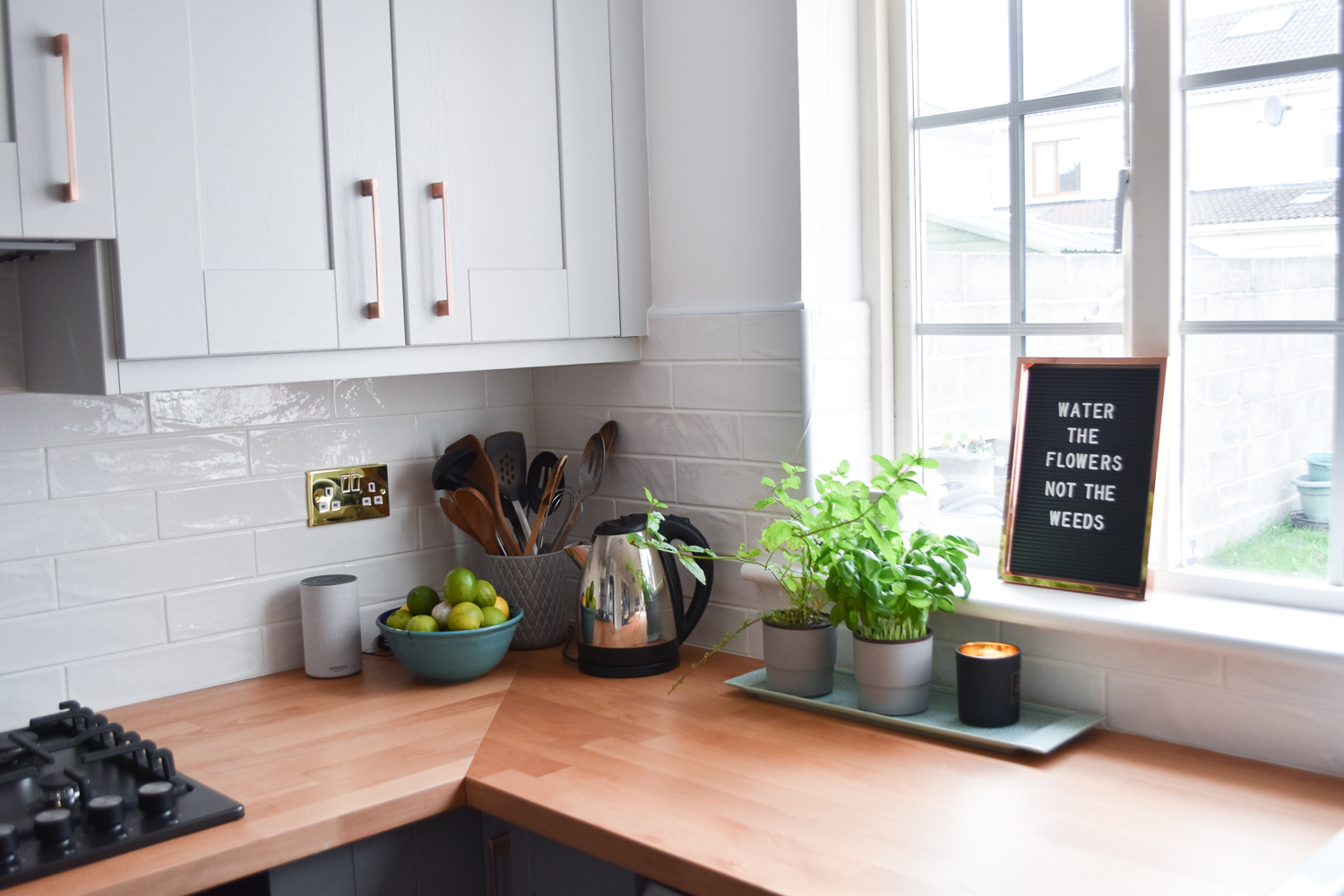 Another before: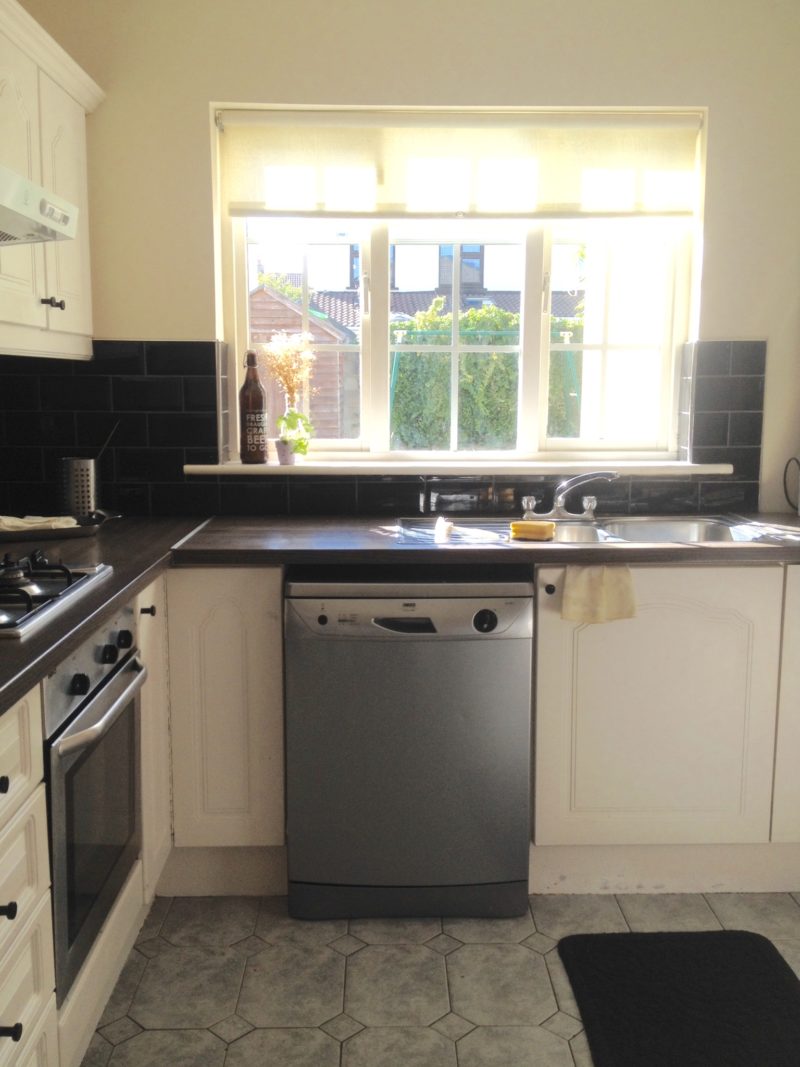 And after!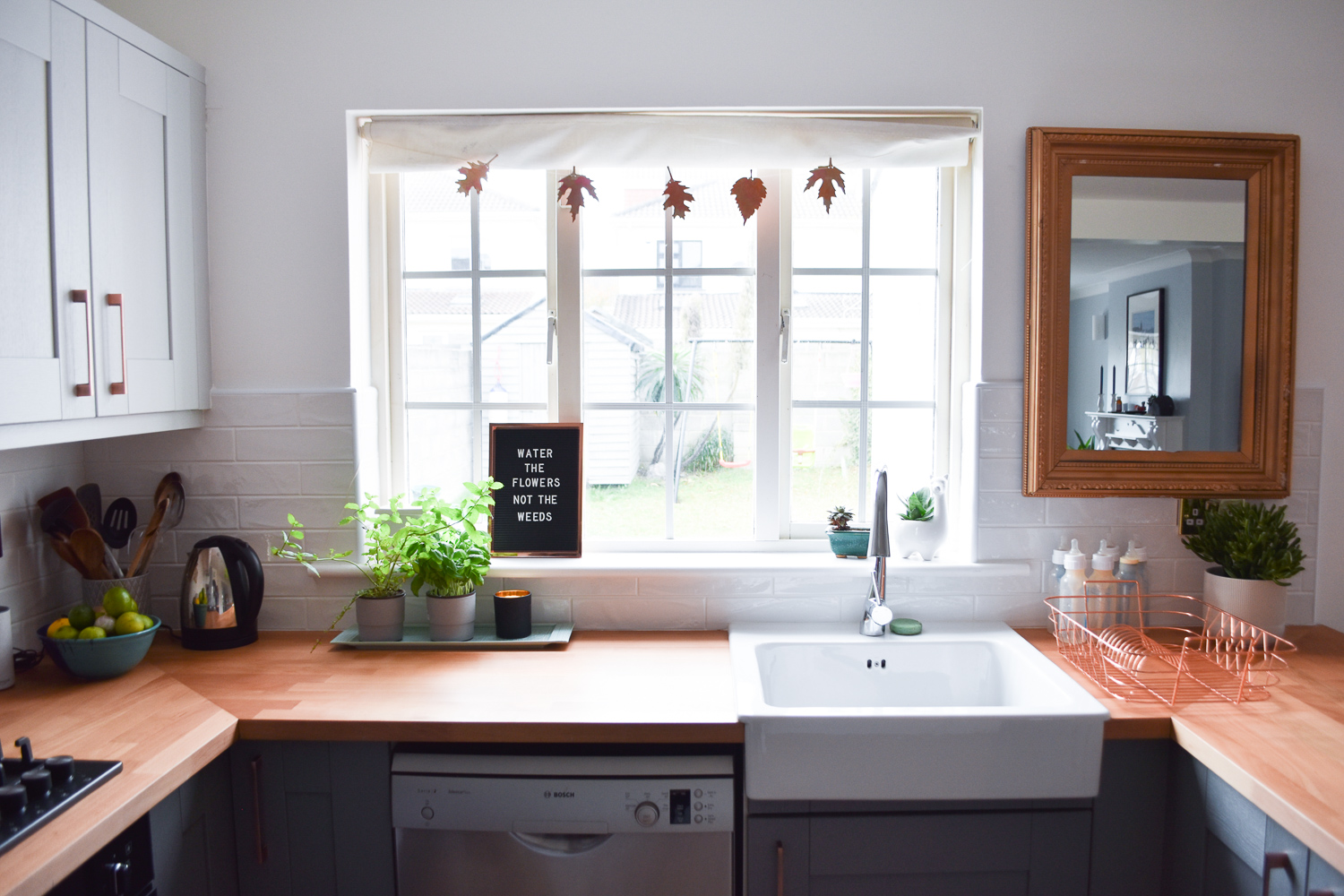 The copper handles are from The Paneling Centre as well, and while I don't really like subway tile, I did like this more textured version for our backsplash. The leaves are seasonal but since I forced Michael to put them up for me the other day, I figured I'd leave them up for these photos! I love having a window over our kitchen sink since we didn't have that in our Houston apartment or in our old Dublin apartment. The kids aren't really old enough to be out in the back garden by themselves, but one day that will be my view!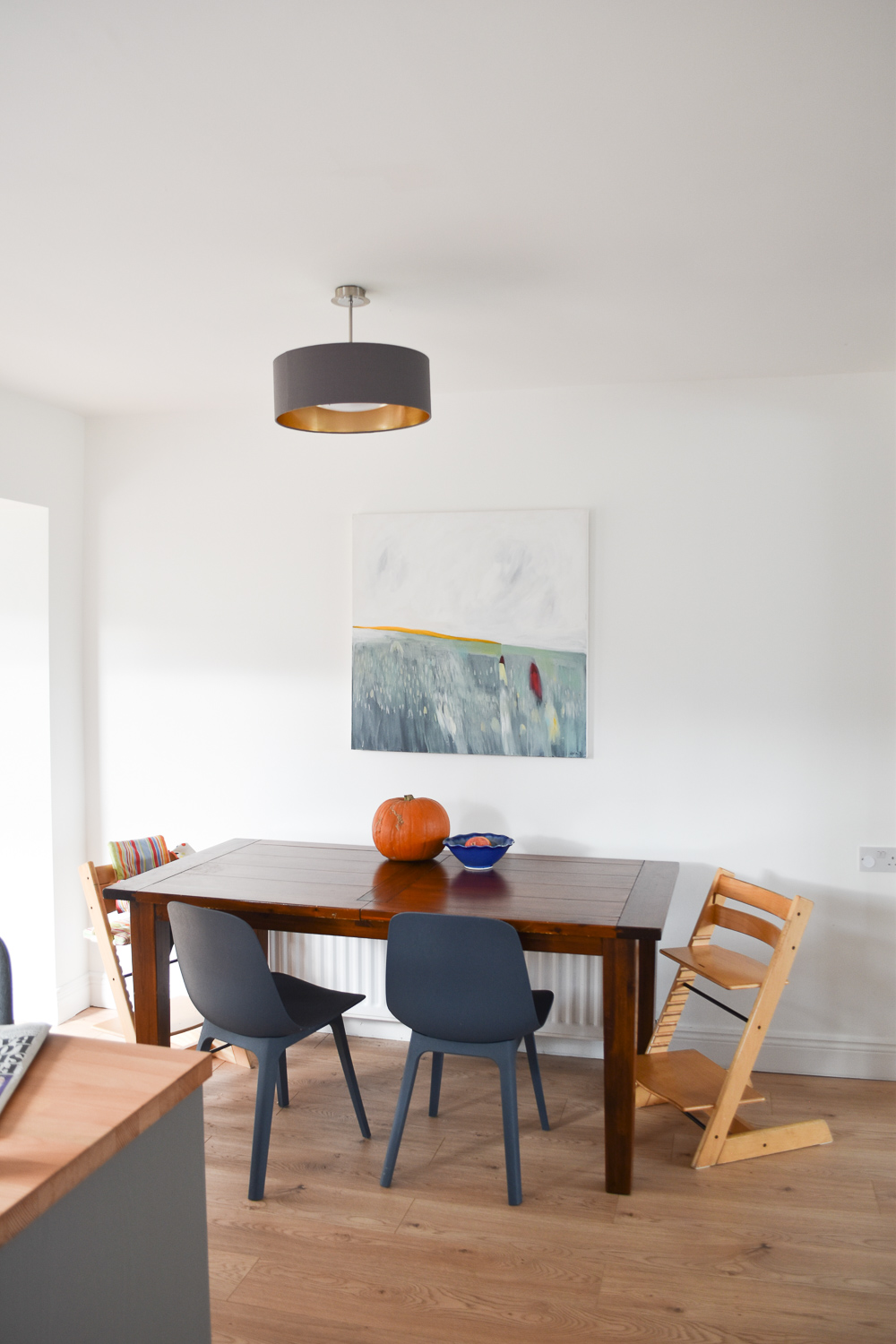 And this is my view from the sink across to the dining table, which I also love. The dining table is sort of darker than I thought I'd like, but it helps the space not be too matchy-matchy. The light fixture makes me so happy and is from Lights.ie. We found Stokke high chairs second hand and they've been great for both kids for the most part, except Maya has started to prefer sitting in my seat, so we might pick up a third of the navy Ikea chairs sooner than later.  Although I do like perching on her Stokke, which is what has to happen when she kicks me out of mine! It's quite comfortable!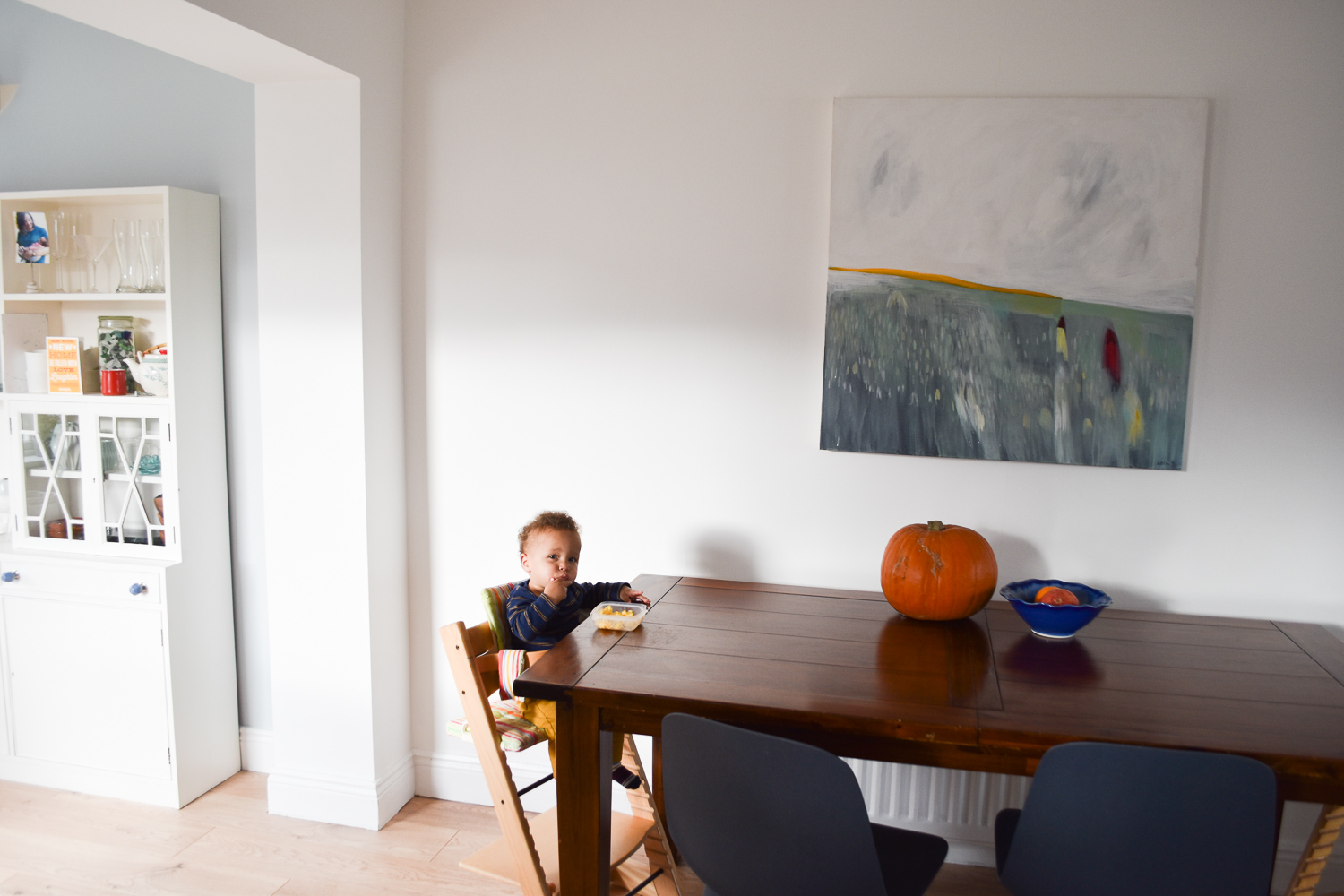 And that's my view of my sweet son having a snack (before he starts throwing it all on the floor!). If you asked me what my favorite part of our new house is, I'd tell you it's that I get to stand in the kitchen and have the view of my family at the table. I love having company in the kitchen, I love when my kids sit at the bar with their dad and steal all his scrambled eggs in the morning. Jammy fingers and all!