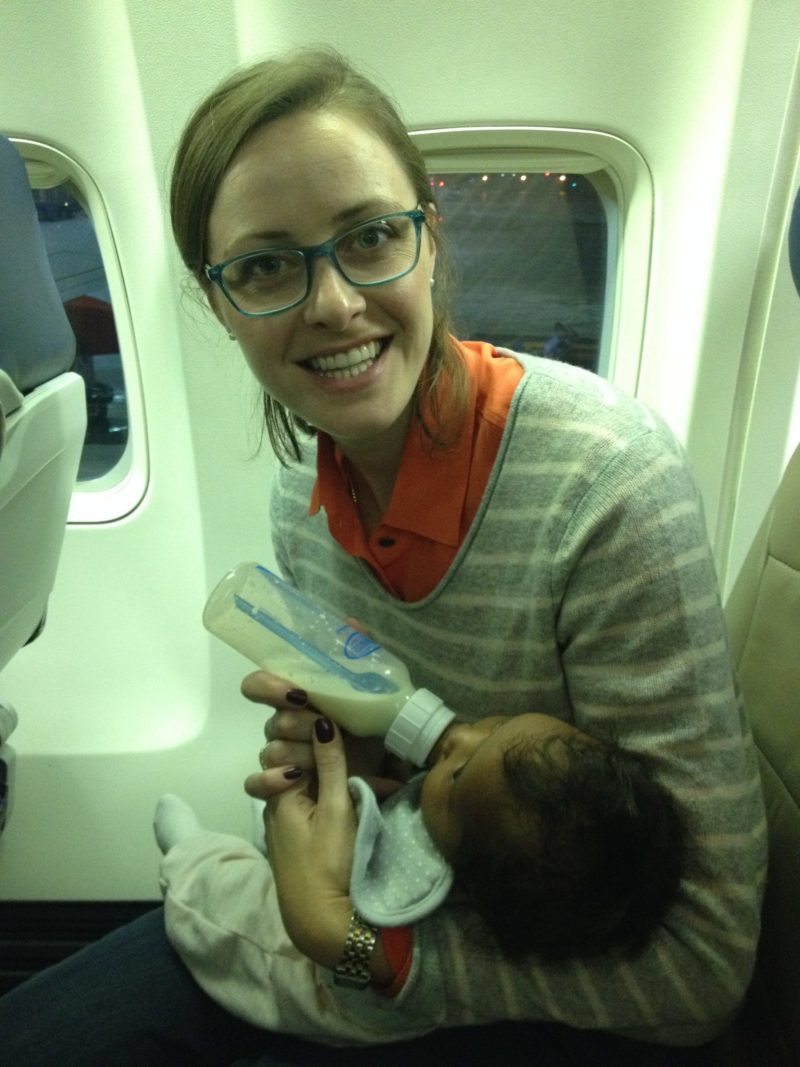 (This was one of Maya's first flights when she was only about 3 months old!) 
I've had a few friends ask me lately how we keep Maya occupied on airplanes. And do we ever have experience in that category! I figured someone else might benefit from me sharing what's worked for us on 20+ flights in her 19 months of life.
First, a disclaimer. Maya is pretty small for her age, so keeping her contained isn't as difficult as, say, my nephew, who was much (MUCH) bigger and stronger at her age. She is pretty wiry, though, and strong willed, so keep that in mind as you're reading through this.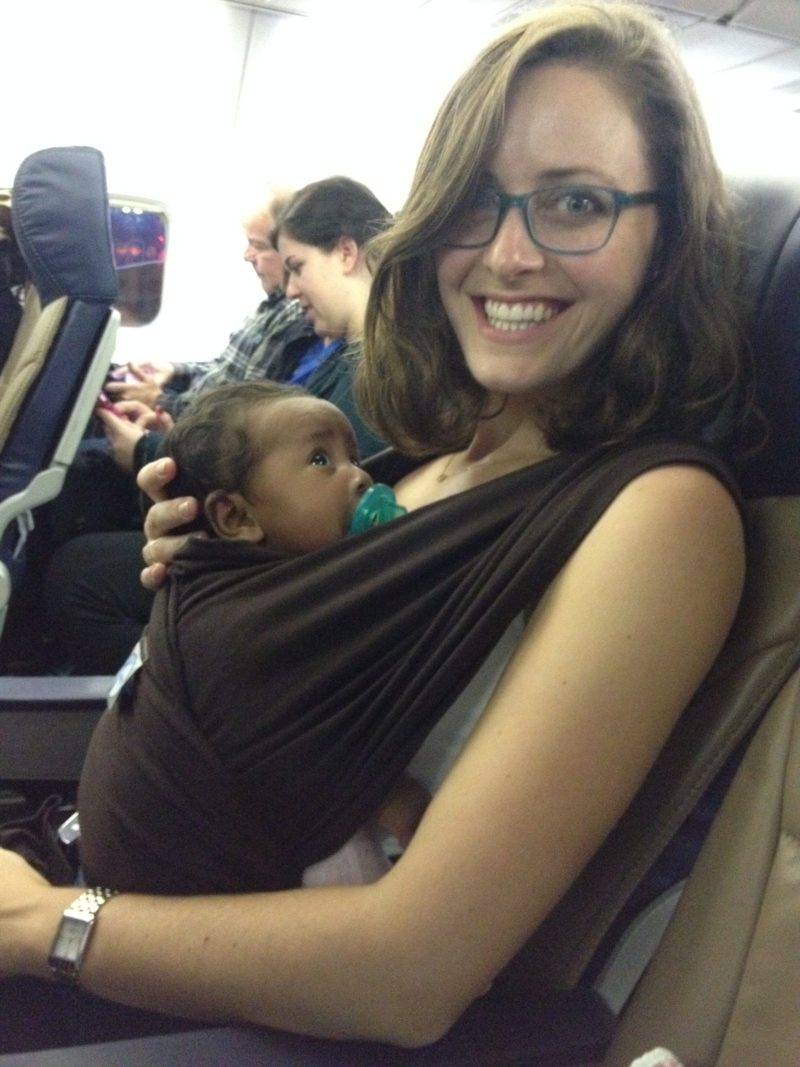 (First flight home to Maine with Maya girl, happy mama much?) 
We haven't yet had to buy a seat just for Maya. We'll have to starting in October, but for now she's a lap child and FYI – we always call and add her as a lap child prior to the flight.
Now, let's start with gear. Here's what we always bring.
Stroller with car seat – our infant car seat attached to our stroller, so for as long as Maya fit in the infant car seat (until 18 months!) we brought both of those things. We gate check stroller and car seat. Now that Maya has a convertible car seat, we'll be getting one of these roller thingies that the car seat sits on. We're hoping we don't have to upgrade our car seat bag (see below) to accommodate the larger seat but we haven't tested that out yet.
Car seat bag – this was a great suggestion a friend made before our first flight. It's kept our car seat in great condition but it's also great for stashing a package of diapers or even giant ziploc bags of formula when we were traveling with two babies last summer. Definitely invest in a carseat bag. It's incredible how quickly the thing has gotten dinged up from bopping around under the plane – it takes a beating so the car seat doesn't have to!
Baby carrier – I was hand me downed an Ergo 360 and it has been amazing on every flight. Maya is very agreeable when it comes to the Ergo, which does help. When we (or I – I've flown on my own with her successfully several times!) get ready to board, we take her out of the stroller and load her into the Ergo. That way when we walk down to the plane, we have both hands to carry the diaper bag or
Diaper bag – I have a bag with a bunch of pockets, and I fill them all. More on that below!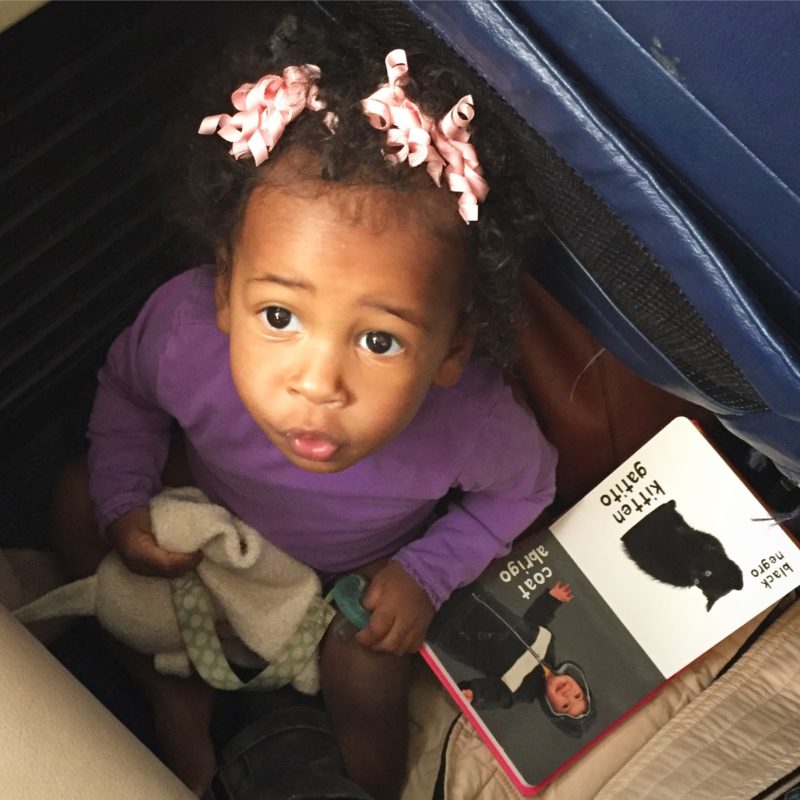 (On the floor of the plane back from Maine after Christmas – and the last time with her paci!) 
For the entertainment of the toddler:
All the snacks. Many, many more snacks than you think you'll need, and lots of new-to-Maya snacks along with some must-haves. While Maya's never run out of toys, we have run out of snacks. When Maya was younger, I made sure to pack several of those squeezy baby food pouches that I refuse to buy otherwise because they're terrible for the environment but are perfect for the plane. Most flights I'd pack blueberries, frozen peas (they thaw, obviously), animal crackers, fig bars, anything that doesn't make a monstrous mess and might hold her attention for a little while. Blueberries were saved for the most disastrous moment because they are Maya's all-time favorite. She would choose blueberries over her parents any day. Obviously, if they pass out snacks I try to get an extra few just for the novelty of opening them and taking out each and every pretzel.
Small toys in bags. For instance:
Animal finger puppets – we've gotten so much mileage out of these puppets my mom sent at Christmastime. Maya loves taking them out of the little drawstring bag and putting them on her own fingers or mine, then putting them back in the bag.
My mom also sent little zipper pouches – they're about 2 inches across and sparkly (these would work). I put tiny plastic animals in them and again, we unzip, explore, re-zip, repeat.
Cups and ice – this one sometimes makes an annoying mess, but Maya's obsessed with ice and moving it from cup to cup. So if the flight attendants are nice, I ask for an extra few cups and we play with ice or pretzels in cups for a while.
I stock up on a few tiny new toys from the dollar section in Target or from the dollar store, things that she hasn't seen before and that will capture her attention for just a little while. For our last road trip, I found one of those Water Wow books that has a little water-filled brush and reusable pages that dry off after just a little while. I think that might come on our next long flight since it's fairly compact.
I always bring a few small board books, a baby doll and its little bottle, and maybe a new stuffed animal. I used to bring cotton balls and feathers as well – Maya is one tactile kiddo!
If she wants to pull out the safety manual from the back of the seat and look at it 17 times, so be it. We also "read" the in flight magazine and mostly look for puppies or babies in all of the pictures.
The basics: We obviously bring diapers (about 6 per flight, which is what she'll go through in about 2 days, so it's like packing for a major emergency), a sippy cup we can fill with water, a whole package of wipes and one change of clothes for her. If we're going through security, I take out the pouches of baby food and any water I have along for her and they check it separately but that doesn't usually take much time.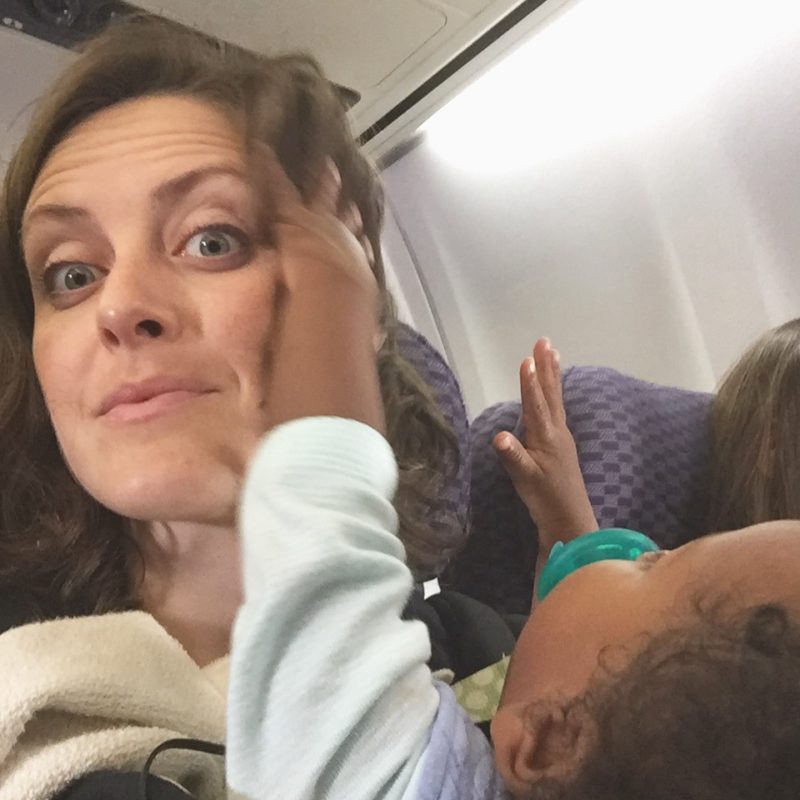 (This was our red-eye flight to Ireland last fall, all she wanted to do was play with my hair! But she eventually fell asleep.)
Some rules we try to enforce:
She's not allowed to slam that darn tray in front of us up and down, up and down. I can't think of a more annoying thing if you're sitting right in front of her. Ha! She's allowed to play with toys on it, but she's not allowed to move it, no matter how tempting that little latch is.
No getting down and walking around. I always thought that once Maya started to walk we'd inevitably have to be walking her up and down the aisles. But then we didn't and now I'm trying not to let her ever know that walking around is an option. We'll see how long it lasts! So far, 22 flights and only on one flight when we had a seat between us did we let her get down on the floor.
She has to be in the carrier when we get on and off the plane. Thank goodness she still fits into it, because that thing is a lifesaver.
No screens. That's just our preference, so we try not to rely on ipads or our phones to keep her occupied or calm on the plane. We may get to that point, but I'd really prefer not to until she's at least 2. She almost never watches screens at home unless we're FaceTiming with grandparents, so that's her normal for now.
Traveling with her has gotten a little more exhausting as she's gotten older, but it isn't yet as hard as I thought it would be at this stage, thankfully! Once she turns 2 in October I think it might get a little more difficult to keep her sitting in her seat, but we'll just try to stock up on little age-appropriate toys to bring with us and hope that keeps her attention until she falls asleep!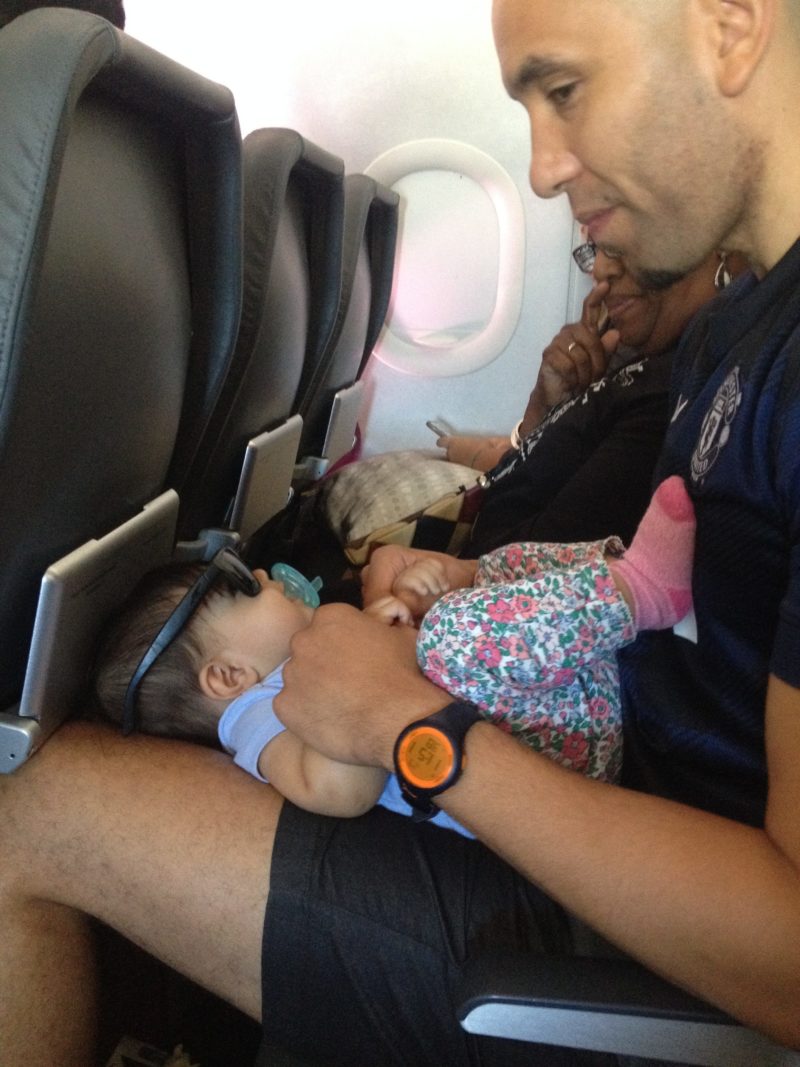 (With our Baby J on the flight we took with 2 babies, 8 and 6 months old. We dominated!)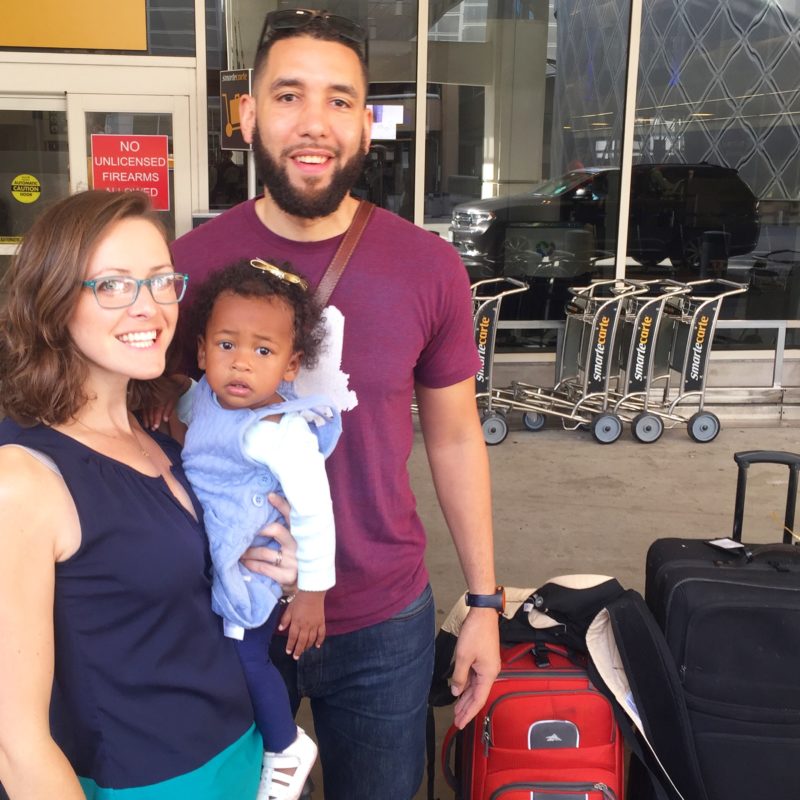 (Before our first international flight with Maya! Will never fly United again, but we survived!)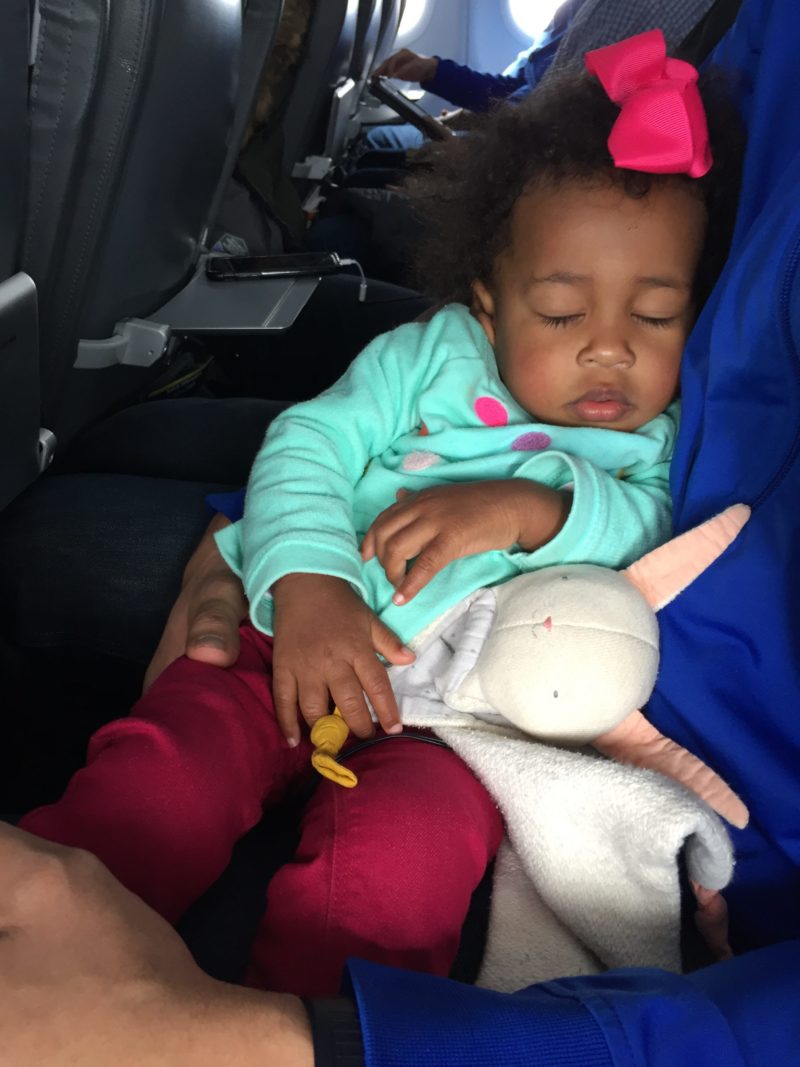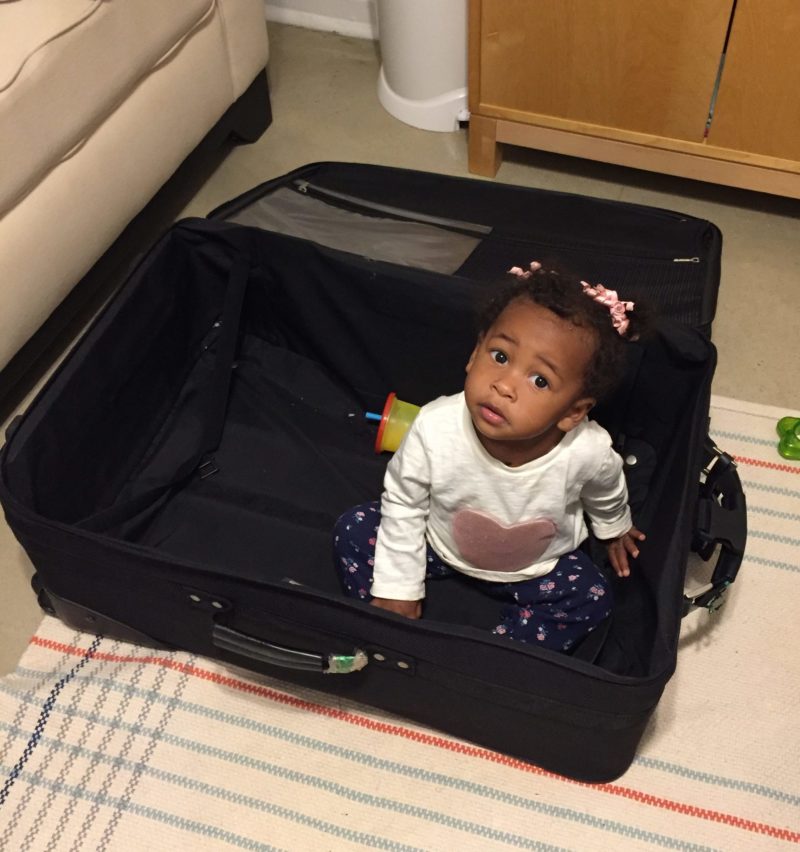 (Heading to Maine, I think, for Christmas? Getting a head start on the packing 😉 And that suitcase has been with me since I moved to Ireland. It was one of the two I brought when I moved there, and one of the two we brought when we moved to Houston. Samsonite for the WIN!)