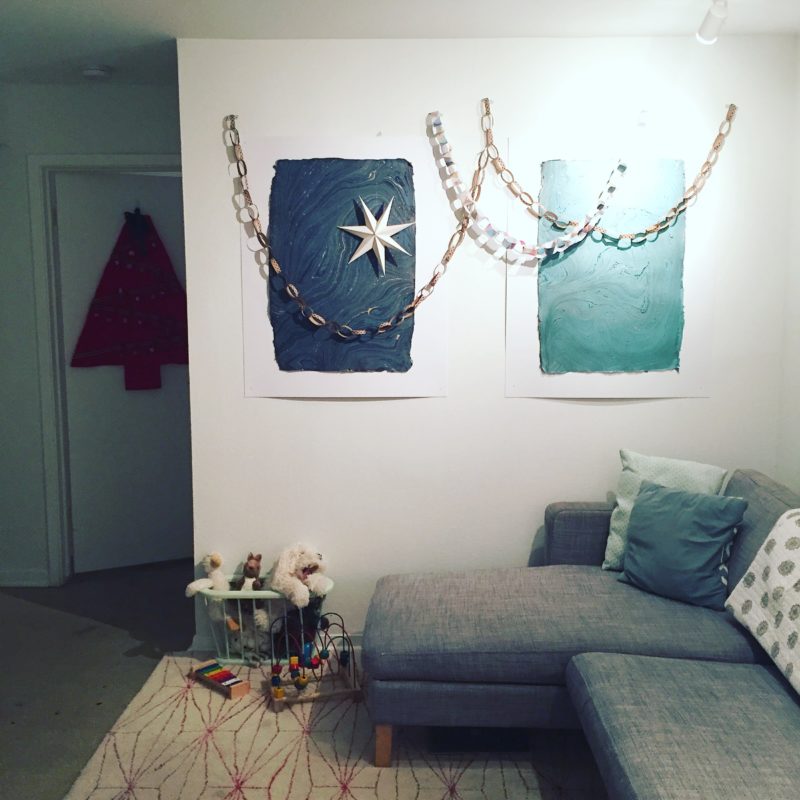 Happy Friday, friends. TGIF, for real. What a week. After ten days in Ireland (photos and stories from that visit next week!), we had a slightly hairy journey home – complete with airsickness and missing seats on flights. (Meanwhile, Maya was a dream traveler. Go figure!) But this week was jetlag central with one very tiny human. Said tiny human has also had a major case of the baby plague, making her doubly miserable. Make that triply miserable. We miss our happy girl and we are very much hoping she recovers sooner than later.
We've been trying to put the house back together and start to make it a little festive for Christmas, even though it doesn't feel much like Christmas outside here. It has gotten cooler, but it's still far from chilly! But now that it's December, we're trying to get in the holiday spirit and venture out for a few holiday activities before we head to Maine for Christmas in a few weeks.
My mom made Maya the cutest Christmas tree/advent calendar stuffed with little alphabet magnets and finger puppets. We don't have much space for a real tree, so it's fun to have something we can hang from a door and not worry about Maya tipping it over.
I hate to make exact statements about what we might do to get in the holiday spirit because it seems half of what I plan these days gets scrapped for some reason or another. But weather permitting, we're hoping to see the Zoo Lights next week, meet Santa this weekend, zip over to the Galleria for Shake Shack's holiday milkshakes (the Houston version of holiday hot chocolate? 😉 and then drive back through the posh neighborhoods to see the Christmas lights. Last year we went to the Houstonian Hotel to see their decorations and have hot chocolate, but their hot chocolate was so disappointing and their decorations were a little terrifying. So I think we'll skip that this year.
Love these festive holiday desktop backgrounds! Festiveness everywhere, por favor!
Emily Henderson is always great for a roundup – this one of oversized ottomans that can function as coffee tables covers a range of prices.
Parabo Press is doing 12 days of giveaways with some great deals on photo gifts if you're on their newsletter list. Time to actually make those photo books!
A sweet holiday orange garland. I've tried to make these before and ended up with very crispy burned oranges. Think I needed a little lesson 😉
The ten best books of 2016 according to the New York Times.
We're watching this movie at the moment. Vaguely interesting and watchable.
I love a good baby name list – here's Babycenter's 2016 most popular list. Maya is 53, just where we like to hang, a little under the radar.
Happy weekend, lovelies!