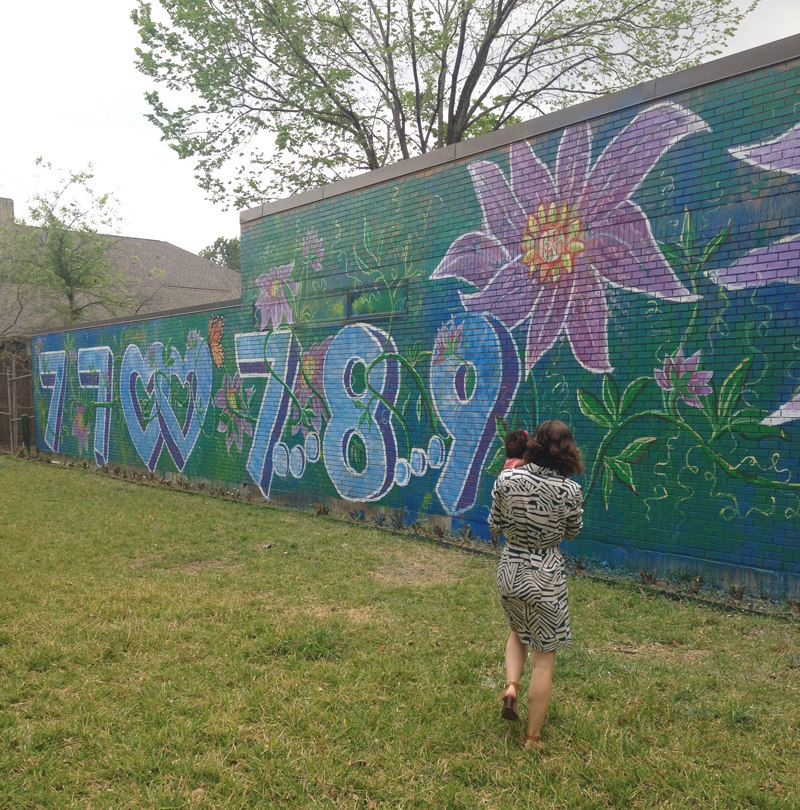 Traipsing through the grass for a photo with my girl! They painted murals on the sides of our old post office around the corner. That's kind of a combination of the zip codes it used to serve.
How was your week? Ours was actually quite lovely. The weather has been heavenly – dry, warm and sunny. We've gone for walks, Maya giggles all day long, and I've gotten real things accomplished. We have low-key weekend plans that involve watching Michael's school team play soccer and then we're going to watch Houston's annual art car parade! Michael's itching to get into a pool somewhere but nothing seems to open before Memorial Day. Can you believe that? It's 86 today! We might invest in a $7 tiny paddling pool for Maya for the back patio and we'll dip our toes in while she splashes around.
And now, links this week. Some really important ones that I hope you'll find time to read. I had the climate change revised estimates open for about a week in a tab before I could bring myself to read it. And then I read it and declared to Michael that we are no longer eating beef. He told me he needed to see the article. We all do, buddy, we all do!
A climate change primer from the New York Times, including a few suggestions on what we normal people can do.
Midwives in El Paso. Close to this home.
The most incredible sculptures made from tubing and lemonade bottles.
The Obama Doctrine is also required reading this week.
I opened this article entitled The Sugar Conspiracy honestly hoping that it was going to tell us that sugar actually isn't that bad for us. Spoiler alert: this is not what it says. Womp womp.
A paper sculpture (from a really nice California home tour) that might be perfect for a DIY.
I just discovered Longmire (about a Sheriff in Wyoming) on Netflix and I've watched more episodes this week than I care to admit. And a friend just recommended Catastrophe (about an Irish woman in London who gets pregnant by an American guy) on Amazon Prime and it's a little vulgar but hilarious!
Have a happy weekend, everyone.