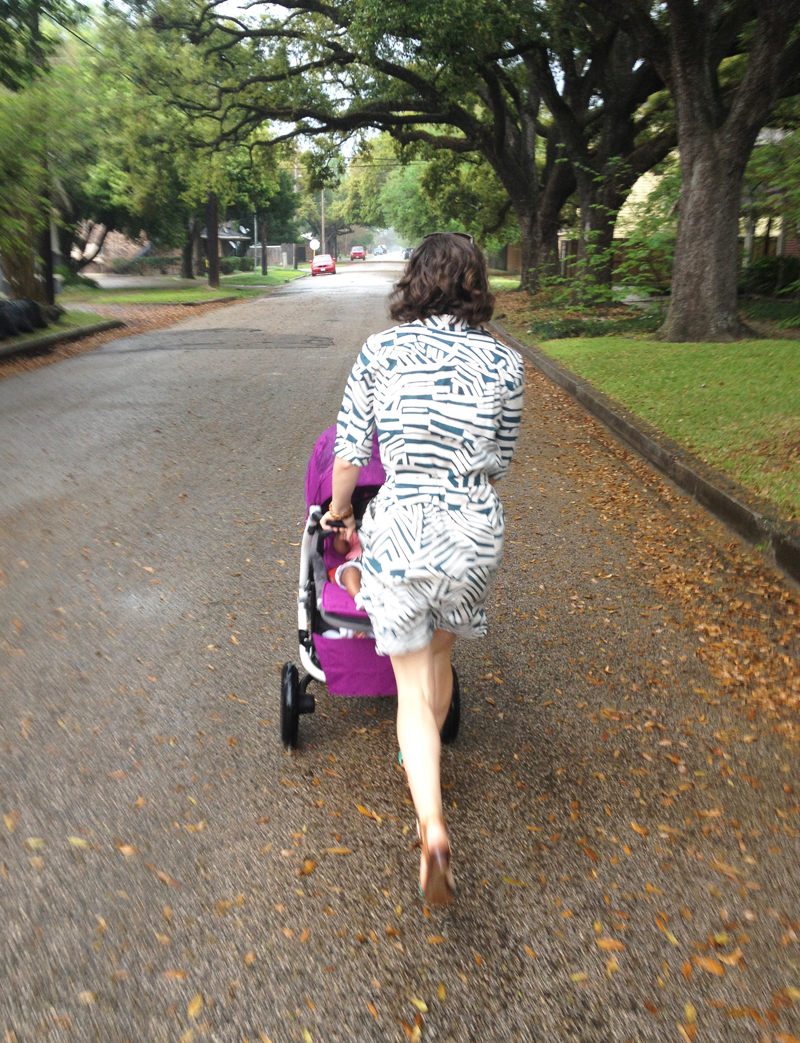 Michael shot this photo while we were running home after getting caught in an unexpected downpour. We were soaked but Maya was dry in her little chariot. We laughed so hard.
On the topic of unexpected things that make you want to run for the hills (or at least your bed)….a few surprising parenting things I never knew I'd be thinking about before Maya arrived.
You can hear the baby's cries in your ears just about all the time, especially when she isn't crying. And then you say things like "Is that her?" over and over again and drive your husband nutty.
There are things like wonder weeks and sleep regressions that like to partner with growth spurts to totally mess with sleep and naps and eating and that makes everyone nutty.
The most useful thing about Google at 4am is to tell you that every other mom of a one, two, three and four month old baby is going through some version of exactly what you're questioning. And they are also up at 4am googling sleep regressions and wonder weeks and simultaneously going totally nutty.
Make a clear plan on what to call the pacifier, since calling it the paci is too Texan and soother is too Irish and nuk-nuk (I think my German aunt called it this?) makes Michael look at me like I have three heads.My parents used to call it the plug, as in put a plug in that baby to shut her up! Ha! Choose a name that doesn't make you feel nutty when you say it eight million times a week. (We're still working on this – suggestions?)
You spend so much energy getting them to go to sleep, and then thirty minutes after they've fallen asleep you miss them and half-wish they'd wake up. I'm pretty sure it's the definition of nutty.
Any other new parents as nutty as we are I am?