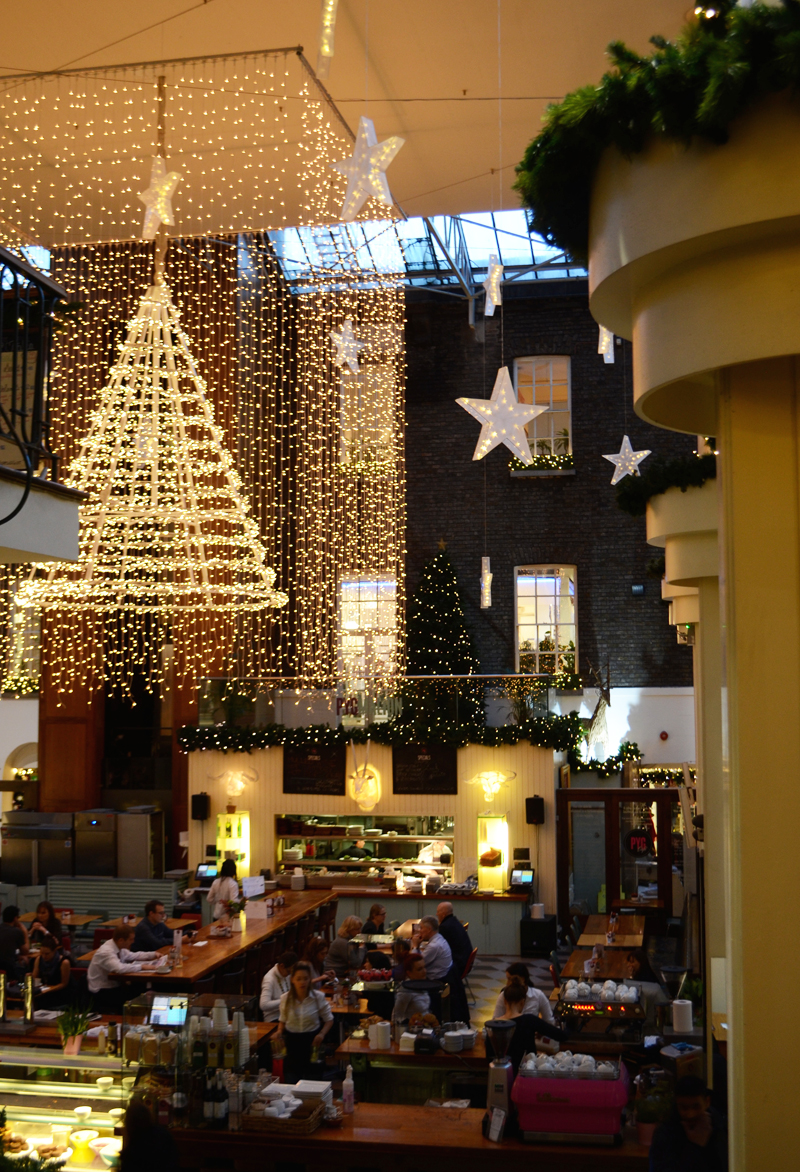 The Powerscourt Centre in Dublin, last year at Christmastime
Surprisingly, I didn't miss Dublin until last week. It's been a busy few months getting used to being a family of three and trying to keep us all growing and thriving, and honestly the weeks go by in a blur. I've missed my friends, and occasionally missed our routine and the bright light in our old apartment, but the real Dublin homesickness didn't kick in until a few weeks ago when Christmas season arrived. I miss Dublin Christmas. In fact, I recently asked a friend if she could give Dublin Christmas a hug for me while she was home. I think (hope?) she knew what I meant.
So, today, a few things I miss about Dublin Christmas that you can do if you're there now or visiting!
Powerscourt Centre – Did you know that in the Powerscourt Centre, there's a lady who sometimes plays the grand piano? Year round, but it's especially lovely at Christmastime. I like to spend a good long time in Article, picking out Christmas gifts
Grafton Street Busking – Grafton Street is usually too much for me during the daytime at Christmas because it's insanely busy. But I love strolling down Grafton Street in the evening, when the shops are closed and the Christmas lights are lit, listening to the buskers play Christmas songs, sometimes poorly. And bonus points if you catch Bono! He usually comes out on Christmas Eve to busk and brings a friend or two. I've never caught it, but it's fun to see the videos on YouTube!
Hot whiskeys and Irish coffees – Whole cloves in the hot whiskey, fresh cream in the Irish coffees. Perfect when the weather is howling and wet.
Mince pies – This is one of those complete nostalgia items on the list. I don't think I've ever eaten a full mince pie (not a fan of raisins!), I usually just nibble the crust around the edges. Classy, I know. But I miss mince pie season, and I miss that they're a staple at this time of year.
Christmas Eve at the pub — I hesitate to include this, because every year I complain that the only Christmas Eve tradition Michael cares about is going to the pub with the entire neighbourhood. But there is something especially lovely about going to the pub on Christmas Eve with the whole neighbourhood. It's actually so nice to see so many people you know – if you can get in the door! Our pub is always packed and very hot and sticky. Our pub gets decked out with hilariously tacky Christmas decorations and the fire is always blazing. Come to think of it, the fire is rarely not blazing, even year round!
And the best part is that Christmas in Dublin lasts for a few weeks after the holiday officially happens! So you'll be able to enjoy at least some of these even after Christmas. I always miss that when we're in the States for Christmas as well. But we have a strictly enforced Stephen's Day code wherever we are. Movies and leftover Christmas cookies only, please!
Are you planning a visit to Dublin? If you're looking for a place to stay, try Expedia to book your holiday visit.