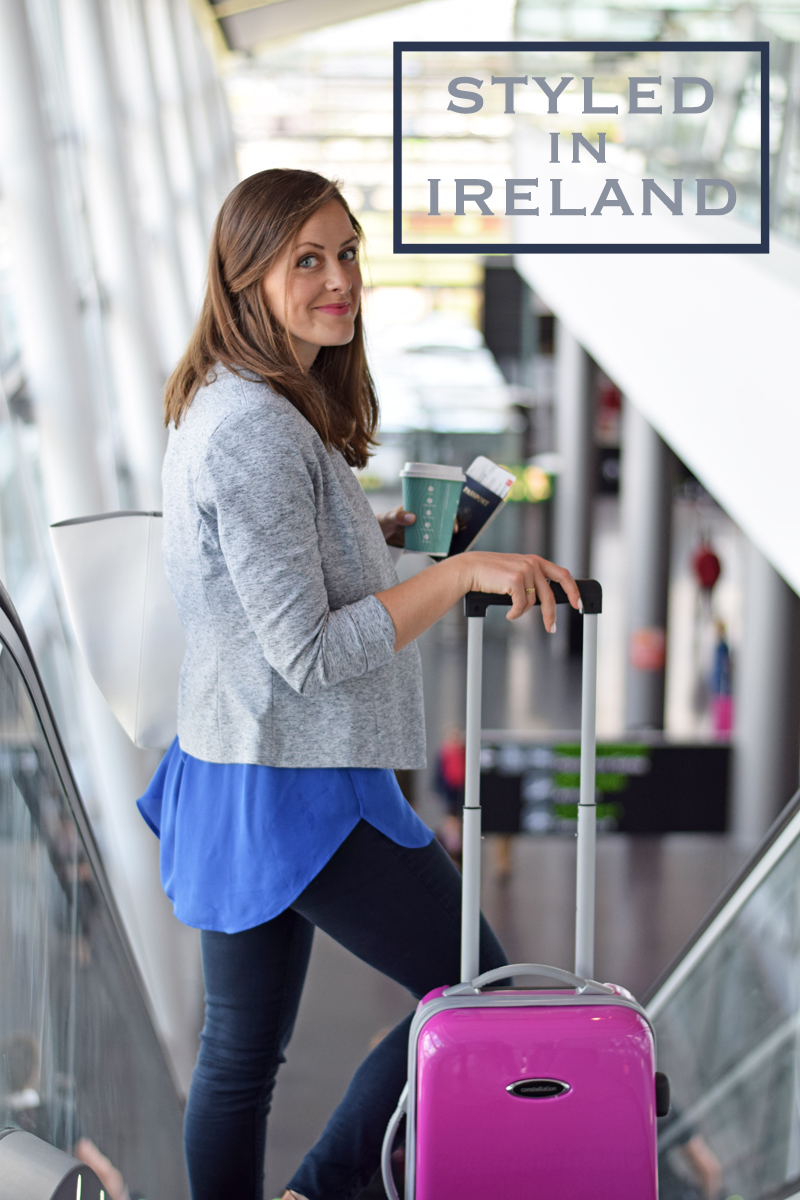 Welcome to another Styled in Ireland post today! This time, we're talking airport style and we're making a visit to Dublin airport to learn a few tip for travelers flying into and out of Dublin Airport.
I have such a love-hate relationship with airports. They're the scene of so many tearful goodbyes, but so many happy reunions. I have to say, Boston's Logan airport has too many goodbye memories to rate very high for me, but Dublin Airport is one of my favorites. By the time I get there from America, I've cried all my goodbye tears and I'm ready to land in my other home. And when I'm headed home through Dublin airport I'm usually beside myself with excitement to see family after at least six months away.
But Dublin Airport can be a tricky one if you don't know what to expect, so we'll cover that in just a bit.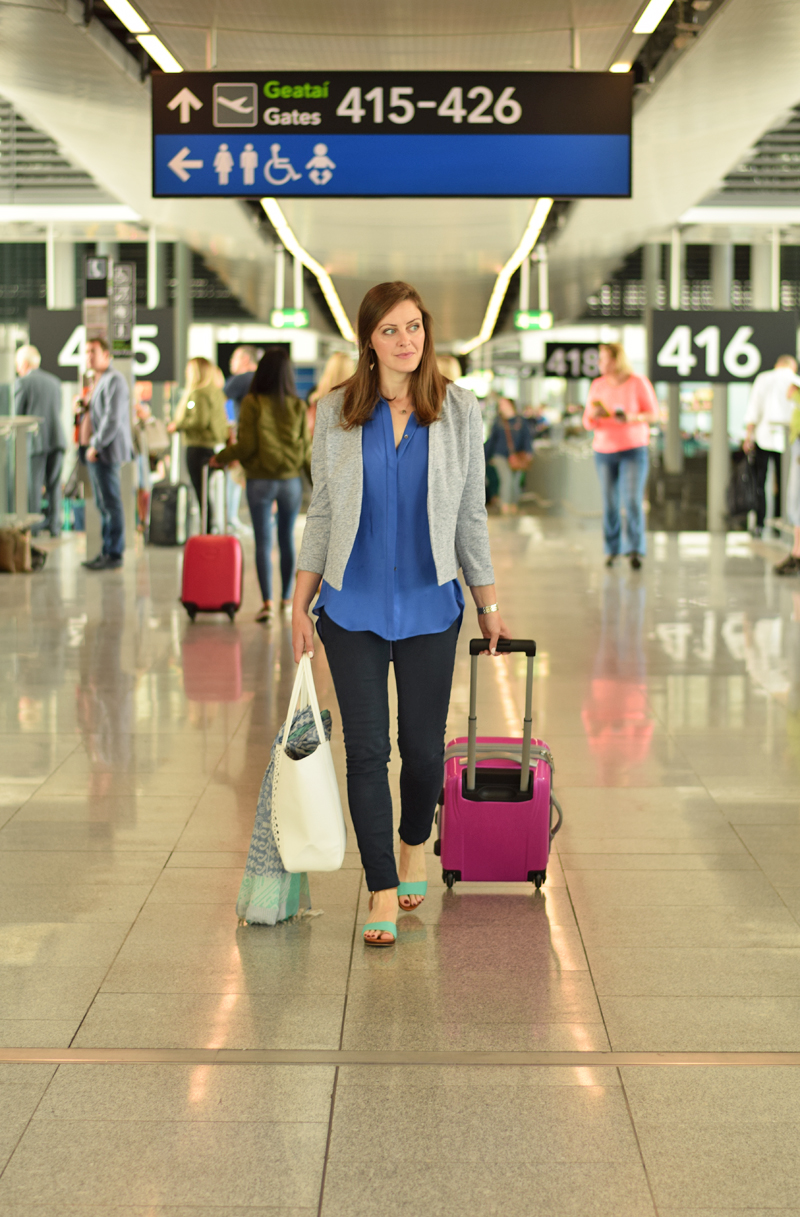 First, what to wear for air travel. No matter where I'm traveling, I always wear pants. It's just too chilly on planes to wear bare legs. In the summertime, I wear walkable, comfortable sandals (these are from Clarks in Dublin!), and in the wintertime, low boots. I usually wear a blazer or light jacket, something that will make me feel put together – and something I can take off when I get too warm going through security.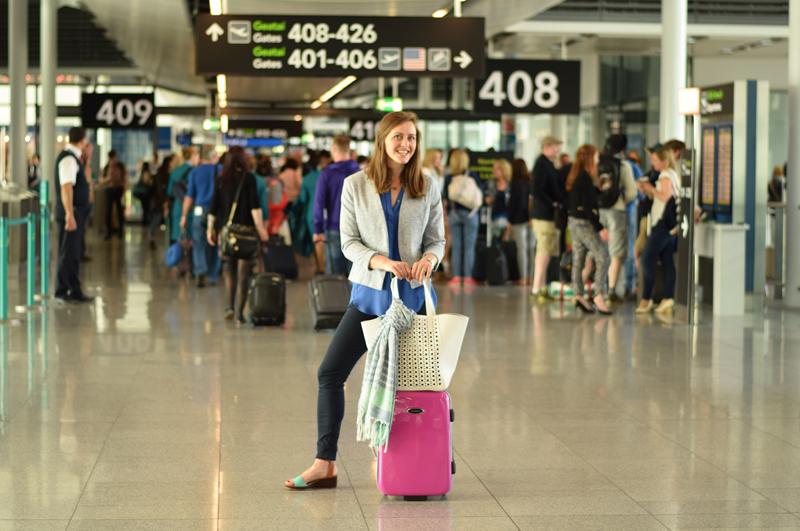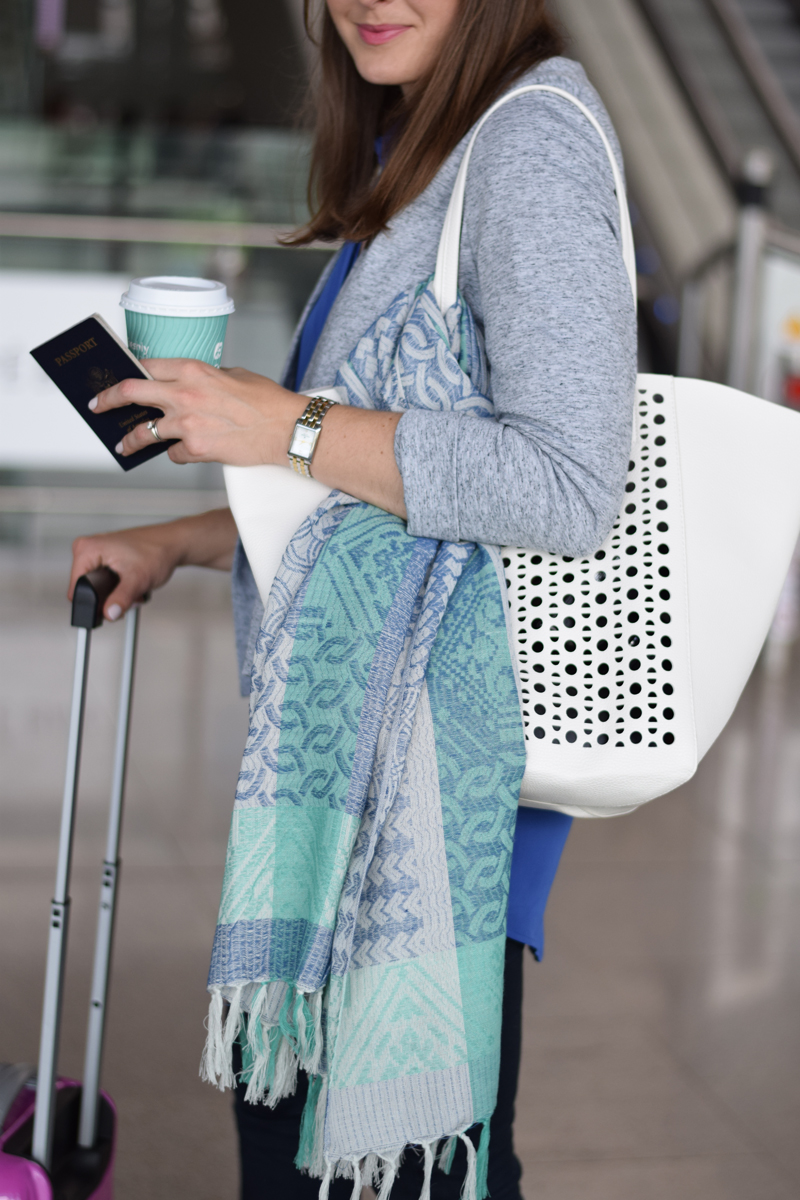 For an extra layer or something to create a makeshift pillow on the plane, I loop a scarf through one of the handles of my tote.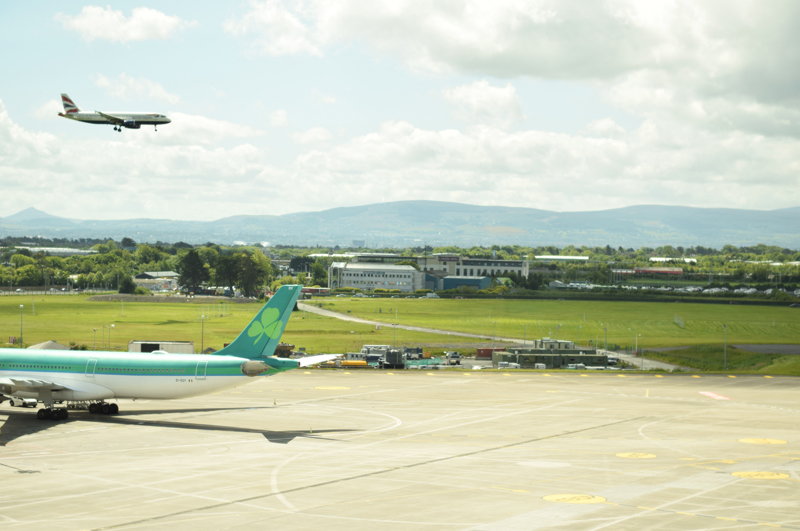 And now, down to the brass tacks of Dublin Airport. Dublin Airport has two terminals, Terminal 1, which is the old terminal, and the brand-spanking shiny new Terminal 2. I have fond memories of Terminal 1 because its where I arrived when I moved to Ireland, and it does have a certain gritty charm to it, but Terminal 2 is so much brighter and prettier. Terminal 1 deals with shorter flights and mostly RyanAir, and Terminal 2 deals with longer haul flights and it has U.S. Customs Preclearance, which is a little tough on the Dublin end, but you'll appreciate it when you hop off the plane in America. I'll explain that more in just a bit.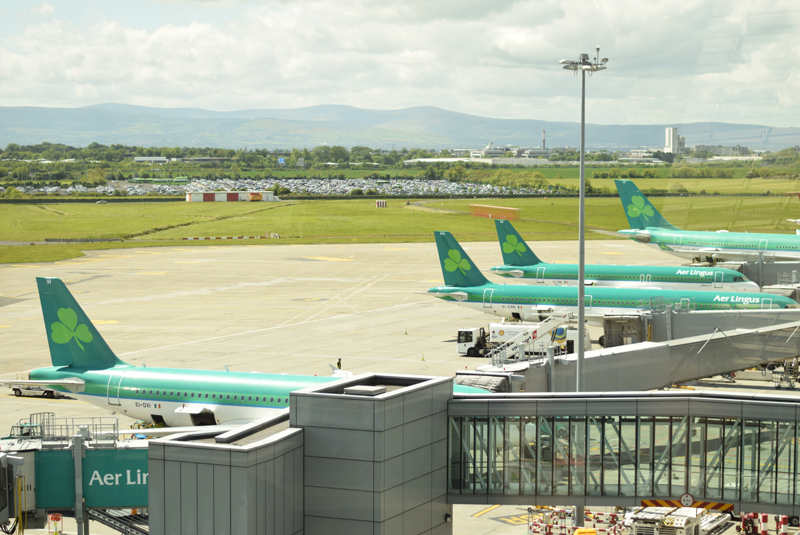 It's a bonus when you get a blue-sky day like this at Dublin airport. There are some great views from the back of Terminal 2. It's well worth taking the longer way through the duty free section of the airport to see all those Aer Lingus planes lined up. Green for days!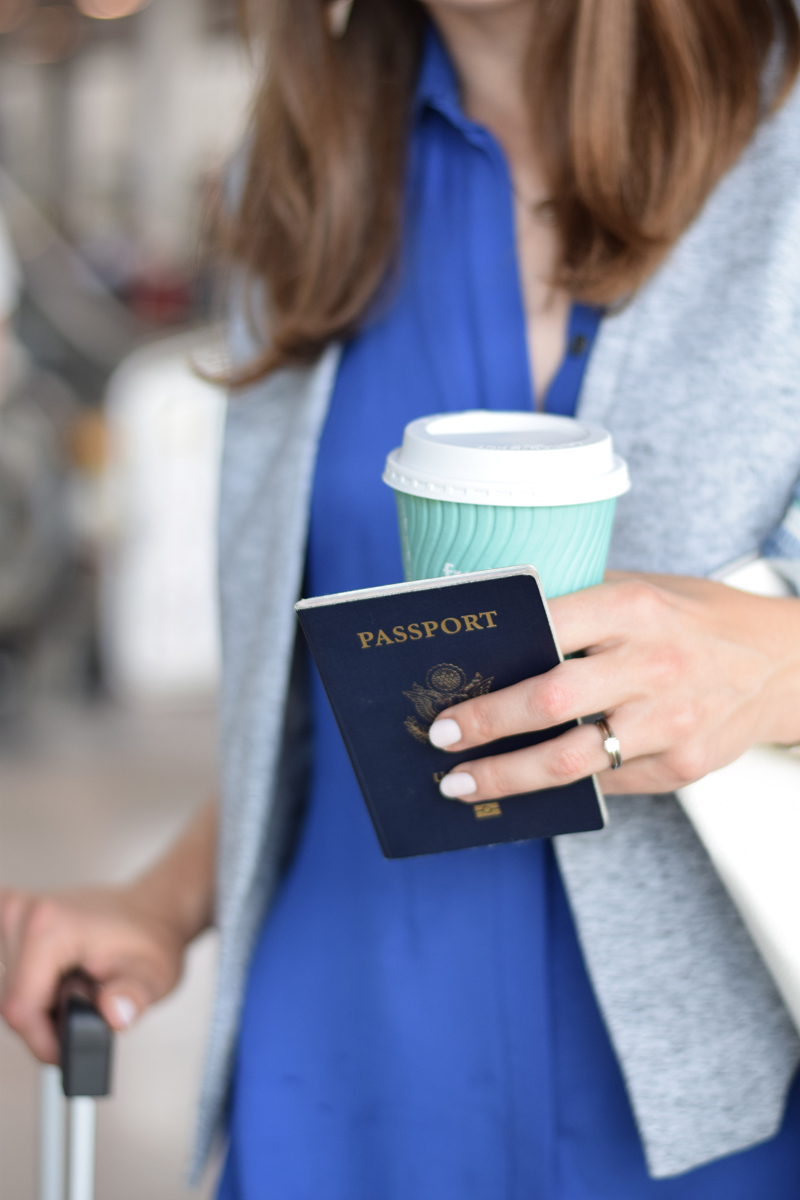 Do you have a trick for keeping track of your passport? Our trick is to keep passports in the exact same spot from the moment we walk in the door. If your passport has a home, you're much less likely to be scrambling to find it when you're heading to the airport!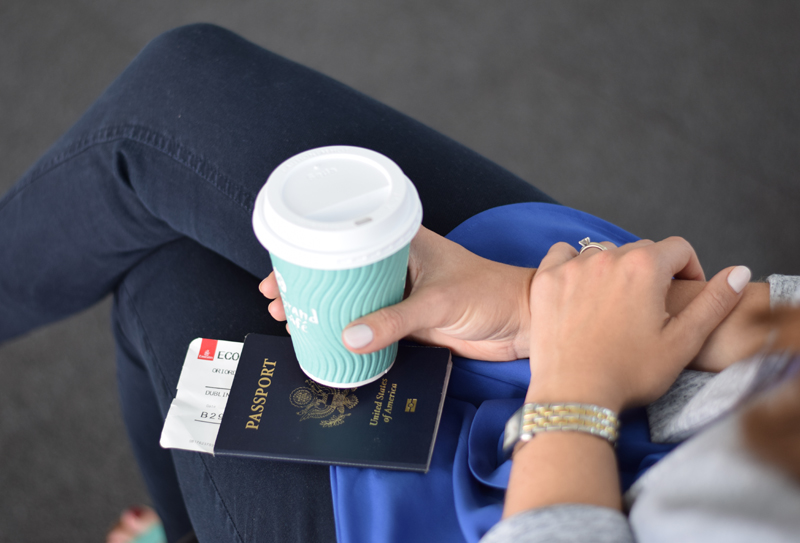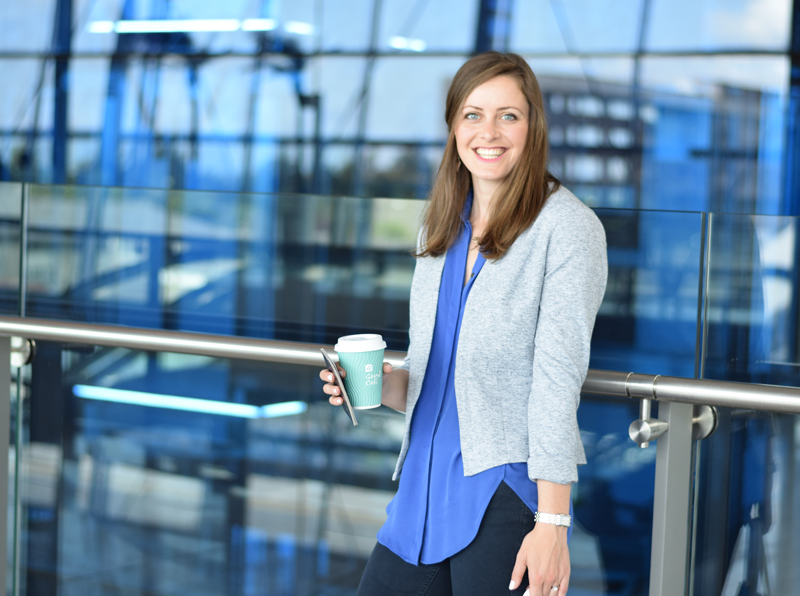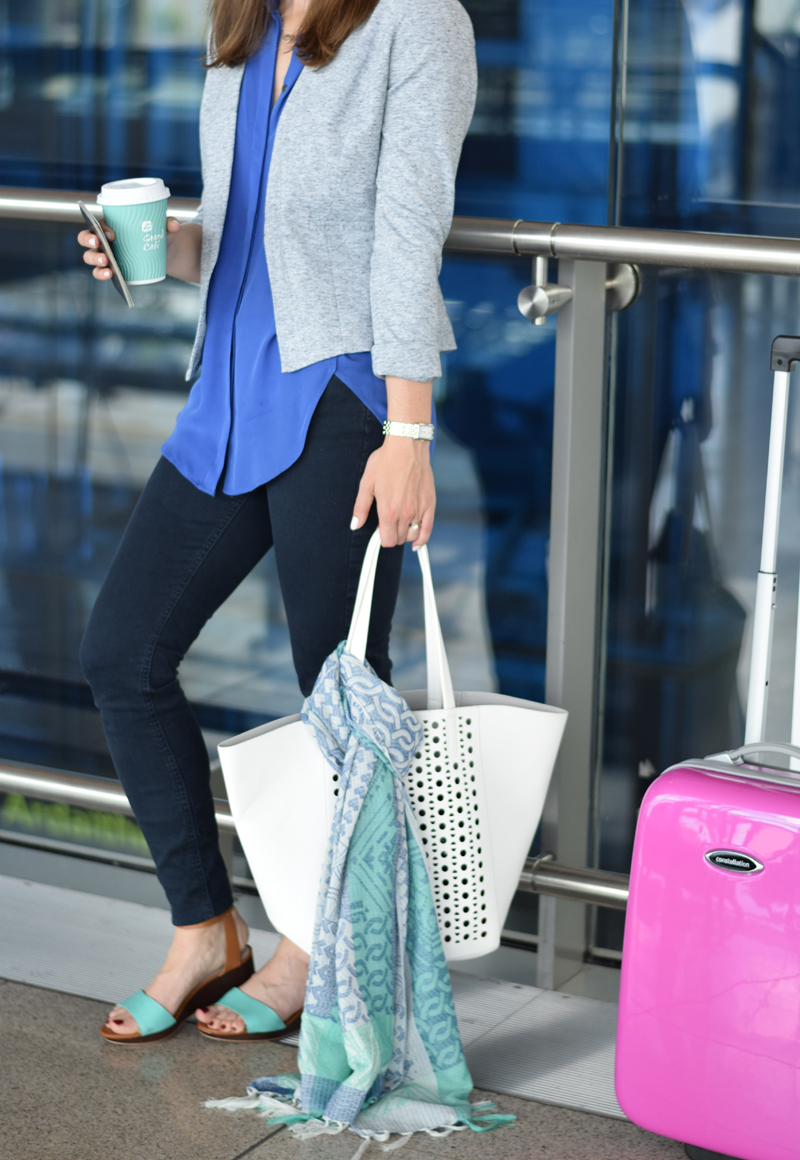 And yes, coordinating coffee cups. Couldn't be helped.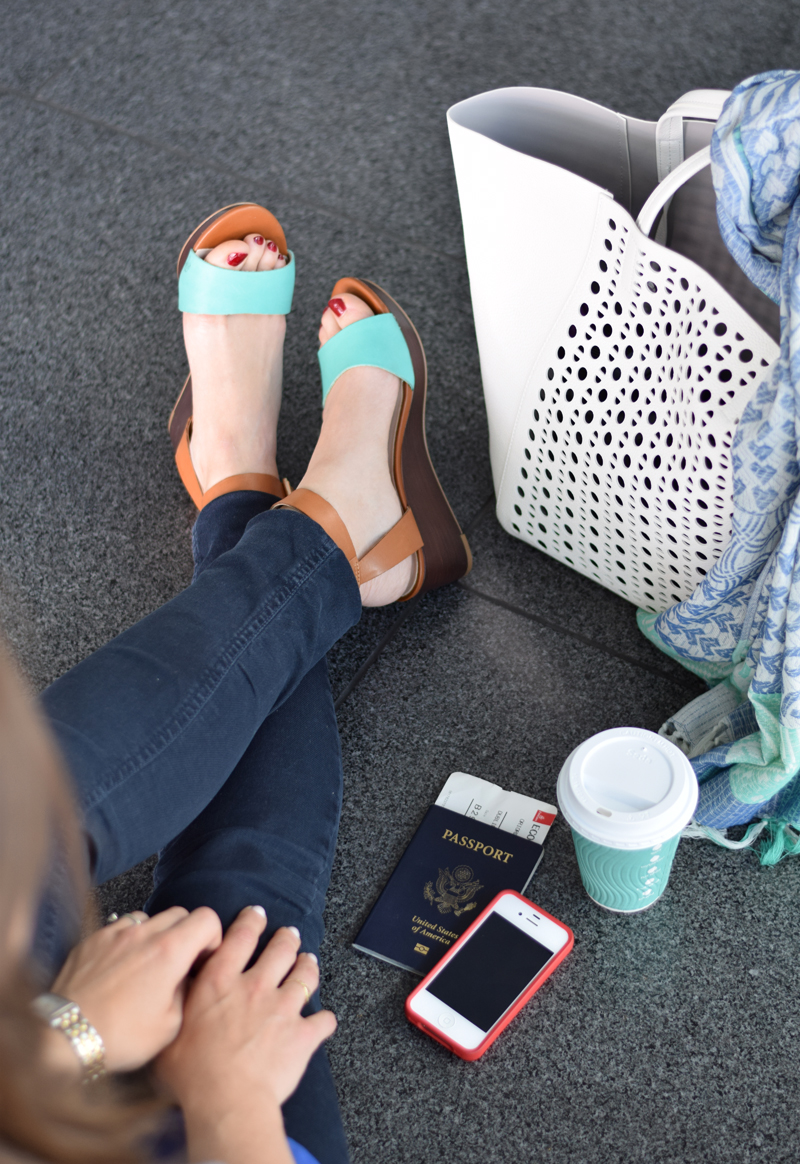 One fun thing I never knew about terminal two at Dublin airport is that you can have treatments done in the duty free area and you can even get a free hand massage at the Jo Malone store, and you don't even have to necessarily purchase anything! Although I think you'll probably want to. Jo Malone makes really delicious scents.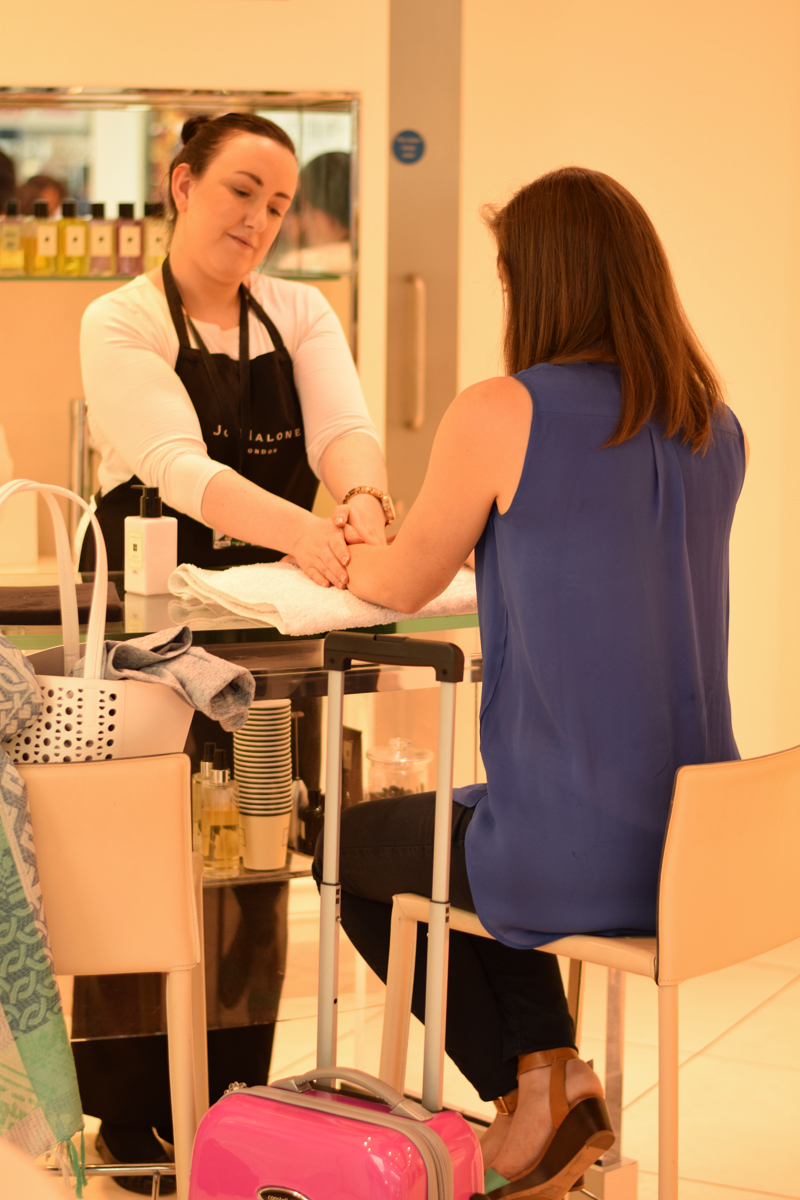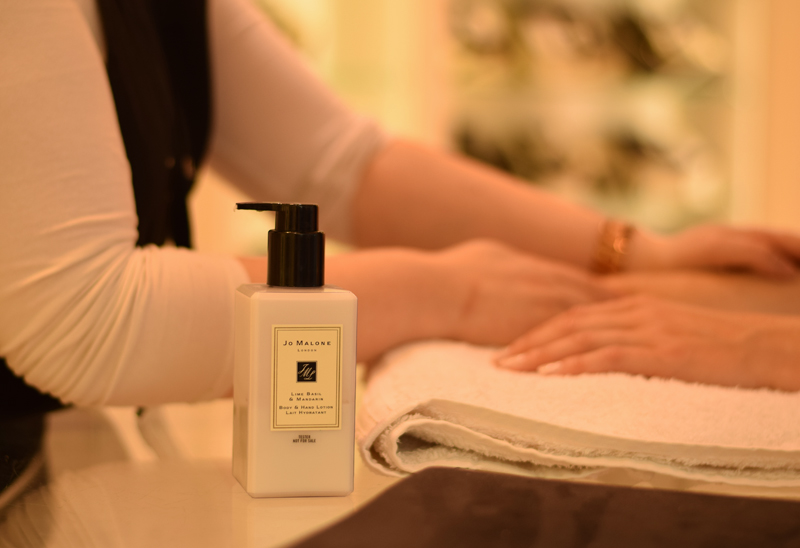 All relaxed, now you're ready to go through U.S. Customs Preclearance if you're headed Stateside. I know, twice through security is a kicker – and yes, you have to take your shoes off a second time. I'll be honest, it's really not my favorite thing, but it does mean that when you get to America, you don't have to wait in line or go through customs there.
When you're leaving Dublin, make sure to take into account that you'll be going through two rounds of security and a customs check if you're heading to the States. We try to allot two and a half or three hours because we like to stop for a coffee and have a little browse around the new terminal before we get on a plane for seven hours. It always feels like a reward if we manage to get time for a stroll around after the stress of actually getting to the airport.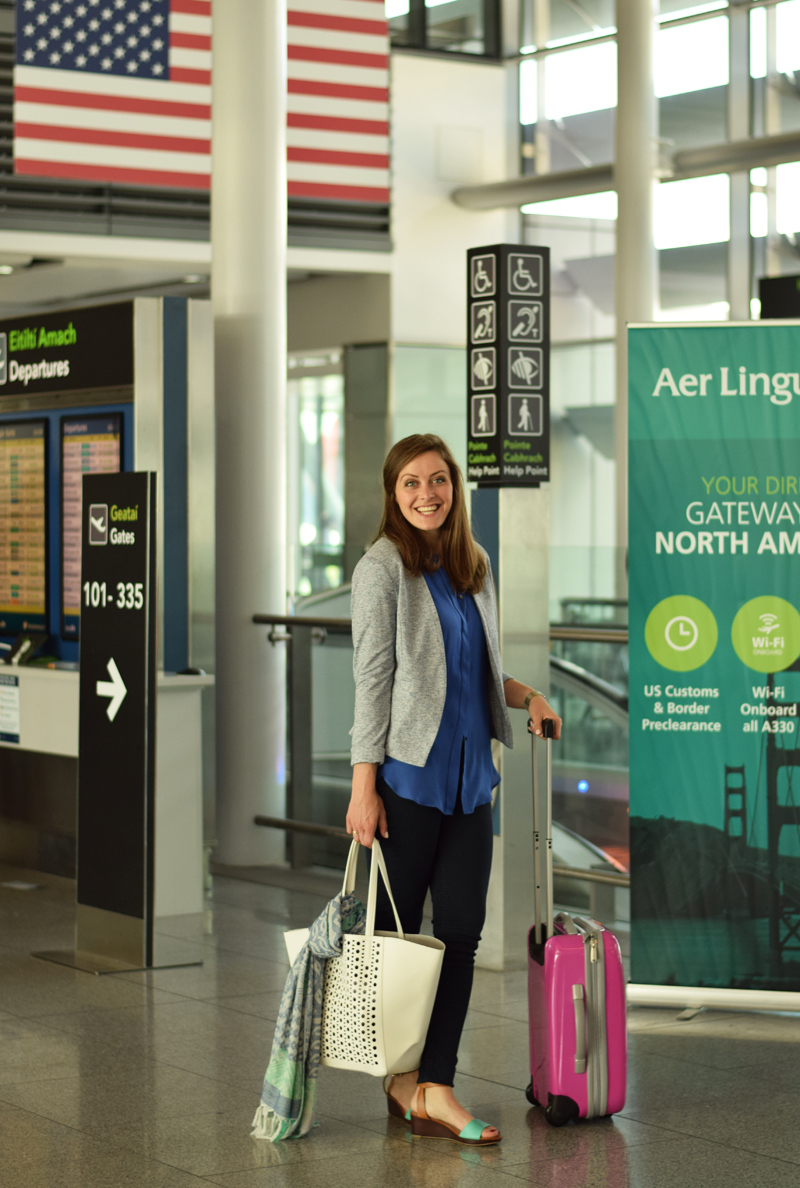 Apparently this is the face I make when I'm about to go through that second round of security! I do get awfully patriotic when I see the American flag at the airport. And when the homelane security guy at customs says, "Welcome home," I always get a little weepy and Michael likes to make fun of me.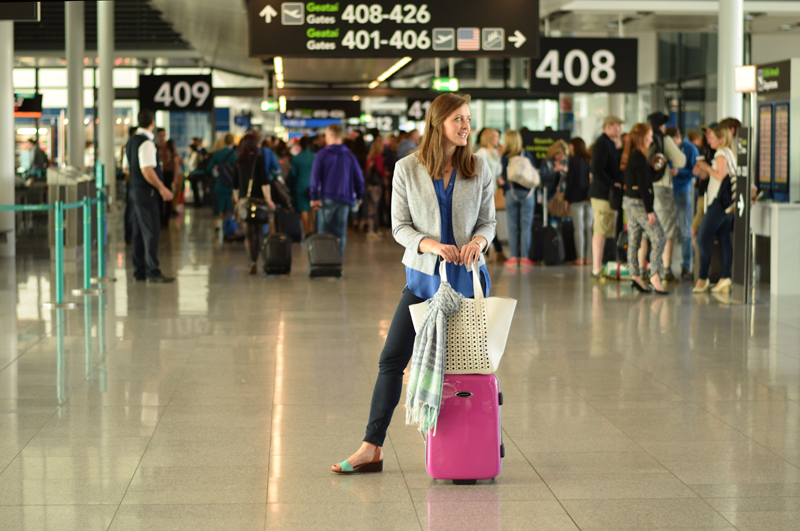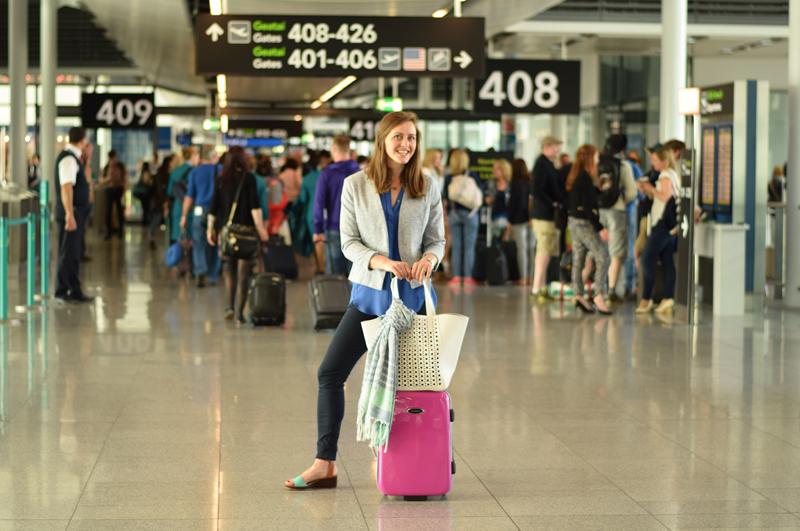 If you're flying through Terminal 1, there are a few other things you should know. You won't have to go through customs and security a second time, but you need to make sure you leave yourself enough time to walk a bit of a distance to your gate, especially if you're flying with RyanAir. Those gates can be pretty far away!
If you're flying with RyanAir from Ireland to somewhere else in Europe on an American passport, you need to go to the Visa Check desk near the check in and bag drop desks to get a stamp on your boarding pass. They will not let you on the plane without it and they will send you back to that desk and you will have to go through security all over again. That would be a nightmare.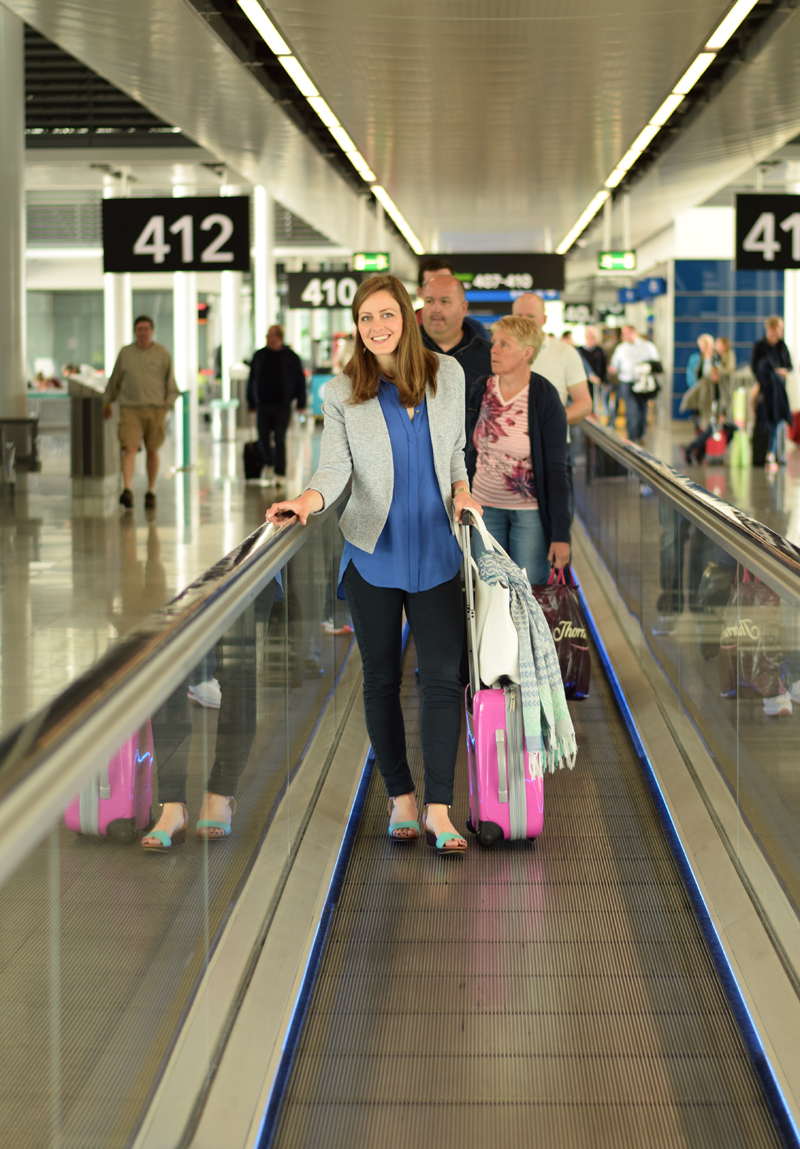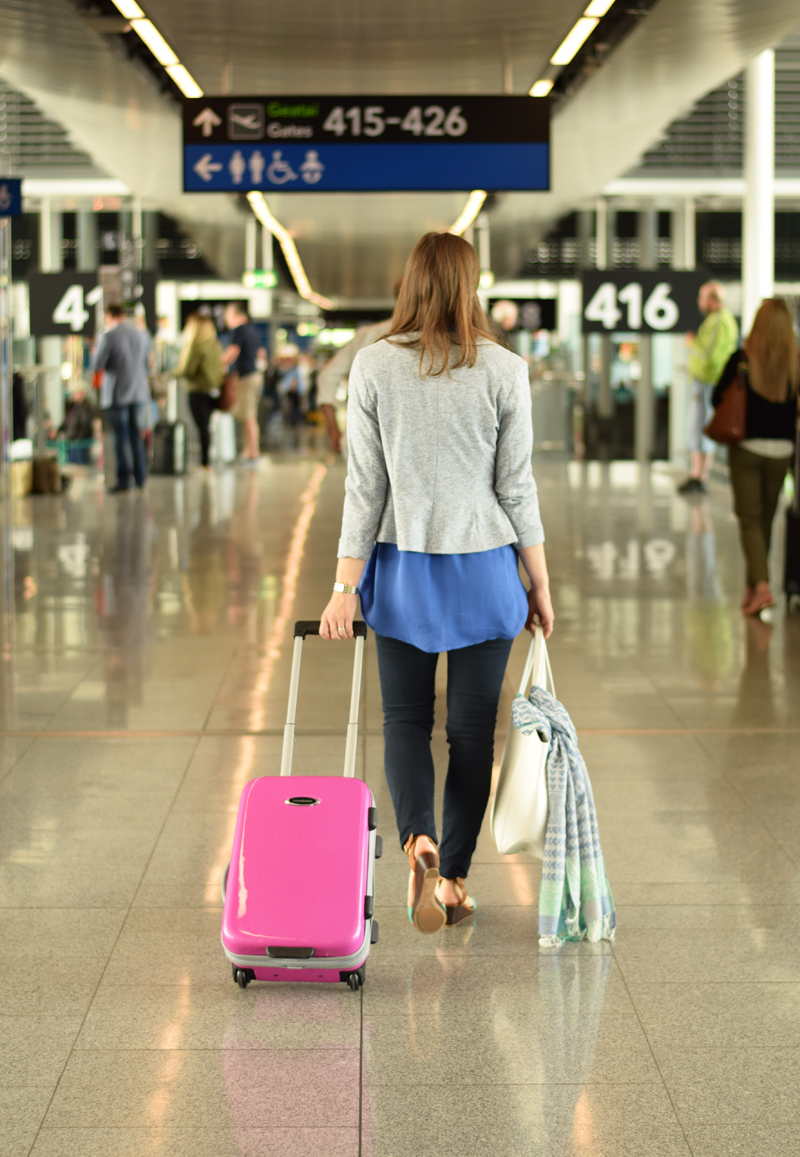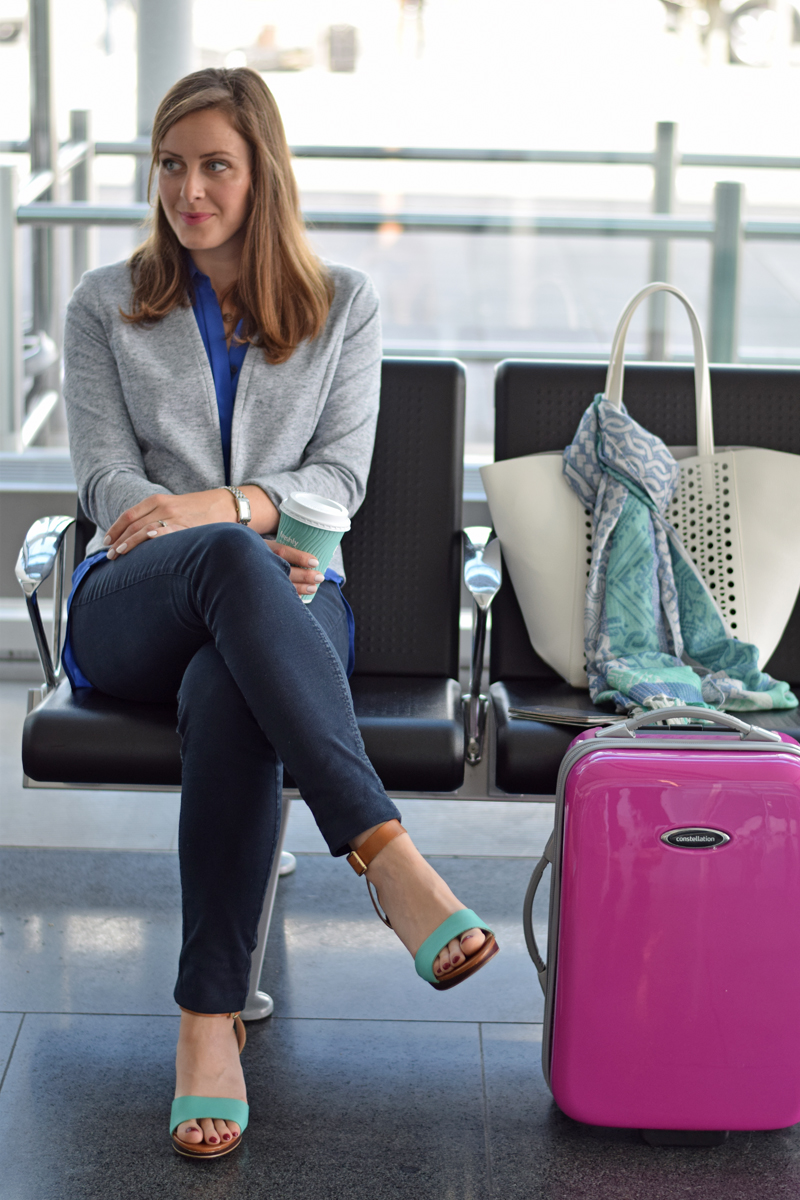 And that, my friends, is Dublin Airport in a nutshell. If you're a frequent flier through Dublin Airport, let us in on any secrets you may have too! Safe travels to and from my beloved airport, friends!
If you're planning a trip to Ireland, catch up on all my helpful Styled in Ireland posts before you start packing!
Sandals: Clarks  / Top: Banana Republic / Watch: Kate Spade / Jeans: Zara / Jacket: Penney's / Tote: H&M /  Suitcase: Dunnes Stores / Scarf: Penney's / Photography: Naomi Phillips / Special thanks to Dublin Airport for letting us get a behind the scenes peek and snap these photos even though we weren't getting on a plane that day!