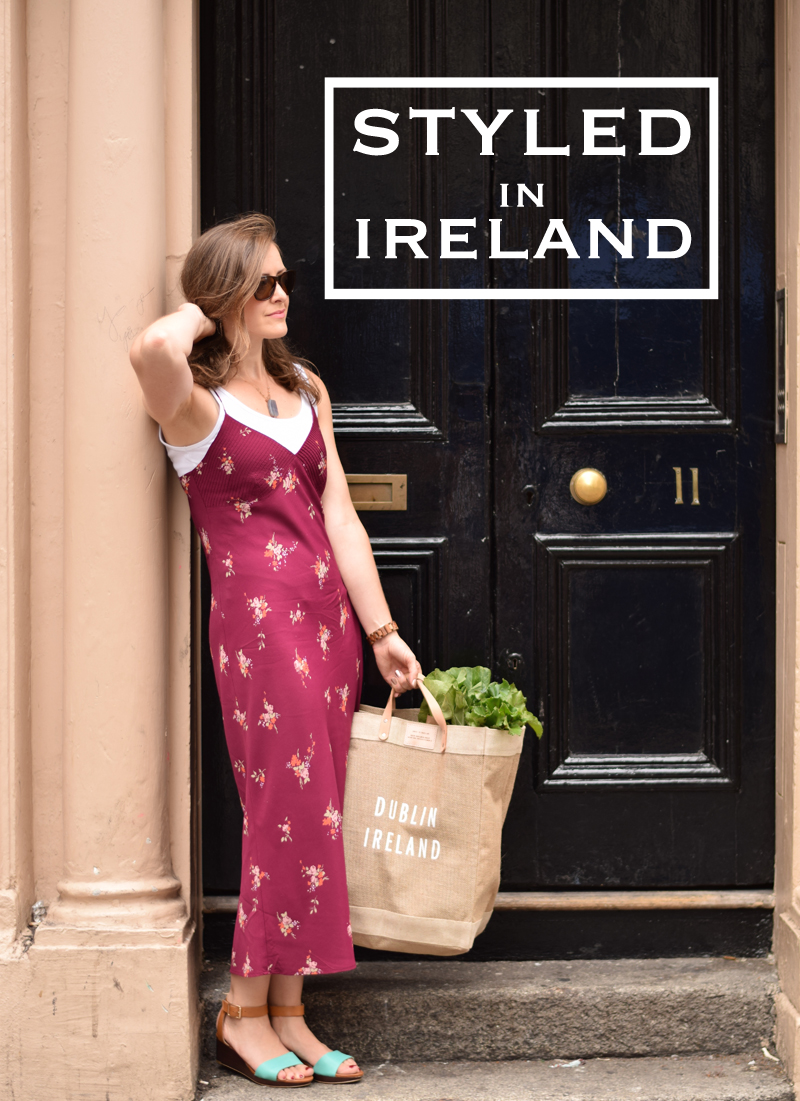 Welcome to another Styled in Ireland post! This one might be my favorite yet. My friend Naomi and I headed into town one Saturday for a visit to the farmer's market in Meetinghouse Square in Temple Bar. It had been a long time since either of us had been, so we stopped for our usual lunch, picked up some amazing bok choi and beets, and a bunch of lavender flowers.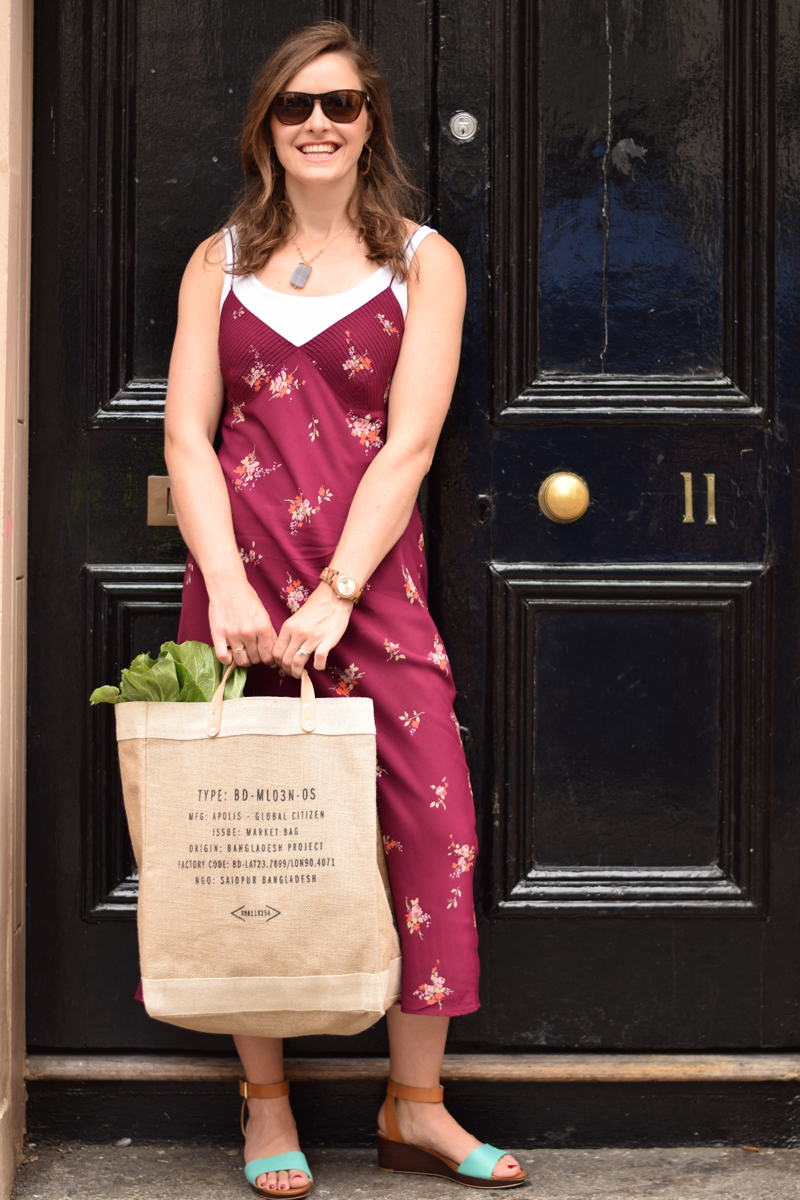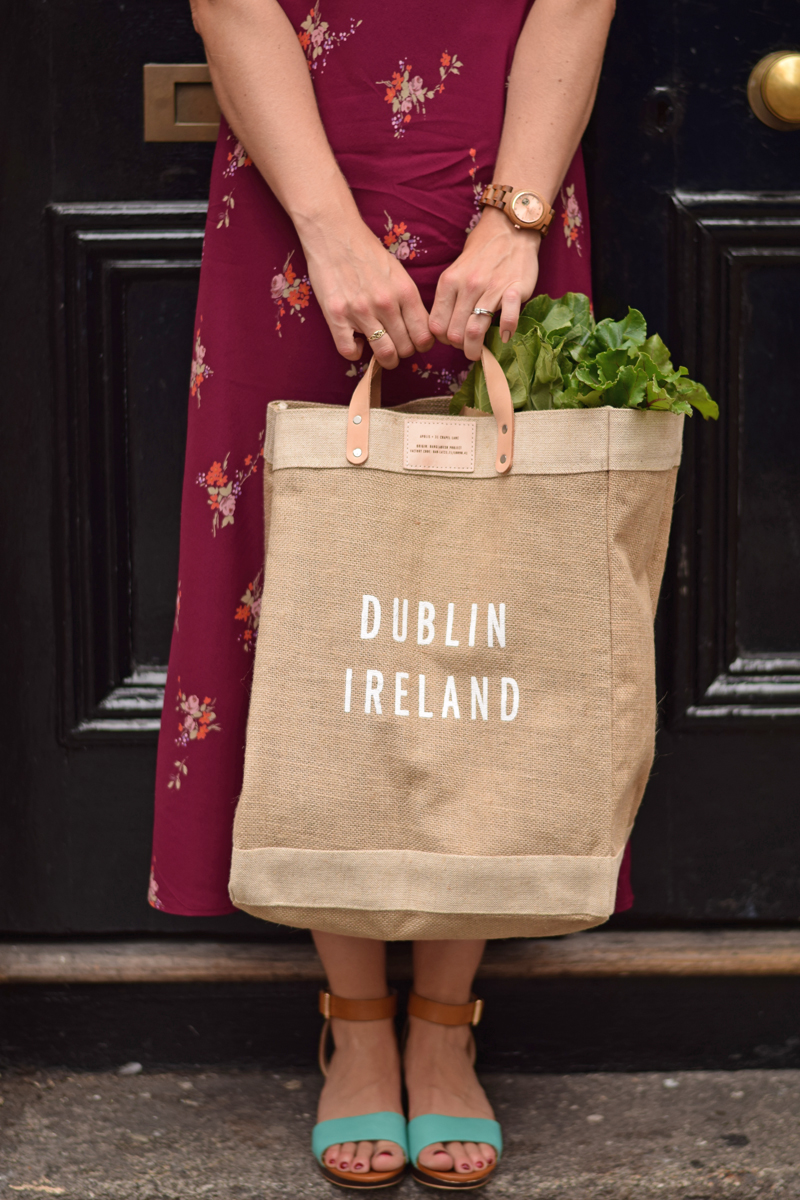 For our market visit, I brought along this new tote from 31 Chapel Lane, one of my absolute favorite Irish companies. Joi and Damien produce beautiful Irish napkins, table cloths, towels and cushions. They've just teamed up with Apolis to bring their jute and leather market tote to Dublin. I've been seeing Apolis totes, all with different city names emblazoned tastefully on the side, popping up all over the place so it was really fun to see Dublin, Ireland, on one!
The Apolis totes are made in Bangladesh by a women's co-operative and then finished in California. It's a wonderful, worthy cause that employs and empowers women half a world away, and Joi and Damien have such hearts for helping those less fortunate. And toting one around is a great way for me to help as well.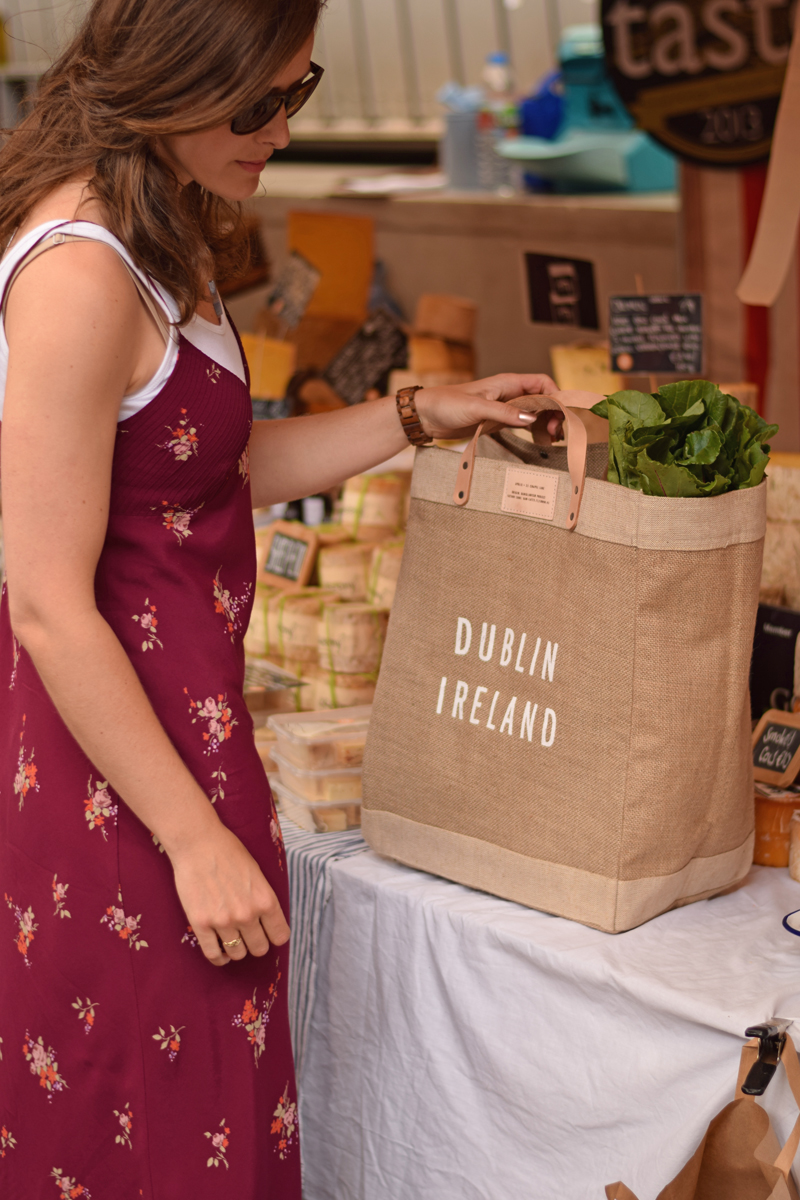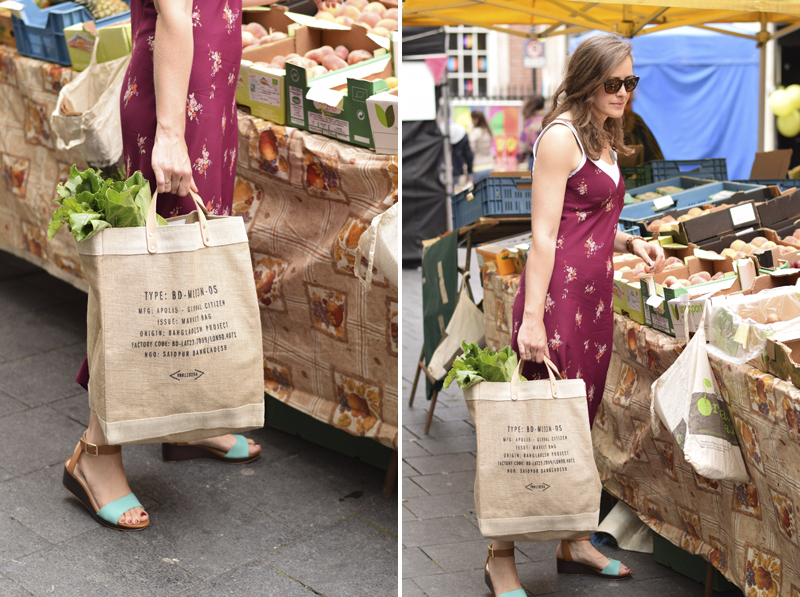 The tote is deceptively large. In fact, it looks a little heavy in these photos because in addition to my market finds, it's holding a suede jacket (which I shockingly didn't need), my camera and extra lens, and my wallet. Good thing it's so roomy or I would have been lugging those things around haphazardly all day! It's also really sturdy and will likely last me for years and years.
I have to admit, I'd rarely wear bare arms in Ireland, but it was particularly balmy so I stuffed my suede jacket into the bag and walked around in my sundress and sandals. It felt like real summer even though it was pretty cloudy! My dress is very old from Gap, and those sandals are new from Clarks. They're so comfortable for walking around cobblestoned streets. Fun story, I actually wore that dress to my high school graduation and I just can't bear to part with it! My necklace was a $7 Target find a few years ago and it gets so many compliments. Love those finds!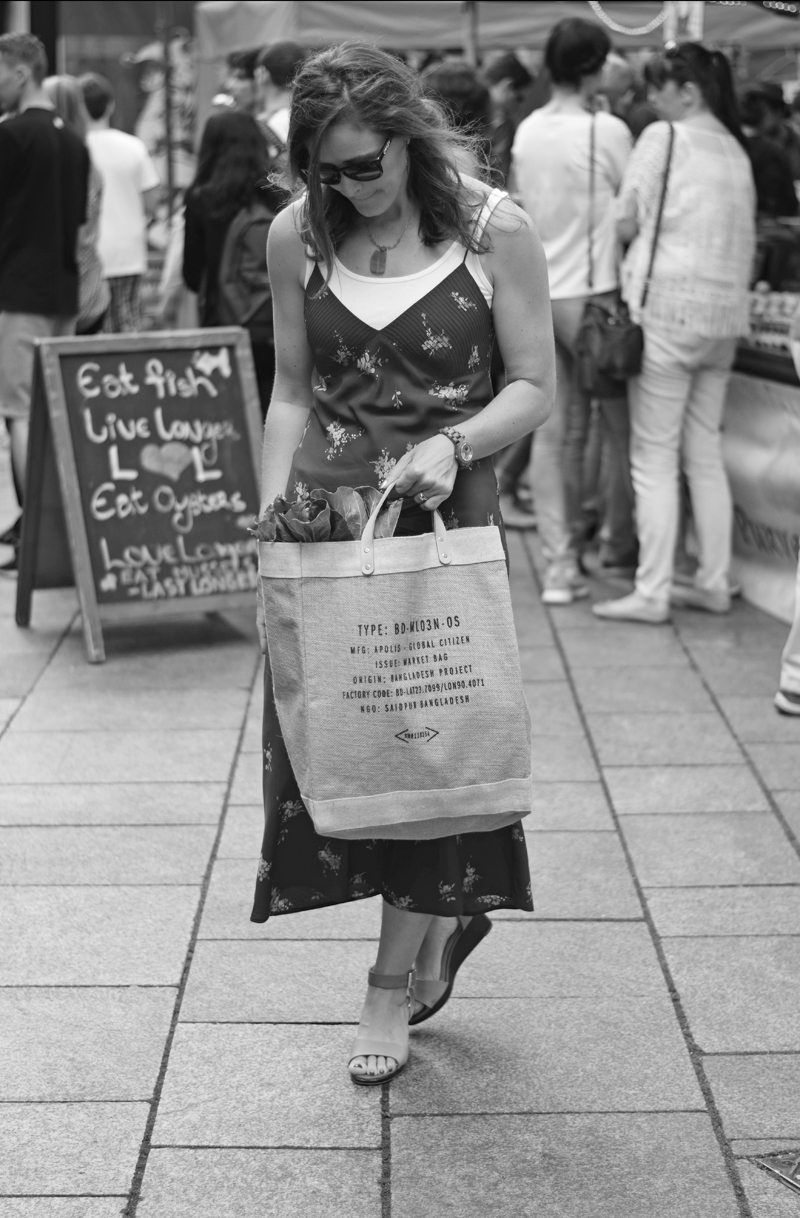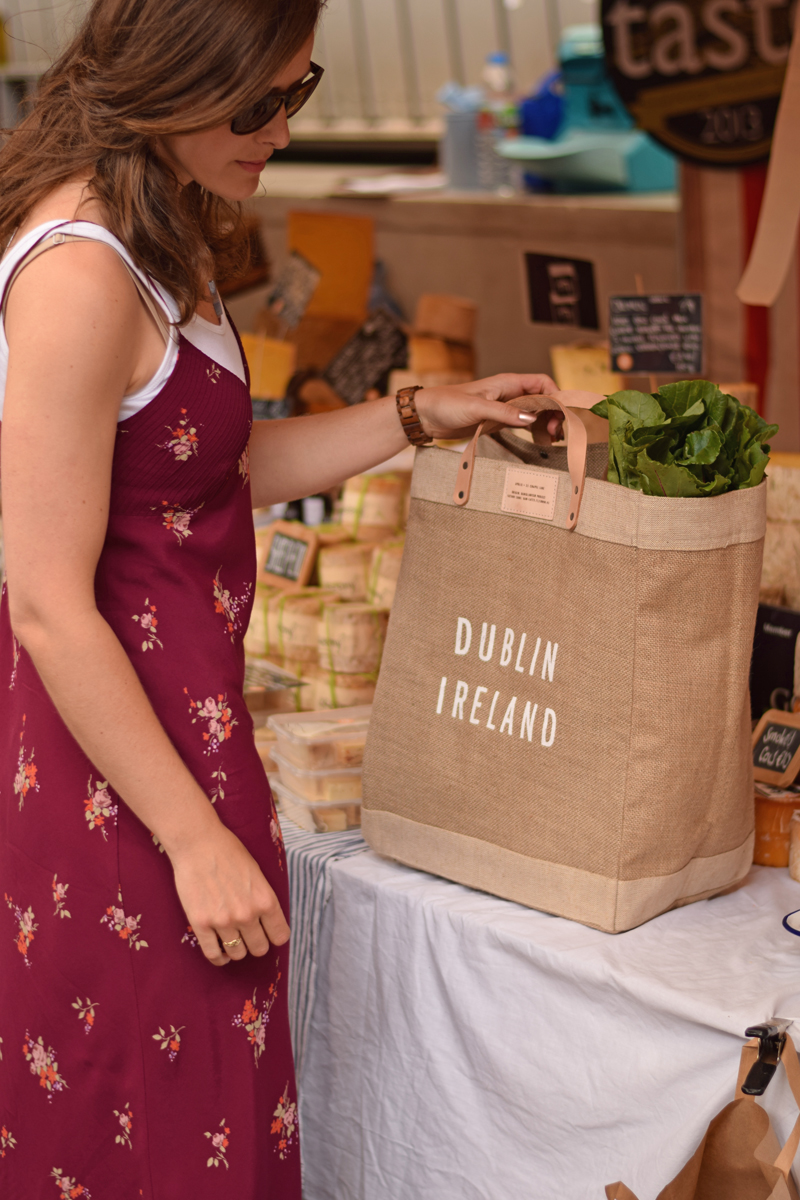 I'm not sure if it was because Naomi was standing five feet away snapping photos, but I was getting a lot of looks. I think there was some serious bag envy going on!
We love the little cheese selection boxes from the cheese stand. For only €5 you get five small hunks of different cheeses. There's also a stall where you can eat oysters and drink wine, which is usually pretty appealing.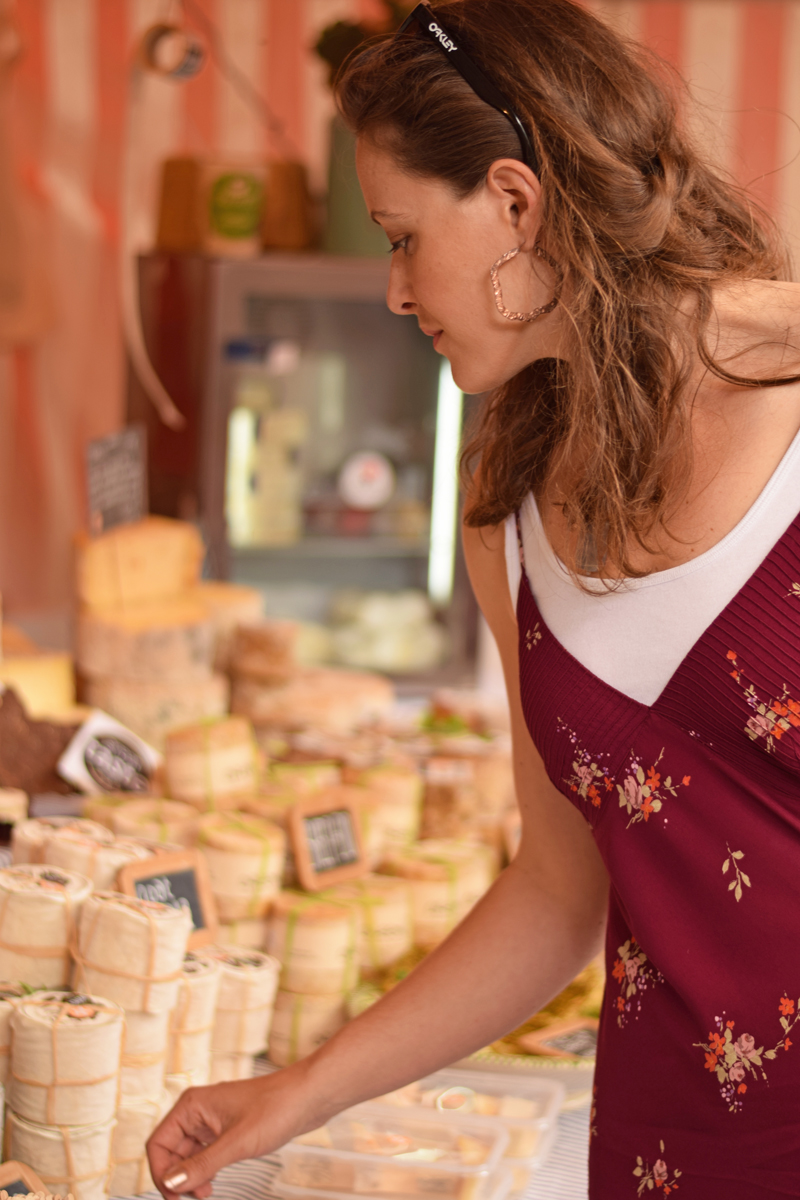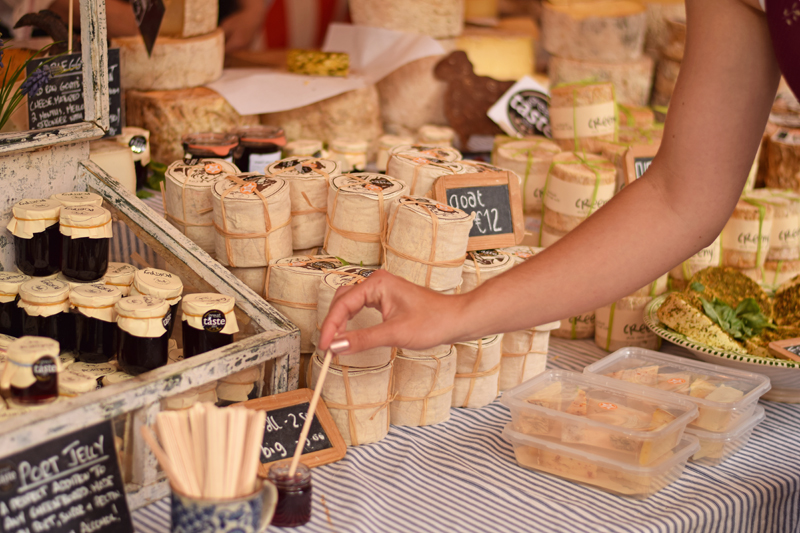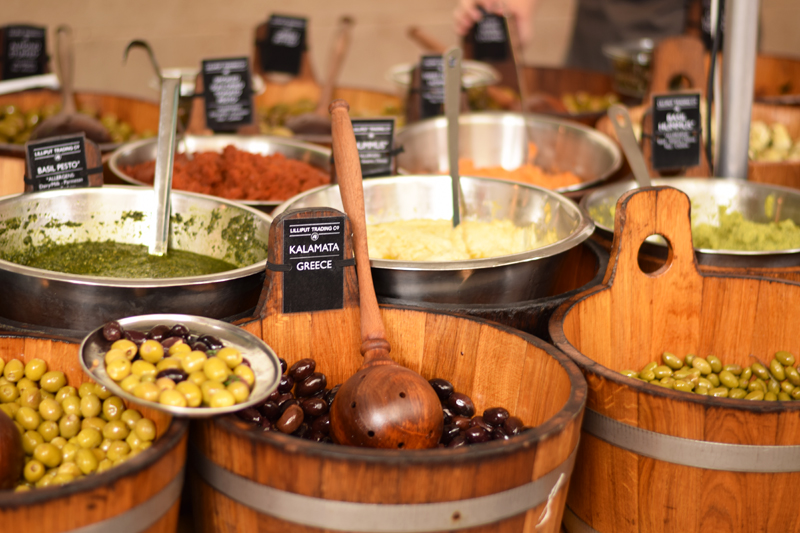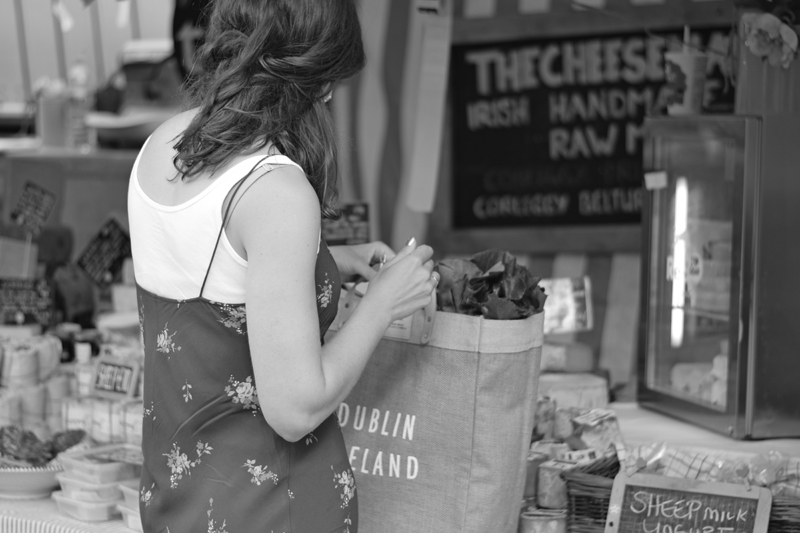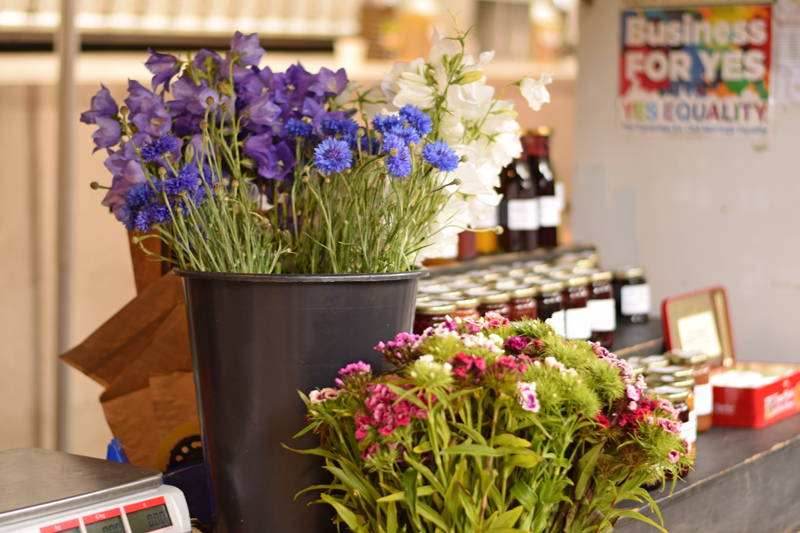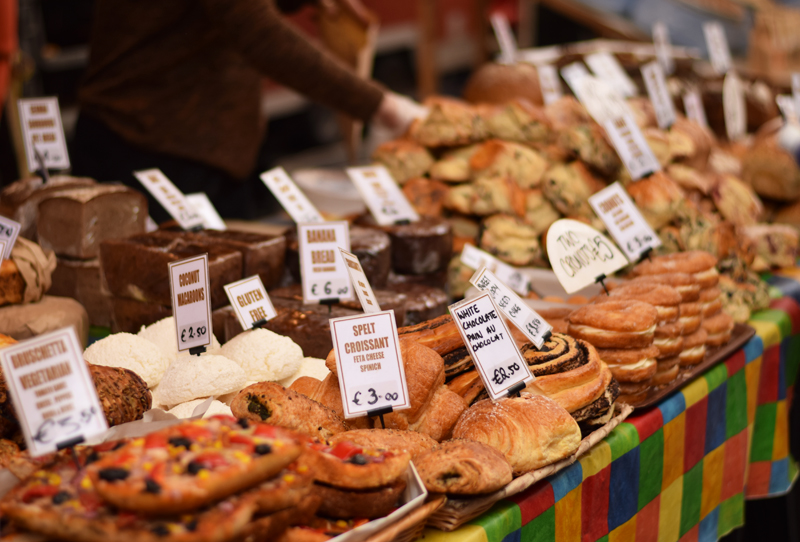 Whenever we go to the farmer's market in Meetinghouse Square, we pick up roasted vegetable quiche. I think quiche is a loose term, it's mostly just a stack of delicious roasted vegetables barely held together with a little egg in a pastry crust. Eggplant, tomatoes, peppers, onions, olives, carrots and broccoli. It's delicious.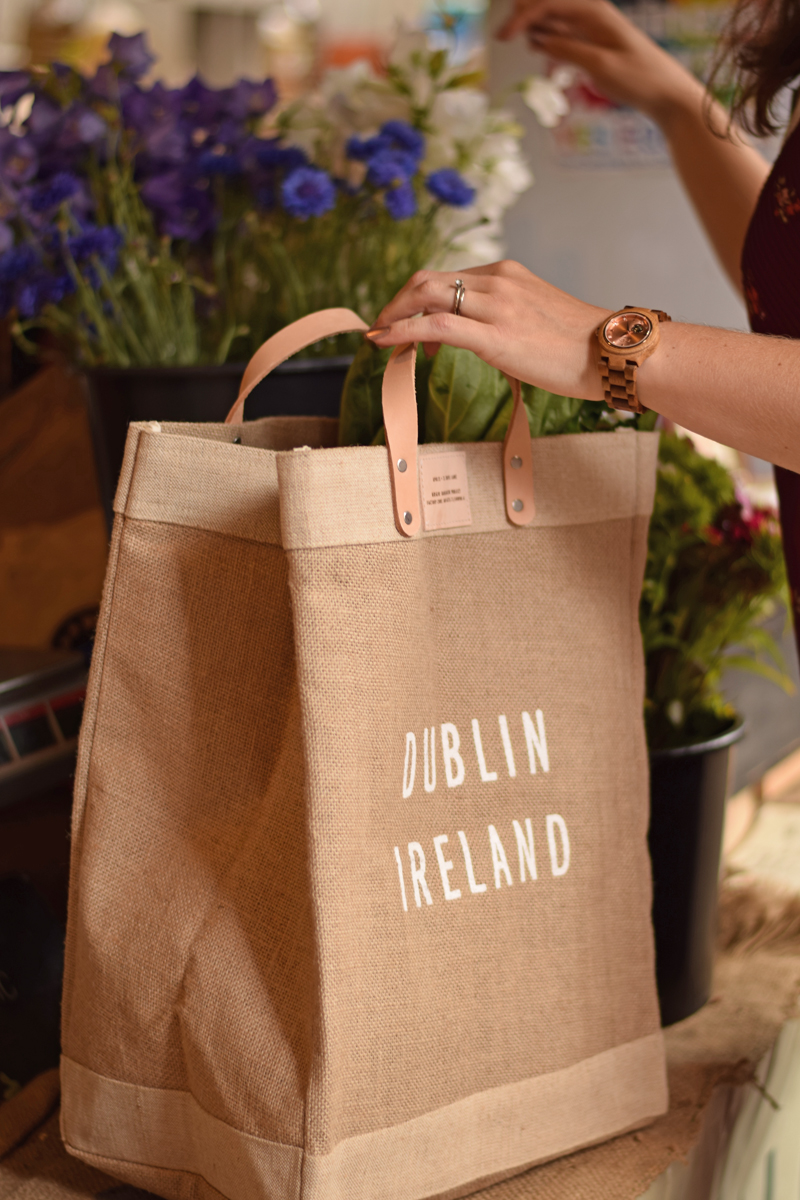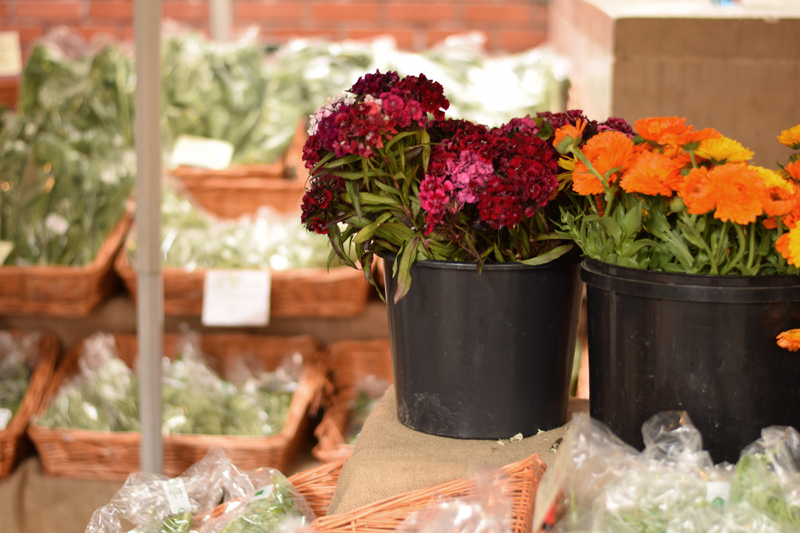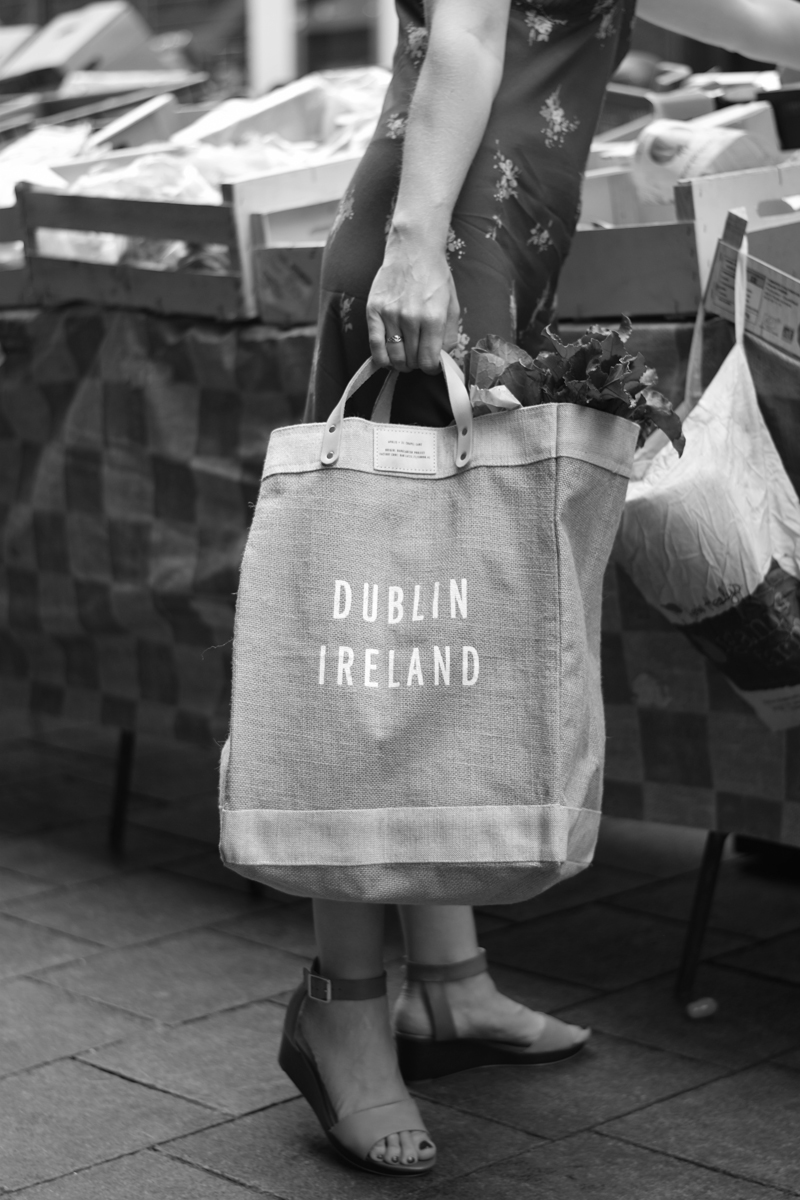 We picked up beets which I roasted that night for dinner. I'm always a little nervous about beets because they stain so easily, but I washed them and chopped the greens off, then wrapped them in tin foil and put them in the oven at 400 degrees for about a half hour. Then the skins just slid right off with a little help from a knife. They were so sweet.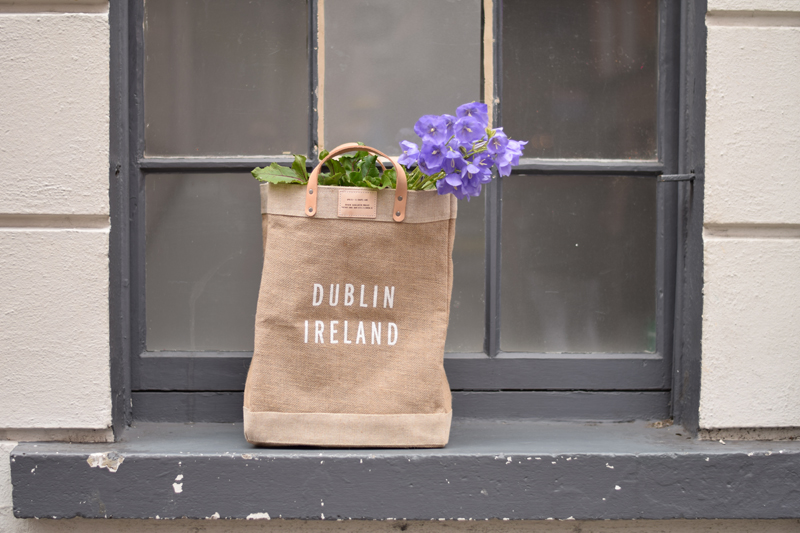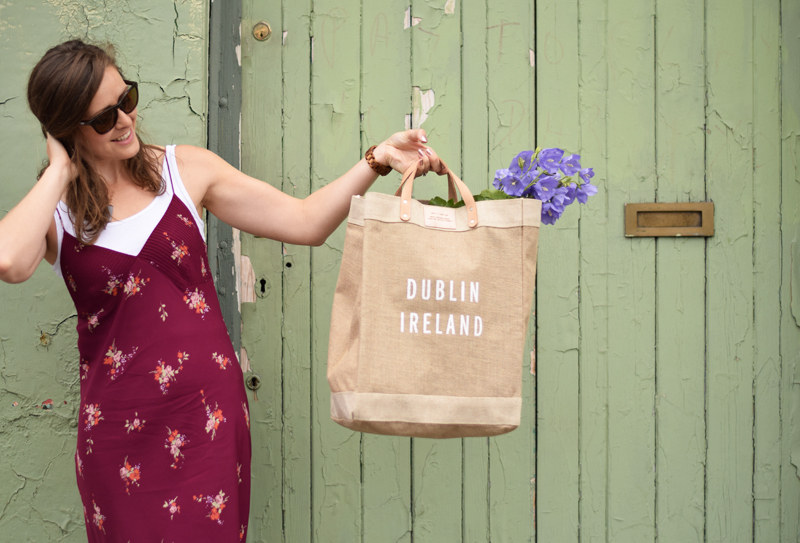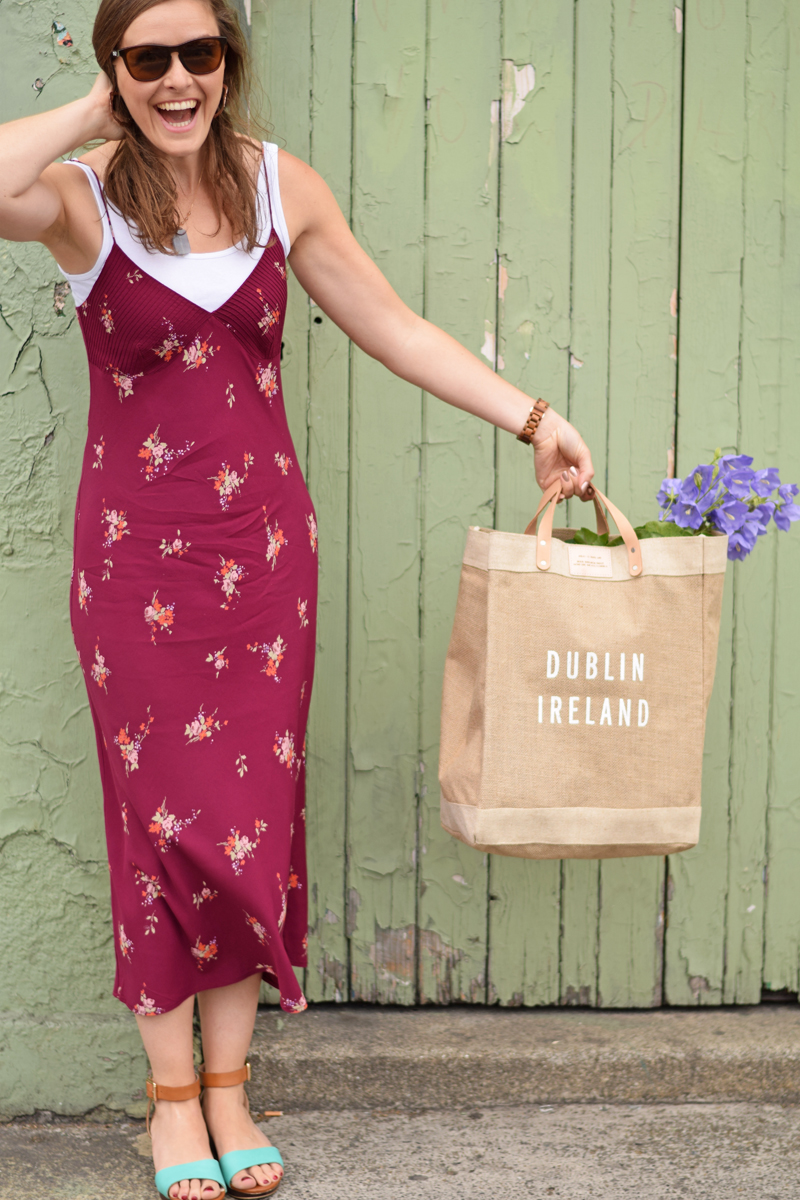 And that's exactly how pumped I was for an afternoon at the farmer's market!
In case you missed them, you can check out past Styled in Ireland posts for lots of outfit inspiration!
Sandals: Clarks  / Dress: Gap / Tank: H&M / Necklace: Target / Watch: Jord Watches / Glasses: Oakley / Tote: 31 Chapel Lane / Photography: Naomi Phillips / Market: Meetinghouse Square in Temple Bar, every Saturday, rain or shine!