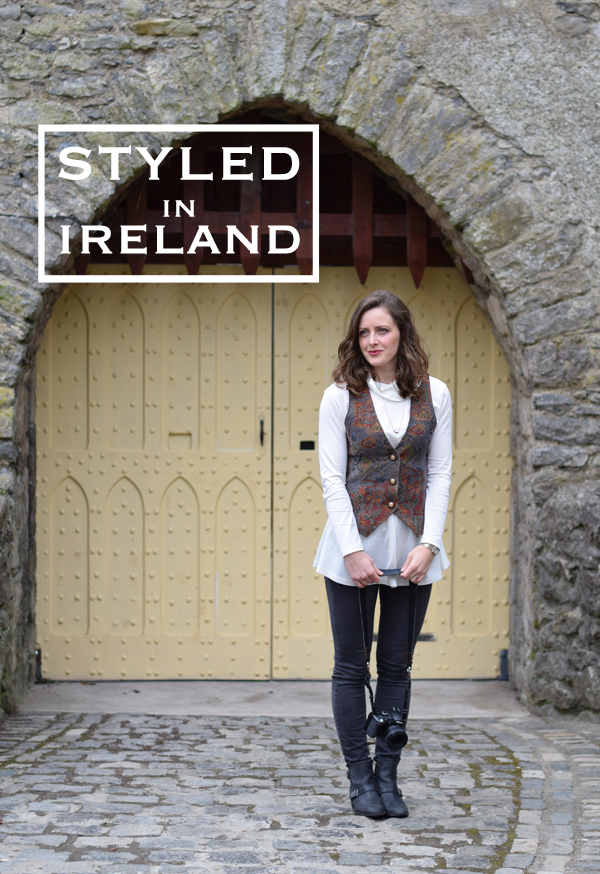 Good morning, friends! I'm excited to share another Styled in Ireland post with you today, this time focusing on exploring castles! We're lucky enough to have castles in our back yard, and almost every week I meet a friend for coffee and cake at our favorite local castle – Malahide Castle.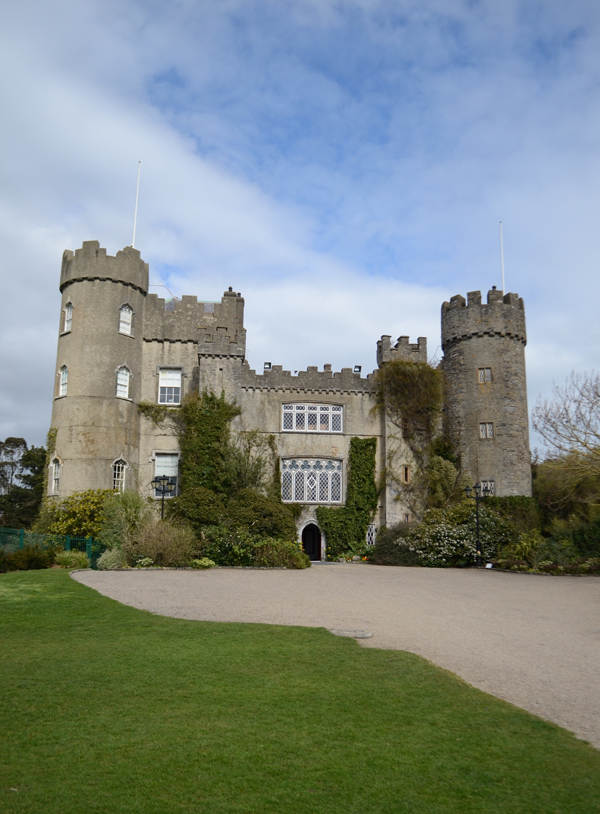 Malahide Castle is really popular with locals because it has a large public park where you can run and walk, and it's a great place to bring children. There's a giant playground with a zipline (that part is fun for adults, too!), and lots of green grass to run around. There are paved paths throughout, so it's a good spot to bring small ones in strollers. I usually bring my niece and meet my friend Naomi and her little girl, on this day a few weeks ago, Naomi was nice enough to take some photos while the girls chatted away to each other in their strollers.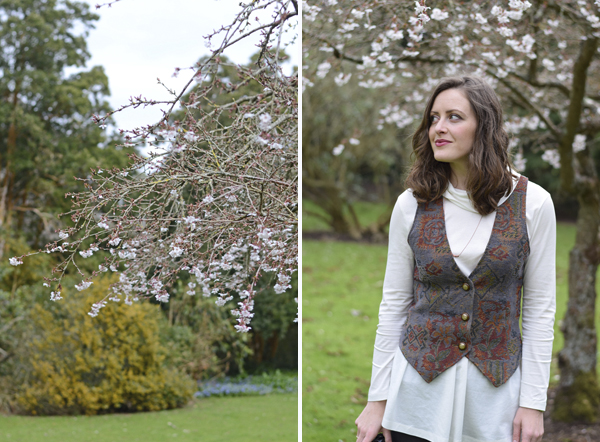 Malahide Castle is like a lot of castles around Ireland – parts of it date to the 12th century, but other parts are more modern. In fact, a family lived in Malahide Castle until the 1970's when the remaining members gave the property to the town in exchange for relief for some tax debts. Now we all get to run around the grounds and pretend we live in a castle, too! You can take tours of Malahide Castle, but I admit it has been years since I took the tour. At the time I took it, it was a little weak, but I have heard it has improved. Even if you don't go for the tour, there are the grounds to explore, a walled Victorian garden, an Avoca shop with a restaurant that's open for breakfast and lunch and cake all day long, and even peacocks that roam freely! And all only thirty minutes by train from the city centre! 
My absolute favorite castle tour is just 40 minutes west of Dublin in the town of Trim. Trim Castle has an hour-long tour that walks you up through the ruined levels of the castle. It's where scenes from Braveheart were filmed, so it feels extra-authentic. The only trick about Trim Castle is that there are some steep spiral stairs back down at the very end, which make me nervous every time. I'm not a big fan of heights or steep stairs, so I like to remind people to wear flat shoes to explore castles. It means you'll be able to explore the grounds and get yourself down from high heights if necessary!
You'll also want to wear layers, because castles are damp and cold, no matter the time of year (thank goodness we didn't live in ye olden days!). I love this vest that my grandmother made me a few years ago and it's perfect for adding another layer of warmth without extra bulk. The buttons are from a coat my mom wore when she was very small and my grandmother saved them, just in case. Makes me smile, knowing they're both with me, every when I'm so far away!
At this time of year, keep an eye out for the millions of daffodils in Malahide Castle, as well as purple helebores and flowering quince blossoms. They're some of my favorite early spring blooms.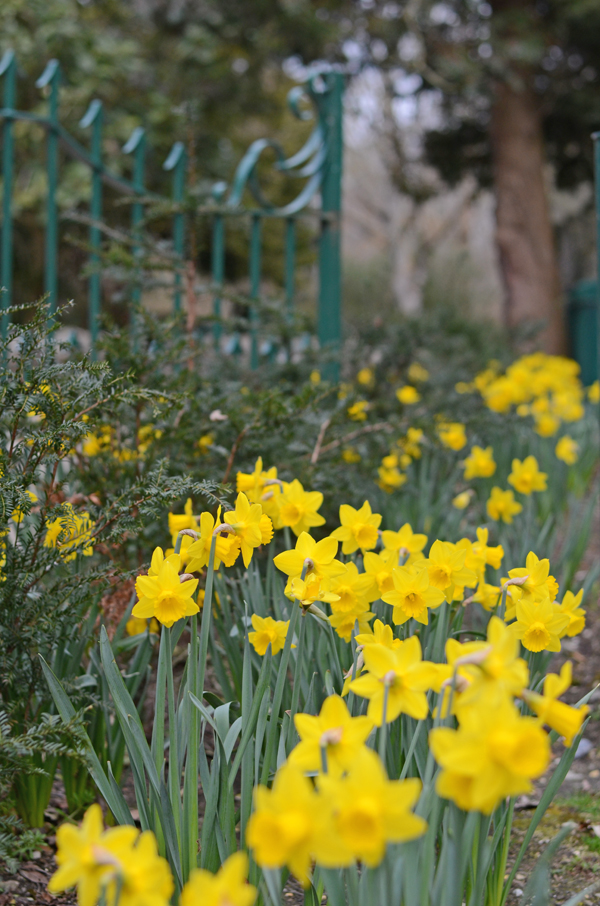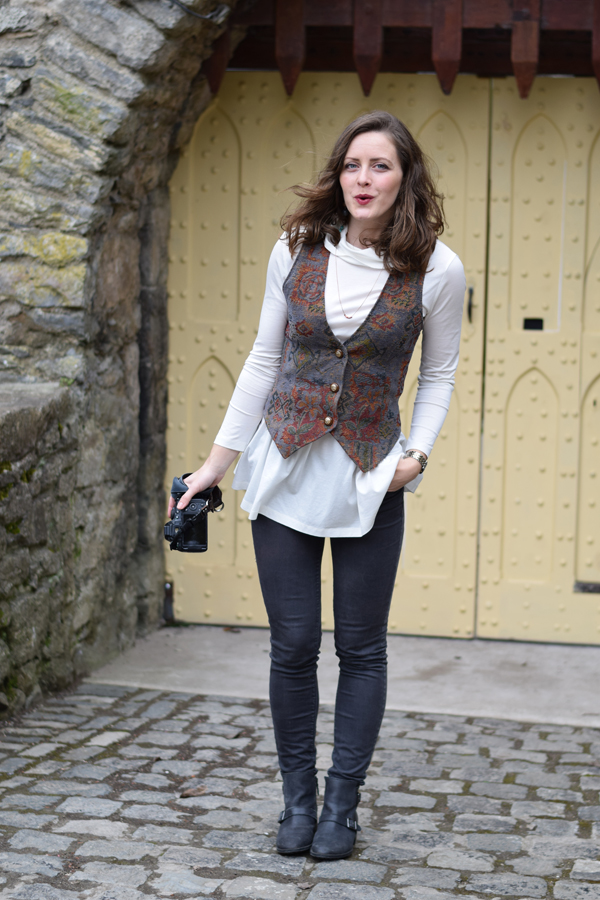 And how about an outtake for the road?! Because mostly these shoots look like me being a lunatic and Naomi or Julie making me look somewhat sane. I think at this point I was also singing the Itsy Bitsy Spider over and over so two little girls in strollers would be patient while we took a few more shots! Naomi had to tell me more than once to stop moving my mouth! Aren't you glad I'm not doing all the itsy bitsy hand movements? 😉
Boots: Coach / Jeans: Zara / Collared tunic: Cos / Vest: My grandma! / Watch: Kate Spade / Necklace: A Lovely Little Shop on Etsy (a gift from my brother, thanks Charlie!) / Photography: Naomi Phillips