I'm so excited to be resurrecting my Styled in Ireland series! After a year long hiatus, I finally got my act together and put on some lipstick to make it happen. This time, we're getting all styled up for a seaside coffee date, something I happen to do fairly often. Well, the seaside coffee date part. Maybe every other time I bother to get all dolled up!
Actually, this particular episode took even longer than usual. I was starting to think this outfit was jinxed! I put it on for a coffee date with Michael a few weeks ago, and by the time we were ready to snap a few photos (one of us more willing than the other!), it was pouring rain. Luckily, we had another coffee date not too long after, so I re-ironed my shirt and cuffed my jeans again. We got all the way up to Howth and even though it was sunny, the wind was howling so hard it made my eyes water. My bare ankles were not having it! So we hopped back in the car with our coffees and drove over to sit with the heat on at "our spot" on the other side of the peninsula overlooking the city. It wasn't a total failure, I have to say.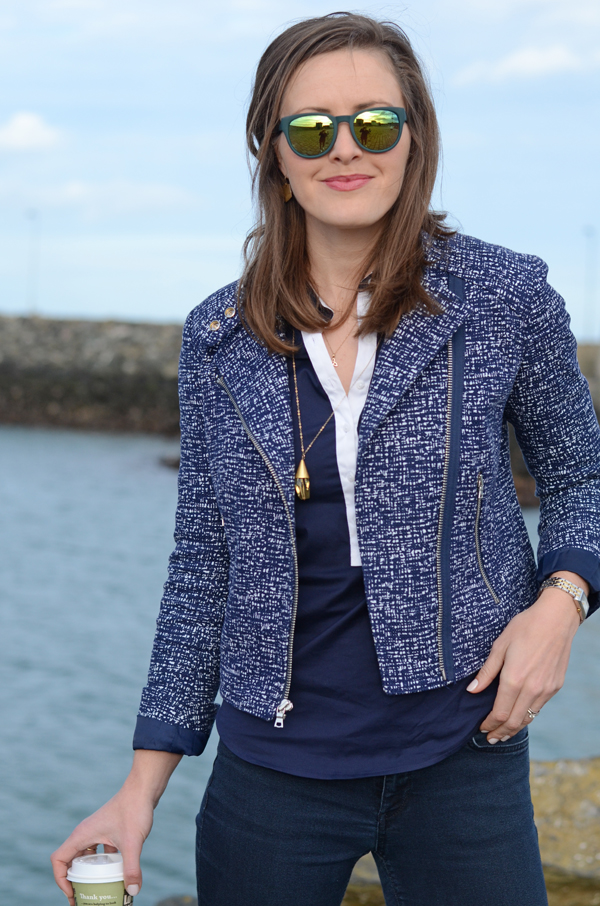 But this time, I figured it was a much safer bet to ask my friend Naomi to take a few photos on a slightly balmier day up in our favorite seaside town. Third time was a charm! Thanks, Nomes!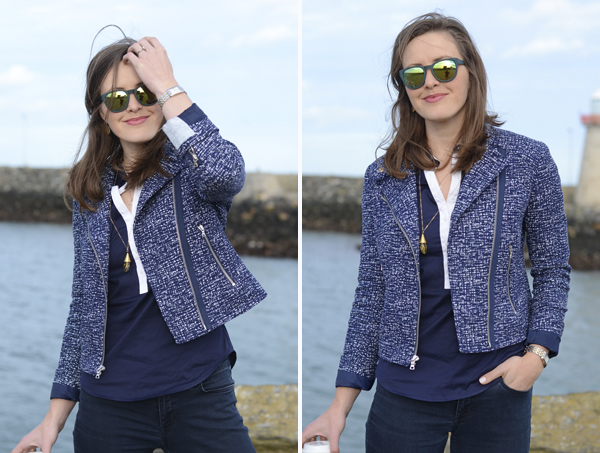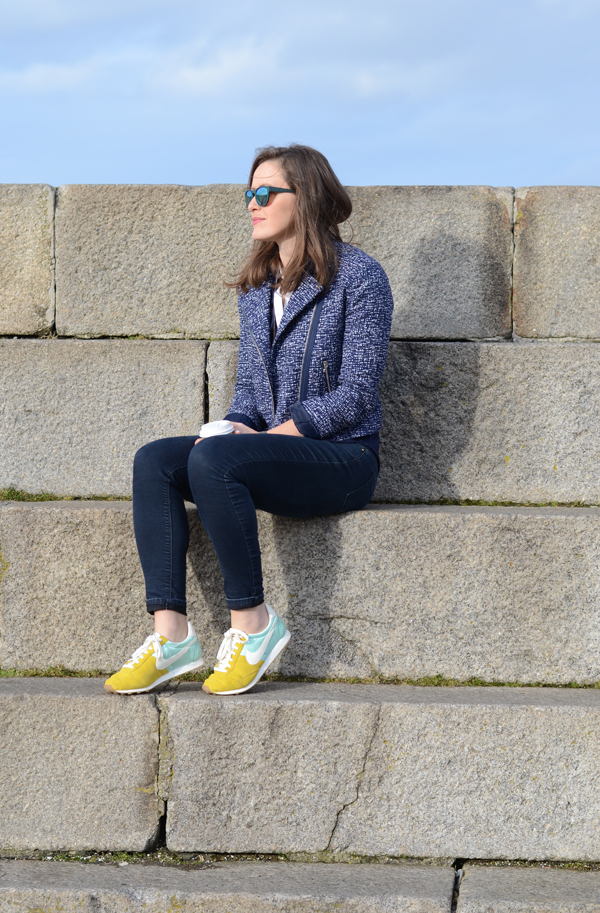 Michael and I happen to live very close to Howth, only a ten minute drive, so we scoot up almost every weekend for a coffee, sometimes more often. Howth is a peninsula north of Dublin city that has a spectacular cliff walk, hiking trails, rhododendrons in May, and a cute little fishing village. We grab coffee at a little market cafe called Chocolate Compulsion, such a bizarre name but they serve Badger & Dodo coffee and they know us by name.
When it's warm enough, we walk to the end of the pier, looking at the fishing boats and visiting with our friend who works in Mulloy's fishmonger. We pick up salmon or hake for dinner, and wander back toward the car. Some days we drive all the way around the peninsula and talk about which of the swanky houses we'd buy if we won the lottery. One of us always says, "Well, if we played the lottery!"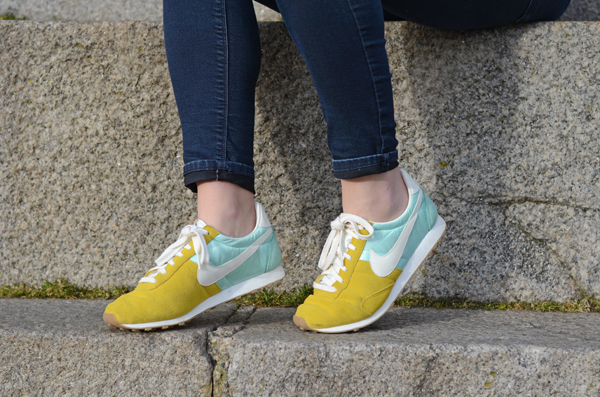 And now, a little outfit info for those who are curious. These Nikes are my Christmas sneakers. Every Christmas, Michael gives me a pair of sneakers and a dress. It's the cutest tradition and he always picks the coolest kicks for me. These Nikes were this year's Christmas sneakers and they are loud enough on their own, so they get paired with a monochromatic outfit! My pendant necklace is from Irish designer Ali Nash, and Michael picked it out (with the helpf of the girls at the Irish Design Shop!) for my thirtieth birthday.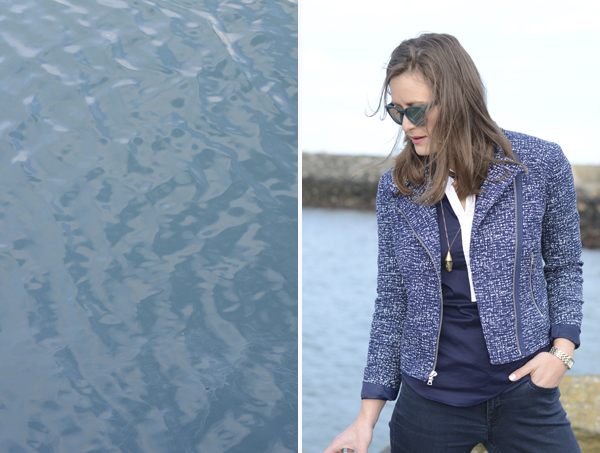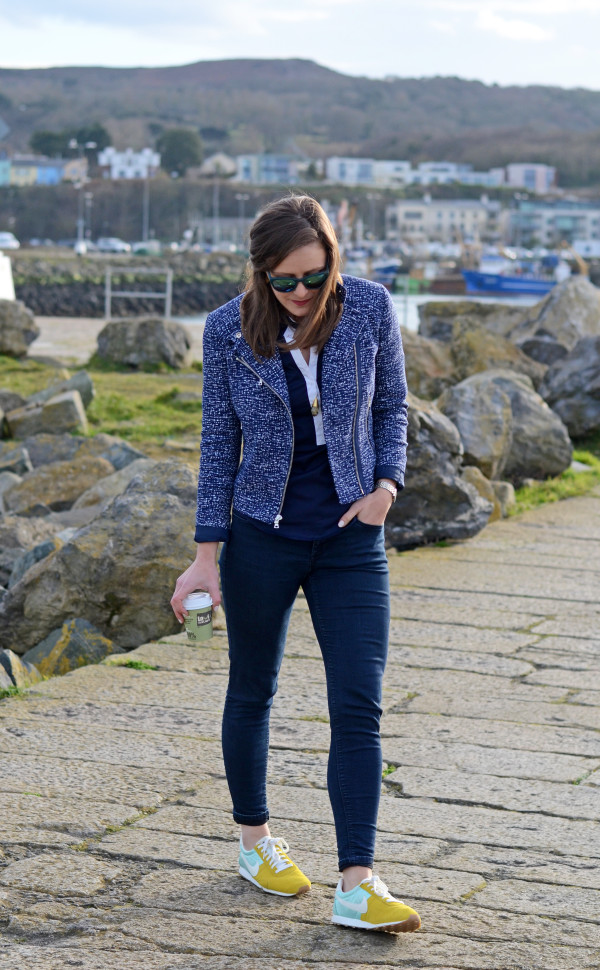 Thanks for coming with me on a seaside coffee date! See all my previous Styled in Ireland posts here.
Sneakers: Nike / Jeans: Zara / Collared tunic: Zara / Cropped jacket: Banana Republic / Sunglasses: J.Crew / Watch: Kate Spade / Necklace: Ali Nash / Photography: Naomi Phillips