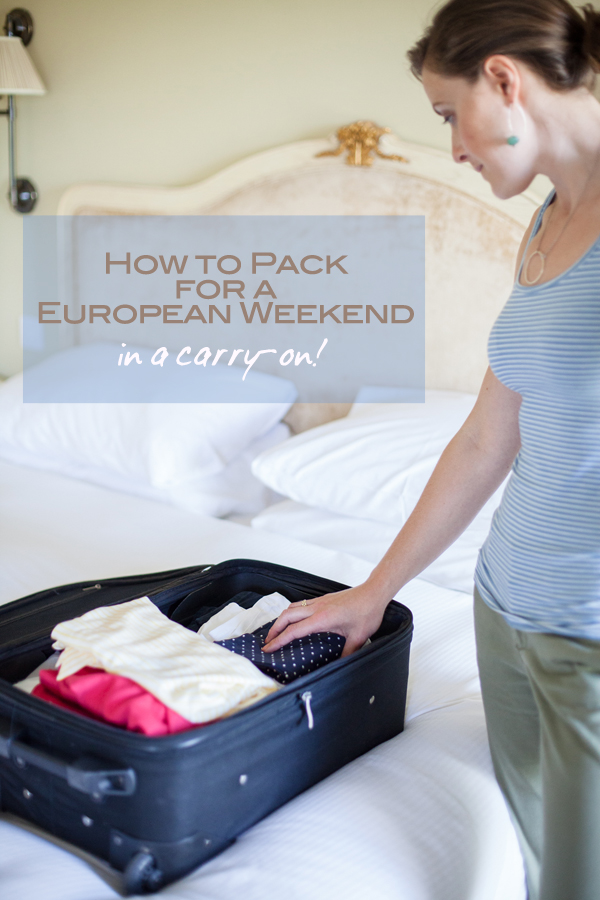 I've written a lot about how to pack for a trip to Ireland – my whole Styled in Ireland series was designed to help you figure that out! But since I've taken so many weekend trips to various European cities in the last few years, I thought I'd share some tips on how to pack for those adventures. With budget airlines making carry-on-only travel so common, packing light has become imperative. Of course, there's the added benefit of not having to lug a giant rolling suitcase along cobbled streets to your destination!
Stick to one color palette
My friend Anne of Pretavoyager is the queen of packing light for long trips. She spent two weeks in America last summer and only packed a carry on! When we went to Amsterdam for the weekend, she arrived with a backpack. She's a champion packer! Anne's biggest tip is to choose a single color palette and pack only that. It's an absolutely genius trick and it instantly limits what you need to bring.
For this trip to Croatia, Michael and I are here for four nights and five days and we both only packed carry-ons. I'm not as strict as Anne about the color palette, but I try to choose either black or brown as my base. For this trip, I decided I would only wear black or grey pants, black boots, and white Converse low tops. Then I added color with tops and accessories.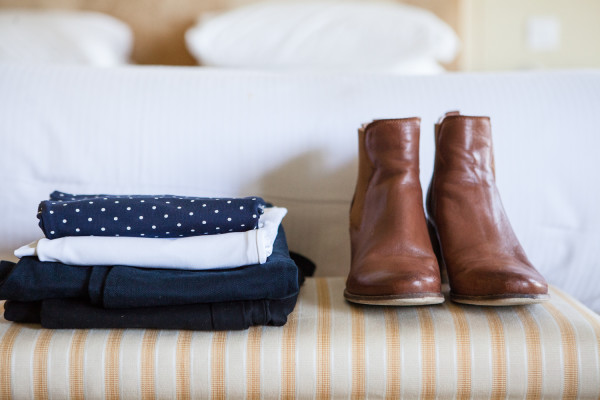 Pack for the weather
It's almost never possible to predict the weather in Ireland, but almost everywhere else you travel you can get a reliable weather forecast a few days in advance. You should be packing for the weather you expect to get with limited layers. For tops, I usually go with a tank top under whatever I'm wearing – in cold weather it provides extra warmth, and in warm weather it means I can take off my top layers so I'm not sweating in unexpectedly hot temperatures! I used to pack endless layers, "just in case." Those just in case clothes take up way too much room. Choose your layers wisely, and stick with them. If worse comes to worse, stop into a shop and buy a cheap long sleeve t-shirt to layer under, or a tank top for warm days.
Pick outfits that go from day to night
There are two keys to this tip. First, plan outfits. Actually lay them out on your bed so you can see what goes with what. I start with pants that I know I can wear twice, then add in tops that can layer over tank tops and cosy up with a cardigan or jacket.
Second, choose your outfits that can work for daytime exploring and get dressed up for an evening at a wine bar or out for dinner. I used to bring heels on all our weekends away and honestly, it's just not worth it. Cobblestones are too hard to walk in heels and you never know how far the restaurant is going to be! Instead, now I go for low heeled boots or slightly fancy flats. I won't be the fanciest chick in the restaurant, but I won't be underdressed.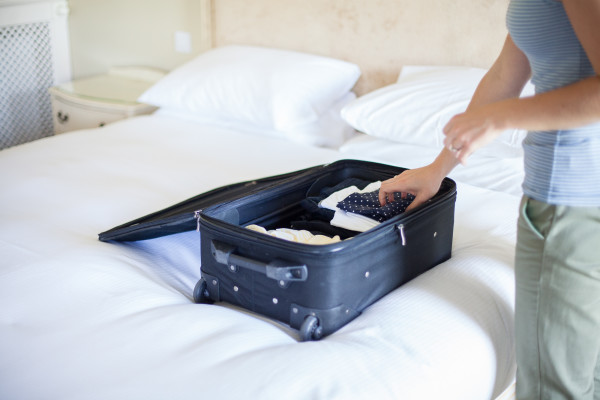 In case you're curious, here's what I packed for our current visit to Dubrovnik – expected temperatures between low 50's and low 60's, with light rain forecast on two days.
Shoes: flat boots / Converse sneakers / Nikes (from this post) / running sneakers
Bottoms: black skinny pants / grey skinny pants / charcoal jeans
Tops: two tank tops, black and white / silk tank top / silk tunic / silk button down
Outerwear: black blazer / cotton zip-up jumper / pink wool cardigan
Workout clothes: tank top / sports bra / capri spandex
Accessories: sunglasses / scarf / a few necklaces and pairs of earrings
Essentials: 5 pairs undies / 3 pairs dress socks / 2 pairs workout socks / bra
Writing that all out, I'm surprised how much I fit into my carry-on! Especially since I also had to pack makeup, my camera, an extra lens, and my computer and chargers, notebook and book. I carry a tote on the plane with lots of snacks and since we're staying in an apartment I also brought along a shopping bag for our groceries. It's come in so handy!
We have three more days in Dubrovnik and I'm hoping my packing job is a success by the end! Do you have any light packing tips?
Photos by Julie Matkin for Delightful Dublin