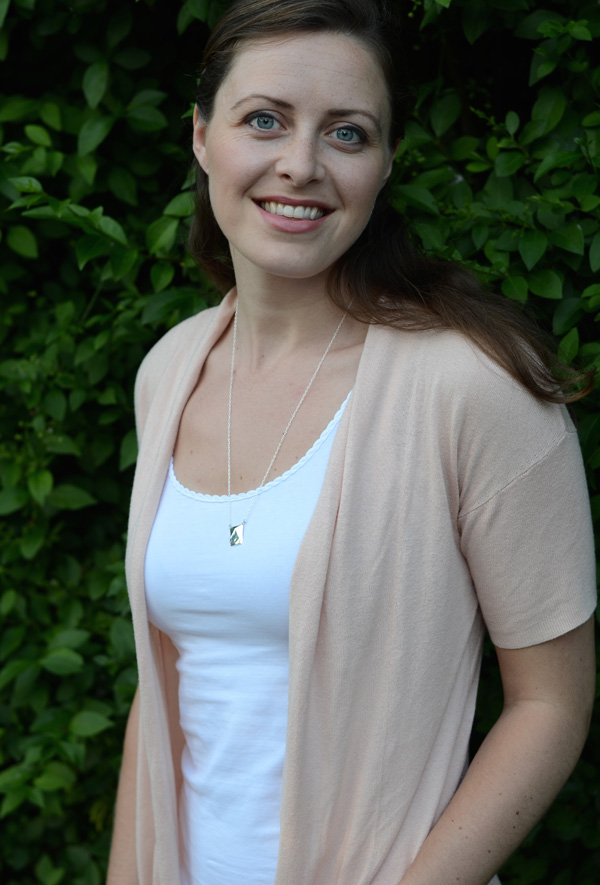 Today I'm really excited to share with you the work of a new company that I've recently discovered: Isle Jewellery. I discovered them perfectly by chance a few months ago when they followed me on Twitter (I love when I find amazing Irish businesses this way – it feels like such a gift!), and when I clicked onto their website I instantly fell in love with them. Isle Jewellery's pieces are exactly up my alley – their collections are inspired by Ireland and its landscape and people, but in such a beautiful, modern and well designed way.
I asked Geraldine, Isle's founder and designer, if I could borrow a few pieces to show you and she very kindly obliged. I chose to pull out a few pieces from the Fionn collection, which is inspired by the Giant's Causeway. I desperately wanted to drive up and take some photographs at the Giant's Causeway, but time and scheduling just didn't allow. So instead, you get me in front of a beautiful green hedge.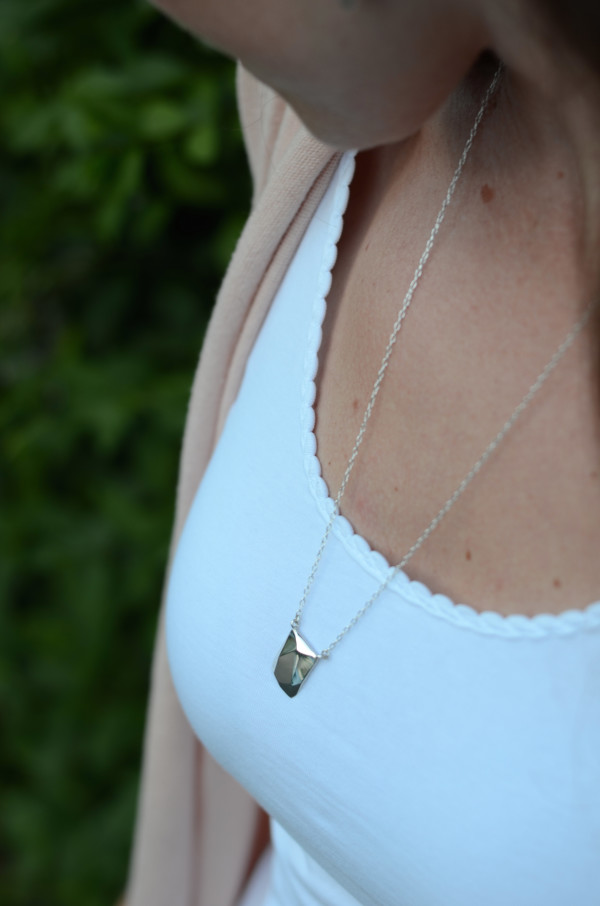 Can you see the facets on the pendant necklace, inspired by the craggy rocks of the Giant's Causeway? Geraldine grew up in the Mourne Mountains in Northern Ireland, and earned a fine art degree from the University of Ulster, specializing in jewellery design. She now lives in Tokyo, where she has been teaching art and English at an international school.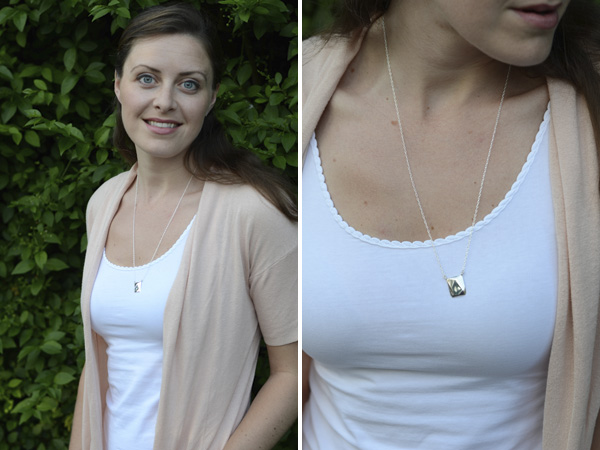 The Fionn collection is so named for the Irish folktale of Fionn the giant and the Giant's Causeway, which you can learn about on the Isle website (another lovely bonus!).
The story goes that a long, long time ago the giant Fionn built the causeway to Scotland. A Scottish giant called Benandonner who was bigger and meaner heard about Fionn and used the bridge to come and challenge Fionn Mac Cumhaill. When Fionn heard the giant was coming he realised he needed to outsmart this larger rival to protect his land. He dressed as a baby and his wife told the Scottish giant that the baby was Fionn's son. Benandonner was so shocked at the size of the 'baby' that he fled in fear of meeting such a large baby's father. He tore up the bridge as he went, never to return, leaving behind what we can see today. Victory for Fionn! 
Isle has two other collections on the go at the moment, Cloch, or stone in Irish, and Lása, or lace in Irish. They are both inspired by those traditional Irish crafts, and the pieces are equally as beautiful and modern as the Fionn collection.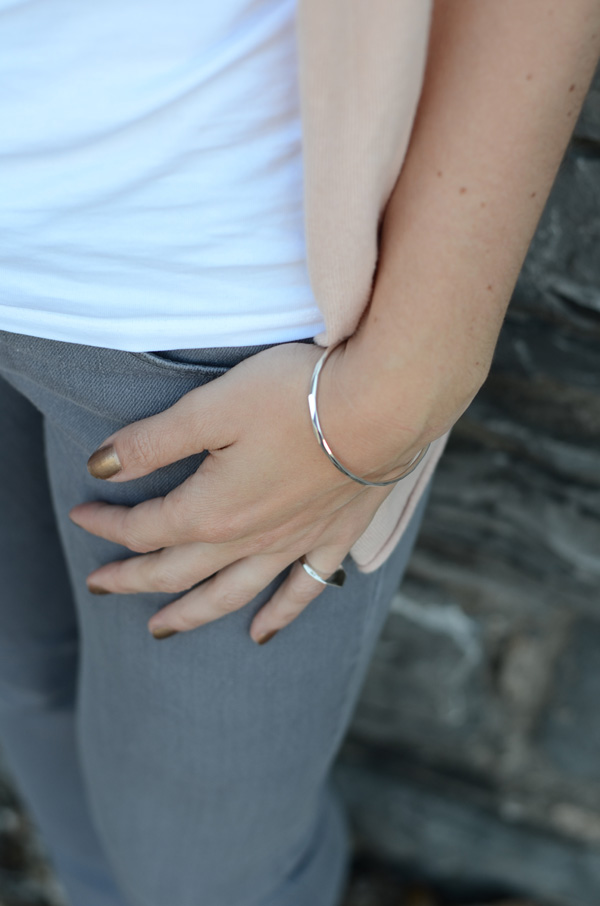 Each piece is printed with a tiny ISLE on one of the facets, which I love, and Isle Jewellery also has quite a few pieces for men. Michael loved the men's faceted Fionn ring, so I've added that to the possible Christmas list! It's chunky and manly while still having a little sparkle from the facets.
And because the facets are a little hard to photograph, here's a little peek at the collection from the Isle Jewellery website. I love those geometric rings that can also be worn as pendants!
And I nearly forgot! Their packaging is downright beautiful.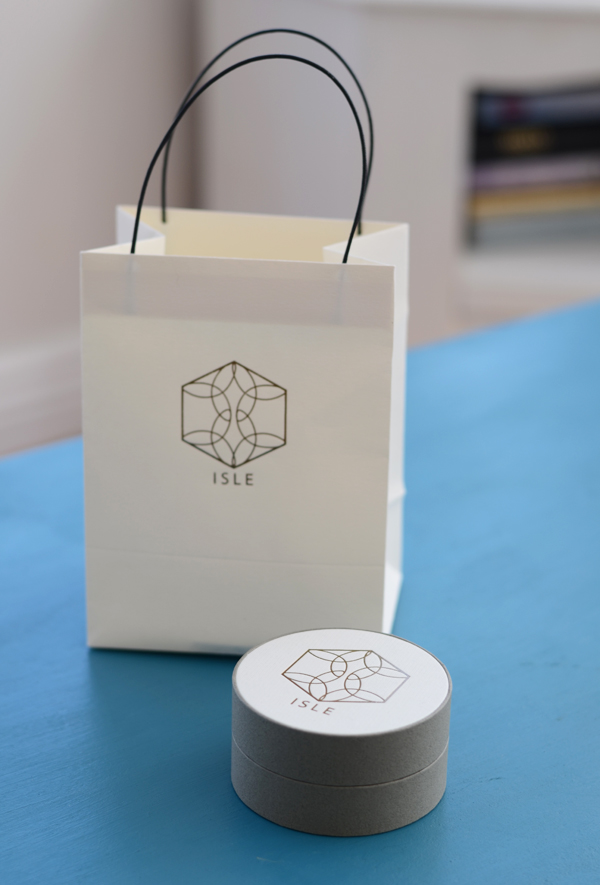 You can order directly from the Isle Jewellery website, where you'll also want to have a peek at their blog, shared between Geraldine and her sister, Helen, who helps run the business in Ireland. They've been sending each other links and ideas and finds for years, and now they've decided to put those finds into blog form. It's sweet and full of great finds.
Thanks to Michael for taking these photos. He's no Julie, but we managed not to kill each other, so we'll count it as a success!