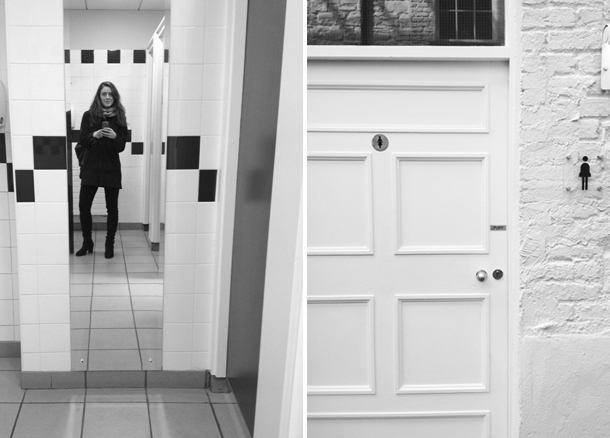 Ages ago, my friend Ursula suggested that I write a post advising visitors on the best places to stop for a bathroom break while walking around Dublin. I completely forgot about the idea until last week when I was in the city centre three days in a row and found myself in need of a bathroom break – three days in a row! Sometimes you just can't wait!
So, without further oversharing, here are four places you can sneak in a bathroom break while you're out and about in Dublin. And I'd love to hear your suggestions – I'm always looking to expand my bathroom map of the city – just in case!
Pearse Street Train Station – Train station bathrooms are usually a little terrifying, but as train station bathrooms go, Pearse Street is pretty okay. Not all train stations in Dublin have bathrooms, and of those that do, I certainly wouldn't recommend all of them! But Pearse is a good option in a pinch.
Powerscourt Centre – I think everyone should go to the Powerscourt Centre anyway (check out Article and A. Rubanesque for sure), so you may as well take advantage of the bathroom break opportunity! The bathrooms are on the top floor, right next to the Design Loft Market.
Museums – Almost all of the museums in Dublin are free and their bathrooms are clean. For research purposes, I stopped into the Chester Beatty Library to check out their facilities. Neat, clean and a full length mirror (see above photo). And right next to the sweet little gift shop. Just keep in mind that museums in Dublin are closed on Mondays!
Brown Thomas – I'm sure Brown Thomas wouldn't really love that I'm suggesting this, but you can walk right into Brown Thomas, swoop up the elevators to the top floor, and use their fancy bathrooms. You know what? A man with a top hat will even open the front door for you! Trust me, they'll never know.
Any other spots that are good for a quick bathroom break? Maybe skip the details though!